Five ways to take a luxury kitchen renovation to the next level
Real estate agents love to name-drop brands in property descriptions and buyers definitely don't turn up their noses at high-end appliances.
But as The Block kitchen reveals have shown, so much more goes into designing the heart of the home for maximum impact.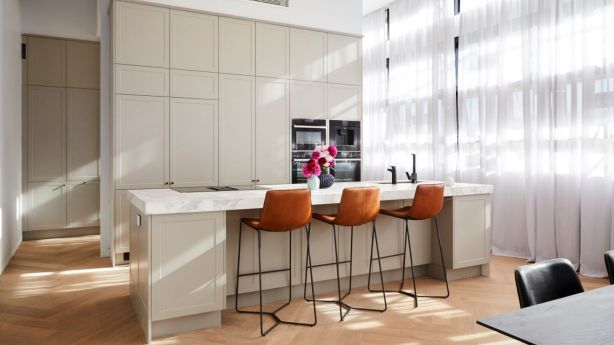 1. Play it smart
Technical bells and whistles are top of the list for buyers, and home automation is now a standard feature of modern homes.
Voice activated smart speakers in the kitchen allow users to compile a grocery list without searching for a pen, read a recipe with full hands, ask for measurement conversions and more.
Creating a smart kitchen starts at the planning stage. Photo: Channel Nine
But according Ben Green, smart space director at Clipsal, the company that helped The Block contestants future-proof their apartments, savvy appliances only work if they're hooked up, and the electrical network is the backbone of a smart home.
"While controlled with a mobile phone or iPad, it needs to be incorporated in the planning stage and installed by a qualified electrician," he says.
2. Install on-trend cabinets
While the wow factor of The Block kitchens begins with cabinetry, Freedom Kitchens senior designer, Felicity Page says wow means different things to different buyers. "The one element that remains is how much easier life is with a well-designed space," she says.
And that starts with on-trend cabinets. "Dark neutrals look sophisticated, with light greys, charcoals and matte black contrasting with white or timber-look cabinetry."
Wall-mounted cupboards are best installed with a touch-catch mechanism. "They're in your eye-line so they have more visual impact without handles," says Page.
The champagne cabinetry is the stand out feature in Courtney and Hans' kitchen. Photo: Channel Nine
Related: View the five Gatwick apartments for sale
3. Pack a punch with marble
Jess and Norm busted their budget to install a Calacatta marble bench to match the conversation-starter in their penthouse ensuite.
"It's a premium natural material that harmonises other architectural elements," says David Onesti, director at CDK Stone, who installed their marble.
Onesti says there is a growing trend for marble with stark, bold veining. Photo: Channel Nine
Although 20 millimetres is the standard thickness of a marble slab, he says the variety of edge profiles and design ideas available creates demand for more individual designs.
While it's beautiful, Page suggests marble isn't for everyone. "It's porous, which means it can stain and chip easily, plus it's expensive."
An alternative is engineered stone. "It's more durable, less expensive and can look just as stunning as natural stone," she says.
4. Design a bigger island
"A kitchen doesn't need to be attached to a wall, which means the kitchen island provides an interesting framework," says architect Pedro Garcia of Tamsopaya. "It's become a sculptural furniture element full of gadgets at the heart of the home."
Garcia suggests this gathering point was previously the same depth as a standard kitchen benchtop. "It would have been used from the kitchen side, so it could only handle one activity at the time."
"But if you double the depth, the space is transformed into the dimensions of the traditional kitchen table, allowing more people to work there."
The enormous island bench helped Kerrie and Spence achieve a perfect score in kitchen week. Photo: Channel Nine
Have the dishwasher and fridge integrated into the joinery with the same panelling, says Garcia, who suggests using the same material across the space, from kitchen island to butler's pantry, makes it feel bigger. "Suddenly everything is connected with a grand gesture."
5. Luxe up with lights
And finally, what happened to the three-pendants-over-the-bench trend that's been a shining symbol of luxe design in past seasons of The Block?
According to Denise Hammond, product knowledge development specialist for Beacon Lighting, the answer is progress. "With the phasing out of traditional incandescent light globes, applications of LED are virtually limitless."
Above-island pendants were only used in two out of the five kitchens. Photo: Channel Nine
Hammond says a trick Norm and Jess use in their penthouse apartment was to play up ceiling angles of bulkheads with LED ribbon lighting.
Another tip is to look down. "Kickboard lighting creates the illusion of more floor space and can make cabinets look like they're floating," Hammond says. "Use a low-profile LED with the strip inside a diffuser so the diodes aren't reflected on the floor."
Kickboard-mounted LEDs illuminate Kerrie and Spence's butler's pantry. Photo: Channel Nine
To create a sense of grandeur, install lighting above cabinets to shine up to the ceiling to make the room feel larger. "The lights can be hardwired to a switch or operated by a sensor under wall-mounted cabinets," says Hammond.
Head to Domain's The Block Hub for all Block related content.