Five ways to transform a guest bedroom into a multifunctional space
On week two of The Block, the contestants tackled guest bedrooms, and most were designed to be multifunctional.
Guest bedrooms will not be occupied all of the time, so inclusions such as study nooks or a library will make the spaces more versatile.
When designing a guest bedroom, one of the first questions Make Architecture director Mel Bright asks clients is how often guests will use the space.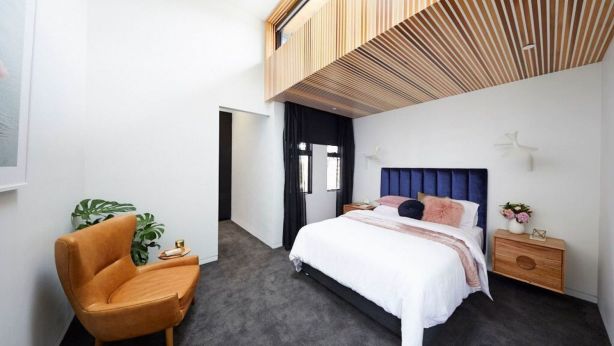 "We always want to know how we can make a space work a bit harder, where we can overlap," she says. "So we ask whether clients need a study, a second living room, or a kids' playroom?
"We very quickly try and find what else we can put into that space."
This doubling-up of resources helps with both costs and sustainability, adds Bright, and with new extensions or builds may result in more outdoor space.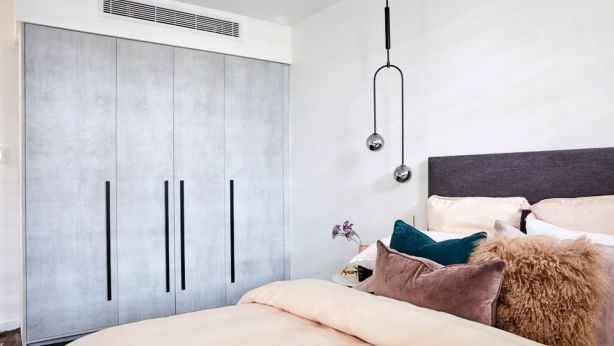 Related: View The Block apartments for sale
1. Maximise space with a sofa bed or wall bed
Hiding a bed in a fold-down joinery unit or a fold-out sofa bed instantly creates more room for any other activity you plan for the guest bedroom.
Sofa beds have come a long way in recent years, according to Koush Furniture + Interiors director Julie Pieda.
"If you put a good-quality sofa bed in there, it's great as a couch most of the time and doesn't take up too much space," she says. "A sofa also gives you an extra textural layer in the room."
There's a growing range of wall-beds on the market, with basic units starting at $1000 and custom designs selling upwards of $4000.
2. Create an extra living space
One of Bright's favourite outcomes involves the guest room becoming an extension of the living room. Instead of a door, a sliding door, panels or bi-folds opens the guest room to the living zone, and can be closed off when required.
"A sliding panel that recesses into a wall gives an almost Japanese-like feel," she says. "It gives you a more generous living space that you can use all year round."
3. Install a study or home office
Adding a desk in a guest bedroom is a quick and easy way to create a study zone, but a better solution could be custom joinery that works for both you and your guests.
Pieda designed a wall unit for Adelaide clients that incorporated a workstation, storage for office supplies and a printer, plus wardrobe space for guests.
Incorporating a built-in desk into joinery allows a guest bedroom to double as a study. Photo: Channel Nine
"Everything homeowners need in their study can be stored here, but tucked out of sight for when required," she says. "The joinery includes space for visitors to hang their clothes and unpack their bags."
Pieda says it's important to be able to ignore the office function when you or your guests want to relax.
"You want a space where you can pay the bills but also sit and read a book."
4. Set up a kids' playroom
For those with young children, it's great to have a dedicated space where they can haul out their toys, do craft and set up an indoor cubby.
While you'll want to clear this paraphernalia away when guests come, Pieda advises against cupboard storage, where treasured toys can get lost. She's a fan of drawers and buckets or baskets that can be upended when kids are playing and quickly reloaded when visitors arrive.
A dedicated playroom may be more suitable for young families. Photo: iStock
If you've got a wall bed, Pieda says the base of the bed can double as a blackboard or magnetic board when the bed is stored.
And for homeowners with high ceilings, a loft level can be a great option for a playspace.
"Just make sure the space underneath gets plenty of light because you want both spaces to be equally nice to be in," says Pieda.
If you decide to include a TV, position it so guests can easily view it propped up in bed.
5. Build a separate studio
Bright is an advocate of removing the guest bedroom from the main residence and installing it instead above or next to the garage or creating a dedicated studio.
"You can make a really fantastic multifunctional space, maybe with access off the laneway, and it can be more than just a guest room," she says. "It can be a home office with separate entry, an Airbnb rental, a granny flat or a nanny flat. There are all these levels of opportunity."
A separate structure, such as the above-garage studios from The Block 2017, can make the space more versatile. Photo: Channel Nine
Bright says this separate space makes a fantastic teenager retreat and can be rented out once the kids leave home.
Head to Domain's The Block Hub for all Block related content.