How a walk-in wardrobe can transform a typical bedroom into a luxurious master suite
How much more organised would your life be if you had the dream walk-in robe?
It would be glamorous yet practical, with a back-lit mirror, a steamer to iron out creases before you left the house and a voice-activated internet device to check the weather and play music while you dress. And, there's all the storage you need – times two so your other half can enjoy it, too.
The master bedroom reveals on The Block prove that no prestige property is complete without a walk-in robe off the master bedroom.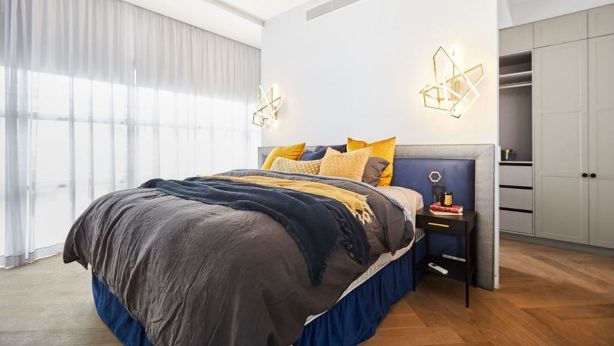 But, if it means so much to have well-planned storage, why does it so often get left off the reno to-do list?
Related: View the five Gatwick apartments for sale
Design for luxury
Storage is often overlooked by Block contestants because it's just not exciting, says interior stylist Emma Blomfield, author of acclaimed decorating book Home.
"It's less fun than choosing decor," she says. "It can slip off the radar when they get caught up working out finishes and furniture."
But with judge Shaynna Blaze partial to opening a cabinet door, there's no escaping the need to include adequate storage in every room, especially in the bedroom where it adds a sense of luxury.
"It makes a big impact on potential buyers when they walk into a space dedicated to having their clothing, shoes and accessories in a covetable display of ultimate organisation," says Matt Rushmore, senior designer at Kinsman Wardrobes, who did the fit-outs in The Gatwick.
"There's also more wow factor with a walk-in as it often includes a full-length mirror and mood lighting," Rushmore says.
Create space for two
A buyer will usually end up residing in the master bedroom, so designing lots of personal space can help increase their perception of the property's value.
"Design storage to accommodate two people, with separate sections, each with a mix of full and half-length hanging space," says Rushmore. "Include two lots of shoe shelves, drawers for folded items, and pull-out racks for ties, scarves and belts."
For instant luxury, choose dark cabinetry. "It can look sophisticated, especially with integrated lighting. Walk-in robes are usually in larger master bedrooms, where they can afford to have rich, dark tones without making the space feel cramped," he says.
Keep it neat and tidy
"It doesn't cost much to give the space more than a single rod with a shelf," says declutter diva Kristina Duke, a professional organiser. "Storage needs to adapt, so don't over-customise and have shelves that can be repositioned."
"Always include drawers. Unless you can fold your clothes like a retail assistant, they're easier to keep neat."
Accessories such as slide-out baskets are also easier to use than fixed drawers, Rushmore says. "Baskets are also cost-effective and let you see what's inside before opening."
Storage for other rooms
For smaller rooms, Rushmore says a hinged or sliding-door wardrobe works best. "To maximise space, design it from floor to ceiling, making the top shelf big enough for suitcases. Also have different compartments plus accessories that make the most of the depth, such as pull-out racks."
Duke advises: "If using freestanding furniture, go tall to utilise the height of the room, and design to get things off the floor." Instead of having a chair or valet, she recommends installing a wall-mounted shelf rack with hanging hooks.
"Bedside tables are great overflow storage, especially in small spaces," says Blomfield. "As are end-of-bed ottomans or gas-lift beds for items like blankets and less-frequently used items."
Add a little light
While storage is key, being able to see into it is essential. Denise Hammond, product knowledge specialist at Beacon Lighting, advises adding a touch of glamour with a mix of under-shelf strip lighting [which The Block judges tend to love], LED ribbon lighting, directional tracks and adjustable downlights.
"But most important is flexibility, so consider separate switches, dimmers and LED smart globes for total control over your domain," she says.
Hammond suggests liaising with the cabinet maker in advance about having under-shelf and bench lighting recessed into cabinetry during construction.
Her top tip is to use the perimeter of the bedroom. "No space is more unused than the 30 centimetres of wall below the ceiling. Put it to work by installing shelves and add back-lighting with LED strip lights for a warm glow."