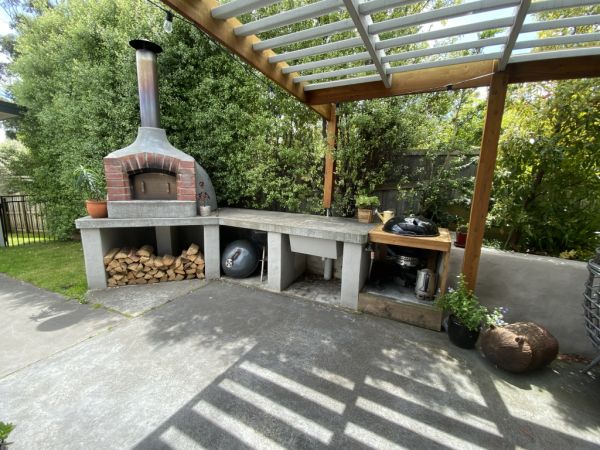 How a wood-fired pizza oven made our house feel like home
A large corner of the backyard sat bare while we renovated our first home together.
We stood, staring at it, trying to decide what to do with it. An idea hit me like a tonne of fire-proof bricks. "What about a wood-fired oven?"
My partner was instantly hooked. He's an accountant with an innate ability to build. It was clear from the very beginning that a kit oven wasn't going to do the job.
He spent the next week intensely researching optimum pizza cooking temperatures, sourcing all the building materials before I could say "margherita".
We announced to our extended family that we would happily host Christmas at our house, knowing that the two-month timeframe we had to complete the build would spur us on to finish the project.
The oven was finished two days before Christmas Day, but remained untested.
By some miracle, Christmas lunch was perfect – we cooked roast chickens, pork with crackling and potatoes in the wood-fired oven for more than 30 guests that year. It was 11 years ago now, but remains one of the culinary highlights of our lives.
We enjoyed a further two years and countless days and nights with friends and family around the oven before deciding to sell our home.
We were confident that the oven would help secure a quick sale, lighting it and throwing a chicken in before each open home, luring potential buyers into the backyard to follow the delicious smell.
The home sold for above asking price, and the estate agent was adamant that the wood-fired oven ultimately sealed the deal.
Wood-fired ovens have seen a resurgence thanks to celebrity chef Jamie Oliver regularly cooking delicious home-made feasts in the one in his backyard.
Now, everyone wants a slice of the action, with kit ovens from big retailers flying off the shelves this year when everyone spent more time at home due to the pandemic.
"We've seen a big increase in demand for pizza ovens this year, with customers trying new ways of cooking and expanding their culinary experience to create an outdoor space they can enjoy all year round," Bunnings national barbecue buyer Matthew Hoffman says.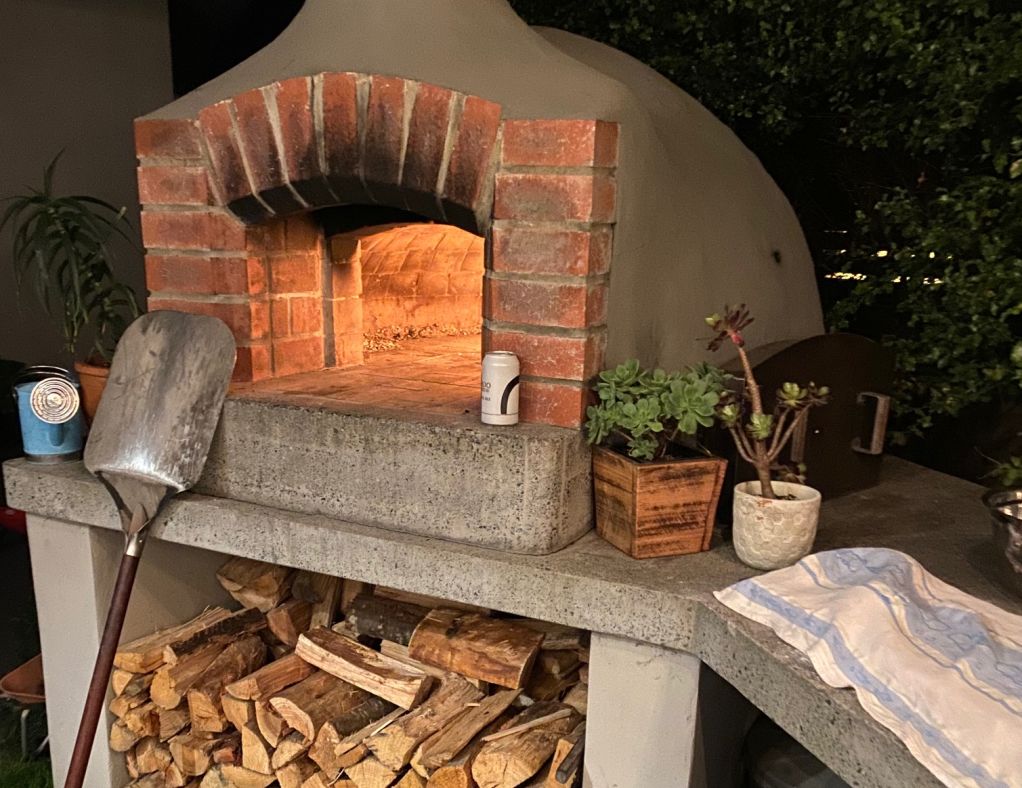 Of course, we can't be without an oven now, so when we moved into our current home 10 years ago, we had already mapped out some improvements.
A longer bench for food preparation and a concrete sink featured in the new plans. Even on paper, it was spectacular. 
Now, a decade on from building our second wood-fired oven, we still love unwinding over pizzas in the backyard. Some of our best memories have been pulling the outdoor chairs around the glow of the fire with friends.
Pizzas come in all flavours, so we never get tired of them. We cater to all tastes, with gluten-free pizzas, wholemeal, sourdough or rye bases no problem, and toppings are usually based on what's in season.
We've also made calzones out of the leftover toppings for friends to take home to reheat the next day.
Best of all, there's no washing up. We serve pizzas onto one of the large round slabs of timber on the outdoor table, and keep cardboard pizza boxes that we purchase in bulk handy.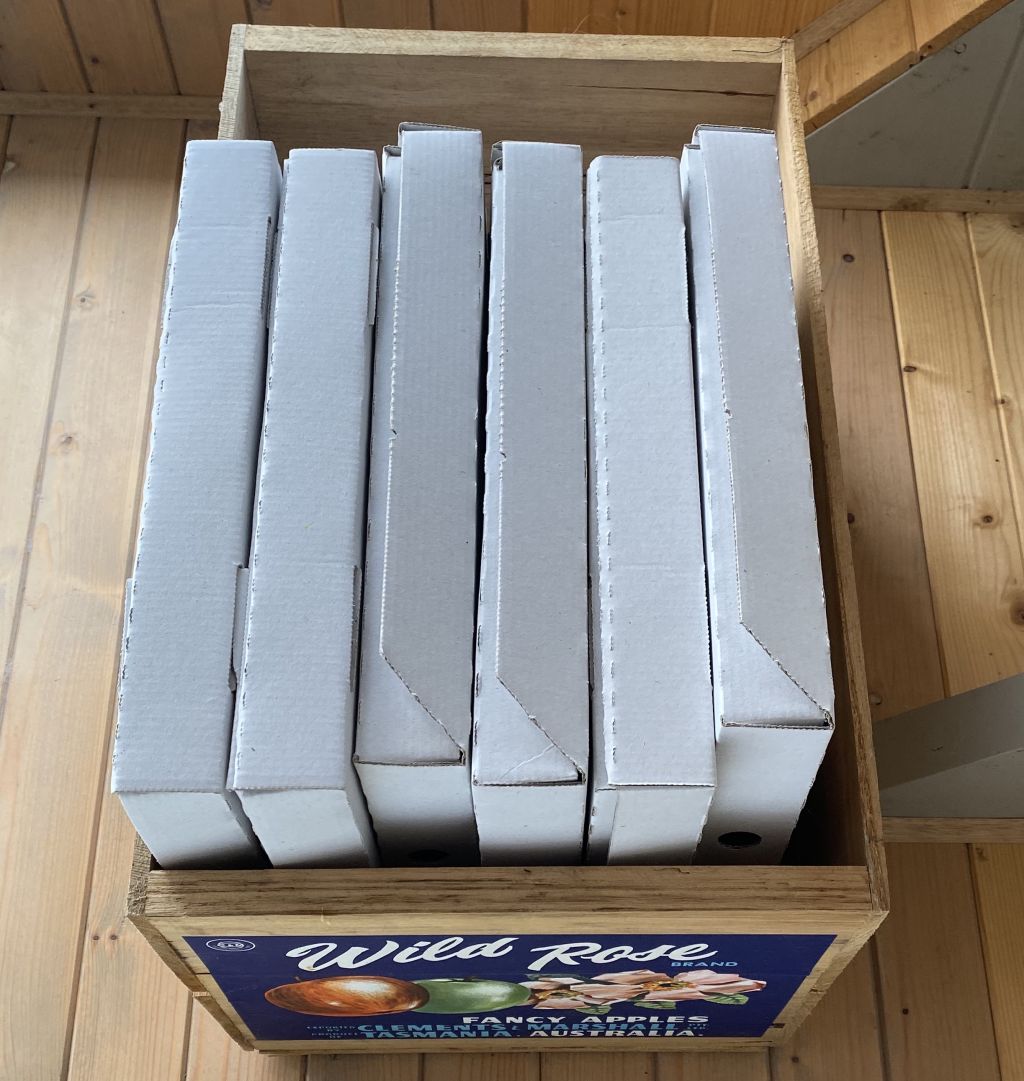 You're not limited to pizza, either. We remove the coals and seal the entrance with a stainless steel door, and it's a regular oven with a temperature gauge, enabling us to slow cook a casserole or throw in a batch of scones.
Kids' birthday parties are a hit in our backyard, with pre-COVID-19 pandemic parties inviting little people to decorate a pizza box and make their own pizza, cooked to their liking.
During lockdown this year, we picked a family from our kids' school each week and offered to make them all pizzas on Friday evenings, packing them in takeaway boxes, with collection strictly over the front gate.
Saving on takeaway
Having your own oven is cheaper, healthier and way more fun than any takeaway option, too.
The materials to build the oven cost $2400, which might be more like $3000 today given we built it nearly a decade ago now.
Pizza oven cost breakdown
Concrete
$550
Blocks
$200
Fire bricks
$600
Formwork
$60
Flue
$140
Temp gauge
$110
Rebar
$140
Insulation
$600
Total
$2400
It's paid for itself over the years. The cost of a takeaway gourmet pizza is about $25. We cook around six pizzas every fortnight throughout the year with friends, equating to 156 pizzas per year. At $25 per pizza, this would cost $3900 in pizza.
The cost of making a gourmet pizza at home is $10 including a few logs of wood, or $1560 per year. This is an annual saving of $2340, meaning the oven paid for itself in just over a year.
But the wood-fired oven is about much more than mere money. The friendships we've built around the oven have been priceless.
Find out more about ways to improve your backyard in Domain's Ultimate Renovating Guide.