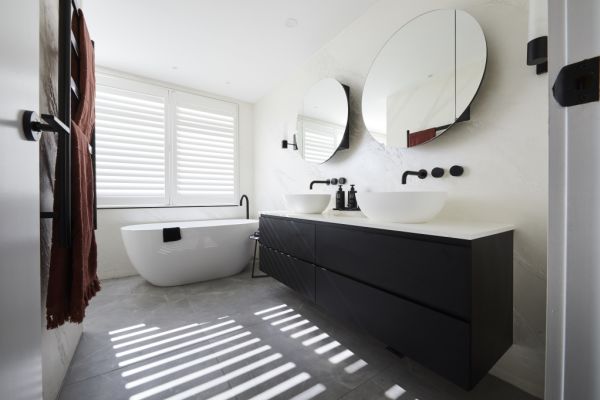 The Block 2019: How to survive without a kitchen or bathroom when renovating
Living through a renovation can be a nightmare, especially when the kitchen and bathroom are being updated.
So it's no surprise that nearly every builder will advise home owners to find somewhere else to live during a major renovation.
"If your renovation is going to take more than a month, my honest advice would be to move out," says lifestyle and interiors journalist Rachel Smith, who renovated her inner-city terrace.
"The dust, the debris and living without the usual modern conveniences takes a toll on even the most easy-going couple."
She suggests taking on a short lease of a rental in a nearby suburb. "We were knocking walls down and switching rooms around and simply could not stay. We ended up bouncing between hotels and Airbnbs, which was expensive and stressful."
Take a look inside the five Oslo terraces for sale:
Living on a building site
When circumstances don't allow for you to leave, how do you survive living on a building site?
"If you accept you're going to be camping indoors for a few weeks, not eating as well as you'd like, not being as clean and tidy as you'd like, you'll be a lot less stressed,'" says Jen Bishop, a full-time blogger at Interiors Addict who shares the refurbishment of her home online.
The key is to have one functioning wet room. While her kitchen renovation took a couple of months, Bishop's bathroom and laundry were still functional.
"We used the laundry sink for washing up and keeping the fridge going is a must, even if it's moved to another room," she said. "I set up a makeshift kitchen on the dining table, with microwave, plates, pots, cutlery and a pantry in a box.
"As it was spring time, we were able to have barbecues outside and eat salads. We also used the slow cooker and froze cook-ups in advance to reheat in the microwave."
For her upcoming bathroom renovation, she's planning to hire an outside toilet. "Otherwise, the trades would have to traipse through the master bedroom to use the en suite."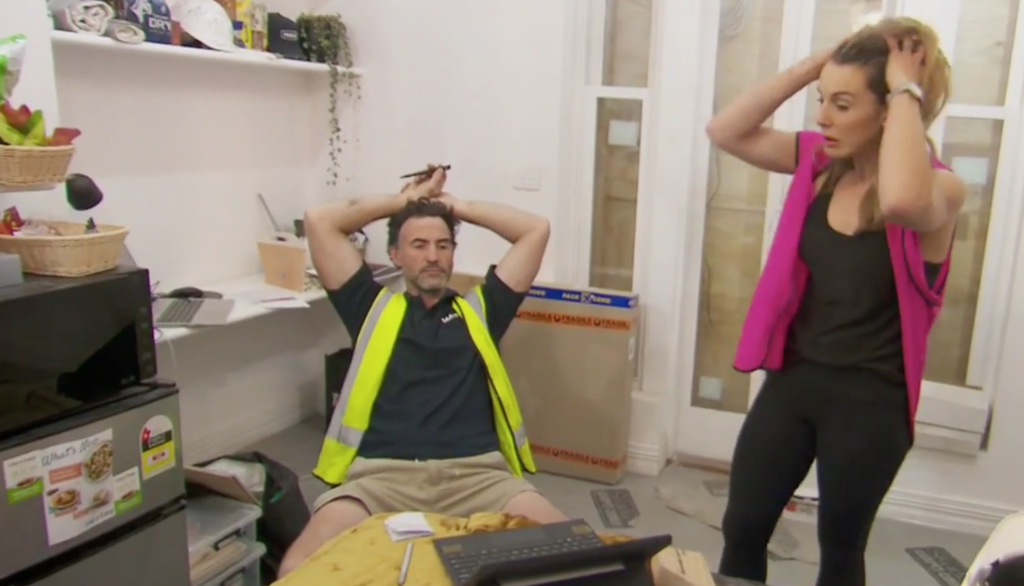 Tip-toeing tradies
"The main challenge for trades is that they can't treat the house like a regular worksite, and need to be extra careful carrying tools and materials to the work area without damaging surfaces, such as new flooring or freshly painted walls," says builder Matt Menichelli, director at Elevate Building Group.
He would know, having spent months on site with live-in renovators Elyse and Josh who won The Block 2017, and signing up this season with contestants Tess and Luke.
"Most trades start work at 7am, the time most households are rushing around getting kids ready for school and having breakfast, which isn't ideal while construction is underway," he said.
As for surviving with kids, Bishop stresses safety is the first priority. "This is your responsibility, not your trades," said Bishop. "To keep our toddler safe, we used safety gates to block off areas of the house."
Put the kettle on
Smith suggests that relationships with the trades literally becomes close.
"My tip is to keep the kettle on," she said. "Lots of things can happen on a building site, tempers can flare. A piece of cake and a cup of tea can help defuse things."
Smith also advises hiring a builder who can bring in familiar trades as they tend to work together more efficiently.
"I've found it's better if they know one another, rather than cherry-picking trades from here and there," she said. "Then the builder can do the juggling if someone is sick or there are delays."
Planning perfection
"You want trades in and out as soon as possible," Smith said. "Be militant about planning, having a strict timeline and preferably a project manager to coordinate everything."
Menichelli encourages renovators to be organised by ordering appliances, tiles, fixtures and fittings before the project begins to avoid lead times. "It also means trades can refer to the actual item when roughing in, rather than interpreting a spec sheet."
According to Smith, the best way to live with a renovation is to leave it. "Plan in trips and weekends to get away from the bomb site that used to be your house," she said. "The space to recharge can give you motivation and keep your eye on the prize of a finished house."