'It wasn't all glamorous': Elyse Knowles shares her top five renovating tips
At age 25, Elyse Knowles is already a seasoned renovator, having transformed her first property and winning The Block with her partner Josh Barker in 2017.
While her modelling career currently sees her walking the runway for Myer, her personal life was recently far less glamorous.
For three years, Knowles and Barker lived on the site of their own home renovation in Coburg, before selling the property in late 2017.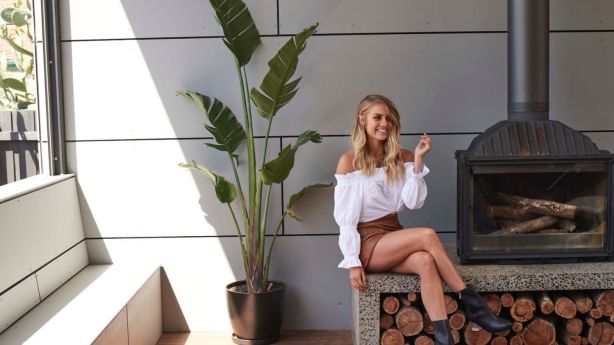 Sitting down with Domain, Knowles shared the most valuable renovating advice she's learned along the way.
1. Research the market before diving in
Entering the real estate market at a young age and in competitive Melbourne required careful research and sacrifices from Knowles and Barker.
Aged 21 at the time, Knowles and Barker had a restricted budget that saw the couple being priced out of the north-eastern Melbourne suburbs they first desired.
The couple had educated themselves using searches of past and present sales to work out what type of property they could realistically afford.
After a year of searching, they finally got their hands on a rundown house with great potential for renovating and reselling.
"A real estate agent referred us to this home in Coburg. We hadn't looked there before, didn't know anything about it, but we knew it was close to the city so it could work," Knowles says.
From there, they researched what buyers were looking for so they could make the most of renovations.
2. Bring your builder to the open home
Barker is a carpenter by trade, which was advantageous when identifying issues and qualities of a property.
For those not in this position, Knowles recommends bringing a builder along to inspect the properties you're most interested in.
"Get a builder that you trust to come into the house, to look under the house at the stumps, at the foundations, at the structure of the home, so that they know how much the overall build generally will cost, the amount of time you'll need to spend, and whether it's worth it," Knowles says.
"Sometimes it's just not worth it and you need to move on and find a new home that you'll love.
"You need to know this knowledge before you put your money on the table, because there could be consequences down the line."
It's important to enlist professional help when choosing a property to renovate.
3. Don't do it all yourself
Undertaking an entire renovation yourself can save money, but it can also be incredibly taxing. Knowles says it is worth outsourcing some tasks to prevent physical and mental stress.
"The biggest learning for Josh and I throughout the Coburg house was that you have to delegate," Knowles says.
"We realised that if we did this renovation quicker, we could have then bought our next one when the market was a little bit lower, but instead we stayed there for a little bit longer.
"It did pay off because we saved, but we could have then invested into something else."
4. Focus on quality
One of the reasons Knowles and Barker purchased their Coburg house was the quality of the existing property.
While rundown, it was a Californian bungalow with decorative features worth preserving and was set on a generous block close to the CBD.
Quality was a key focus throughout the build.
Maintaining this same level of quality was high priority throughout the renovation in order to attract the best result possible on auction day.
"Quality is the number one factor for us in our builds, and people realise that," Knowles says. "What we pride ourselves on is creating a home that's going to last for decades and decades.
"If people are putting their money on the table, they want to know that their house is going to last."
5. Don't expect it to be glamorous
Knowles is the first to acknowledge that renovating is hard work. The couple lived in their home throughout the process, which at times meant walking across beams laid over the open floor in winter, just to get to the shower.
Living on a building site for three years wasn't the most glamorous life.
"It wasn't all glamorous, those three years. Every time we touched a wall or a ceiling, it was 100-year-old dust coming down, and that dust continued to come down for a whole year out of places you didn't know existed.
"You've got to work hard and appreciate everything that goes into that house."