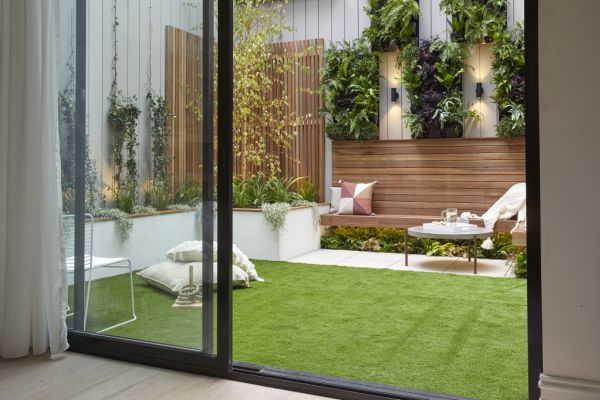 The Block 2019: Five ways to boost natural light in a dark, narrow terrace house
Kate Farrelly
Domain Reporter
It's at the top of the wish-list for most Aussie home-buyers: let the sunshine in. Yet, when it comes to one of our favourite housing types, the classic terrace, those in largely original condition come up short in the natural light department.
So if you're planning to renovate a terrace, you'll need to have a few tricks up your sleeve.
"It's one of the most important things in the renovation of a terrace, and a lot of people don't put enough effort into it," says Paul Byrne from Home Mend Australia, a building company that specialises in terrace home renovations in Sydney's inner-west and eastern suburbs.
"With a terrace, two side walls are your neighbours, so you've really got to work at bringing the light in."
Domain asked Byrne and Melbourne architect Andrew Pavitt from Victorian Extension Design about the best strategies for improving natural light in a terrace.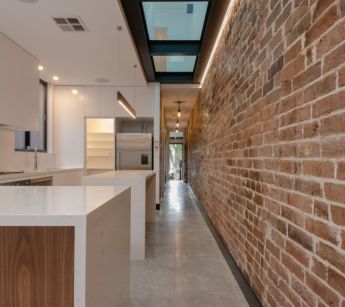 1. Skylights and sky tubes
Byrne and Pavitt agree that a skylight installed over an internal staircase is a good option for bringing light into both levels of a two-storey terrace.
"If you've got a stairway, you can put a skylight over that and use open stair risers to filter light into a dark space," says Pavitt.
Byrne regularly uses off-the-shelf fixed skylights, but homeowners can have skylights or glass ceilings custom-made to size, and installed in any part of the roof.
If you're seeking light in a ground-level bedroom where a first floor means a skylight isn't an option, Byrne suggests using a sun tunnel, also known as a tubular skylight.
"You can bring a tube or shaft down through an upstairs wardrobe or cupboard to a diffuser in a ground floor ceiling," he says. "It brings in a heap of light, especially if you use rigid tubing."
2. Internal courtyards and light wells
"Courtyards are certainly a great solution to get natural light into a terrace and improve the amenity of living spaces and bedrooms," says Pavitt. "The best-case scenario is when you have a north-facing courtyard, but south-facing courtyards can also be good, they just offer more ambient light rather than direct sunlight. Each scenario needs to be assessed on its own merits."
A popular option is to build a courtyard between the front bedrooms and a living room at the rear, which then provides light to both these spaces as well as the connecting passageway.
If there's not enough space to include a courtyard, a light well can provide a similar result.
Light wells can run up the full height of a multi-storey terrace and can use clear or opaque glass or glass bricks. Byrne says a small light well on the side of a terrace can provide sufficient light for a bathroom.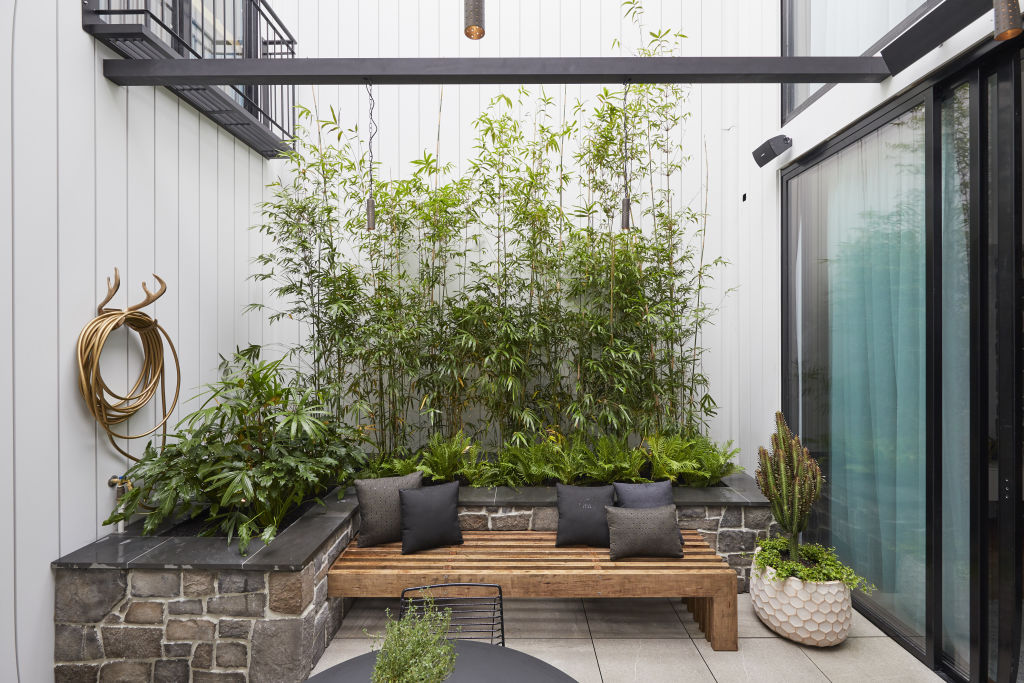 3. Highlight or clerestory windows
Pavitt successfully used clerestory windows, also known as highlight windows, in a recent East Melbourne renovation.
"We popped the centre part of the roof up and had 0.5-metre-high windows all the way around," he says. "You get glimpses of the sky from inside and perimeter lighting."
Sometimes used as much for their aesthetic appeal as for their ability to increase natural light, clerestory windows can run along a single or multiple boundary walls.
Depending on the aspect, you may need to consider double-glazing these windows to avoid overheating or heat loss issues.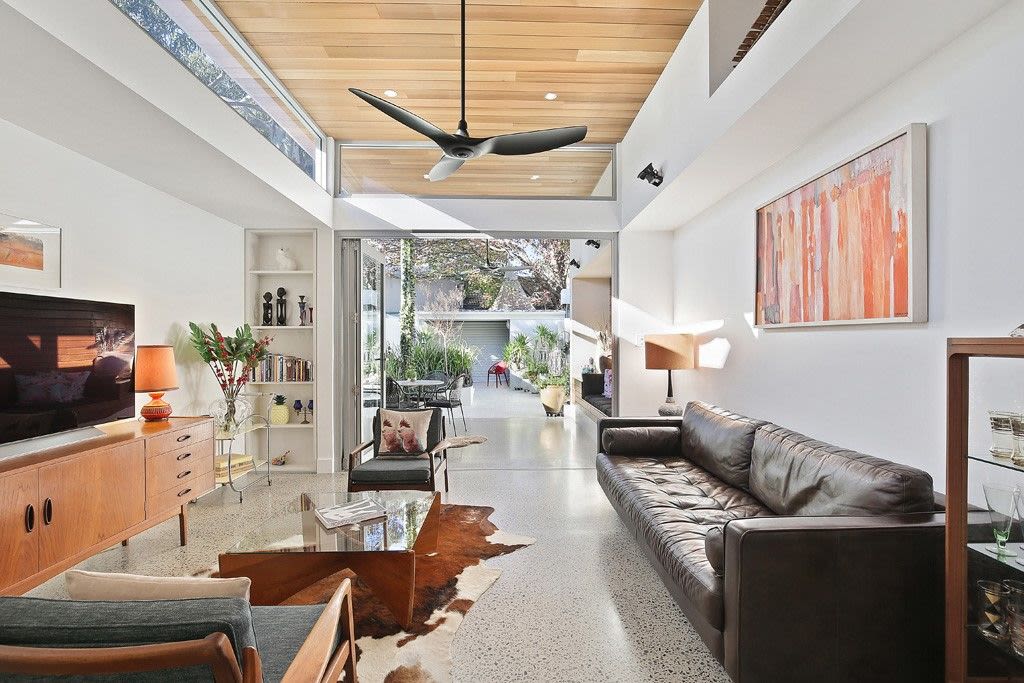 4. Glazed rear wall
"Having the back of the house opening up to the rear courtyard or garden is one of the best ways to maximise natural light," says Byrne. "The opening can be via stacking or bifold doors, and it's important to spend a bit of money on your landscaping because you want to be able to sit in the back room and look out onto something pleasant."
With many terrace renovations involving the demolition of the back half of the dwelling, it's a relatively straight-forward design solution to include full-height glazing across the rear boundary of the new living spaces.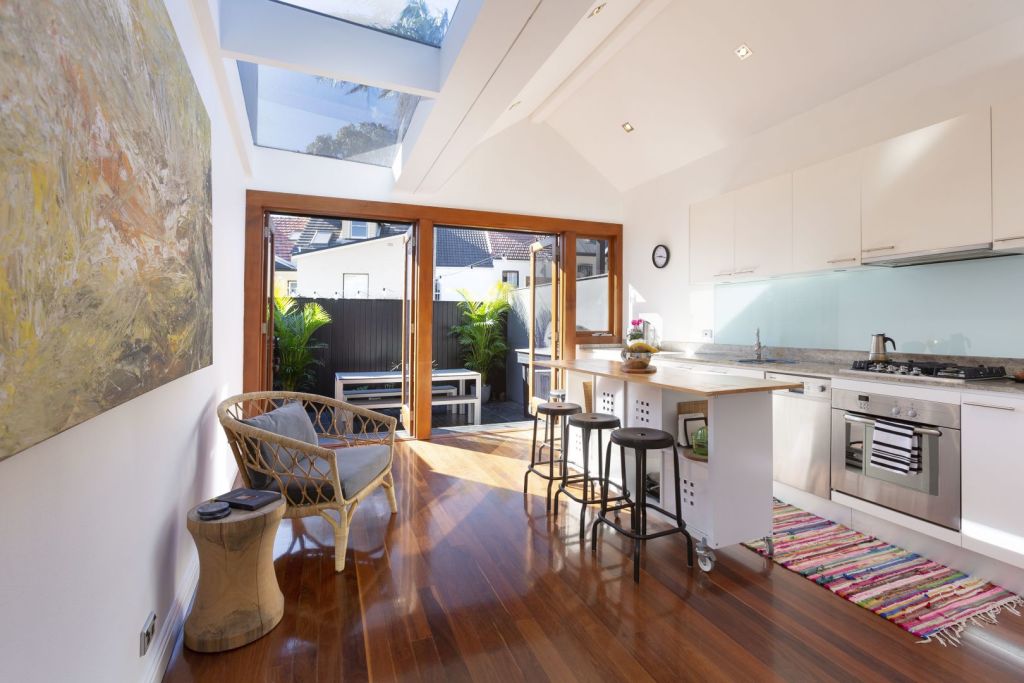 5. Colour and staircase options
Don't overlook the opportunity to reflect more natural light around the terrace with light-coloured walls and joinery, says Byrne. You can also incorporate open risers and glass balustrades into rebuilt stairwells, and home owners with bigger budgets have installed glass floors on the first floor to maximise light penetration.
While mirrors were a popular option for magnifying interior light in years gone by, Byrne says they're seldom used today, with renovators focusing instead on increasing their glazed components.