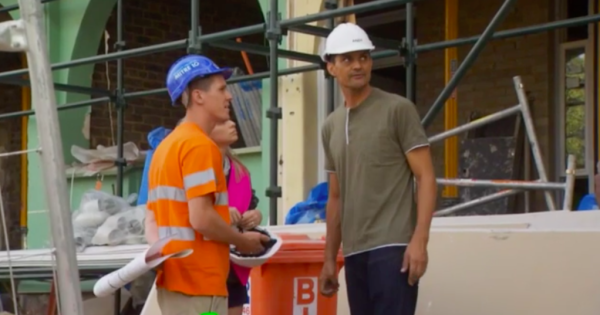 The Block 2019: How to renovate when you share walls with your neighbours
Kate Farrelly
Domain Reporter
When architect Rebecca Naughtin issues a survey to each new client to get a feel for their project, one of the key questions she asks is "how is your relationship with your neighbours?".
After years of experience redesigning Melbourne's terraces, Naughtin has run into her fair share of narky neighbours and knows it's best to find out upfront what hurdles she may face from the owners of adjoining properties.
"As an architect, I perform better with full transparency," she says. "If we can set up the brief and understand all of those complexities from the get-go, it's so much better."
Builder Anthony Basil says the new jobs that put the biggest smile on his face are the homes neighbouring past projects.
Basil is the director of Classic Quarters, a company that specialises in renovating terraces and semis in Sydney's inner west, and says these clients provide living breathing endorsement that a project has been run well and his foreman is taking good care of the neighbours.
Both Naughtin and Basil agree that the best way to keep neighbours on side is to keep them in your renovation loop from the beginning.
"While there's no pleasing some people, at least you can say you tried," says Basil.
Domain asked Naughtin and Basil for their advice on how to overcome the most common challenges of renovating properties that rub shoulders with the neighbours.
Privacy and building on boundaries
Basil says it's remarkable what councils will knock back over privacy concerns, so it makes sense to show your neighbours your plans before you submit them to the council.
"Get in early and talk to them out of care and respect," says Basil.
Naughtin says the dense fabric of Melbourne's inner-city suburbs means it can be really difficult to comply with existing codes, so council planners need to use their discretion when assessing an application.
She suggests going directly to your neighbour to seek their approval before you submit your DA, perhaps even asking them to sign your plans.
Naughtin is currently working on a project with clients who want to build a garage on the block boundary, so they're seeking endorsement from the neighbour and aiming to engineer the boundary wall so the neighbours can install a basketball hoop.
Parking during construction
Terraces and semis seldom come with parking, making street parking a valuable commodity and one that becomes increasingly rare when a renovation is underway, and multiple tradies are on site.
Basil says the problem can be compounded when a rubbish skip is required, or bulk materials are delivered, taking up yet another car space. Builders can apply to the council for a work-zone permit to reserve parking and delivery space, but home owners need to be aware the cost for such a permit runs to several thousand dollars, depending on the area and time required.
Basil is about to start a job in Summer Hill where he is required by the council to pay for a work zone for two months.
"We also have to get the neighbours' permission to take some of the parking space in front of their property," he says.
Basil says he makes a point of either letter-dropping or door-knocking the closest neighbours to let them know about a new project and potential parking requirements.
"We let them know that if there are any issues, they can come and see the foreman or call us and we'll make sure we address the issue."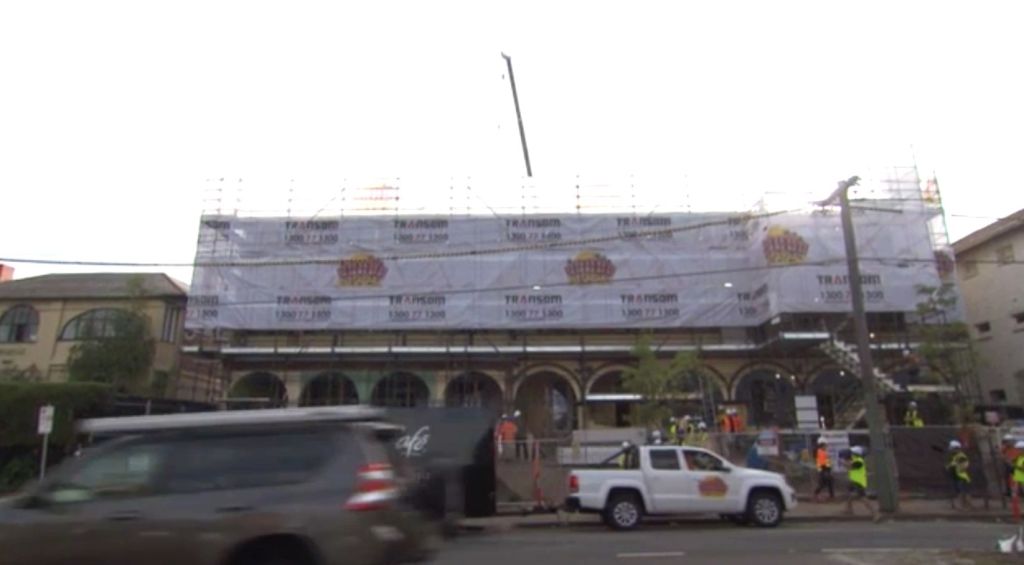 Noise and smoking
Basil says noise complaints are common even when builders are working within regulated hours. But there are ways to minimise the impact, including finding out if neighbours have small children with regular nap times and aiming to avoid power tools at that time or creating a schedule that will appease a shift worker.
Tradies also have a reputation for swearing and smoking, which could quickly get neighbours offside.
"I've got three kids myself, so I've got zero tolerance for swearing," Basil says.
Some building companies have established policies that ban smoking on their construction sites while others might provide a designated smoking area.
Ideally, home owners should set expectations upfront that can be enforced by the foreman or project manager, and give neighbours an avenue to provide feedback if required.
Damage control
Naughtin says councils will typically request a dilapidation report before a renovation project gets underway. This is a report on the condition of neighbouring properties that records any existing damage and the state of any parts of the property that are likely to be affected by construction work, excavation or demolition. It will include photos that can be referenced post-renovation.
"We've had an instance where the neighbour wouldn't allow photos to be taken and we were later blamed for cracking," says Naughtin. She has also handled problems with a leaking party wall when the shared parapet capping or valley gutter was removed and not reinstalled properly.
Basil says the best way to reduce the likelihood of damage is to do demolition by hand.
"It's just like on The Block when the contestants were pulling down the old walls and ceilings by hand instead of using a machine," he says. "Do your research, talk to the engineer and the architect and take your time."
It's common for a renovation to include new or reinforced footings which can impact on your neighbour, says Naughtin, particularly if a renovation includes a new basement space.
"We're getting a lot of requests for cellars," she says. "If you're going to build a cellar, then the design of those footings is pretty important in how it relates to the footings of your neighbour's property."
This is where engaging an experienced engineer will pay dividends.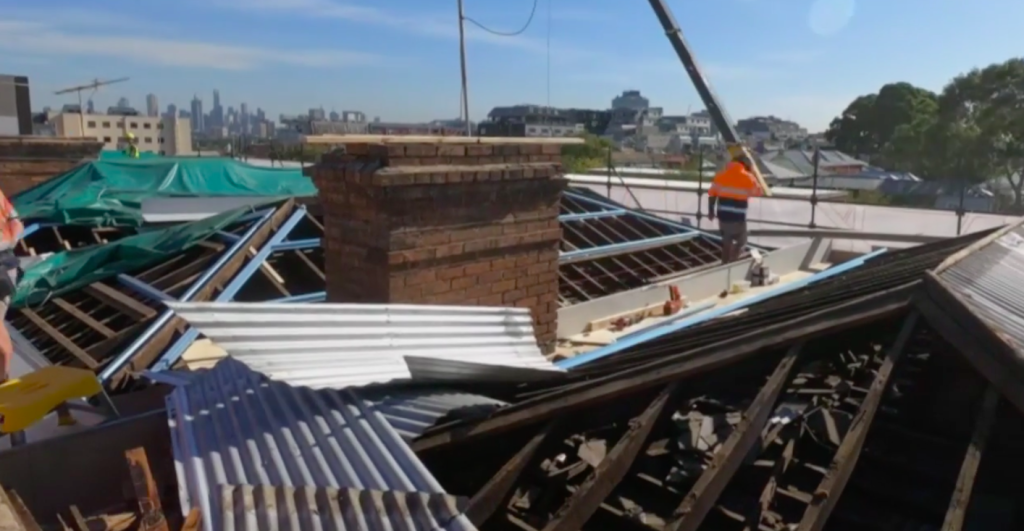 Hazardous materials
Older homes are highly likely to contain asbestos and lead paint, which will need to be removed as part of a renovation project.
"Most councils now require any house built before 1988 to get a hazardous material survey report," says Basil. "You'll need to send this through to your certifier before you can start any work. After the demolition is done, you will need a clearance certificate to give to the certifier."
Basil says he is required to give neighbours seven days' notice of when hazardous materials will be removed.
"I'll then talk to them in the days leading up to it and tell them a time," he says. "We try to do it between 10am and 2pm so that the chances of kids playing in the backyard are minimised."
Basil says neighbours may choose to be out of the house during the removal process and may appreciate a phone call when it's safe to return. He says it's important to take this process seriously, especially for "mum and dad renovators who don't know the dangers".
"Don't go in and start ripping out walls without approval," he warns.