Why updating a hallway can be much harder than you think
"Wow" is what every real estate agent hopes to hear from a buyer when they walk through the front door and step into the hallway of a house for sale. It's also the reaction The Block contestants hoped the judges would have when they stepped into the apartments in this week's hallway, laundry and powder room reveals.
"Hallways are essential to making a first impression," says Megan Smith, residential sales consultant with Ray White Balmain. "They set the level of expectation by reflecting the era and style of the rest of the home."
If kitchens sell properties,  hallways set the tone – but this transitional area is tricky to get right.
Keep it clear
The biggest hallway mistake Smith has seen when presenting a property is clutter. "It must be a clear, tidy walkway. It's a letdown to open the front door onto a family's mess of bags and shoes. And if you're not sure about a piece of furniture in this area, then remove it to avoid over-styling."
All five apartments on The Block this season have double-entry doors that open directly into the hallway. To keep their sightline uncluttered, Spence and Kerrie have recessed shelving, and Norm and Jess have kept the area clear by installing a wall-mounted shelf using a marble offcut from their kitchen bench.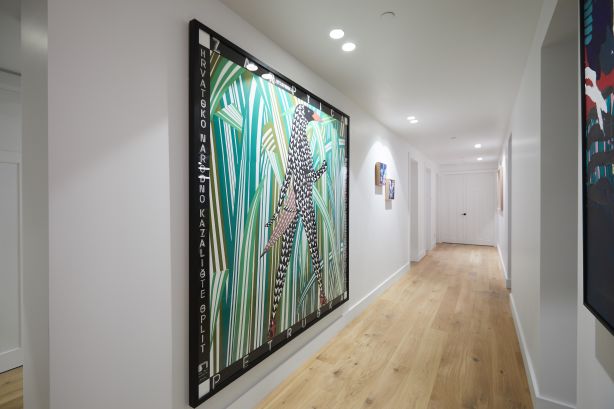 Wow-factor artwork
As a main thoroughfare, the gallery-style nature of bare walls in a hallway make it ideal for hanging artwork.
"As the place where first impressions are made, hang artwork that's consistent with the styling in the rest of your home, without being overwhelming or busy," advises Sarah Firth, press manager at Urban Road, which stocks artwork in The Block Shop and supplied the talking-point llama print for Hans and Courtney's living area.
Many of the contestants have played on St Kilda charm with their choices, with Carla and Bianca selecting a quirky photograph of zebras. "It's the perfect balance of character and charm," says Firth. They also chose three watercolour images featuring vintage swimsuits. "They're a nod to the history of The Gatwick, while staying consistent with the beachside vibe of St Kilda."
Related: View the five Gatwick apartments for sale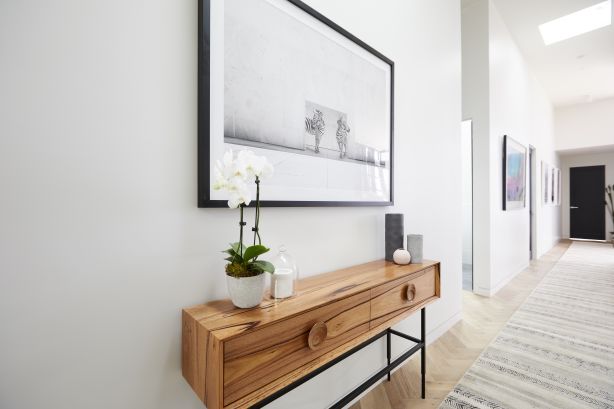 When choosing artwork, Firth advises against cold, aggressive or moody images. "Instead, go for what you'd associate with comfort, warmth and tranquility. Abstract is fine, but consider the movement and colour palette of the piece."
Artwork has the biggest impact at eye level. Position the frame so the centre is about 1.4 metres from the floor and always use two hooks. "This provides maximum support and ensures the piece stays straight on the wall, especially when it becomes a busy thoroughfare on open-for-inspection days," advises Firth.
Make an entrance
Norm and Jess made the most of their penthouse apartment by adding skylights to maximise the natural light, while playing on the sense of space afforded by their high ceilings.
But many hallways don't have access to natural light. To create a wow factor, Denise Hammond, product knowledge development specialist for Beacon Lighting, suggests adding sparkle, focus and shine with feature lights. "It might be a pendant, a look-at-me chandelier or oversized industrial light."
Before installing a pendant, check that it will fit into your floor-to-ceiling space and that doors won't swing onto it. "The rule is to hang a pendant 1820 millimetres above the floor," says Hammond.
In a large hallway like Hans and Courtney's, wall sconces can be used as sight markers to indicate doorways. "Check the dimensions of the sconce and the width of the hallway to ensure it doesn't jut out or appear unbalanced," says Hammond.
Cove lighting also creates a dramatic effect because the fitting is hidden, often installed as LED strip lighting or tape lights in ledges, recesses and high on walls. "The light is directed up or down to create a wall-washing effect."
Walk this way
Getting creative with flooring design can also help visually direct traffic through the house, according to Carpet Court national product manager Anthony Carter. "Hard surfaces tend to transition to carpeted areas in naturally occurring areas, such as hallway junctions and doorways."
If you're using a runner to soften the surfaces, check that it has a non-slip underlay or consider using double-sided carpet tape to keep it in place and prevent the corners from rolling up.