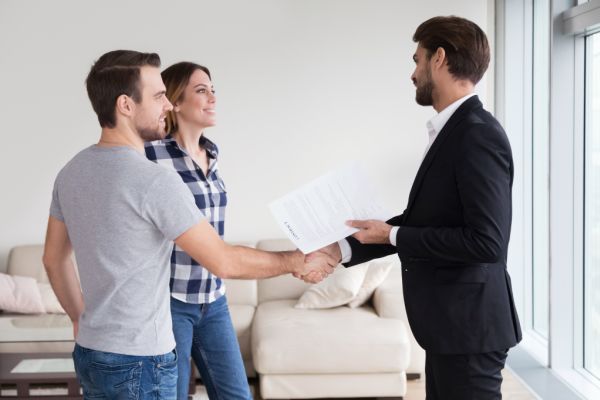 What to do if you have a dispute with your landlord
A landlord who kept delaying releasing a bond, knowing his tenant was having to move overseas for work and couldn't hang around to demand it. Another who kept calling by at odd moments on the pretext of checking his property – completely ignoring the permitted inspection appointments.
And a third who, when asked to fix the damp patches in his apartment, accused his renter of causing them and took money from his bond when he moved out. Then painted over them ready for the next resident. 
A good landlord, like a good real estate property manager, can be an absolute treasure. If either is bad, they can cause huge problems. And if they're both bad, they can make tenants' lives a misery.
So, when disputes do arise, what can tenants do?
Talk to the agent
Their first stop is always the real estate agent, says Real Estate Institute of NSW chief executive Tim McKibbin.
"The primary contact for the tenant is always going to be the real estate agent property manager," he says. "They should work through the issues with the tenant to a satisfactory conclusion.
"At the end of the day, the property manager has responsibilities for the property and there have been times when they've asked the landlord for action, and they haven't been able to get instructions from [them]. On some rare occasions, where it's a health and safety issue, and no instructions are forthcoming, they've had to write to the landlord to say they can no longer represent [them]."
But, just as landlords can be excellent to deal with – or terrible – agents can also vary dramatically. Many may be working in property management en route to their real ambition of becoming a real estate sales agent and aren't terribly interested in their tenancies.
There have certainly been some over the years who are so keen to curry favour with the landlord, they avoid passing on any problems that may involve an outlay of funds, in the hope tenants either put up with an issue or pay themselves to get it fixed. 
It's difficult, as a tenant, however, to know where the difficulties are stemming from. If the real estate agent is inefficient and doesn't seem to be either doing anything about the issue, or passing it on to the landlord, where else can the tenant go?
Contact the landlord
There have been plenty of times when frustrated tenants have managed to get in touch with the landlord to ask them to do something.  
Property owner Debra Beck-Mewing, chief property strategist and buyers agent at The Property Frontline, says most don't mind a direct approach. "My tenants know how to contact me and, if there is a problem, I'm absolutely happy to hear from them.
"I like to know if they're safe and happy because I want them to look after the property they're living in, and I want them to stay. I think that's typical of many landlords – they want a quality outcome for both parties."  
Property Owners' Association of NSW president John Gilmovich says that most landlords use professional property managers who are skilled in helping tenants address issues of concern, but disputes can occur.
"Most can be managed with good communication in the first instance and there are rules and legislation to protect tenants as well as landlords' requirements," he says. "If tenants have any concerns about their ability to meet their rental requirements in the current environment, they should contact their property manager. 
"And if disputes cannot be settled, they can be escalated to NCAT [the NSW Civil and Administrative Tribunal] in NSW and VCAT [the Victorian Civil and Administrative Tribunal] in Victoria."
Apartment problems
Sometimes, when you live in an apartment, a problem may be something to do with the common property of the building. Your front door might not close properly, there might be no hot water from the shower, or someone might be constantly parking in your car space.
None of those are the landlord's responsibility to fix, but the landlord or the agent are the ones who should be passing the complaint onto the strata committee of the building manager to rectify instead.
In NSW, in buildings where more than 50 per cent of registered residents are renters, there may also be a tenants' representative on the strata committee who can pass on problems.  
Escalating disputes
If tenants are unable to resolve their issue via the property manager or landlord, there's a huge amount of free advice on the websites of tenants' bodies the Tenants Union of NSW and Tenants Victoria. 
"Tenants Victoria's website is a handy practical resource to find information about your rights as a renter," says Farah Farouque, its director of community engagement. "Don't be shy. If you do have a problem regarding your rented home, it's important to let the agent or landlord know your concern and try to resolve it as quickly as possible.
"Always remember renters have rights and, in Victoria, recent tenancy law reforms have ensured it's a more balanced and fairer situation between renters and rental providers."
She says tenants certainly do not need to meekly submit to a "solution" that works for the landlord and agent and not you as a renter. If the problem relates to the rental provider breaching a duty or rental laws, you can certainly take steps to formally notify them of the problem.
If you still cannot resolve the problem, then you have the option of stepping up and taking your dispute to VCAT or NCAT, the tribunals that adjudicate on rental disputes. "There are minimal costs to take a matter to the tribunal, compared to more formal court settings," says Farouque.
Higher up the food chain, tenants can seek advice from the government departments that deal with these problems, the NSW Fair Trading and Consumer Affairs in Victoria. They can also report offences if they feel breaches to the tenancies' acts have been committed.
Both also have a huge amount of information on their websites to help tenants. Both also advise that, even when there is a dispute, for instance when repairs aren't done, tenants should never stop paying the rent. That will put them in breach of their tenancy agreement and the tenancy may be terminated. 
They also recommend that tenants follow up any phone requests in writing to their property managers, and keep copies or preserve email trails that can be referred to if the dispute worsens. 
You can also use one of the official forms to make complaints. On the Consumer Affairs Victoria website, for instance, there's the notice to rental provider of rented premises or the notice of breach of duty to rental provider.