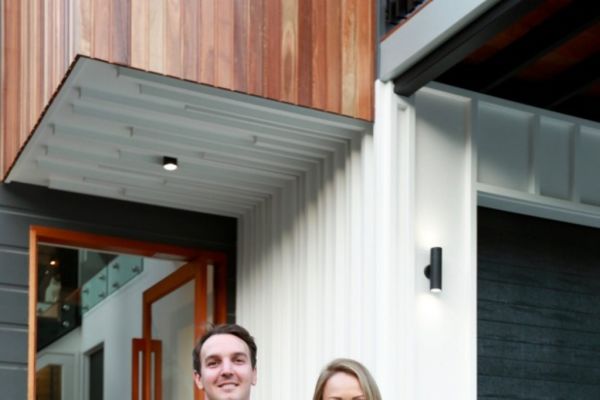 Young Queensland couple's tips for building your first home
Instead of buying an existing property as their first home, Rob Gray and his wife Meghan decided to build one instead.
Gray, 26, said they opted to design and build their own place because it meant their home would be exactly how they wanted.
"We wanted a clean slate and you can customise when you build new," he said.
While undertaking such a big project for a first home may seem overwhelming for some, Gray's experience as a builder certainly helped.
"It happened a lot quicker than it should have, it was quite stress free."
The couple spent less than $600,000 on a decent-sized block of land in Bardon and then around $1 million on the build itself.
"We went a little bit over budget on the build, as I'm sure lots of people in the past have done," he said.
"It was self inflicted; when it's your dream home and you want a finished product you can't pass for second best, but we won't be worrying about it in six months time."
The home was completed a month ago and they're just beginning to feel settled, but Gray said he already knows designing and building their own home was the best decision.
"It's yours – no one else has been in it and everything is as per we've decided," he said.
"In my opinion there's no better feeling, I absolutely love it."
Here are some of the things Gray said prospective first home builders should think about before undertaking such a job.
Decide if building new is really for you
"I feel like a renovation is a little bit cheaper to do than a new build: I'm talking major renovation," said Gray. 
He said you also have to allow a bit more time if you're applying for council approval for a new house.
"It's a two-step approval – development approval and then building approval," said Gray.
"With renovation you can just do one, the building approval, so you can speed up the renovation."
Photo: Scott Burrows
Do your research
The Grays spent plenty of time hunting for the right piece of land.
"It's not that often there's blocks of land for sale, you need to research and the longer the better," said Gray.
He added it does get frustrating when you miss out on something, but you'll find something that suits your needs in time.
"[We were] looking for about six months for that particular block."
They missed out on two properties in Paddington but said they got lucky when the vacant land came on the market.
Photo: Scott Burrows
Pick the right builder
Gray said it's vitally important to pick your builder wisely, making sure they're someone you can develop a good working relationship with.
"You have to work well together and solve problems together, so definitely make sure you can see eye to eye."
He said it's also critical to make sure you keep your builder looped in to the design process.
"When you are in your designing stage, be in contact with your builder to make sure you're designing within budget," he said.
"Work as a team from day one: you've got to do it as a package."
Photo: Scott Burrows
Plan, plan and plan some more
The Grays bought the block of land six months before they started the build, giving themselves time to plan the build down to the smallest detail. The build itself took only seven months.
"Before [construction commenced] we'd almost decided exactly what we were going to do throughout the build," he said.
"There was some fine tuning, but it kept us months ahead."