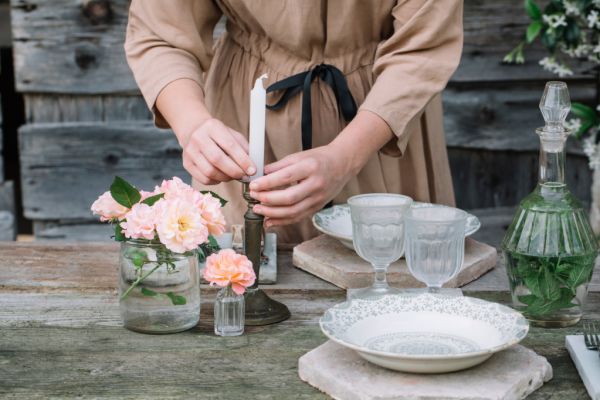 5 simple but stylish ways to set your dinner-party table
As the seasoned dinner-party hosts among us will know, a stunning table setting can make just as much of an impression as a scrumptious meal. 
Dressing the table in fabulous fashion creates a party-pleasing atmosphere – a mood that can be anything from warm and inviting to sophisticated and elegant or fun and festive. And, best of all, it doesn't have to be an exhausting or costly exercise.
But where to begin when giving your dining table a makeover that is both stylish and affordable? Take a look at these five simple ideas and let the decorating begin!
Start with the basics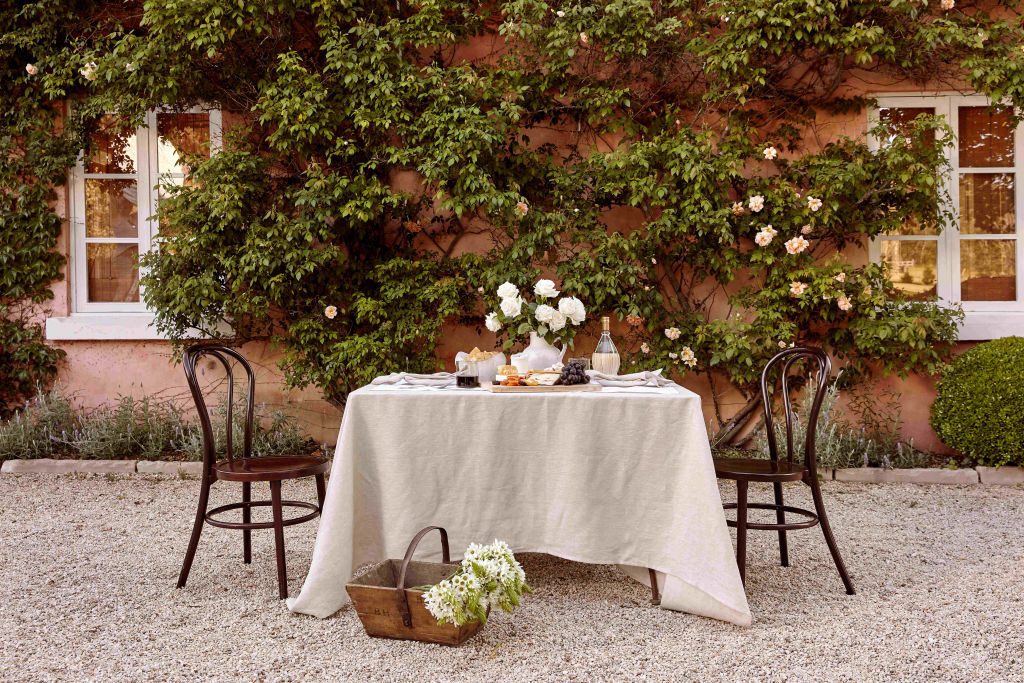 "Dressing the table with linen is the easiest way to instantly transform it," says Genevieve Rosen-Biller, founder of homewares brand Bed Threads.  "Start with a good quality tablecloth or placemats and also napkins. Then layer with your dinnerware and a curated selection of homewares that complement the base palette."
Rosen-Biller also suggests keeping tones "either warm or cool." But do try to exercise a little restraint. "Don't be tempted to overdo it," she cautions.
Fresh is best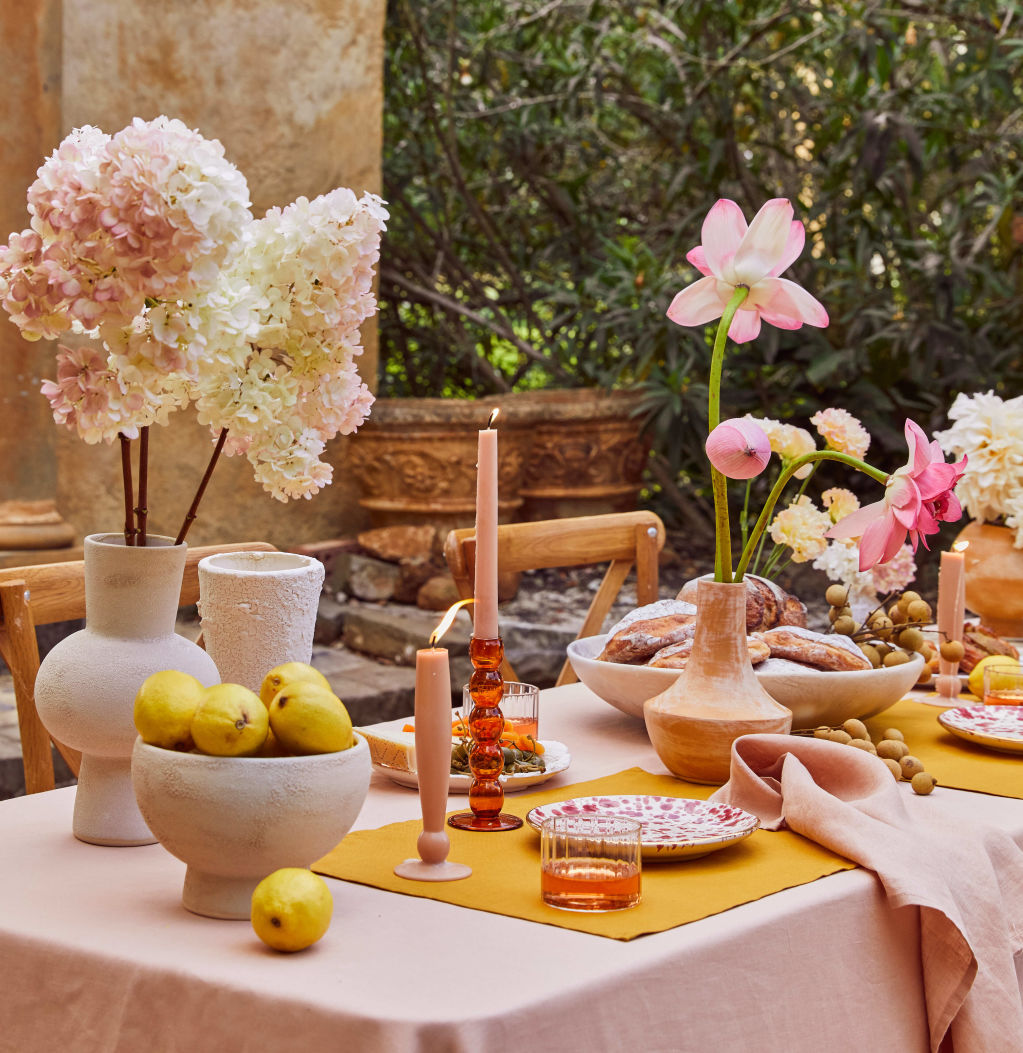 From the delicate beauty of seasonal blooms to the simplicity of botanical branches, there's nothing quite like natural arrangements to bring a dinner table to life. And there's every chance you won't have to look further than your own backyard for both inspiration and foraged finds.
As Melbourne interior consultant Bec Shnider says: "I like to cut fresh foliage from my garden and display it in vases, on platters or simply scattered down the centre of the table." Always ensure the height of any arrangement is low enough to see and talk over – aim for a maximum of 30 centimetres. As Rosen-Biller says: "You still want to be able to see and engage with the people sitting opposite you."
And do consider adhering to a theme, whether it be in the colour or type of foliage or in the display vessels.
Let there be candlelight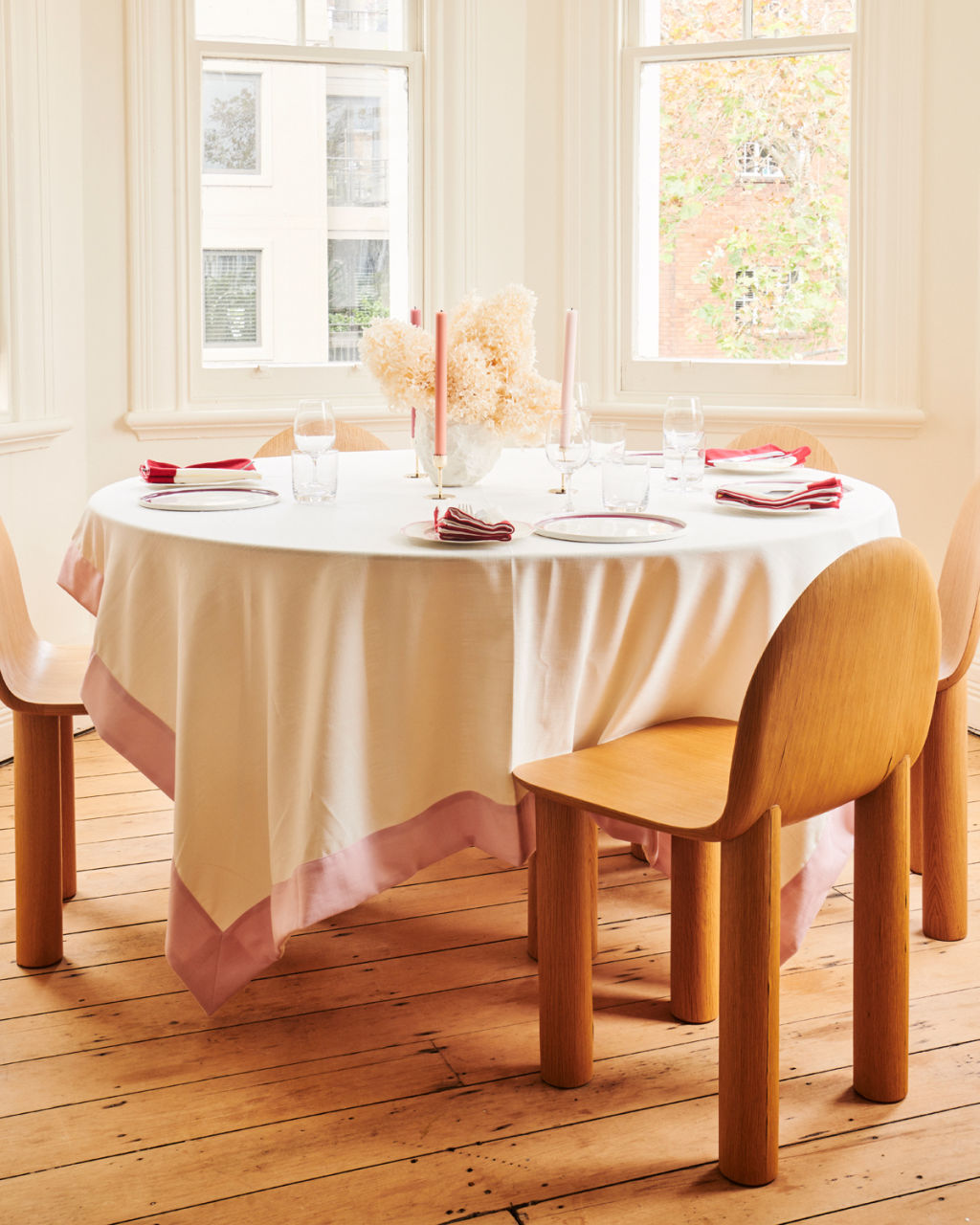 We can all agree that mood lighting is imperative for a successful dinner party, with candles a surefire way to create instant ambience. Keep in mind, too, that white certainly isn't always right when it comes to candles and also dinnerware.
"Taper candles in different colours that 'talk' back to your crockery are an easy way to make a table special," says Alyce Tran and Brooke Bickmore, co-founders of lifestyle brand In the Roundhouse. 
"You can also add colour to the table through your crockery. Our designs are created to work back with everyday whites, so you can mix and match with your existing tableware or go the whole way."
Embrace texture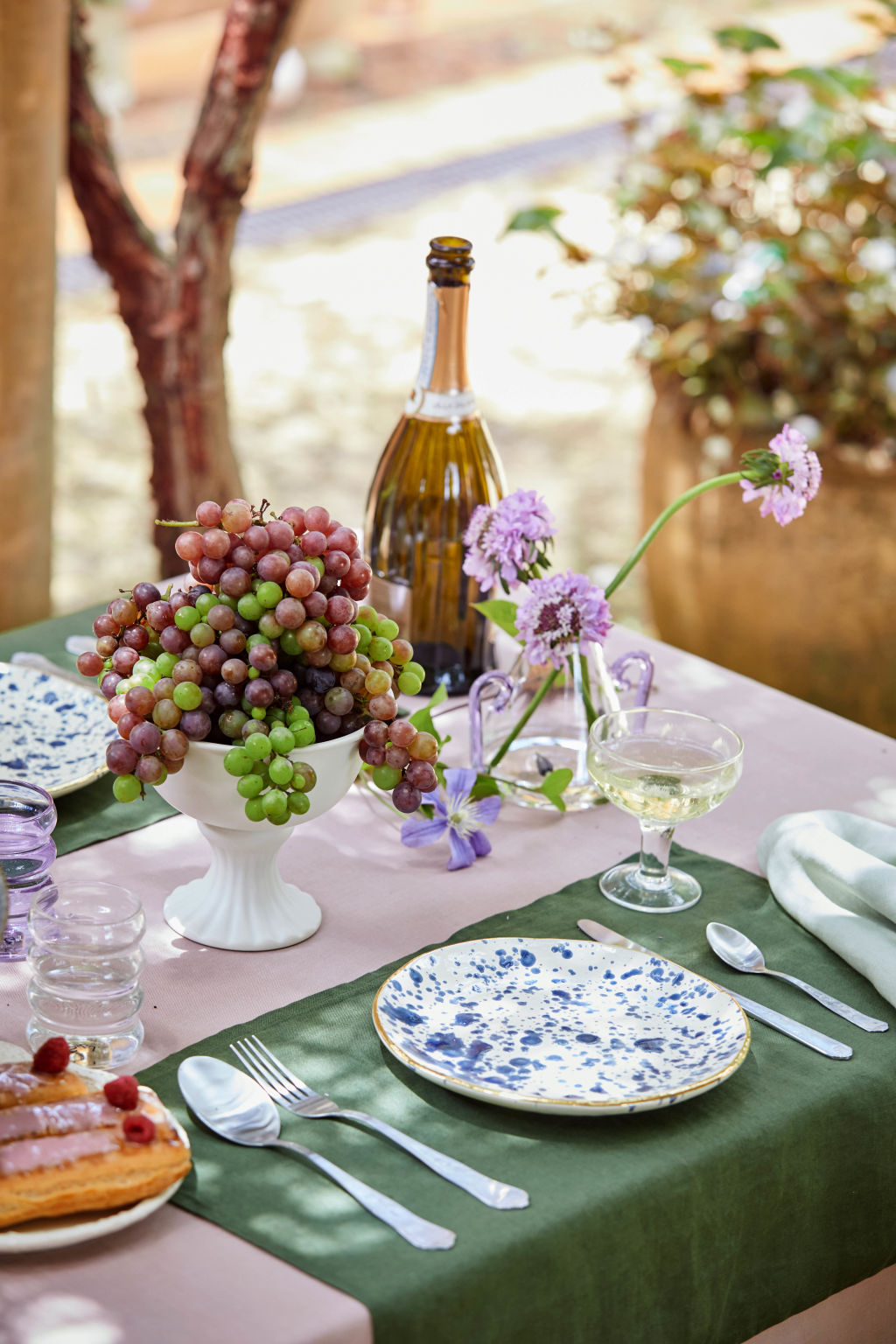 Elevate your table to the next level with tactile dinnerware and decorative pieces.
"Use homewares with different textures to add depth and drama," suggests Rosen-Biller. "Even if you're working with a one-colour palette, such as white, you can use pieces with ceramic, resin, wax, matt, gloss and, of course, linen finishes. If you prefer colour to texture, adding 'living' elements to the tablescape – for example, through fruit – is a simple way to give the space a bold and memorable feel."
Get creative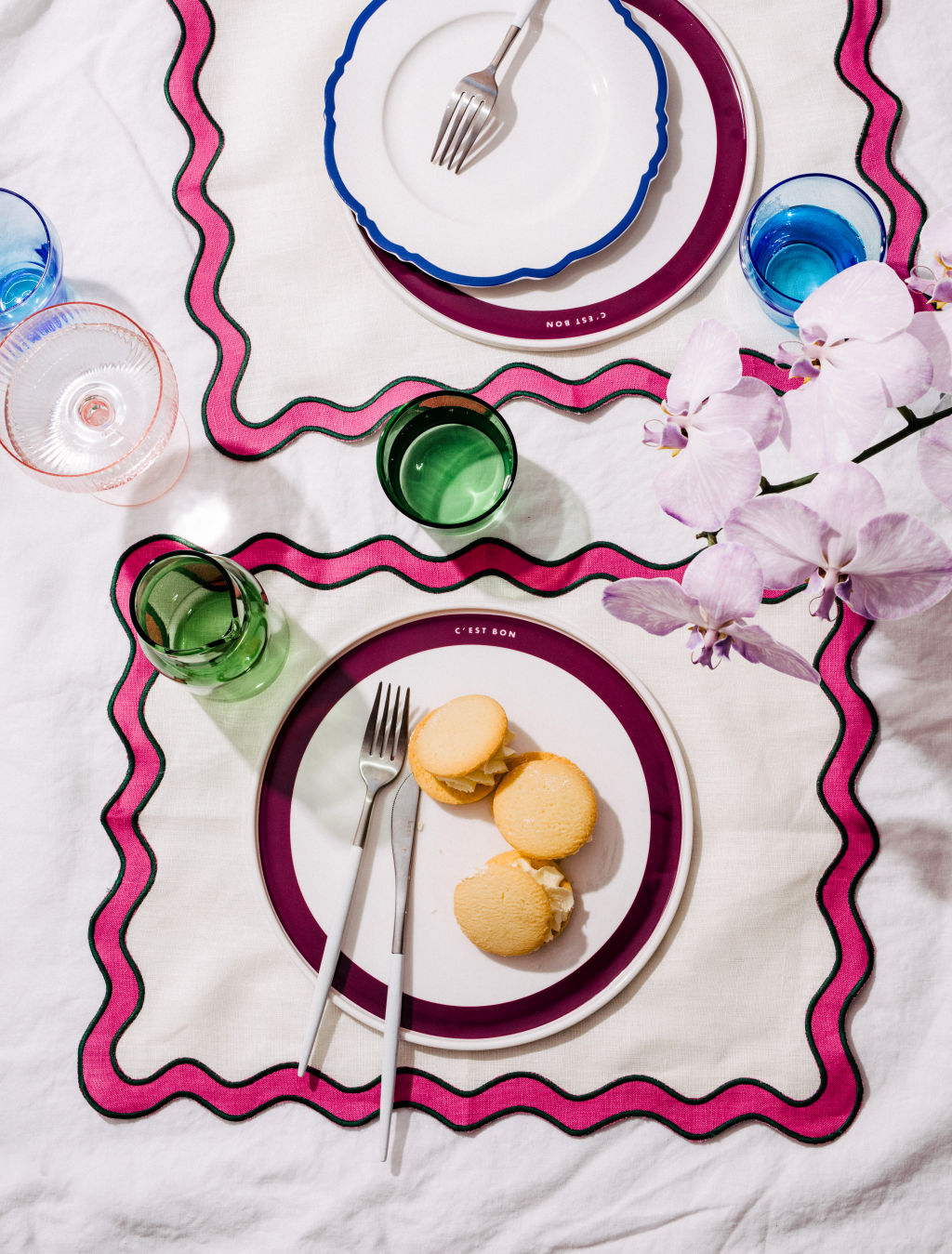 Think outside the centrepiece box. "I sometimes place a photo on each person's plate that is meaningful to them," says Shnider. "It might be of a shared family holiday or a memorable event. Then take it in turns during the evening to let everyone have a chance to tell their story."
If the guest list includes younger members of a family, allow the table decorations to transform into a fun activity. "Buy rolls of brown wrapping paper and lay the paper on the table as if it's a tablecloth," suggests Shnider. "Line the table with lots of clear glasses filled with crayons from a $2 shop. Before you know it, the kids will be drawing, the adults will be scribbling, and everyone will be playing noughts and crosses!"