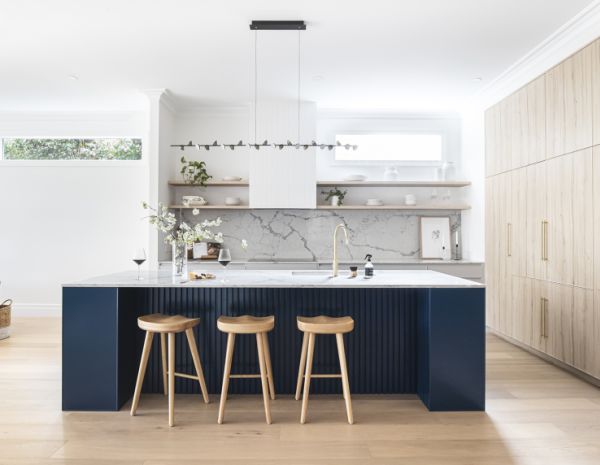 Bold colours, curved benches and plenty of texture: 7 key kitchen trends for 2022
While we might think of "trends" simply as fashions that come and go, they can actually represent new and innovative approaches to design. Trends also reflect the fascinating ways in which cultural events (like, say, a pandemic that means we've been spending far more time at home than usual) continue to shape the way we live.
We spoke to three interior designers about the kitchen trends we're likely to see in 2022.  
Bold and playful colour palettes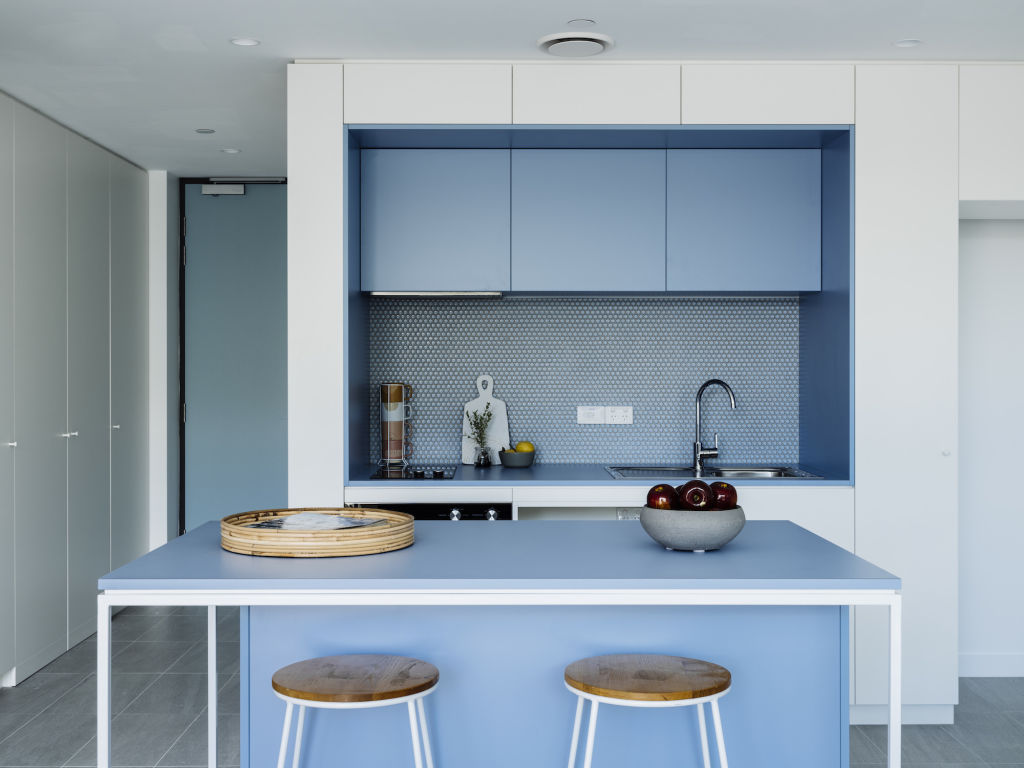 We're living in a brave new world, and this is reflected in the colours that are starting to pop up in our kitchens.  
"Colour has definitely made a comeback in the cabinetry, with muted blues and rusty colours and greens," says Claudia Reinhardt, Brisbane-based interior designer at Cumulus Studio. "And I would say greys and blacks have been replaced with beiges and browns."
Tasmanian interior designer Savannah Denny agrees, saying, "I'm seeing a lot more neutral and natural tones as well. So, lots of sage greens, beiges, light wood textures. More and more I'm actually seeing pops of dramatic colour in the way of dark, moody accents."
Georgia Neale of Melbourne's M.J. Harris Group advises choosing kitchen colours based on those you're drawn to in your wardrobe. 
"I think we've moved on from a plain, basic, cookie-cutter kitchen, and people are looking to find better ways to show their personality in their home," she says. 
Matte, textured surfaces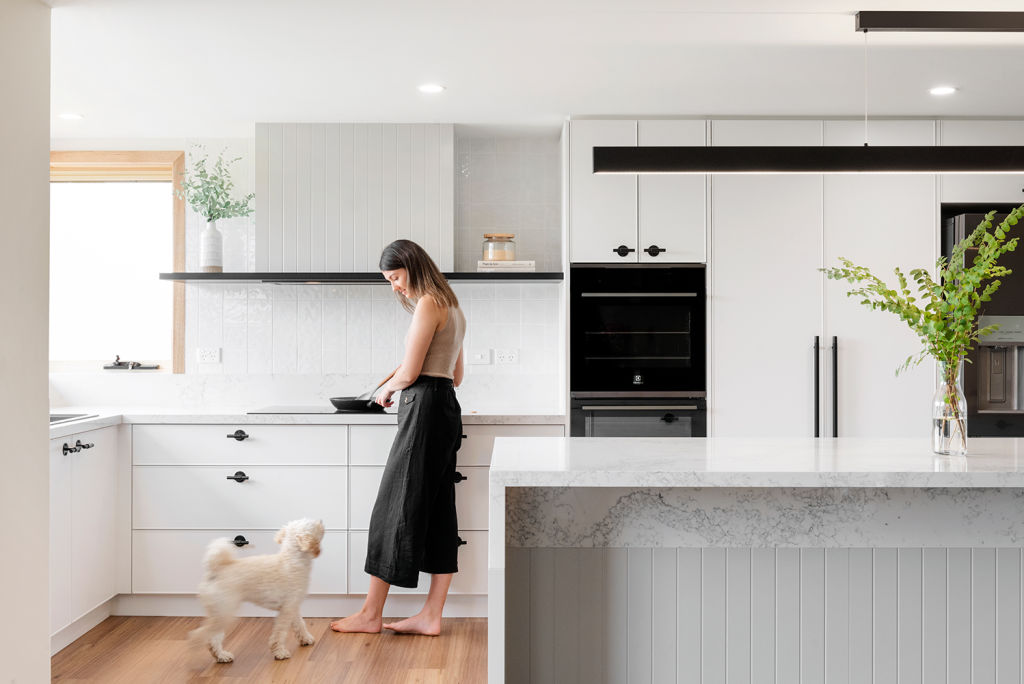 Glossy is out. Instead, we're seeing a shift towards features like organic, handmade (even mosaic) tiles, engraved, brushed or patterned tapware and textured walls. 
"We're adding a lot of cladding and venetian plaster or microcement rather than just painting walls, to add in that extra layer of texture," Denny says.  
This trend extends to liberal and creative use of timber, too – think VJ panelling, batten panelling and dowel variations. 
Separate spaces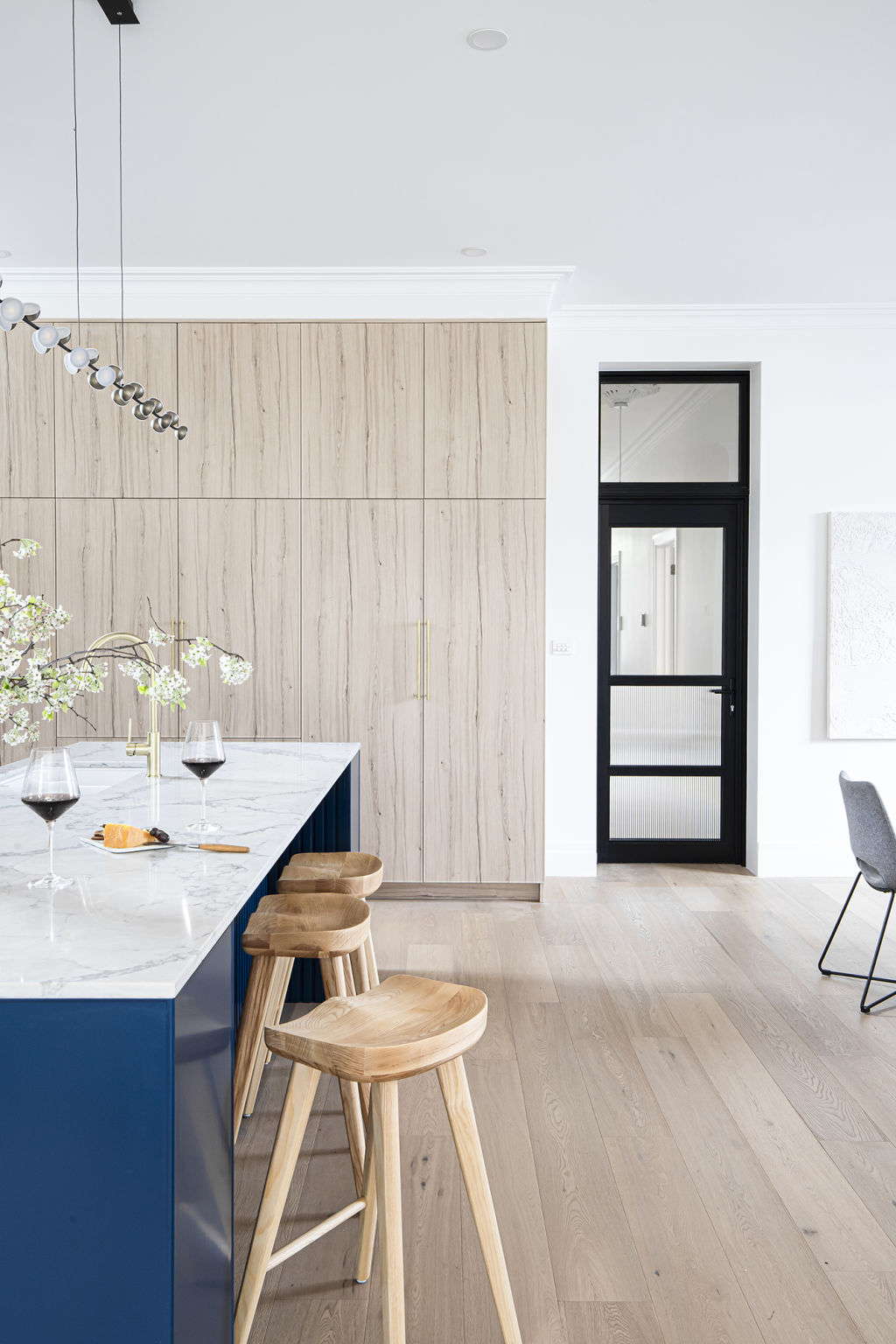 While open-plan living has reigned supreme for decades now, Neale says the pandemic has seen some of us make a small adjustment to this beloved floor plan: the hallway door. 
"I think being able to separate the entertaining space from the sleeping areas – especially if you've got young kids – is just an easy way to keep things separate without closing off another part of the house," she says. "There are so many people doing their own thing in one house that … [you need] time to chill out and go to your own little zone and then come back when you want to." 
Neale recommends aluminium or steel doors with glass that provide a sound barrier while still allowing light through. 
1960s and '70s vibes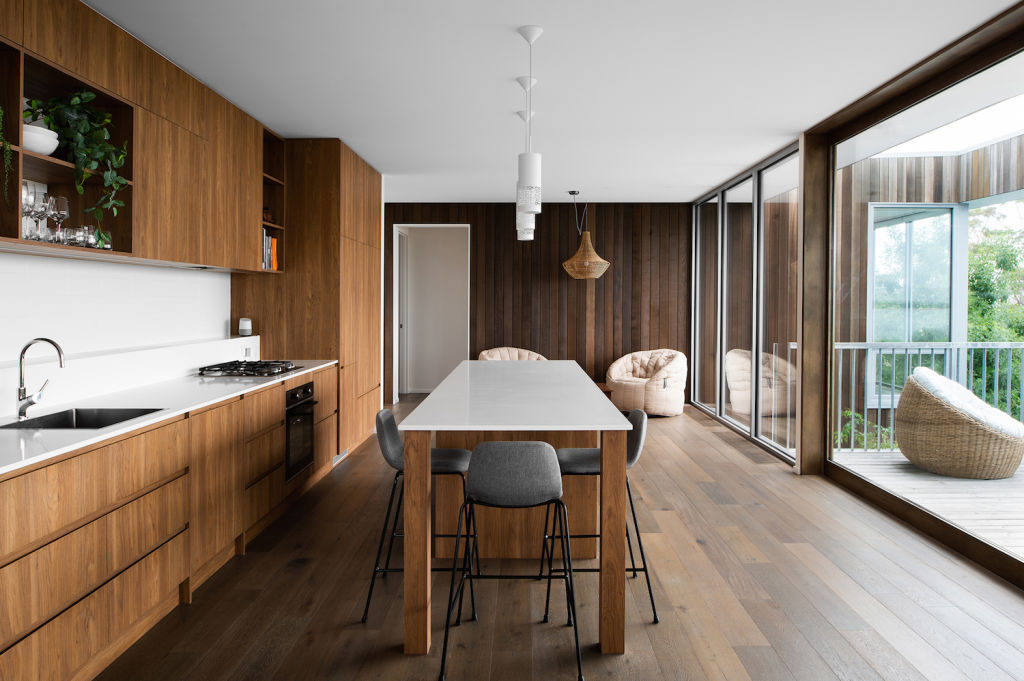 The interior decorating scene has been playing with retro features like indoor plants, terrazzo and rattan for a little while now, and this is manifesting in kitchens through features such as the use of warm timber and exposed rafters, as well as curved edges (for example, in an island bench), plus earthy colour choices like burnt orange and brown. 
"It sort of reminds me of those times when people weren't so afraid of colour," Denny says. "We're starting to play a lot more with colours, but I suppose in a luxe or elevated way." 
Sustainability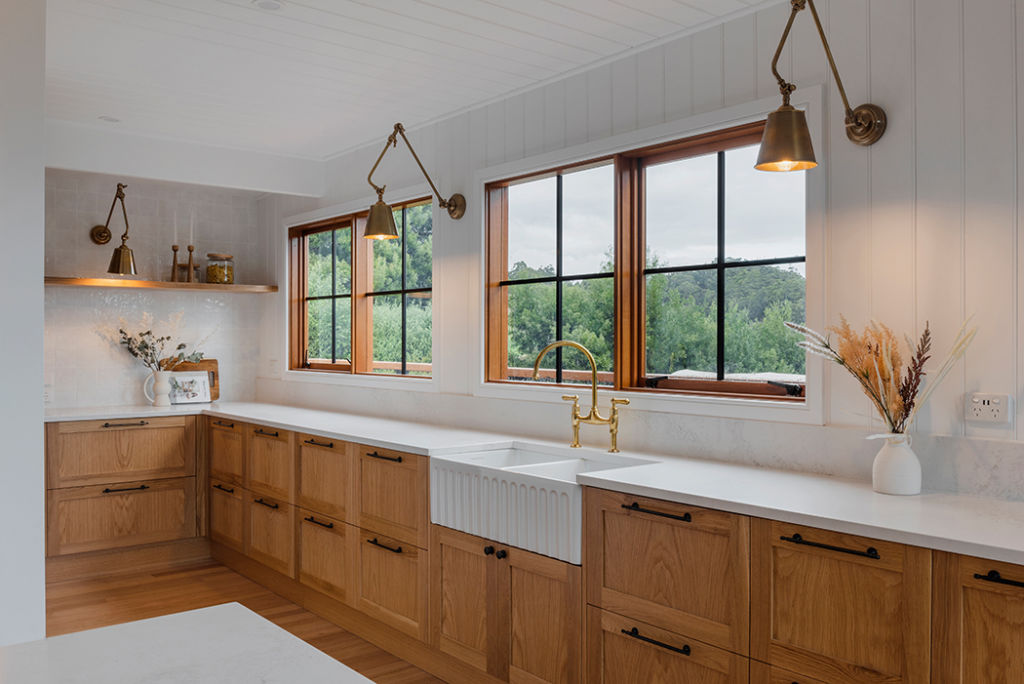 Across the board, people are choosing to shop locally and build more sustainably – and this extends to our kitchens. 
"That could mean choosing natural timbers that are locally sourced and natural stones that are local," Reinhardt says. "And that's going to create a timeless kitchen that's also trendy … things that are going to age beautifully and be hard-wearing."
Reinhardt suggests selecting timber (such as Tasmanian oak in a clear finish) for the joinery and cabinetry, and researching timber companies that are certified sustainable. She also recommends using stones that are local to your area – for example, bluestone in Melbourne – and environmentally friendly low-VOC paints.
Functionality alongside form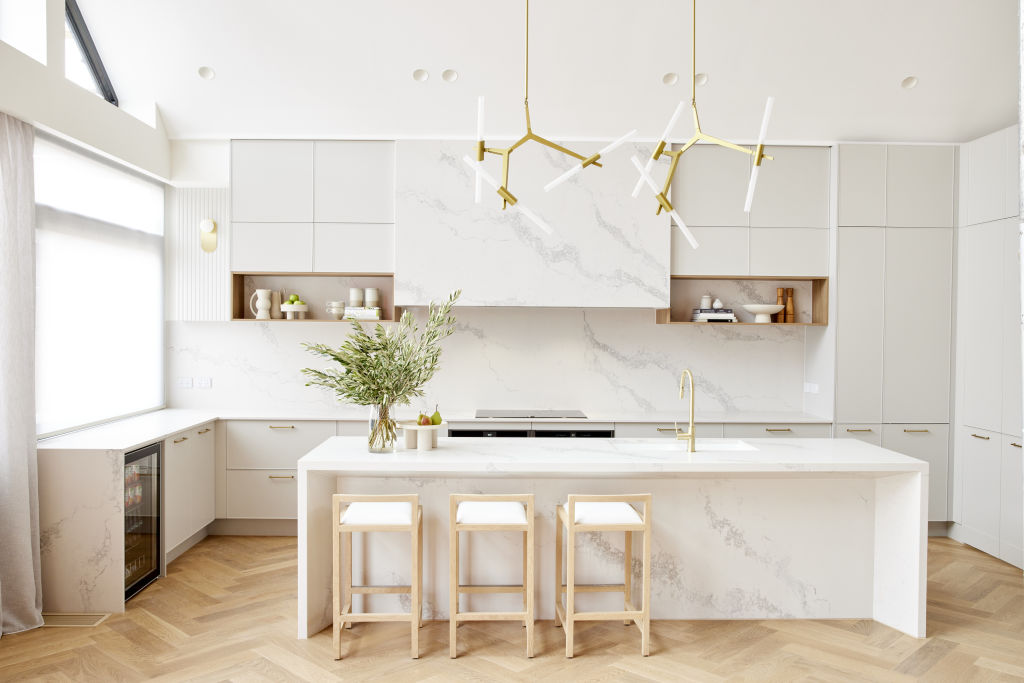 The designers say clients are paying closer attention to the functional aspects of a design, such as deciding where to charge their phones, choosing cabinet door handles that are easy to use and favouring drawers over cupboards when it comes to storage.  
Integration is becoming sleeker, and Reinhardt notes that people almost expect the kind of user experience in their kitchens that they enjoy with their smartphones. 
"There is more emphasis on detail … and on more seamless finishes, seamless detailing," she says. "Fridges behind doors, stacked ovens and microwaves integrated into the joinery." 
Denny says that some of her clients are opting to do away with the kitchen table in favour of expanding their island bench to suit a more casual dining style. 
Study nooks
The integrated study nook is another pandemic-inspired design trend that won't disappear anytime soon. Denny says that, in some cases, people are choosing to turn their butler's pantry into a casual workspace. 
"Most of the ones I've been designing for my clients just look like they're a part of the kitchen, so either they're hidden behind bifold doors and you open them up and there's a full office set-up behind those doors, or I've been seeing just a little nook that might be 900 to 1100 [millimetres] wide, one drawer with a benchtop and then a cute little stool or something to tuck under with an open shelf or cabinet above."