Casa de Gatos: The colourful Victorian cottage where pets come first
Here are high-key touches of colour reflecting clients who wanted an optimistic house. Mexico, you might guess, is one of their favourite countries.
Here is also a renovated two-bedroom Victorian cottage with built-in features that consider the entertainment of two cats whose life is restricted to the indoors. The two dogs can go walkies.
In remodelling the double-fronted Fitzroy house left stylistically confused after a 1970s renovation, Wowowa Architecture & Interiors ran orange carpet up the curved wall in the living/kitchen/dining space so the cats can claw up to an aerial walkway that director Monique Woodward says takes the place of a Victorian plate rail.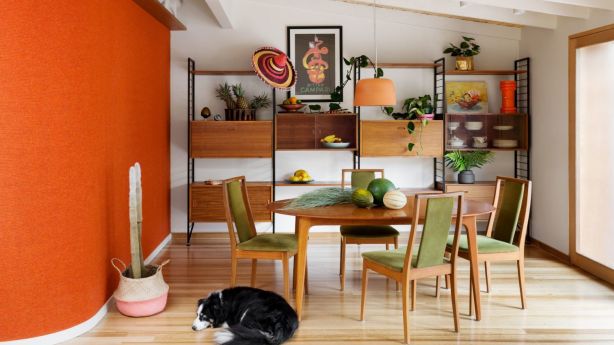 Hugging the walls down one side of the house and including a detour into a "micro-corridor" that divides the main bedroom from the one small bathroom (which is behind that orange wall), Woodward says "the cats totally love it".
Made of recycled blackbutt, like much of the new timberwork that gives "an apartment-sized house" atelier-fine detailing, Woodward says the cat run reads like a high datum line "so it doesn't feel like the cats have stolen the house".
Entering past two bedrooms, the dwelling opens into the L-shaped living space that, considering how much colour, storage and function it has, reads as effortlessly holistic.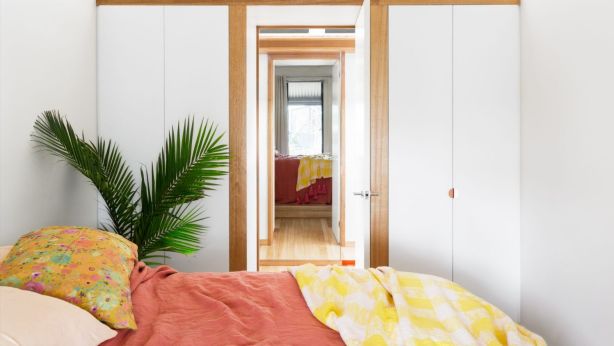 It wasn't an uncomplicated design process. "It was an intense investigation of the existing conditions and everything we did needed to be technically clever."
Winning Wowowa's first architectural prize, the not insignificant Small Project citation in the 2017 Victorian AIA awards, Casa de Gatos (House of Cats) introduced a big skylight intothe skillion roof and more than doubled up on clerestory windows that serve to draw light from outside and push it across corridors between the rooms.
"The clerestories are working hard." Everything is working hard.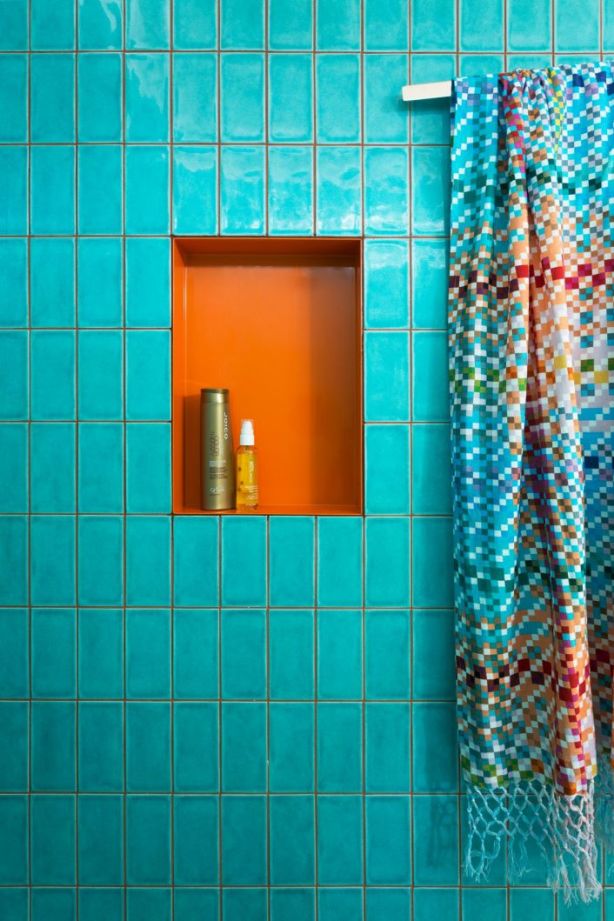 With extra width and a high wooden bench, the kitchen island does duty as the study. The tiny bathroom has a cupboard laundry. Mirrors or mirror-like effects on hallway walls and in the stove splashback double the spatial perceptions.
In this age of the residential neutrals, the unusual colour choices were a mutual decision of the clients and an architectural practice that loves it.
"Colour. The more the merrier," says Woodward, "because even in tight spaces, it can make them optimistic, playful and whimsical."