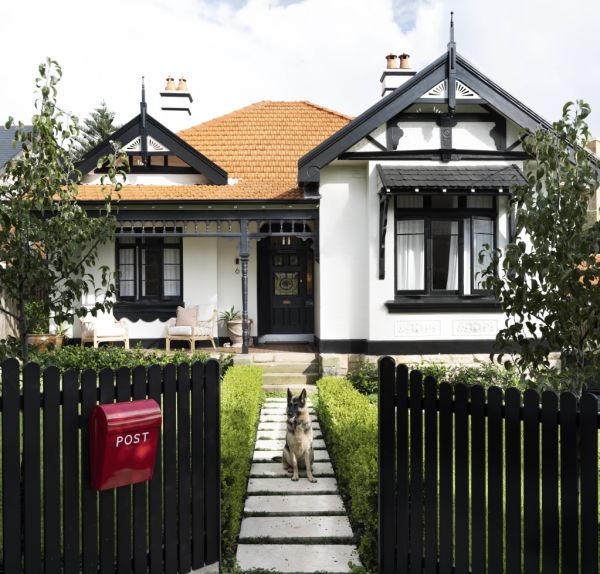 Flaws amid the beauty: A radical makeover for this Federation bungalow
When interior designer Alexandra Kidd was presented with this Federation bungalow in Mosman, she instantly fell for its beauty.
"It had great bones, from its soaring ceilings and large romantic bedrooms to original plasterwork and cornices," she says. "Its scale was gorgeous, as was the big, beautiful block it occupied."
The owners bought the property a few years ago and were keen to settle in Sydney after living in Asia.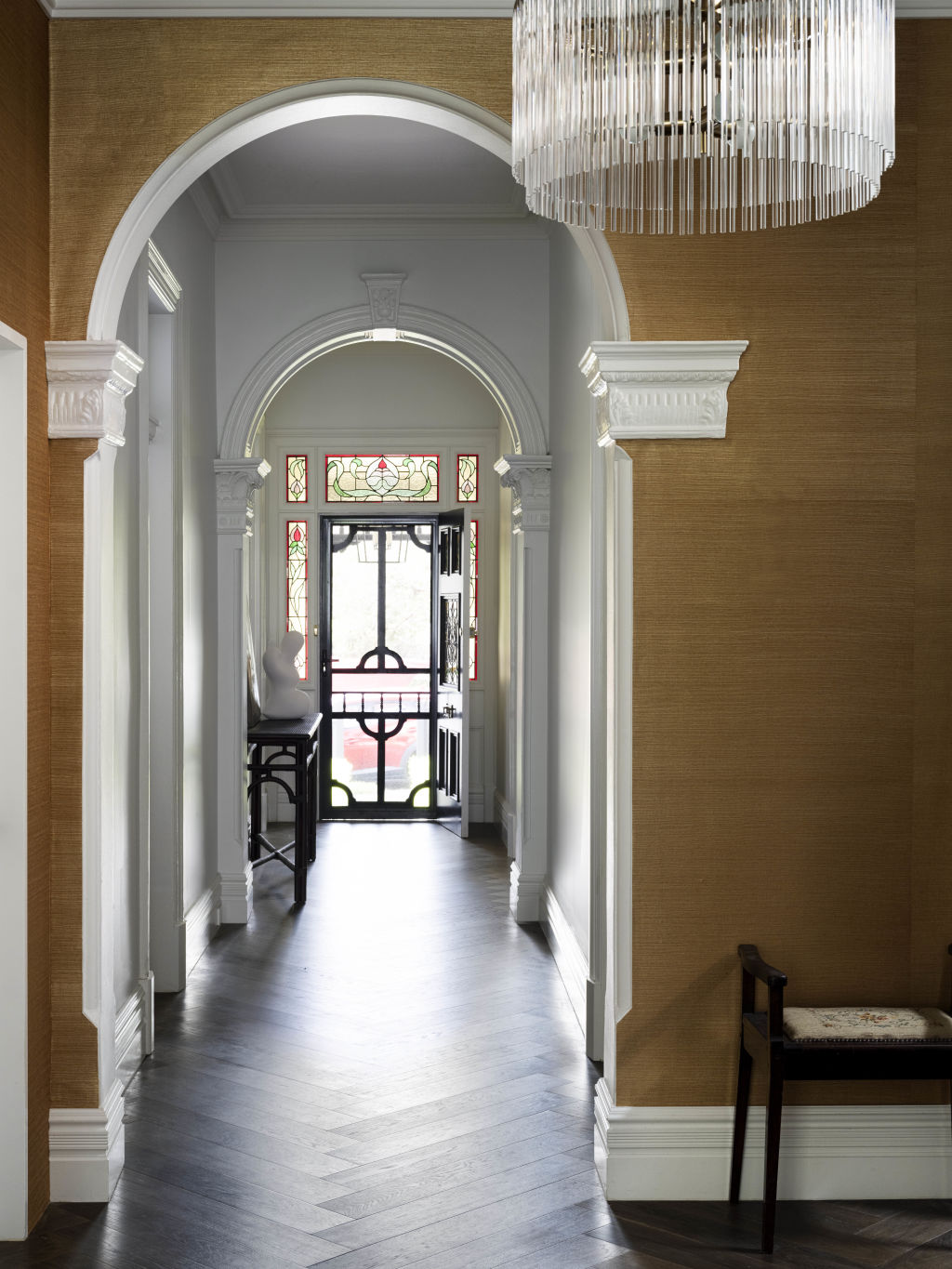 However, Kidd spotted flaws amid the beauty. A newer wing at the rear of the original cottage lacked light, and the kitchen, living and dining spaces were cramped.
After demolishing the extension, she set to work on the original cottage, giving its exterior a slick facelift with a monochromatic scheme, a fence and a carport.
Inside, classic herringbone floors were laid, an elegant original archway in the corridor maintained, and a second one installed.
Of the four existing bedrooms, three were redecorated with new joinery, paint, carpet and lighting. The fourth was transformed into a marble-clad bathroom and staircase.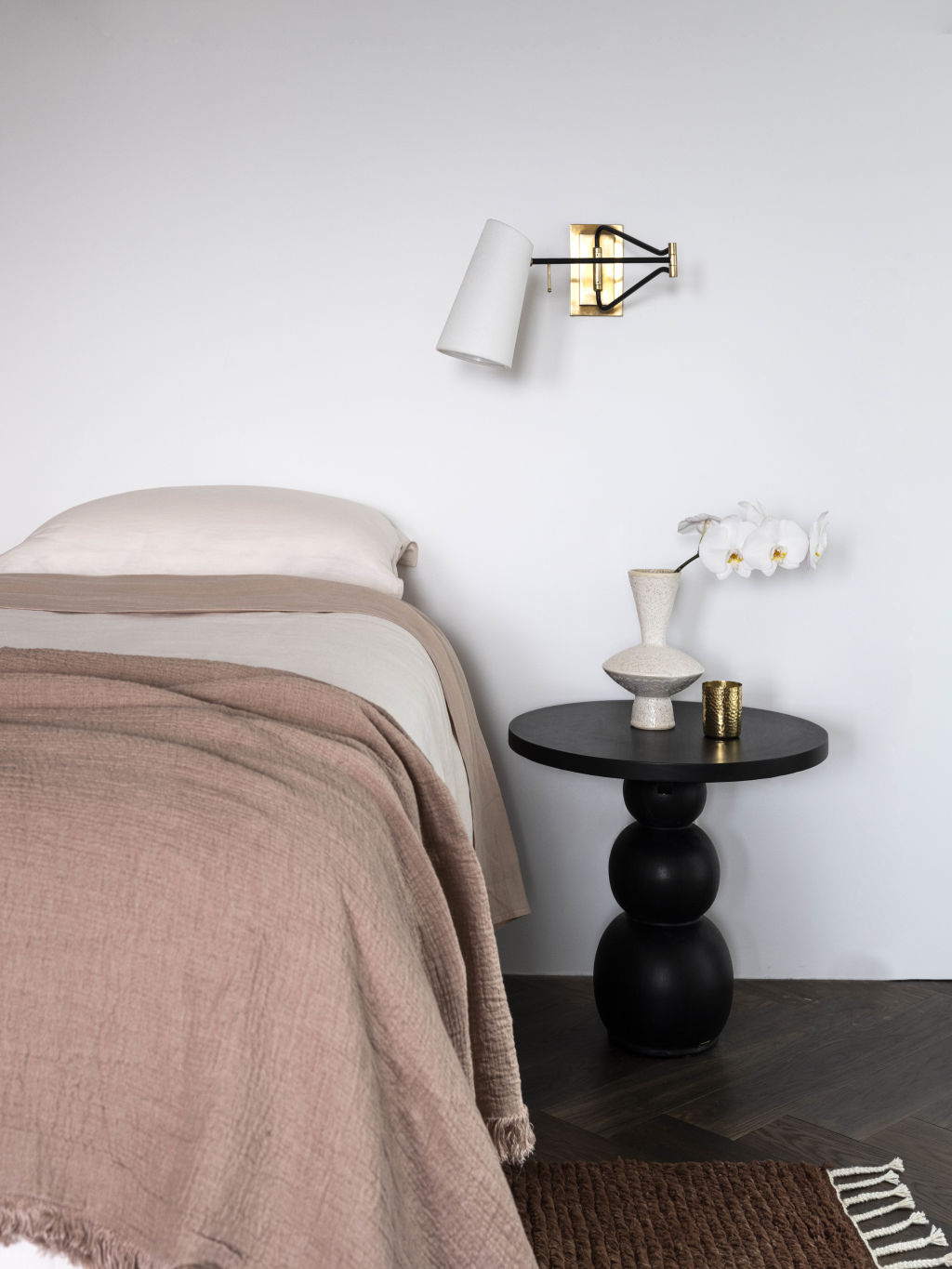 A two-level extension embracing open-plan living and an upstairs main bedroom suite was constructed. Skylights were installed to draw in natural light. Where the old and the new meet, Kidd continued the herringbone flooring, panelling and cornices for a seamless transition.
A glittering James Said chandelier provides a focal point and gold grass-weave wallpaper is a nod to the owner's time in Asia.
A stunning black steel door leads to the new wing, its elegant lines and arches reflecting the home's original architectural detailing. "The door was a big-ticket item but a non-negotiable one," Kidd says.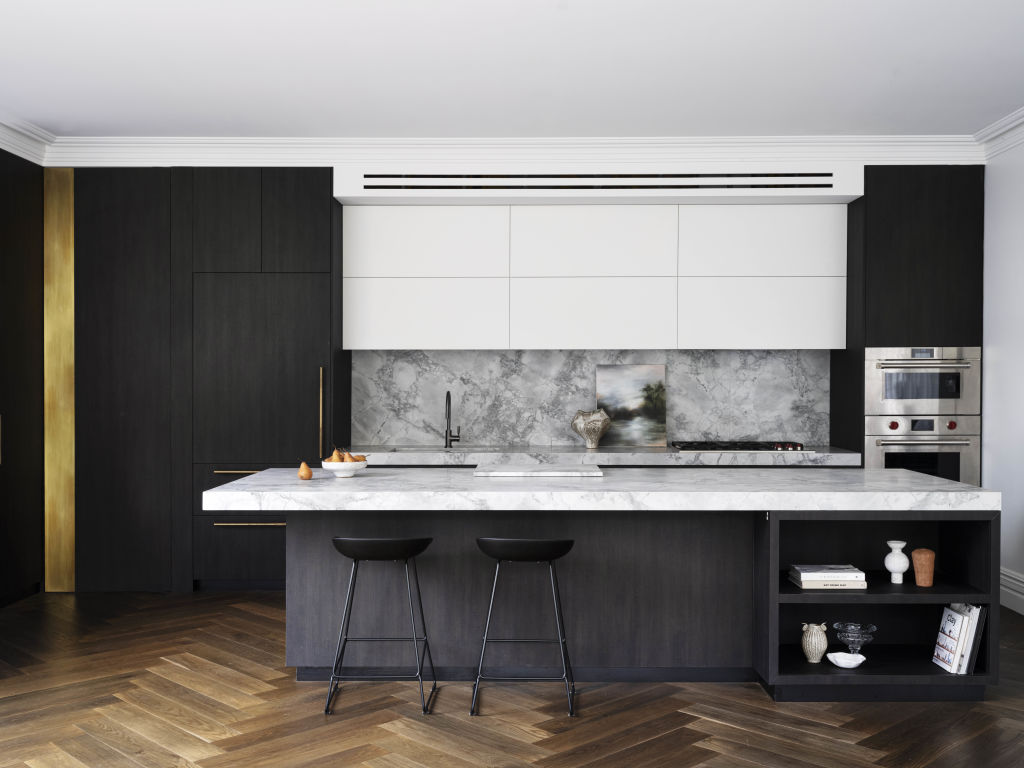 "You have to pick your key pieces; there are items you need to spend money on. This door is essential for striking that balance between the traditional and the contemporary. It's a worthwhile investment."
The kitchen is fitted with dark joinery and brass accents. Concealed doors lead to a butler's pantry. Marble is applied to surfaces, including a vast island bench, and imbues colour and movement which, Kidd says, cannot be replicated with artificial stone.
"Marble is a beautiful surface to feel all day, and I love the patina it develops," she says. "I use marble 99.9 per cent of the time in my projects. It's … resilient and aesthetically there's no comparison."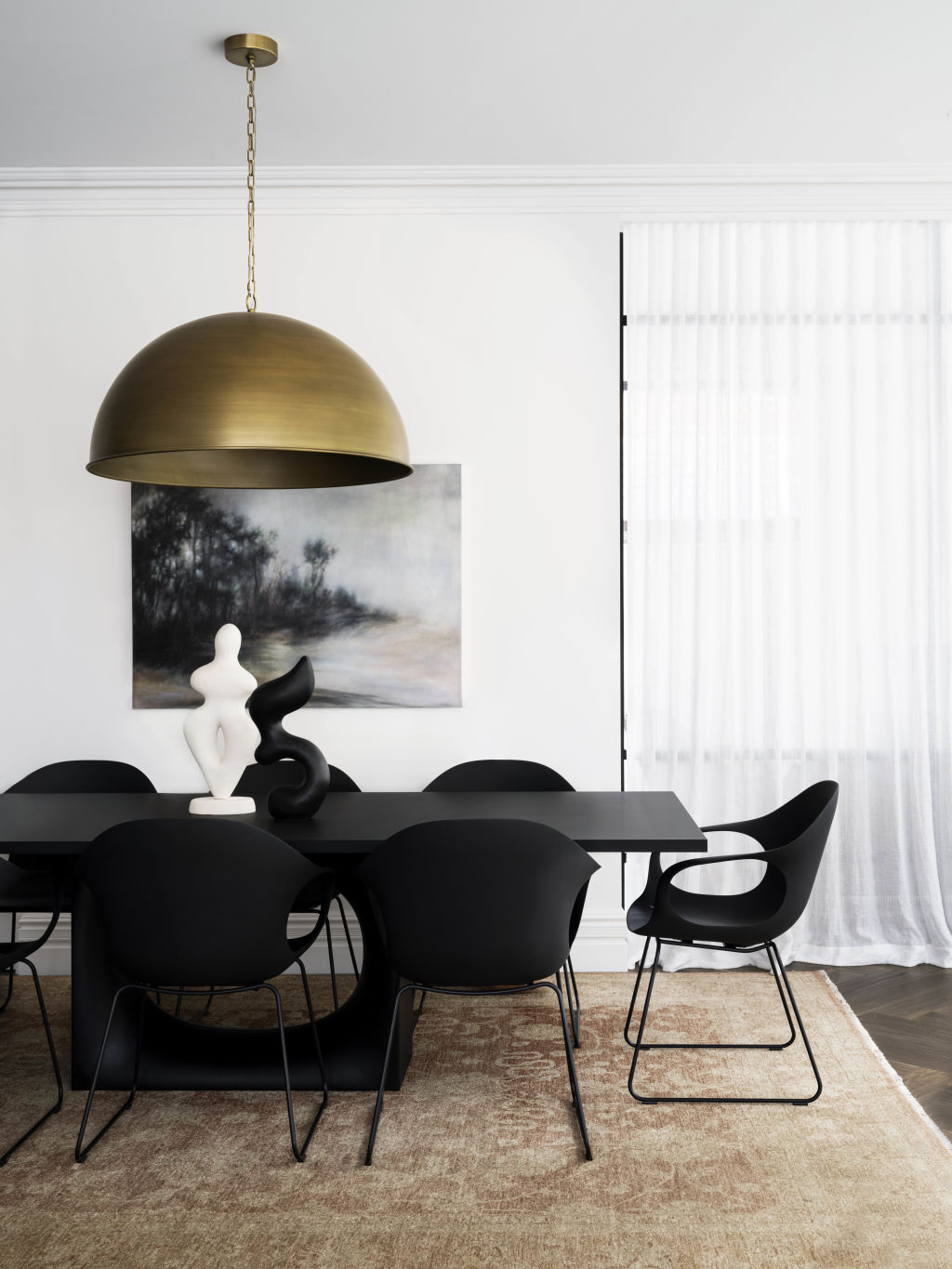 A simple black table is stunning against crisp white walls and sheer linen curtains in the dining space. "The client's inspiration images were very high contrast," Kidd says. "The gold pendant light and natural coloured rug add softness and tie into the gold grass weave wallpaper."
A large rug in the living space is the first layer for plush furnishings like cushy white sofas and a marble coffee table from Coco Republic. "With three teenage daughters, they wanted a 'grown up' space to entertain in but also be able to kick off their shoes and relax in," Kidd says.
A lush garden viewed through floor-to-ceiling glass creates a verdant canvas for the space.
"The greenery adds calm and colour to our monochromatic scheme and provides privacy from the neighbours," she explains.
The outdoor space includes layers of landscaping, a swimming pool, an entertaining area and a built-in banquette. "When the doors are open, you can sit [there] and still be part of the conversation," Kidd says.
Both bathrooms feature Carrara marble subway tiles and timber veneer for a sense of continued luxury and cohesiveness.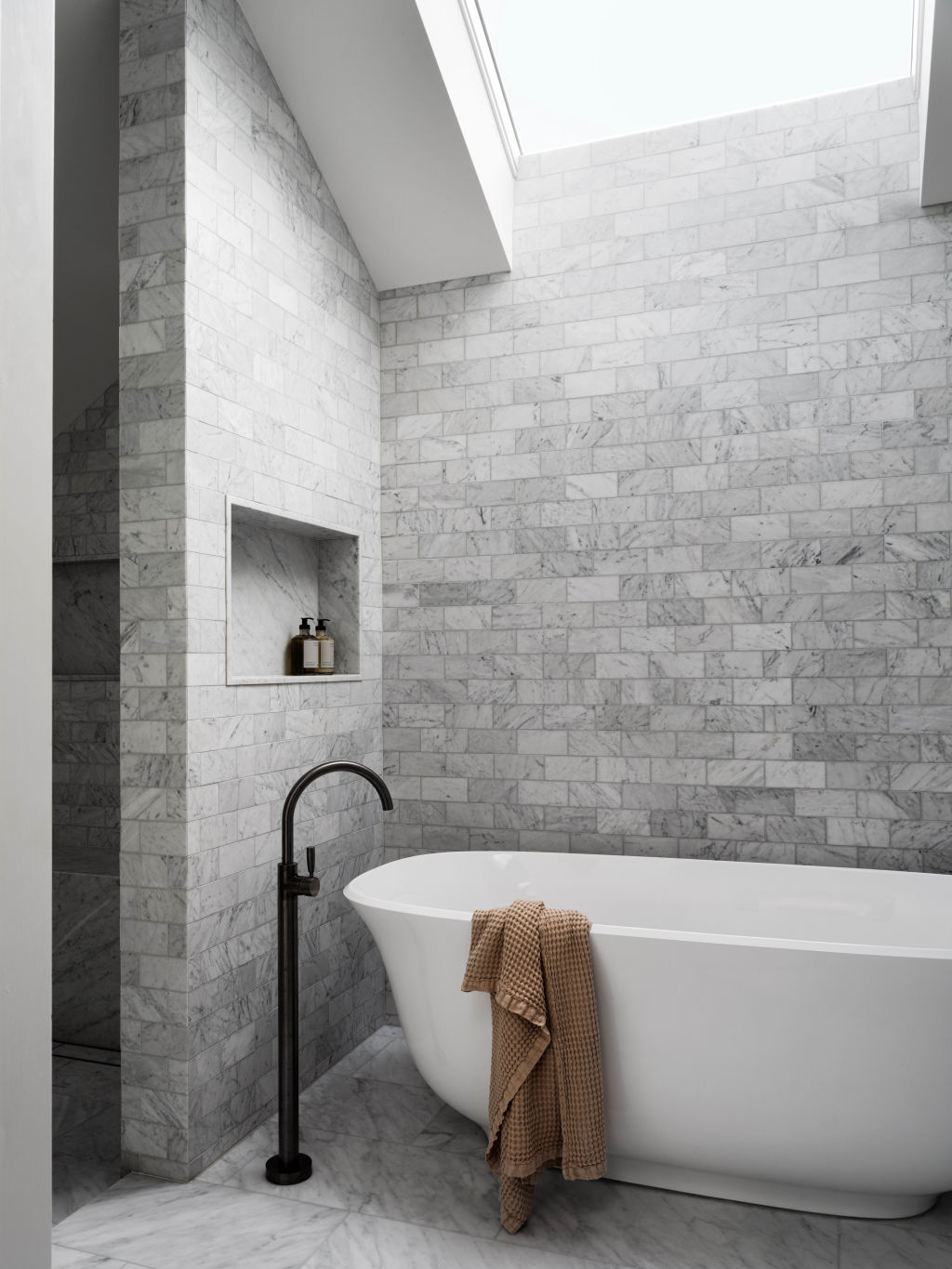 "It's important to weave a theme throughout your home," Kidd says. "It's easy to identify a beautiful bathroom or kitchen in isolation, but it's more impactful to create a story through the entire home. It's a professional technique that DIYers can pick up on for a customised feel."
"It's an incredibly stylish house with beautiful finishes at every turn," reflects Kidd. "More than that, it is a home that reflects its owners. They are very much at home here."