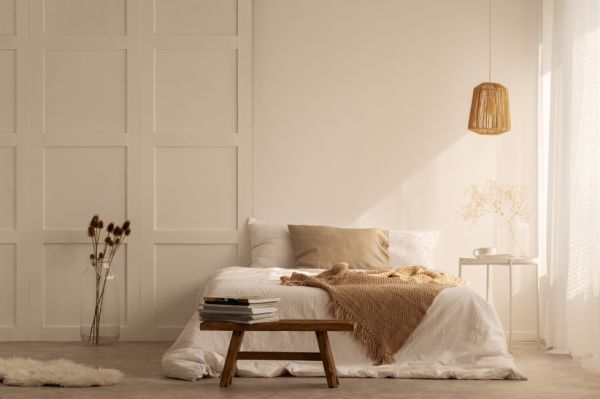 In partnership with Laminex.
How to channel nature to create a calming and timeless home
A long-time mainstay of home decoration, a nature-inspired palette brings the outdoors in with organic colours and natural textures such as wood, stone and natural fibres.
"It's a palette that settles and reconnects us to what's important in life," says designer Sarah Elshaug. "Surrounding ourselves with nature creates a deep sense of calm in our homes."
By using the natural world as inspiration, we can create stylish and timeless home environments that soothe the mind. 
"Key is to achieve contrast by varying tones between large elements like floors, walls and furniture, then layering textures through décor and soft furnishing, and finally lighting," says Elshaug.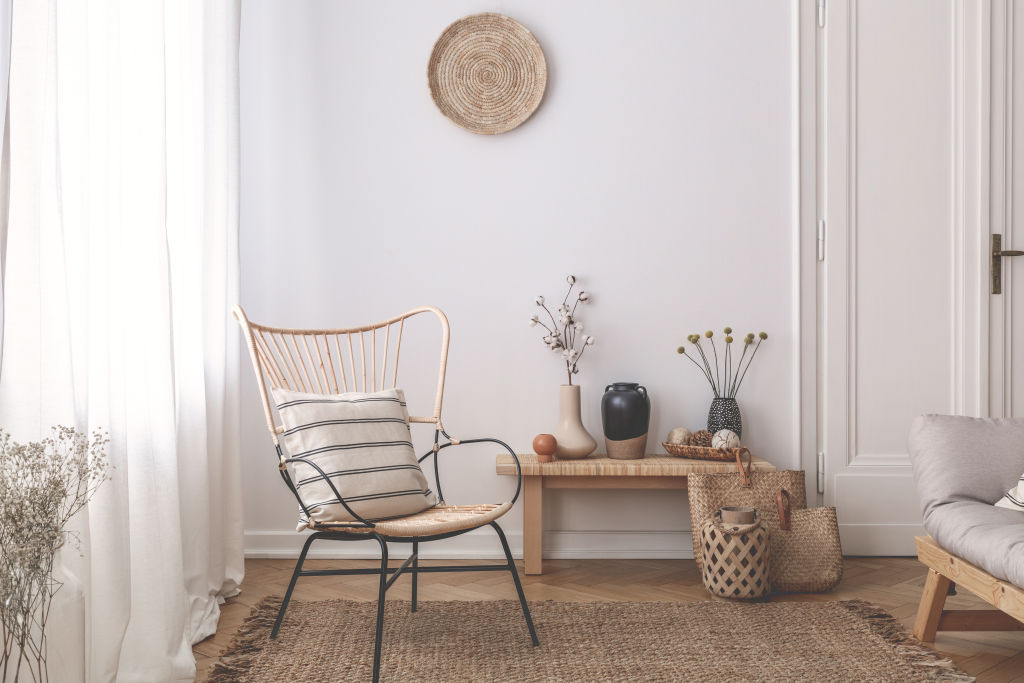 Begin with a neutral canvas
"Select a calming colour for walls, then consider your aesthetic, be it Scandinavian, luxe, or mid-century style," suggests Hong Henwood, of Affordable Style Files. 
"Think about the materials you want to layer, like stone, laminates, tiles and flooring. They should work harmoniously together to create a solid base for your styling." 
Add depth through layering
Natural colour schemes have a simplistic austerity, from sisal rugs and earthenware pots to soft linens and warm natural walls.
"By layering hues and textures, a sense of calm and interest can be created in an all-neutral space," says Elshaug. 
Polished finishes and raw materials like timber, brick and stone can add depth to a space, while softer elements such as linens and sheepskin provide luxury.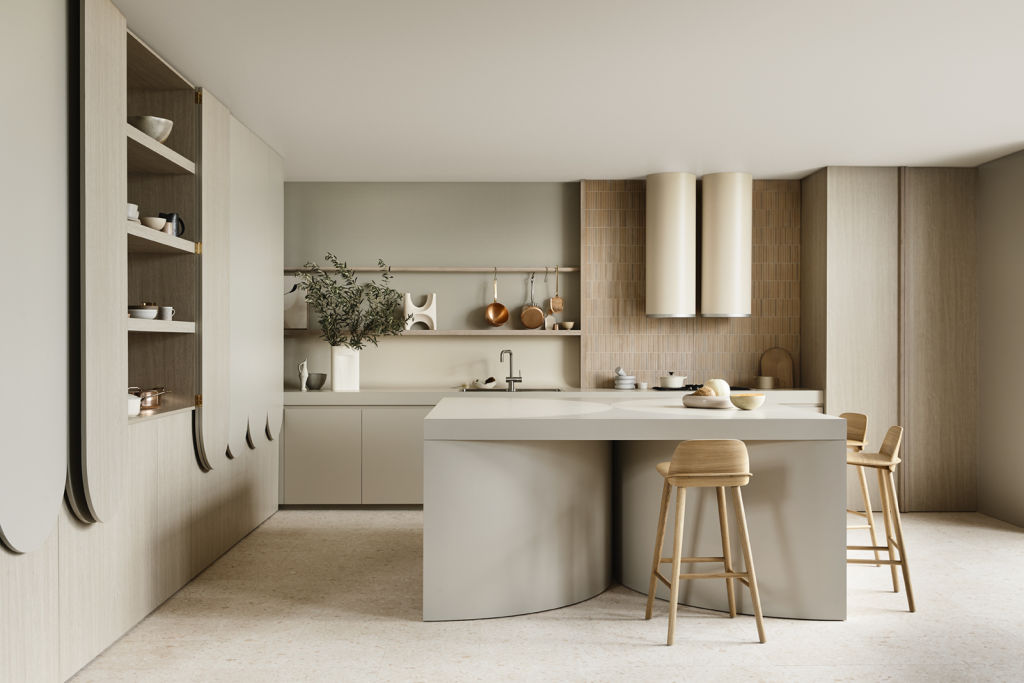 Lighting can also prove transformative and creates a final layer to a space. "A striking pendant, table, or floor lamp creates mood and a visual point of interest," says Elshaug. 
Embrace nature in fixtures and finishes
"A neutral palette has great design flexibility," says Henwood. "It allows you to dress the space with art and textural objects in different shapes and forms, like a cabinet with rounded edges, different shaped Moroccan cut tiles, or even beautifully formed kitchen appliances." 
Neil Sookee, product design manager at Laminex agrees, and cites The Expansive Kitchen – a design collaboration between Laminex and award-winning Melbourne architects Kennedy Nolan – as the perfect example.  
Using neutral decors from the Laminex Colour Collection, the kitchen embraces nature through sculptural curves, muted organic colours and soft woodgrains.
"Warm neutrals and muted organic tones have become increasingly prominent, both of which can have a calming influence on a space," he says.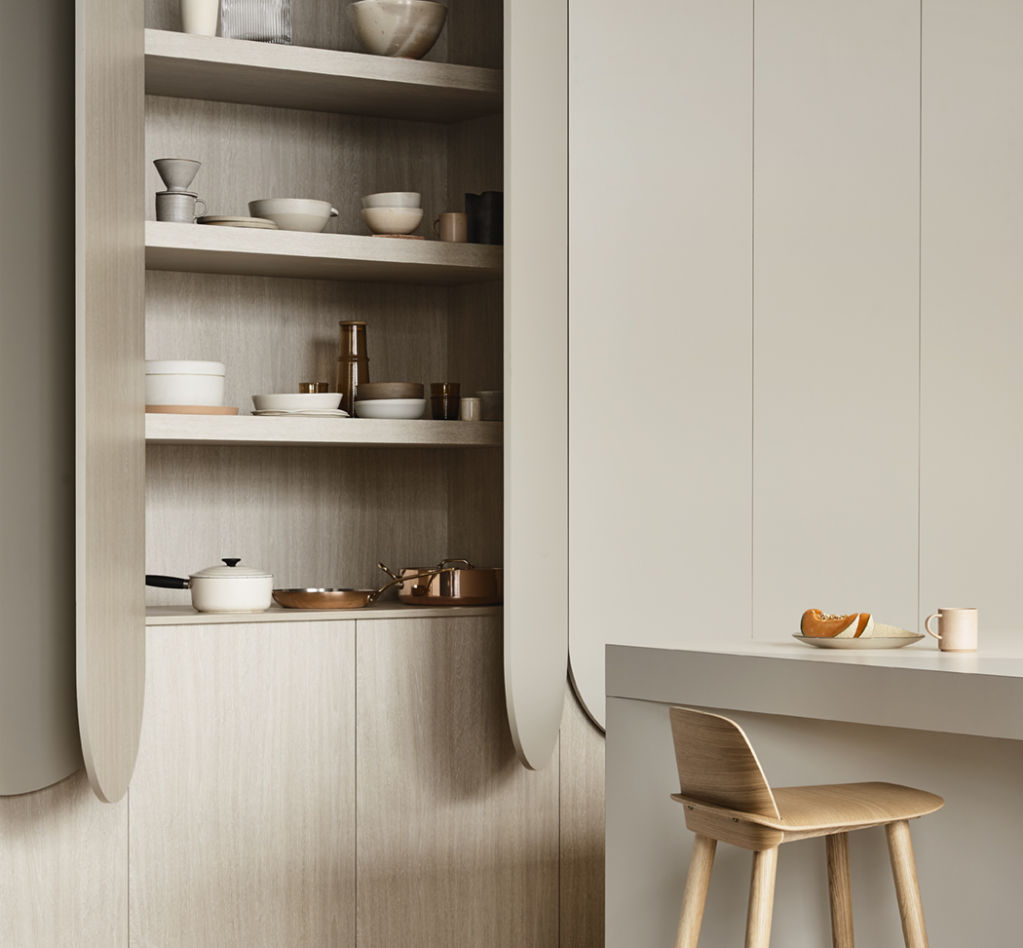 "The Expansive Kitchen uses three organic colours to create a calm and contemporary update to more standard kitchen whites."
 Layers of organic, muted tones of Laminex Paper Bark, French Cream and Whitewashed Oak provide a subtle shift of colour that appears completely seamless, with forms like curves, providing a striking layer of detail. 
"The innovative use of cold-forming high-pressure laminate to craft organic curves to the central island bench creates a sculptural feel. The scalloped cabinetry door fronts have been cut into curved patterns, providing a striking edge to an otherwise simplistic palette," Sookee says. 
While some trends come and go, nature-inspired interiors stand the test of time. 
"Beautiful and timeless, it's anything but boring," says Sookee.