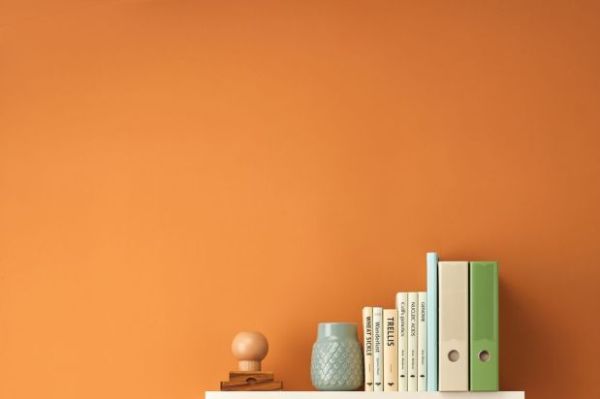 'It's more versatile than you think': The case for a pumpkin orange bedroom
As a child, probably in the beginning of my tween years, I would beg mum to let me paint my room hot pink. She refused. But, her counter offer was a creamy-yellow, which I always refused (gag). And so, with this stalemate my bedroom stayed resolutely an uninspiring grey-white for all of my childhood.
Now that I haven't been living at home for sometime, mum has taken that to mean she has free-rein and creative licence over the space. Here's a debate for another day; if you leave home, does that mean your bedroom is no longer yours? I don't think so.
But here we are. I have been given the order from above (mum) to come home at some point and "get rid" of anything I no longer need in my room. Translation? "All that childhood junk." This is to prepare for new carpet and new paint – a pumpkin orange paint, that is.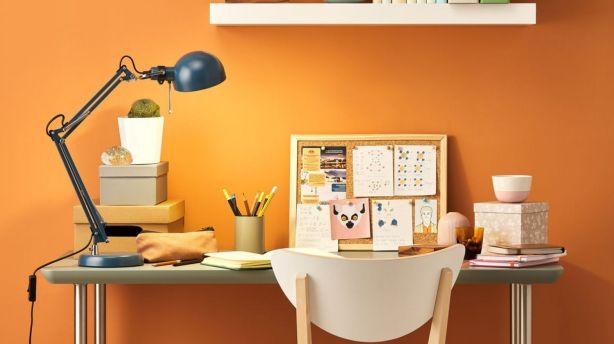 My brother and sister's rooms are receiving a similar treatment; they will be getting pistachio and a lovely blue/grey paint job.
There are a few things I should clarify before I continue. Firstly, my room is the darkest room in the house, to say it gets at least one hour of sunlight is generous. Therefore, it needs a colour to warm it up (hence the aforementioned creamy-yellow suggestion).
Secondly, mum isn't one for feature walls, if a room is going to have colour, it's going to be on all of the walls. And lastly, the rest of the house is painted forest green, terracotta, blue/grey and beige, so pistachio, blue and orange aren't completely unwarranted.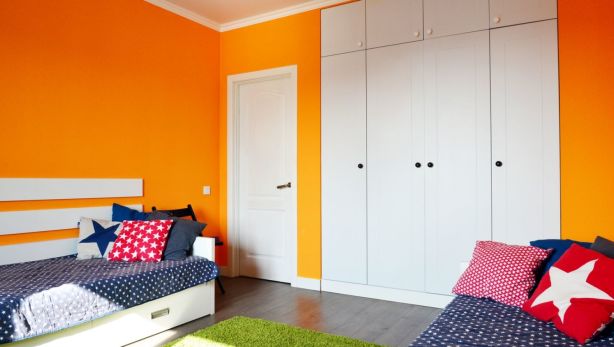 So, the grumblings of a lost childhood bedroom aside, the choice of pumpkin orange has been made. Instead of dwelling on the thick book of colour swatches the room could have received, I'm taking this as an opportunity for a Cinderella moment; to take a pumpkin and turn it into something magical (or at least livable).
Start with what colours could work with pumpkin/terracotta orange and if you look at a colour wheel blue is the obvious first choice (they're on opposite sides of the wheel, which in colour theory terms means they're complementary).
Karen Warman from Resene says, "orange looks great with all forms of blue; turquoise, teal, ice and slate. As with any scheme based on the use of complementary colours, make sure you get the saturation and balance of colours right."
Because this orange is, as my mum calls it, a "dirty pumpkin," a darker blue would pair better with it than a sky blue or cobalt, especially because this is a sleeping space, so we don't want it to overwhelm the senses.
However blue and orange isn't the sole choice of pairing, there are a couple of different colour palettes and styles that would work with "dirty pumpkin" orange.
Warman says "pumpkin is more versatile than you think, it can be dressed up with warm hues and deep greens for autumn and winter, or combined with deep blue greys and charcoals as a year round statement."
The first look to consider with dirty pumpkin orange is to pair with earthy, muddy greens, charcoal blues and bring in some soft contrast with pale pink or apricot. Black accents in this colour palette would create a sophisticated look.
On the other hand, you could go bold and pair orange with deep reds, soft pinks, rich blues, gold accents and punches of pattern for a vibrant, fun and warm space.
Finally, because contrast can also be appealing, you could employ pastel colours, light coloured woods and silver accents to give more light to the dark space, and balance out the intensity of the orange.
Warman says, "a more traditional look would be to combine pumpkin with softer hues, such as cream."
–This article originally appeared on Stuff.nz