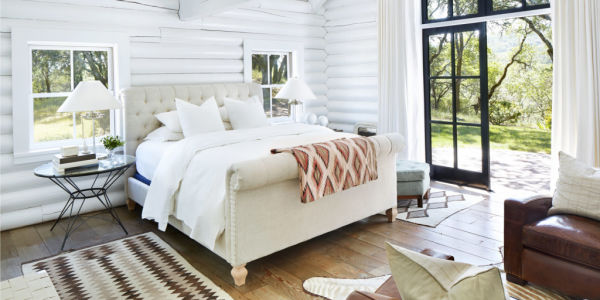 Seven style tips from Greg Natale, one of Australia's leading interior designers
Greg Natale is considered one of Australia's most prolific interior designers. For over 15 years, he has created an iconic aesthetic for his bold use of colour and pattern, with multiple projects featured in publications from Architectural Digest, Harper's Bazaar, The Wall Street Journal, Vanity Fair, and Vogue Living. His entire philosophy centres around one guiding principle: Never be afraid of pattern, which explains his second book released this fall, The Power of Pattern.
Ahead, we share the valuable lessons we learned from the book along with some of the designer's most memorable spaces.
Start small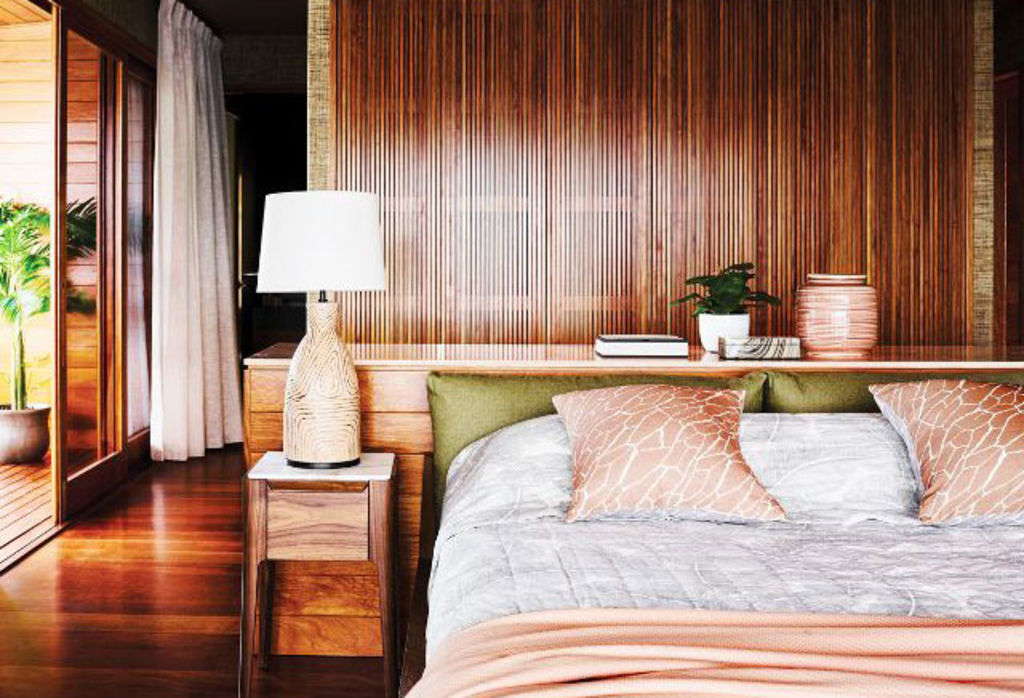 Not everyone is comfortable using pattern in their decor, but an easy way to get more at ease with it is to start by introducing pattern subtly, as Natale did in this home in the Great Barrier Reef. In this master bedroom, blush tones and moss green accents were introduced to soften the space's omnipresent rosewood timber. This colour palette was woven throughout the house, evoking the native flora, fauna, and reef beyond.
Play with complimentary colours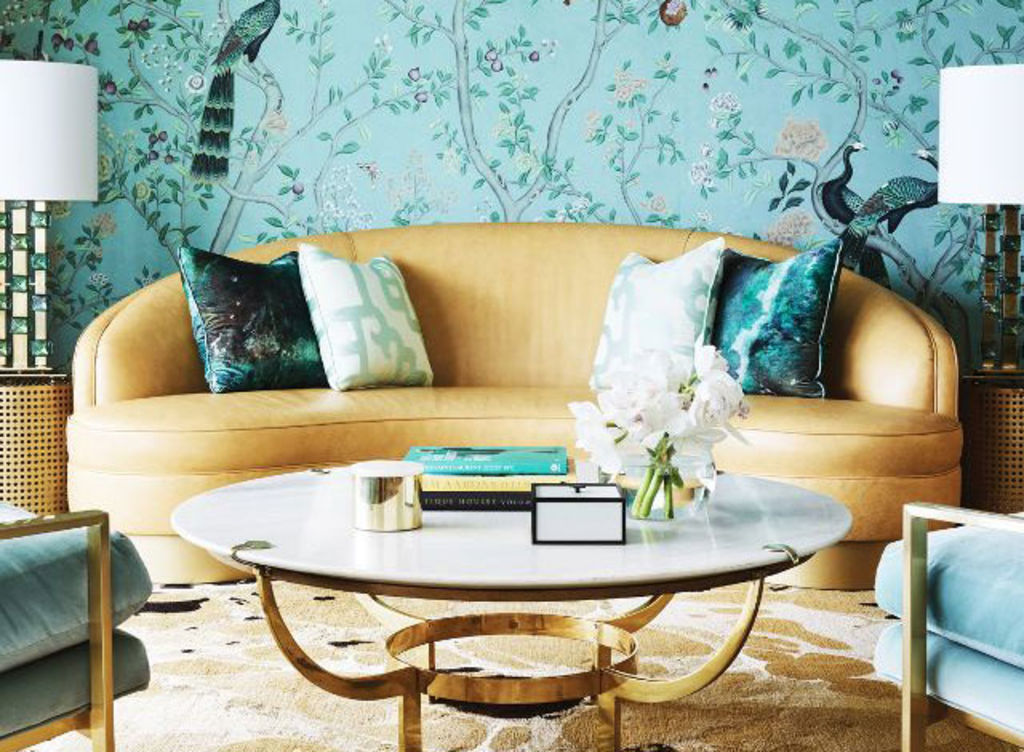 In the Sydney suburb of Tamarama, Natale created a luxe jewel box for a young couple — all in shades of turquoise and gold to reflect the colours of the ocean and the owner's passion for surfing. A hand-painted deGournay wallpaper serves as a backdrop for a camel-hued sofa and a golden-hued rug. This softer take on a blue-and-yellow complementary palette creates a striking yet calming space.
Limit your colour palette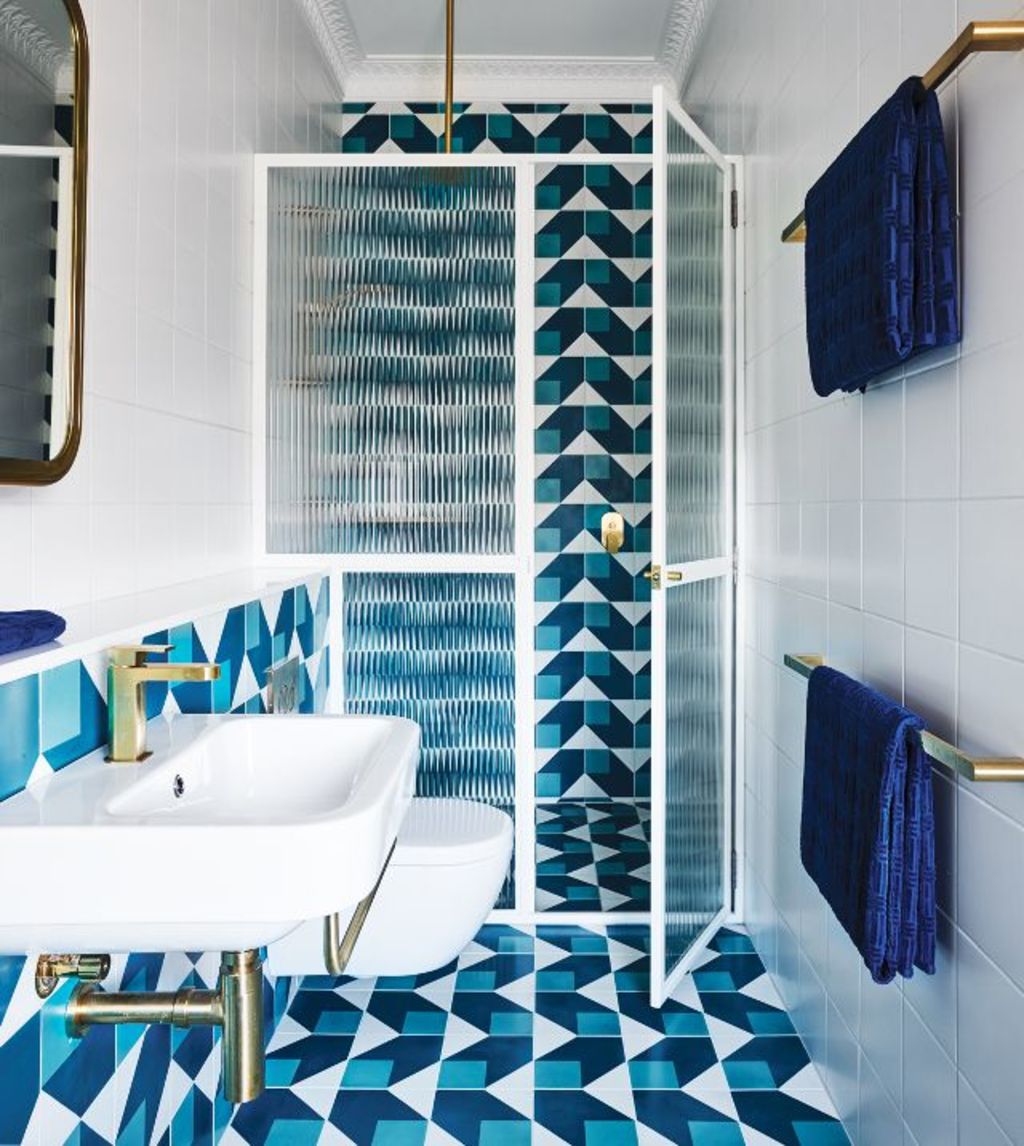 If you discount the bold blue graphic tiles in this petite bathroom, the simple space is entirely composed of white and brass. With the tiles added — the space is transformed into a luxe and striking space — finished with a fluted glass shower door and navy towels to complement the floor's bold hue. By limiting the colour palette, Natale was able to use a bold pattern in a small area successfully in this inner-Sydney space.
Evoke the outdoors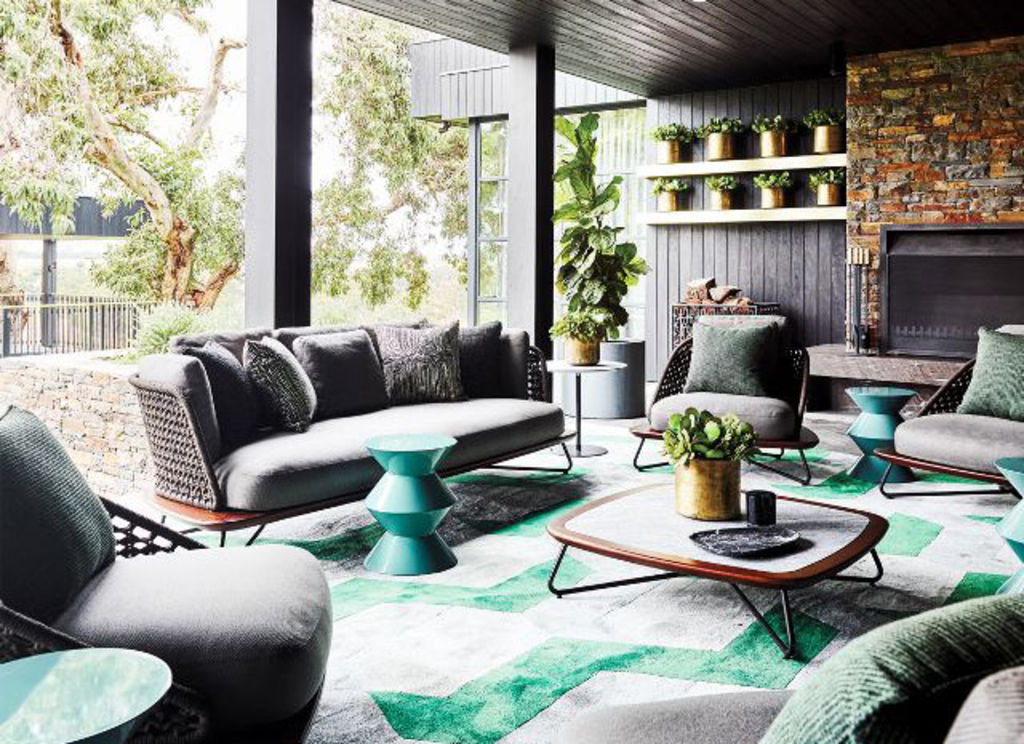 In this country home in the Victorian countryside, Natale kept a limited colour palette of black, grey, and green — using the repetition of the green accents to introduce a patterned rug. The geometrics in the rug, the plants, and the green accents all helped connect the indoor and outdoor in this moody family room.
Mix monochrome materials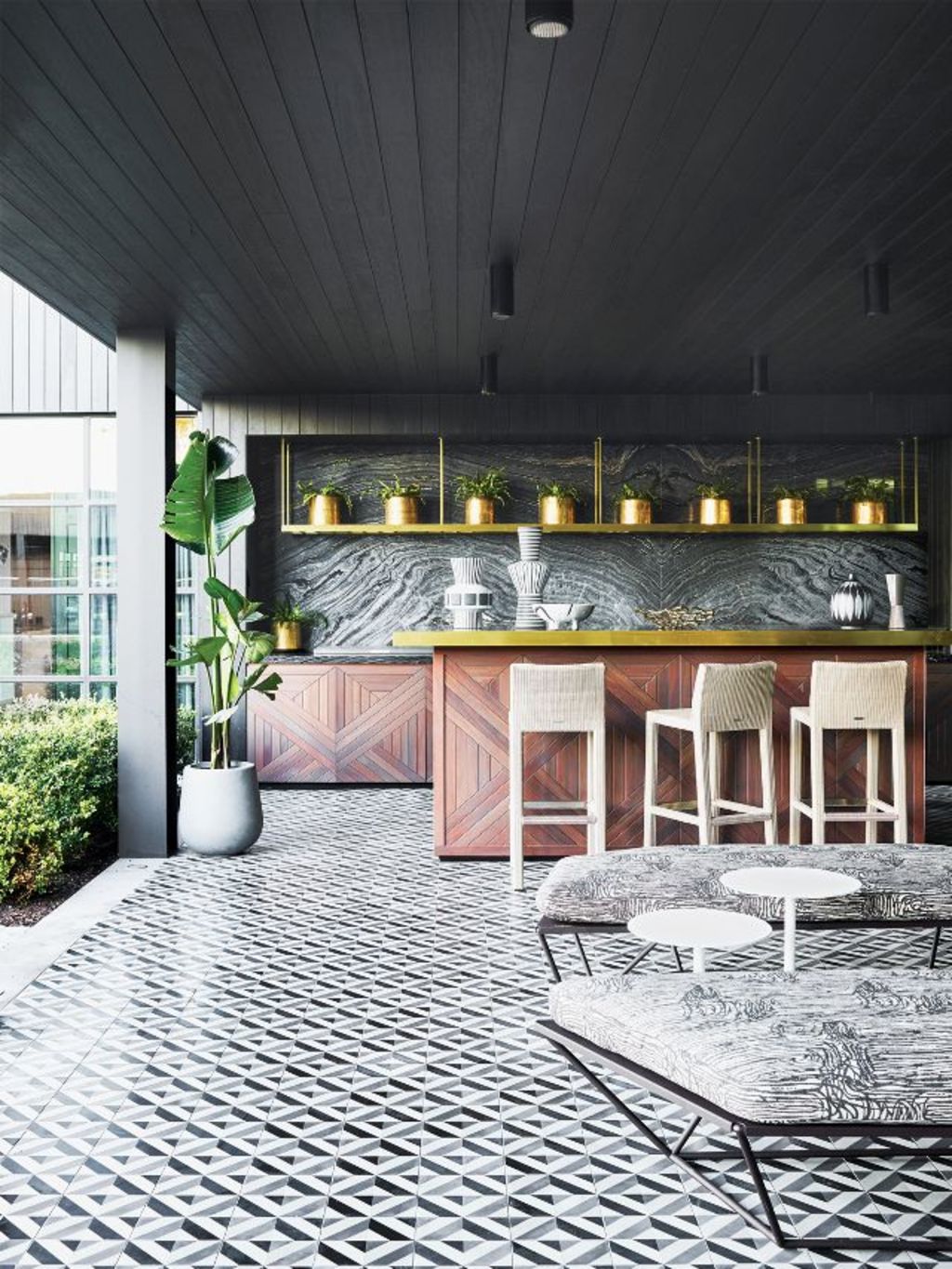 In the same home, Natale used various finishes — all in black and white — to create a dominant colour palette. The marble backsplash, patterned floors, and upholstered benches all boast different patterns, but the limited colour palette helps to keep the space coherent and not overwhelming.
Make a statement with art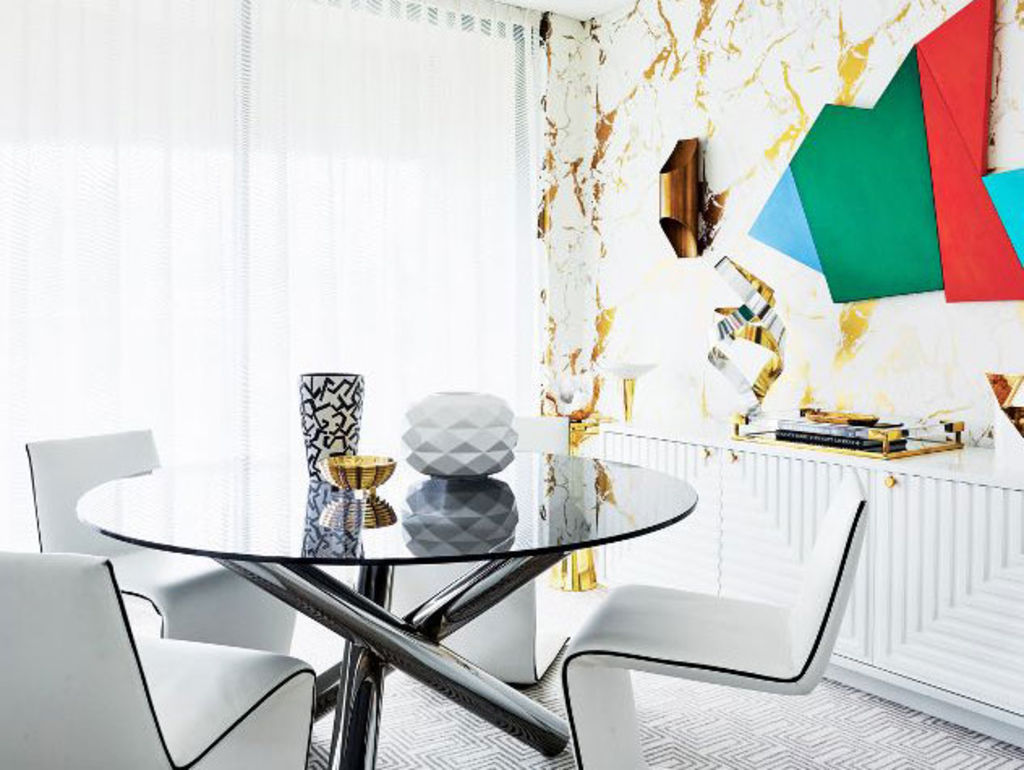 In this Sydney apartment, the light colour palette stays consistent throughout, accented only with a luxe gold marbled wallpaper and striking red, green, and blue artwork by Sydney Ball. By keeping the room devoid of any colour (save for the metal finishes and the grey patterned rug), Natale allowed the art to take centre stage.
Repeat metals throughout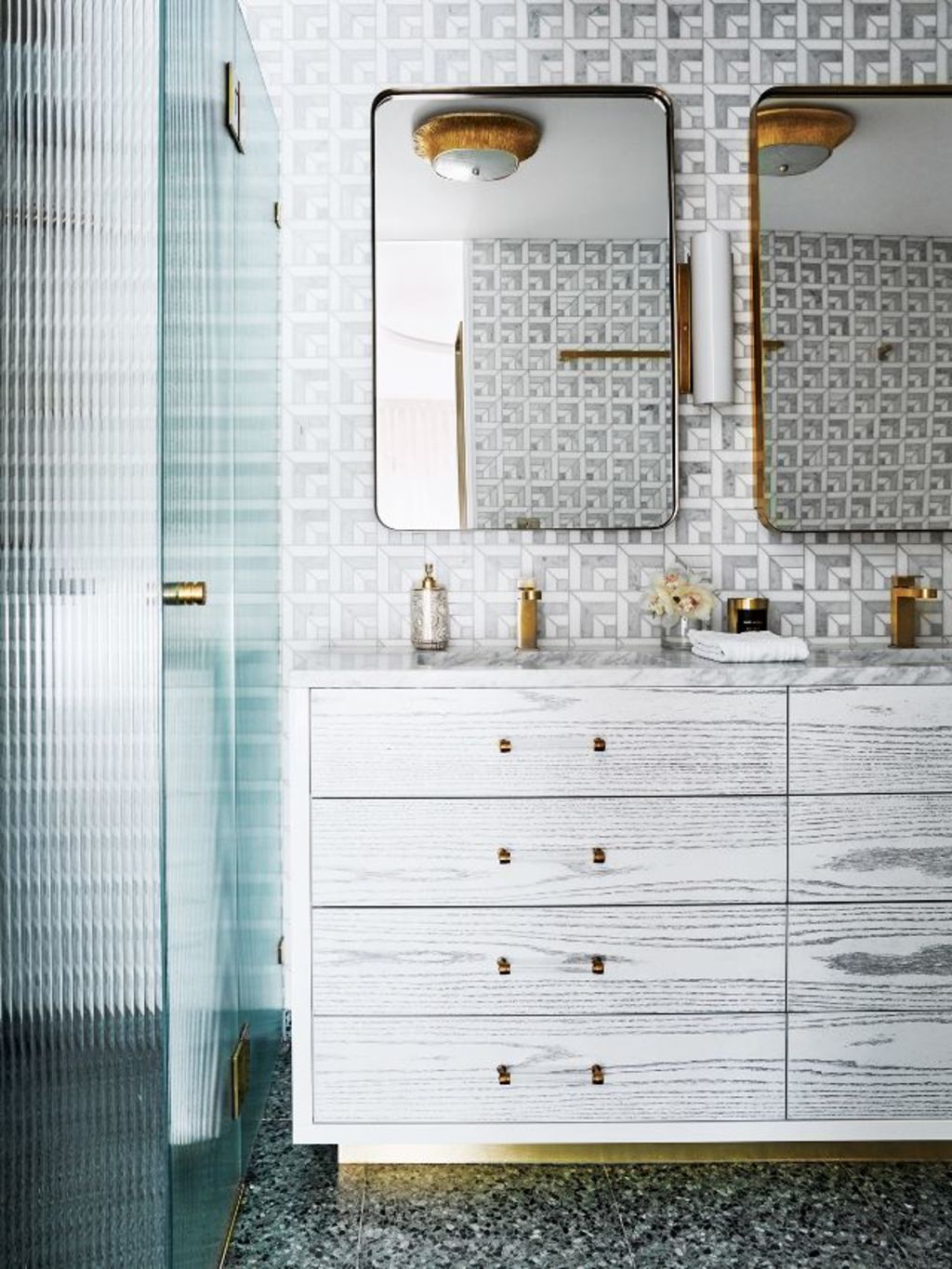 In an en suite bathroom in the same apartment, Natale once again introduced pattern with green terrazzo floors, patterned marble tiles, a cerused oak vanity, and fluted glass shower doors. In this room, the repeated brass accents in the hardware, fixtures, mirrors, and lighting, keep the space from feeling overwhelming — instead creating a luxe and calming space.
– This originally appeared on My Domaine