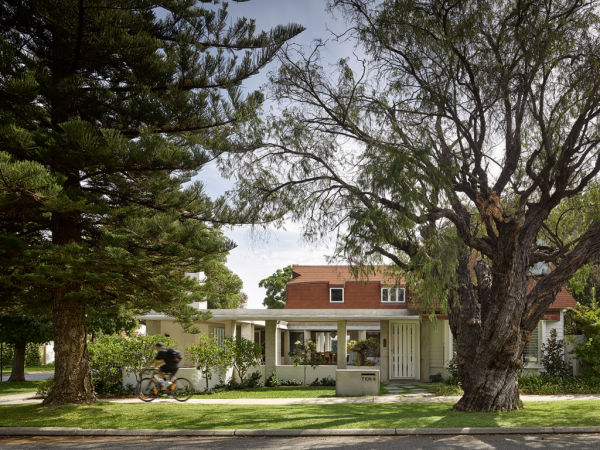 The family home that's got something for everyone, even the neighbours
Built on an empty block in inner-city Perth, this home is intended to serve its neighbours as much as the owners. "It's designed to draw the neighbours in on their way to the bakery," says its architect Stuart Vokes from Brisbane-based firm Vokes and Peters. "Inner-city is a way people live. They like to feel a part of something." 
Located in the historic garden suburb of Subiaco, the site lay empty for over two decades, serving as much loved parkland for its community. "The previous owner allowed them to use it if they mowed it," he says. "When it came time to build, we were conscious of our civic responsibility."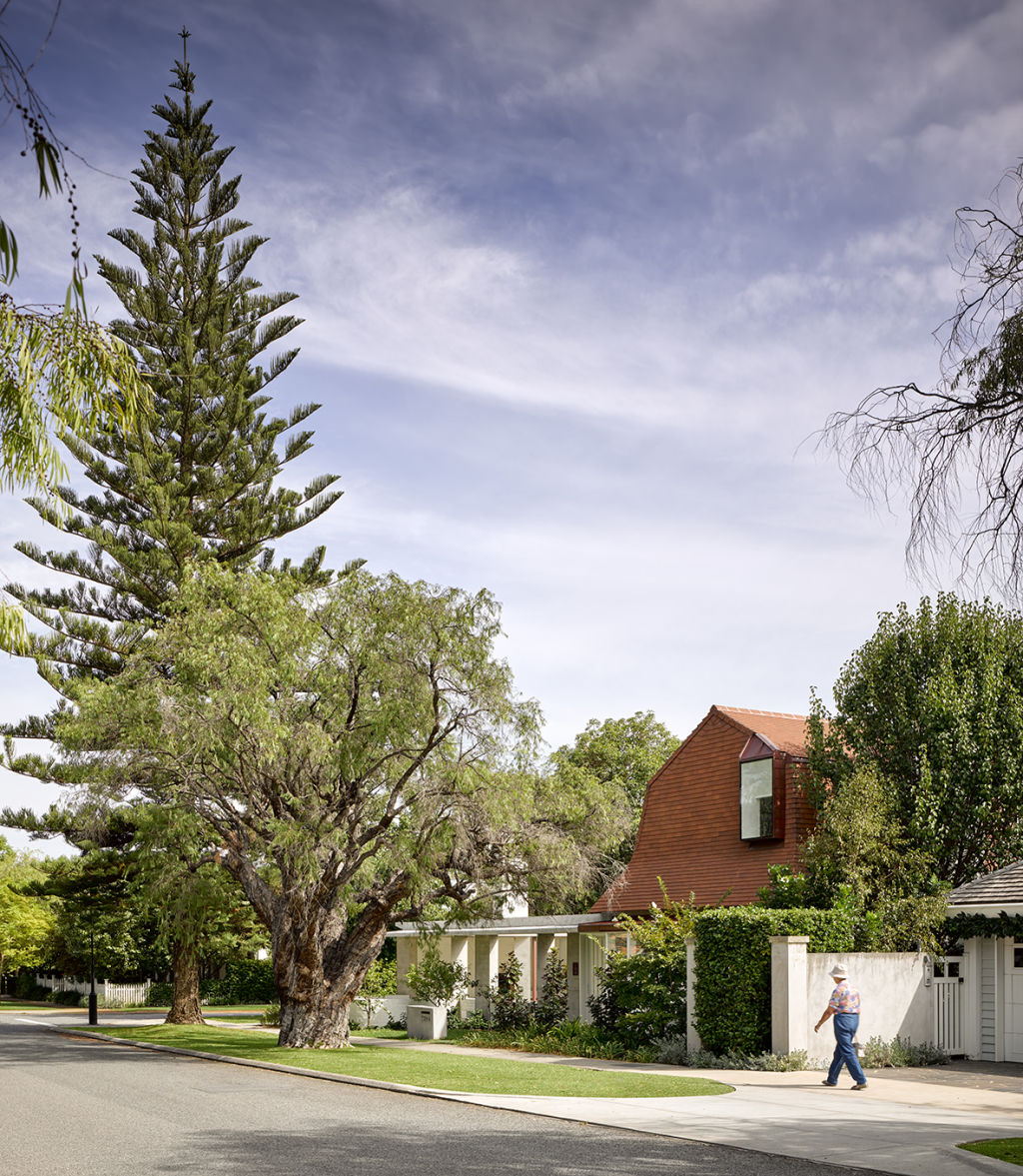 The award-winning architect sees strong parallels between Perth and his own hometown, talking passionately about "suburban archaeology". "We embrace the suburbs with a deep admiration for the childhoods we had and the special places we spent time in," he says. "The space around the house and down the street; they're precious and nostalgic. It's a spatial mapping that tunes us into the broader place we exist in."
Cloaked in terracotta roof tiles like its neighbours, the home forms an L shape at double height and wraps around a verdant courtyard and vast cloister built deep into the site's corner. Its verge presence provides an interface with the street and its occupants. "There's value in open outdoor spaces," says Vokes. "It's important not to cover the whole site with the building."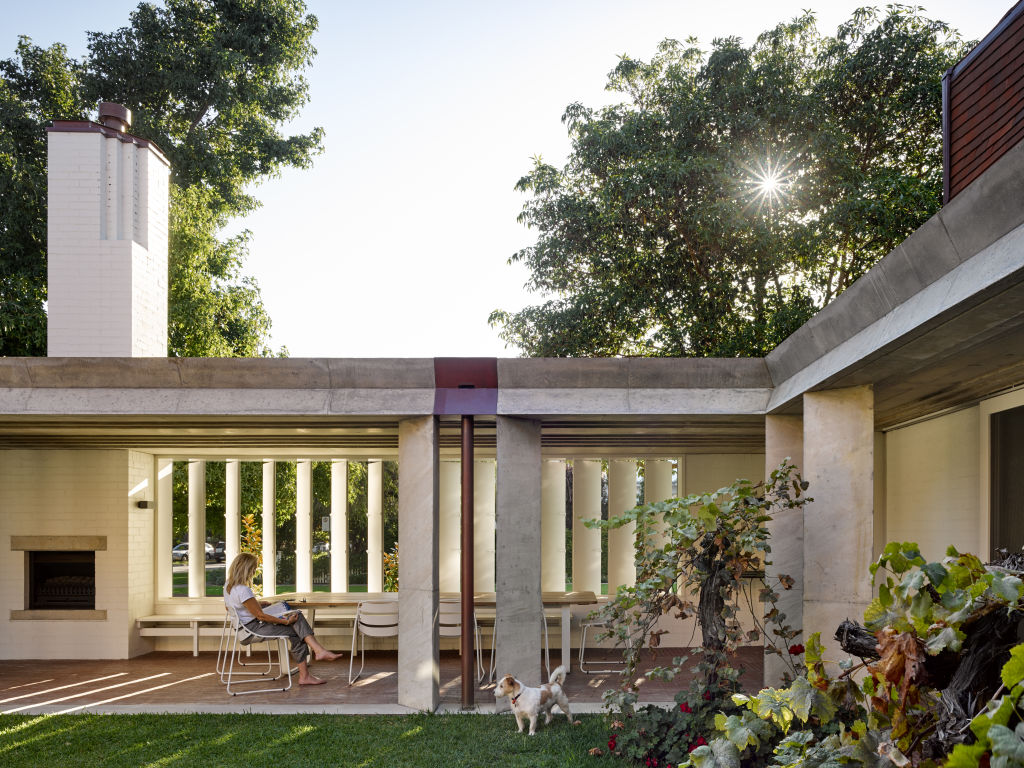 Filled with flexible living spaces, Vokes fitted the cloister like an outdoor lounge room adding built-in timber seats and a discreet fireplace. "An internal fireplace is a centrepiece for gathering around, but outside it is simply there to add warmth to a party or intimate gathering," he says. "It's a presence, not a focal point."
Large timber louvres peer out to the street and are tilted for privacy or tweaked open for neighbourhood chats. At different points of the day, they are adjusted to relieve tension between Western Australia's harsh sun and brisk Fremantle breezes.
Inside, the owners wanted a suite of rooms rather than an open-plan living space. Vokes has a deep love for the "awkward yet beautiful" elements of old houses. Crooked sheds, wonky walls and decades-old DIYS, he says, are as culturally significant as the building itself. As such, the home is built using materials harking back to those of original Subiaco cottages: terracotta, stone, metal, and timber.
The kitchen is wrapped in 'soft, fleshy" Carrara marble and timber veneer cabinetry, which is repeated throughout the home, driving its aesthetic. Encaustic tiles run underfoot, marking the kitchen's threshold and forming an eclectic patchwork with adjoining timber boards, concrete, and outside pavers. "The flooring materials connect spaces and bring focus to each room's particular character or how it's occupied," he explains.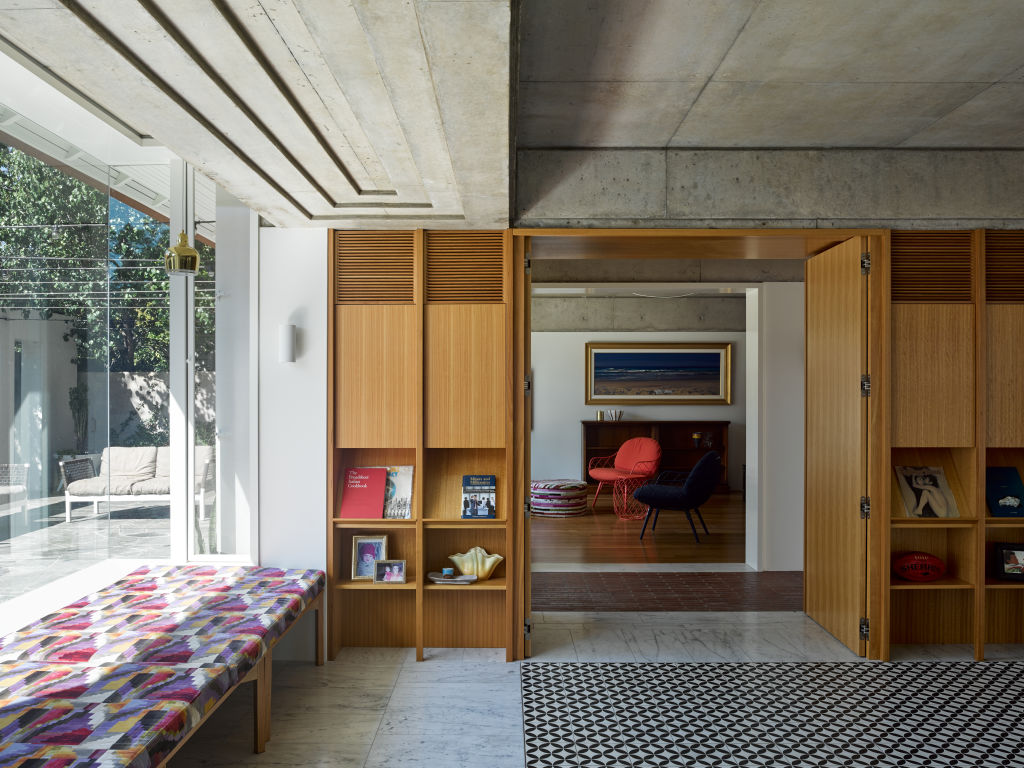 Concrete is used extensively, in some instances, to resemble classic coffered ceilings making it appear delicate rather than clunky. "Perth is a brick town, and local builders use concrete that offers real comfort," says Vokes. "It's quiet and serene, unlike timber homes in Queensland that are noisy and creak."
The bathrooms, simple and austere, are shrouded in vertical glossy subways and fitted with fine, elegant cabinetry that balances on brass socks. Like the kitchen, natural stone forms busy benchtops. "I love marble; the original is always more beautiful than man-made," Vokes says. "It doesn't need to stay perfect. You have to live with its imperfections and honour the material. Home need not be simply pragmatic. It's okay to live with beautiful things."