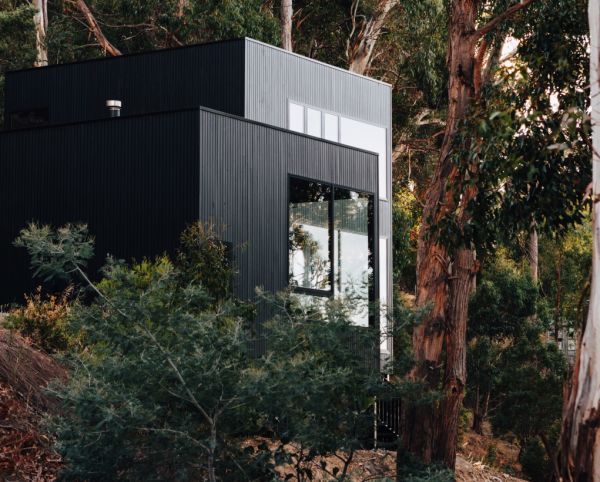 Slow Beam: How this Melbourne-based couple built their dream home in Hobart
Lauren Bamford and Keith Mason's entry into the property market is not your average "couple meets house, couple falls in love with house, couple purchases house" story.
Instead, their journey to home ownership was a three-year, long-distance relationship across Bass Strait. That's right, this Melbourne-based couple built their dream home in Hobart.
The couple admit they had "never considered purchasing anything" but after many trips visiting Mason's parents in Tasmania and sleeping in his old teenage bedroom, they sought alternative accommodation.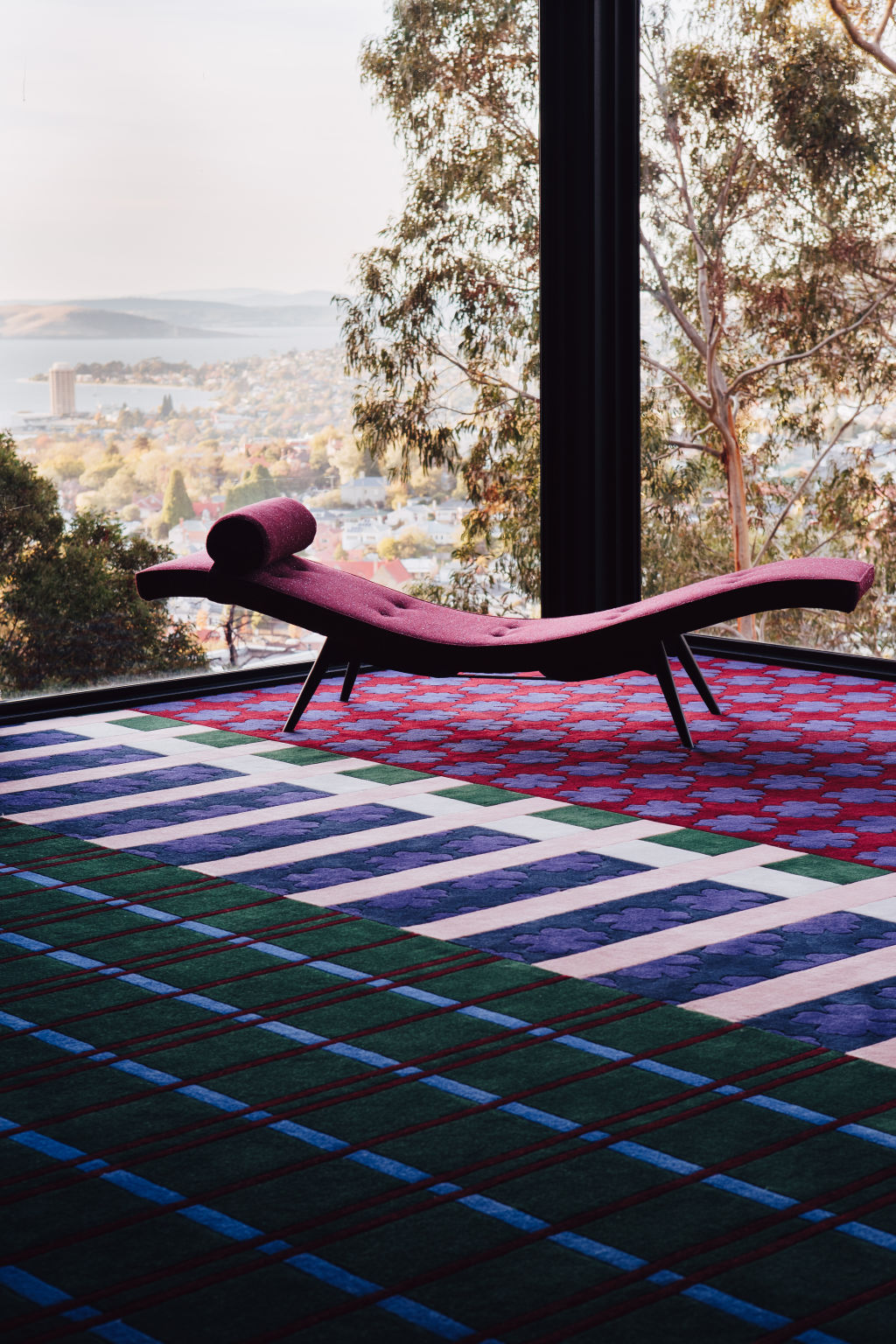 "When you stay at your parents' house, no matter how old you are, you feel like a kid again," Bamford says. "We thought how nice would it be if we had our own little holiday house in Hobart?"
They were sceptical that the bright idea wouldn't stick. "Hypotheticals like this come up all the time but you never follow through," she says. "But we had saved some money and thought maybe it was time to do something with it."
Bamford, a photographer, and Mason, a graphic designer, thought Hobart would offer a more accessible entry into the property market despite living in Melbourne. "We knew we wouldn't be able to find a block of land in an area we wanted to live for the same size and price in Melbourne," Bamford says.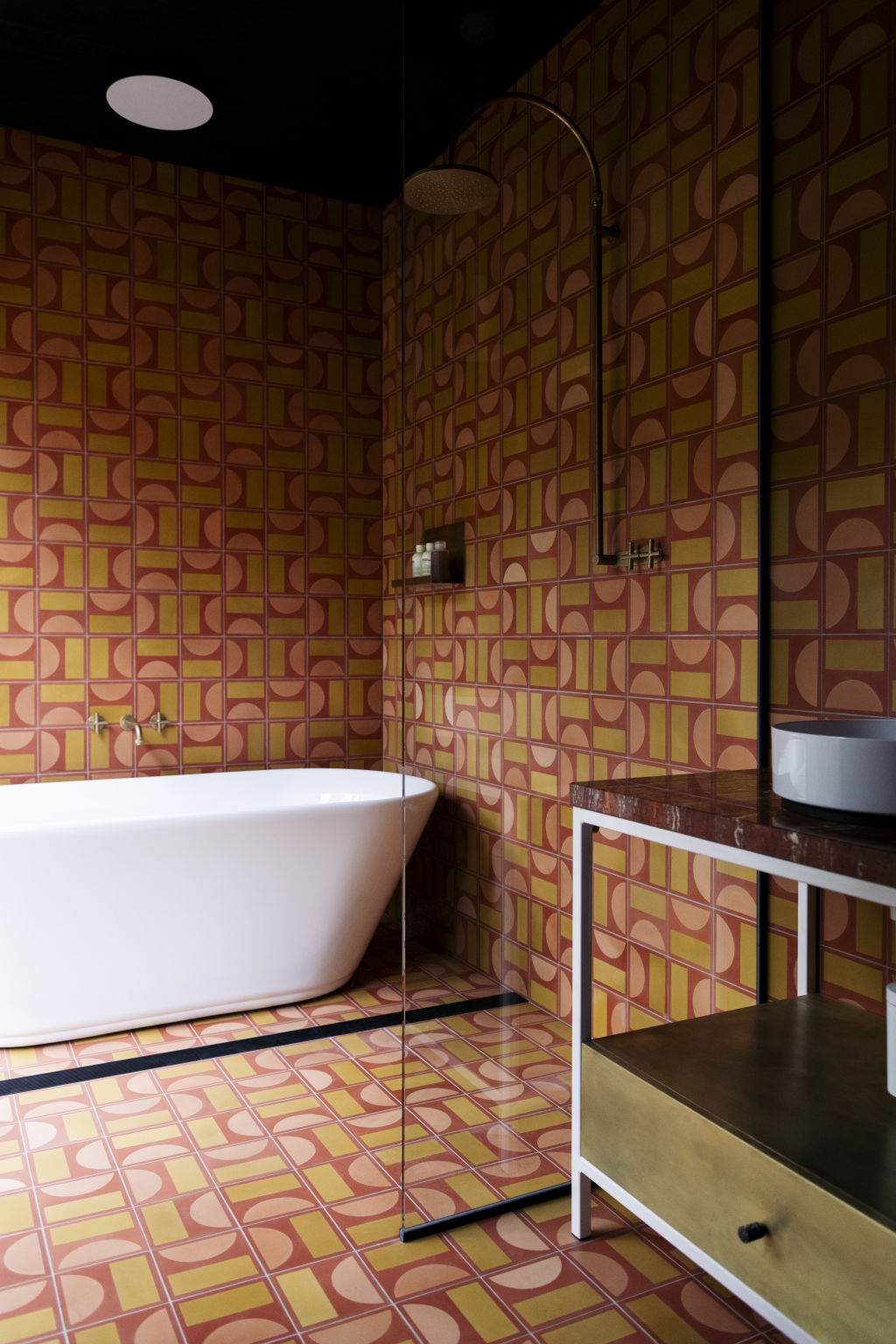 Their original plan was to renovate a small, affordable rundown apartment in Hobart, which they could rent to friends and list on Airbnb to help offset the mortgage. This plan quickly derailed when every decent apartment was being snatched up quicker than a heavily discounted pair of Louboutin shoes at a Boxing Day sale.
"Sometimes the real estate agent wouldn't even show up at open for inspections because the apartment had already sold but the listing hadn't been taken offline," Bamford says.
The pipe dream was fading until a friend of Bamford's suggested she look into building on a block of land. "I thought it was crazy at first but she starting telling me the sums from her own experience in Daylesford and it sounded doable."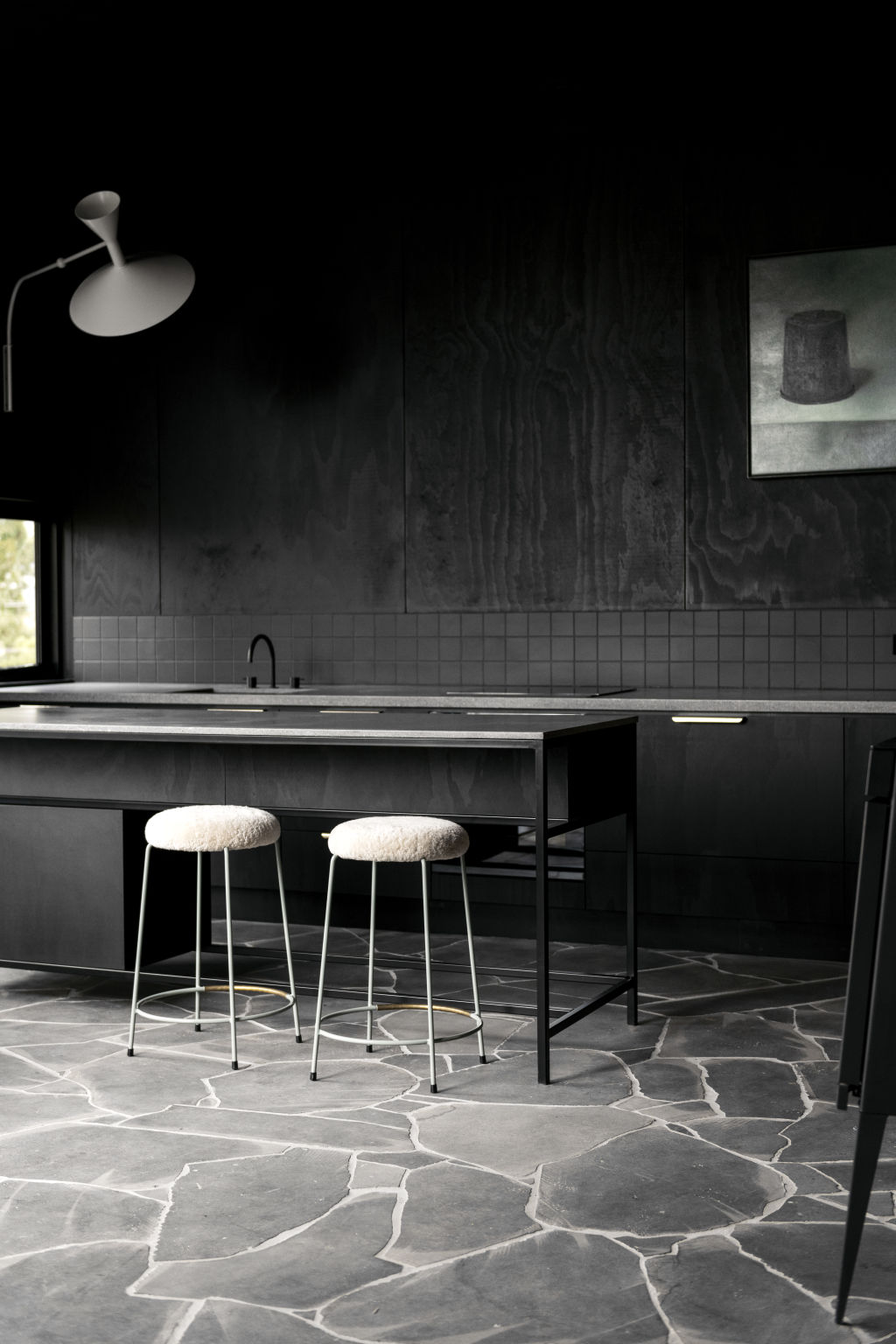 At the time (2016), the median price of apartments in West Hobart was about $400,000 plus the additional renovation expense, while blocks of land were starting at about $150,000 – so there was room to move in their budget.
"We started looking at blocks of land in West Hobart that night online," she says. "We loved the first one we saw and asked Keith's dad, a builder, to check it out for us and we ended up flying down to look at it ourselves and bought it."
Positioned on a slope in the West Hobart bush, the site had a flat excavation from the previous owners, but had never been built on since its sub-division in 1957.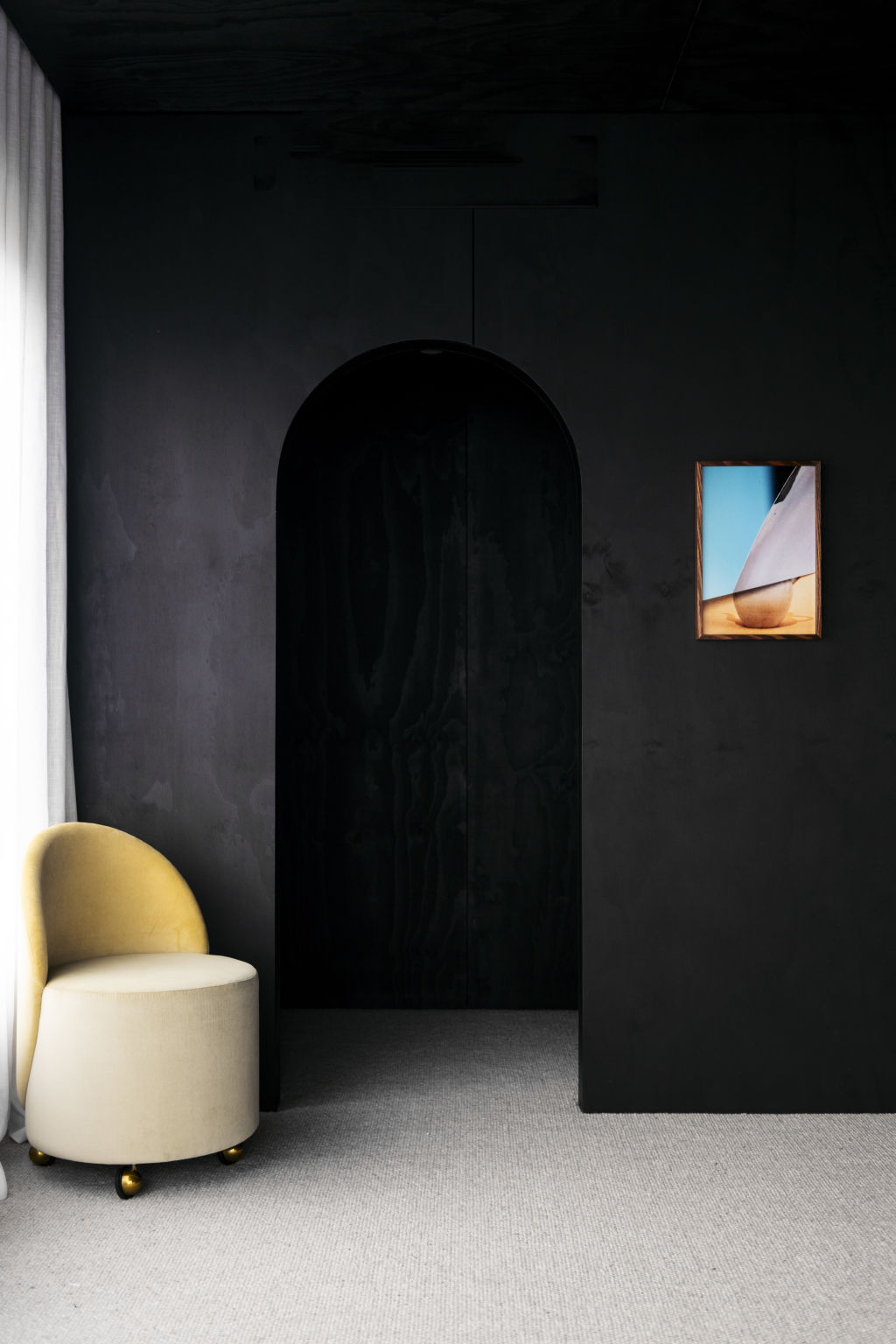 "We knew it was going to be a challenging process but the trees, vista views and 10-minute drive to Salamanca were ideal," says Bamford, who enlisted her friend and interior architect, Sarah Trotter of Hearth, to get the job done with the support of architect Murray Barker.
"I knew she would really embrace the natural elements of the block and I was a big fan of her work having photographed a lot of her interior projects," Bamford says.
"I thought, if our friendship can survive this, it can survive anything!"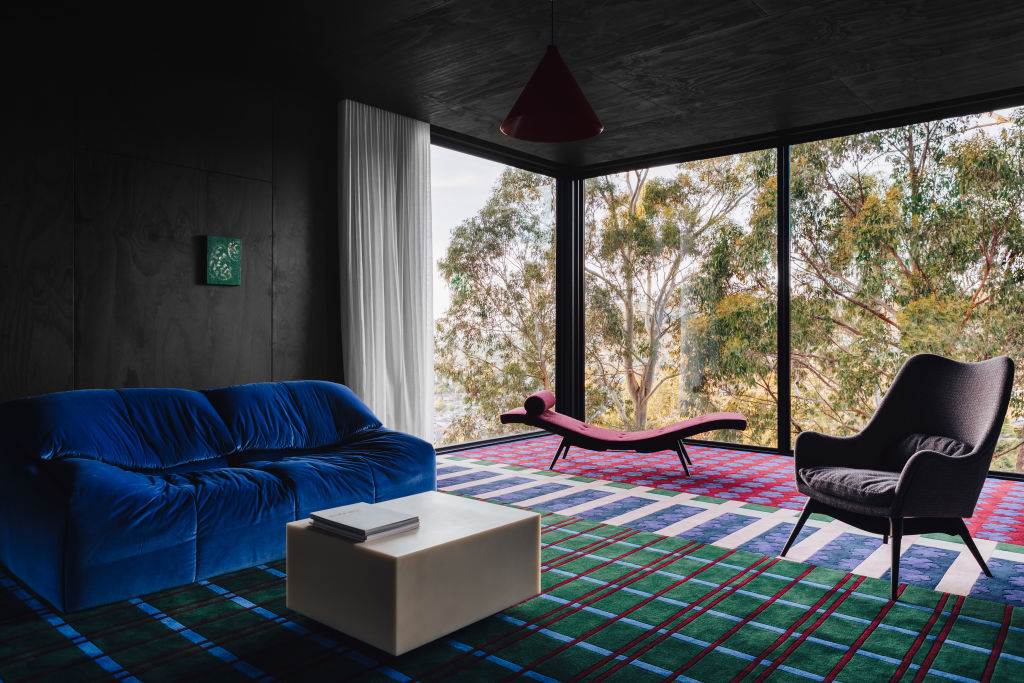 Spoiler alert: their friendship did survive, even with the pair both becoming first-time mothers during the process.
Bamford and Mason had a clear brief. "They were after a holiday house with generous living areas that 'heroed' the site, including views to the River Derwent and the surrounding eucalyptus trees," Trotter says.
Embracing the aspect of the site, Trotter designed a home with two distinct black box pavilions, the first with a kitchen, living area and powder room and second with bedroom and bathroom. "The two buildings are slightly offset so they could nestle into the existing cutting and we put the bedroom on the first floor to capture light," she says.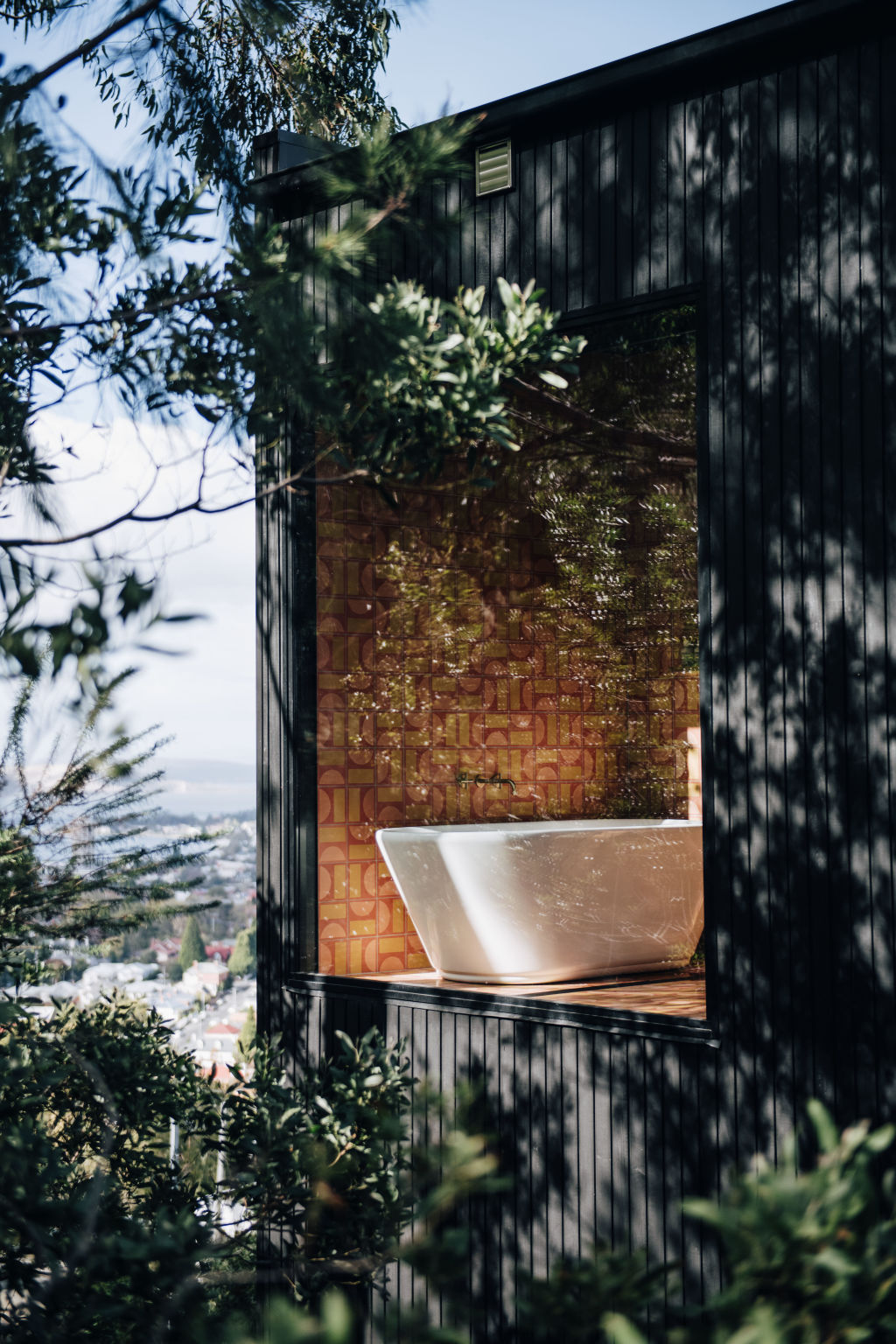 "The house is all about being inside, and creating this dark interior with our black-stained ply really made us focus on framing those exterior views."
Both Bamford and Trotter relished the freedom to design for short-term stays. "You don't have to design for everyday life, you are just designing the essentials," says Trotter.
"I didn't want us to play it safe, I wanted to go all out like Gio Ponti's Parco dei Principi in Sorrento, Italy," adds Bamford.
Together they worked collaboratively on the bold finishes including the Sarah Ellison bathroom tiles and custom Esther Stewart carpet, while Bamford filled the home with her favourite Australian designers and artists.
"It wasn't a one-day shopping trip, I collected it all over time."
Hosting her first guests this June, Bamford is pleased to share Slow Beam with others, but insists she gets most excited about returning with Mason and their daughter Dot.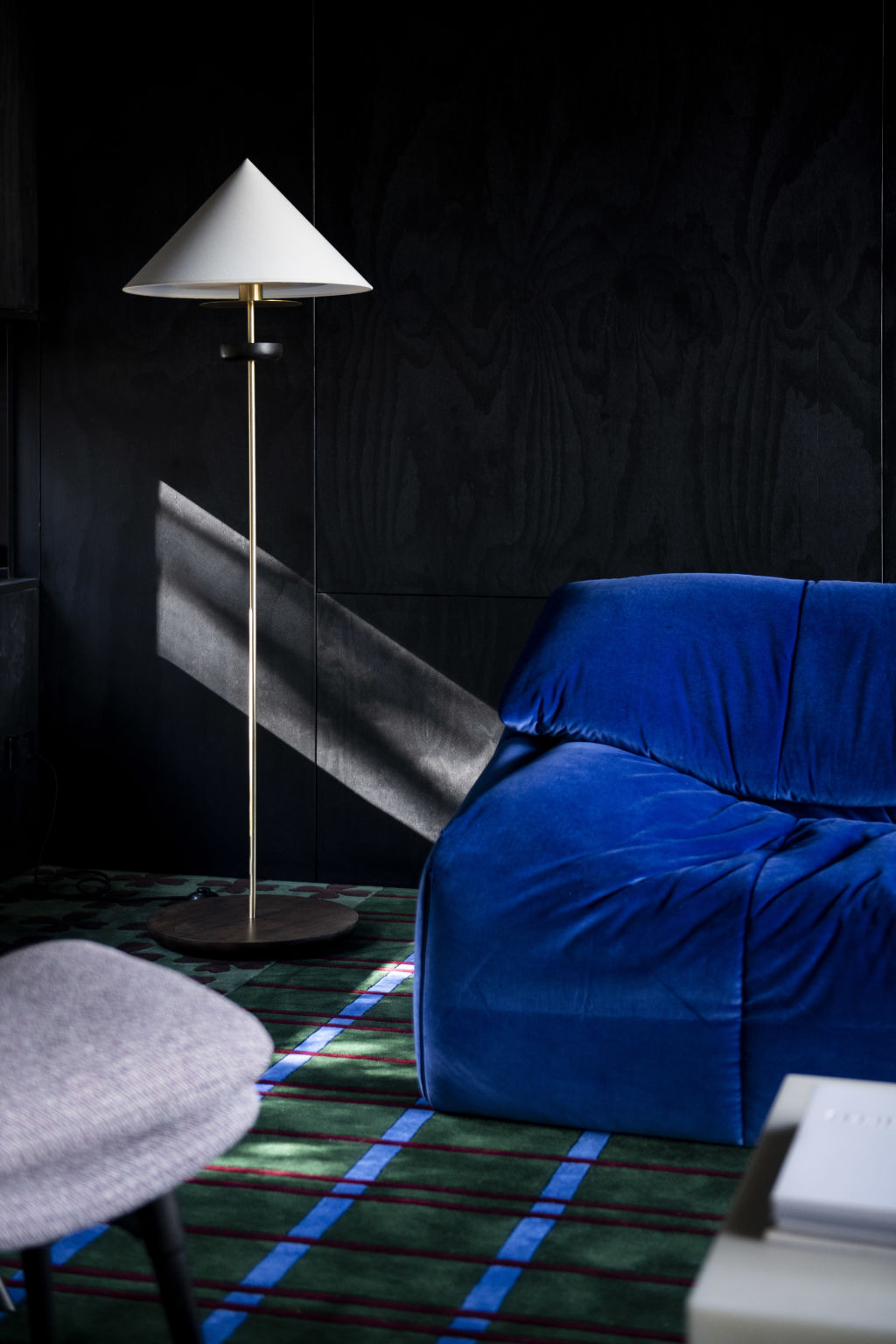 And perhaps even more excited that she no longer sleeps in her husband's old teenage bedroom when they visit family in Hobart.
"I'm so glad we pulled it all off even if our dream home is a plane trip away," she says.