The Block 2021: Hero kitchens
As one of the most utilised spaces in the house, kitchens are central to any home build or renovation.
The Block 2021: How to design the perfect kitchen for your home
There's a good reason the kitchen is referred to as the heart of the home: we can't live without it. As the centre point of day-to-day life, the kitchen is now more than just a cooking zone. It's the birthplace of conversations at dinner parties, a hub of multitasking as you help the kids with their homework over the island bench and, for some, a makeshift home office.
The secret to a kitchen that can do it all is good design.  Here, our kitchen experts share their top tips for creating a space that is up to the challenge.
Planning and layout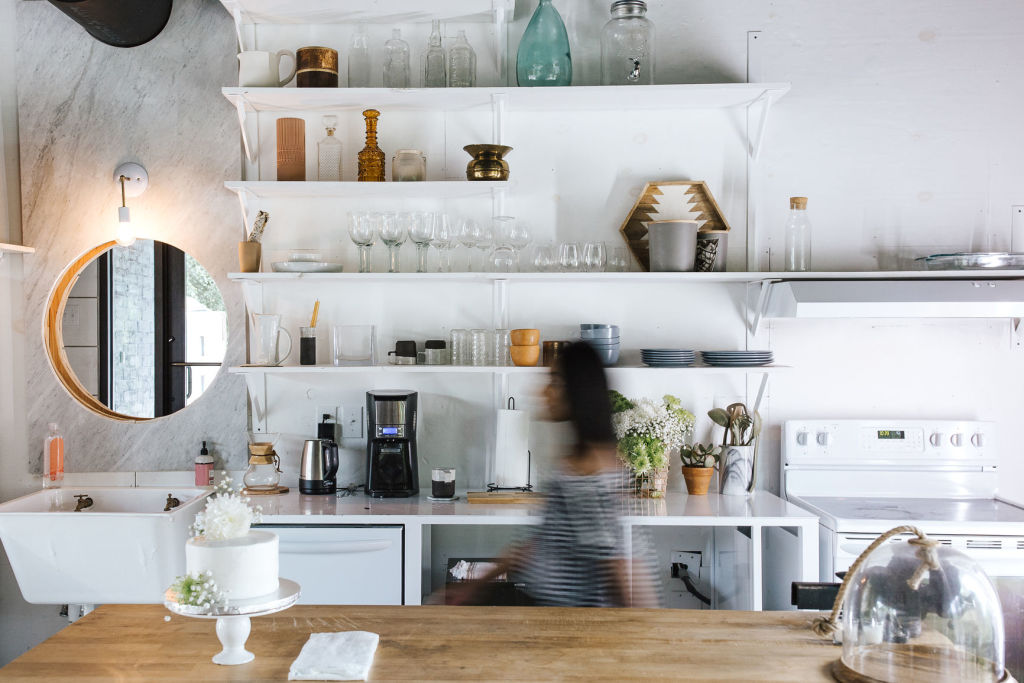 Start by determining the size and shape of your kitchen-to-be. Common layouts include L-shape, U-shape, peninsula (imagine a U-shape with a breakfast bar at one end) and galley kitchens (also known as corridor kitchens).
"The reality is that there are no real common shapes in a kitchen," says Dominique McAdam, founder and chief executive of Provincial Kitchens. "Everything you do should be about how to maximise the space you have got, with the best layout that will work – which may mean being inventive."
Got plenty of room to move? An open-plan kitchen with a generous-sized island bench and an adjoining butler's pantry to keep the mess out of sight is popular. "Open-plan living is here to stay," McAdamsays. "It's how we all live and interact, [with] the kitchen being the heart of the home, where everyone wants to hang out and be part of the action."
If all the options seem a bit overwhelming, begin by reflecting on your cooking style. "Ensuring you pre-plan how you use your kitchen before you start the design is vital," says Georgia Gregory of Frankly Interior Design. "Ask yourself which large appliances you regularly use, what only gets used for annual holidays (and can therefore sit up high in a cabinet) and who is actually using the kitchen."                                                                             
Consider 'the golden triangle'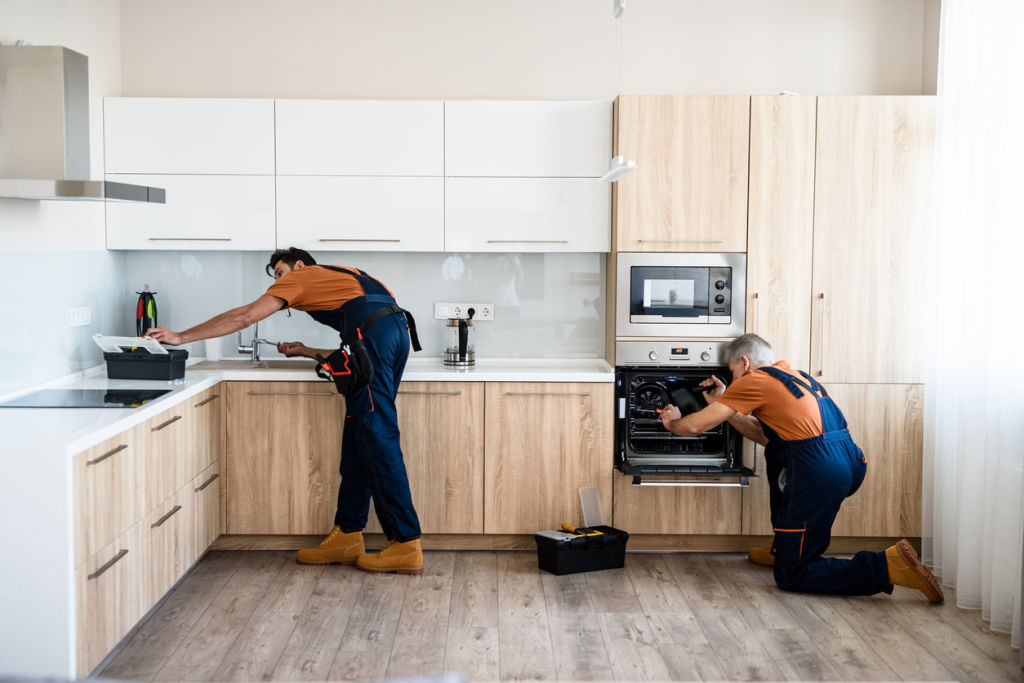 The golden triangle, the kitchen triangle or the working triangle – there are many names for this common concept that was developed in the 1940s to ensure an efficient kitchen design. "This is the connection between the stove, the sink and the refrigerator," Gregory says. "It's always a good starting point to ensure you keep the function of the space front-of-mind," she adds.
Interior designer Annie Bowen agrees, saying, "It feels more efficient and also tends to look balanced."
According to the golden triangle, the three key points should be within a couple of steps of each other, but not all designers subscribe to the idea.  "We now have way more appliances that we use and access on a daily basis, and that's before you even consider how many people will be in the space, eating, working and socialising," McAdam says. Instead, she recommends multi-workzone spaces such as consumables (fridge and pantry), prep (bench space), cleaning (sink, dishwasher and storage) and cooking (oven and cooktops). 
Confused? The triangle is a great place to start and is perfect for smaller kitchens. In a large, open-plan kitchen though, McAdam's work zones approach may be more helpful.
Storage solutions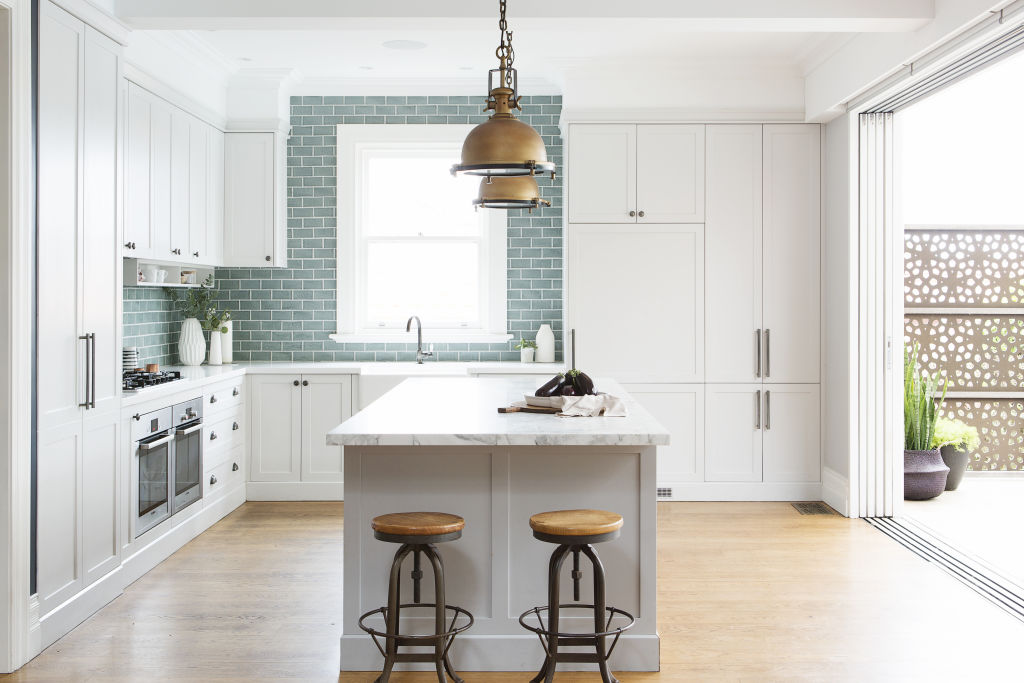 If you've ever wondered how people seem to keep a kitchen perpetually tidy, the answer is simple: storage, storage and more storage. Keep your benchtops clear of clutter by making space to hide away small appliances and utensils.
"Ensure appliances such as the coffee machine and blender have a hidden home, usually with access to power in a drawer or cabinet so you don't have to have them cluttering the benchtop and so you don't have to do any heavy lifting to use them," Gregory says. A combination of overhead cupboards and under-bench drawers will serve you best. "For upper storage, shallow cabinets are always best; you can visualise everything in there and it will ensure that you don't lose track of appliances or dry store goods."
And underneath? "Drawers, drawers and more drawers … of course, wherever the budget will allow," McAdam says.
When it comes to choosing your storage solutions, it's a good time to plan your power sources, too. "Hide powerpoints where possible, as opposed to being on the splashback in plain view," she says. "I always have them near the cooktop and preparation areas and if you have an island, make sure you have power there." Incorporating a USB point in an easy-to-access area is also important. "The new powerpoints come with both USB fittings, so consider that to satisfy whatever your family's or guests' requirements may be."
Bench space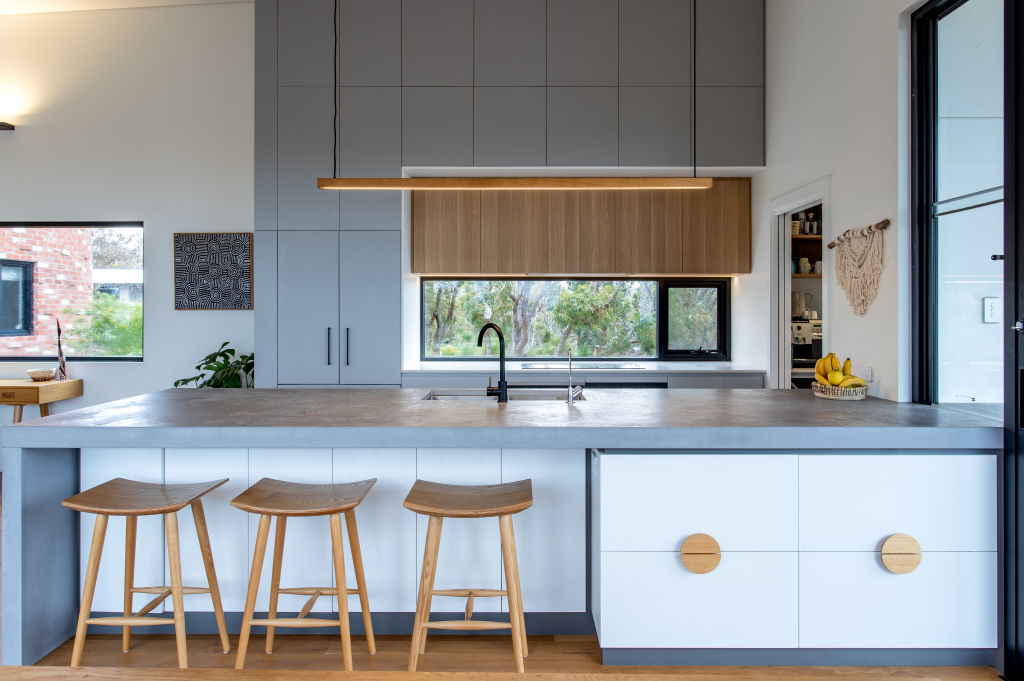 It's easy to get caught up in your appliance choices, cabinetry finishes and statement splashbacks, but all too often people forget to stop and consider how much bench space their new kitchen design will actually allow. "From a functional and aesthetic perspective, I always say the more bench space the better," Gregory says. "And ensuring you have it in the right areas is very important – for example, leaving space for a prep area next to the stove, and ample space above the dishwasher for unloading things."
If you've reached the late stages of design and suddenly realised you've neglected your bench, there are some simple ways to steal back the space. "Think about the sink size and if it's in the island, you will need to have enough space either side for washing up but also food preparation," Bowen says. "People often are after one large sink and a second smaller sink … but I prefer one large sink that's big enough to fit your largest baking tray, allowing for more bench space."
Surfaces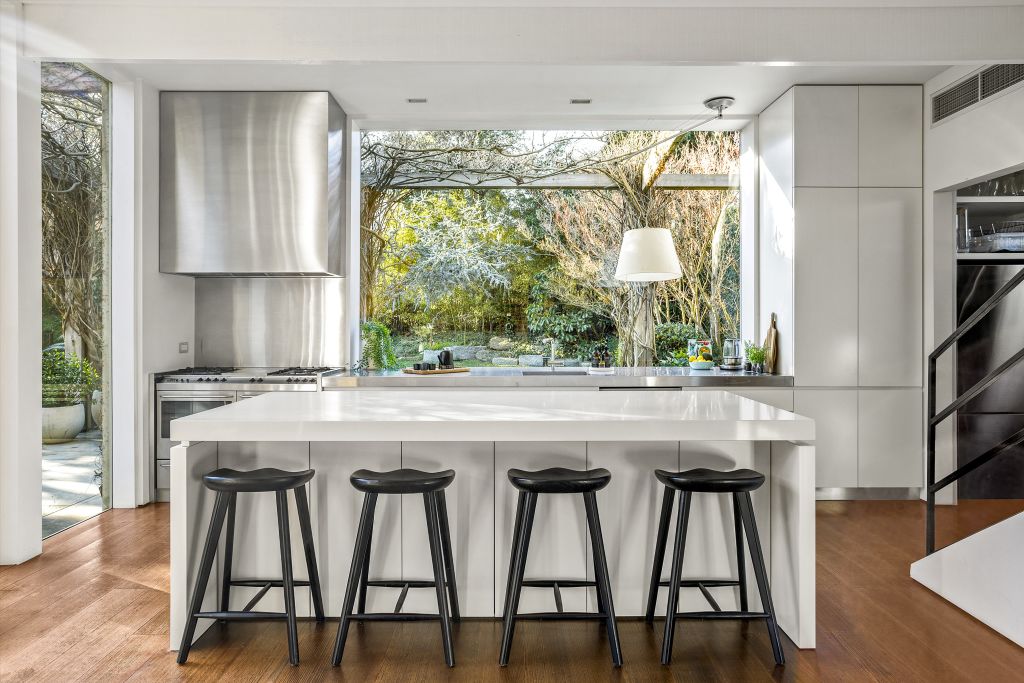 If you close your eyes and picture your dream kitchen, there's a good chance the first thing you'll see is a surface of some kind – it could be the statement tile splashback you've saved from Instagram, swathes of marble from bench to ceiling or a cool concrete island bench. There's no doubt that choosing your kitchen surfaces is one of the most enjoyable stages of kitchen design. But don't get too caught up in aesthetics alone, as there are a few considerations you'll need to make.
"Natural stone does need to be sealed and needs a bit more care, and it may show the ebb and flow of life over time," Bowen says. However, for many people, using real stone is non-negotiable. If this is the case, McAdam suggests using "a good sealer, an impregnating sealer, not a surface sealer and choose a honed stone in the kitchen, not polished, as it is easier to maintain".
"For serious cooks who don't want natural stone, try a porcelain benchtop like Dekton or Neolith," Bowen suggests. "There are some great colours and patterns [and] they are as tough as nails – you can put a hot pan or a cut lemon straight on the surface with no risk of marking or damage." Don't be tempted to try DIY with this product, though, as without the right equipment and installation methods, these porcelain slabs can shatter before they even make it to your benchtop.
Engineered stone is another great solution if you want the look without the maintenance, "If you are on a tighter budget but still want the wow-factor, use a marble-look engineered surface or more patterned choice for the island and splashback, and then keep the workbenches in a plain white," Bowen says. "With engineered stone, there is a variance in price depending on the finish chosen, so you have the ability to splurge in more on-show areas and save in the work zones."
The ultimate in durability and hygiene is a stainless-steel benchtop – there's a reason it's used in professional kitchens, after all. While it's a foolproof addition from a practical perspective, it isn't the most versatile choice in terms of style. "I often mix it up and do some benches in stainless steel so you have a bullet-proof bench to work on or for the kids, and then the island can be the statement factor in natural stone, that the kids are trained to avoid," McAdam says.
Lighting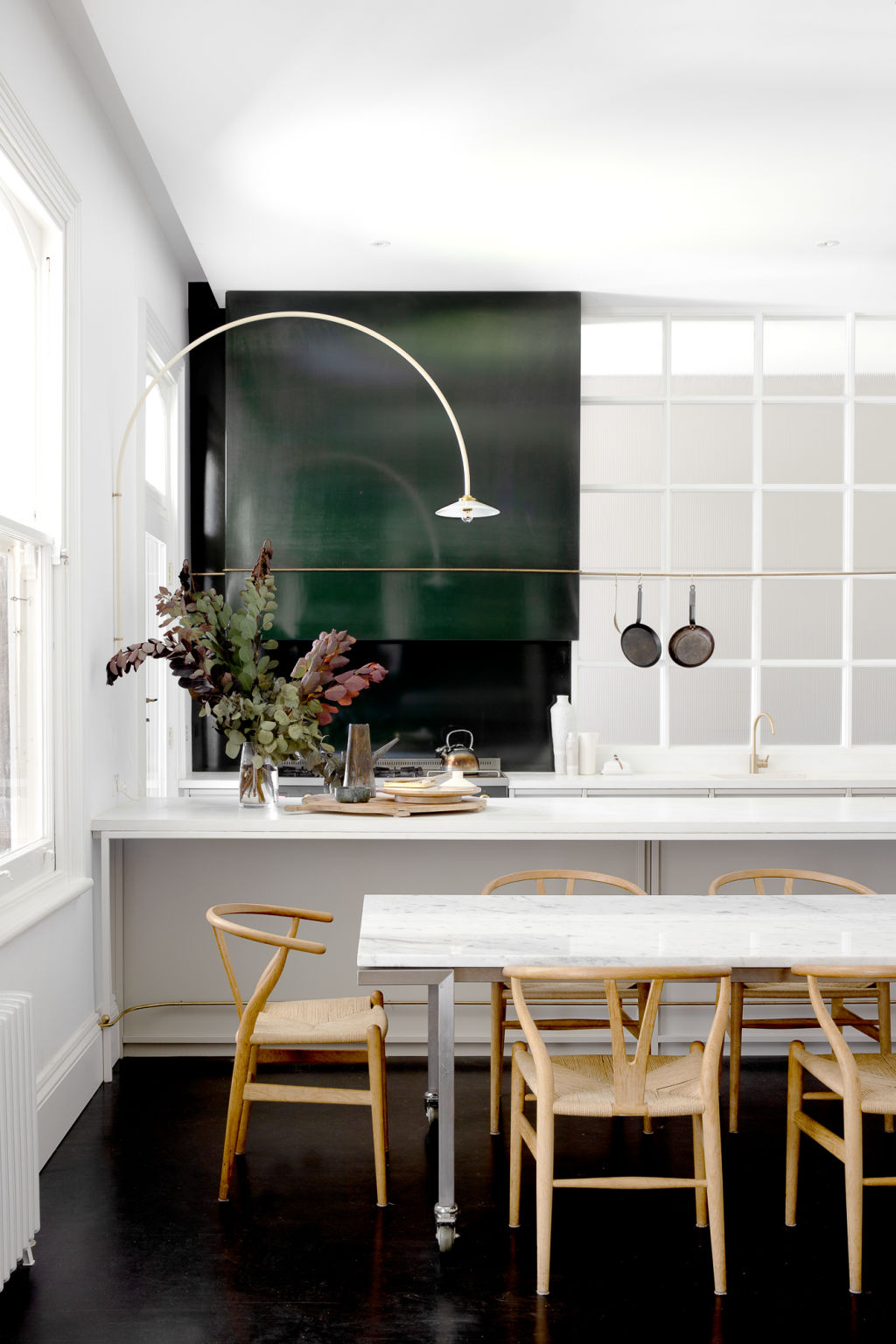 Without the right light, your kitchen is at risk of lacking atmosphere, or worse, having dark corners rendered useless at night.
There are three layers of light you'll want to incorporate into your kitchen lighting plan: ambient (general overhead light that should mimic natural light as closely as possible), task (functional lighting over workspaces) and accent (this could be to highlight design features or to offer some low-level light after winding down). Recessed downlights are one of the most popular choices for overhead.
"Pendants and wall lights add a more decorative lighting element, and a softness that can create a beautiful mood," Bowen says. Pendants over the island can double as a design statement as well as task lighting, while LED strip lighting under any overhead cabinets can illuminate your other prep areas. "It can sometimes feel a bit harsh," warns Bowen. "Avoid this if you have any reflective surfaces like stainless steel."
When you've got the practicalities sorted, don't be afraid to have some fun with your lighting selections.
"Interesting sculptural lighting adds a touch of character that can sometimes get lost when considering a kitchen design," Gregory says. "And don't forget to take into account any natural light that hits the space – it's important to make the most of anything that the room already has access to."