Priceless Collections is a series looking at the weird and wonderful collections people have in their homes. 
Wayne Rogers is a man of many talents. From choreographer, to singer, to hairdresser and dressmaker; he's not just a triple threat but rather a quadruple one. But it is Rogers' collection of dazzling handmade costumes that are starting to steal this unique performer's limelight.
Rogers lives in an immaculate, 116-year-old home in Wallsend, NSW with partner James Hingston. Ten years ago, Rogers had an extension built to store his growing assortment of handmade costumes, headpieces, accessories and wigs.
"I realised I needed a purpose-built space, not just to house the costumes but as somewhere to sit and make them as I was creating a huge mess in the lounge room! A decade ago I had just a few outfits, now there are nearly 900 costumes in my collection," he says.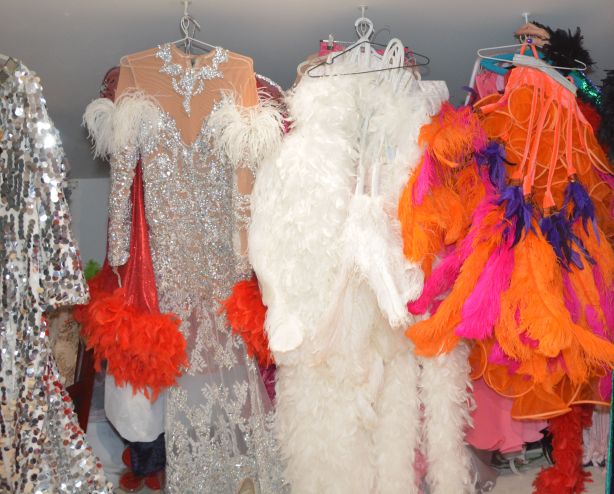 Rogers' sewing and costume room above the garage is awash with colour, sequins and feathers. It is where he sits to contemplate ideas and listen to music while he sews each bespoke creation.
"I have one basic pattern that I follow, but my years of experience means that I can just go with the flow and make it up as I go. The inspiration for the colour or style of a new outfit might come from watching the Oscars or simply seeing a shoe I like and thinking 'I could make something to go with that!'," he says.
Rogers' love of dressmaking began in childhood. His grandmother was a seamstress who made beautiful full-length ballgowns with covered buttons and belts. She was an inspiration who helped Rogers develop the basics of his craft.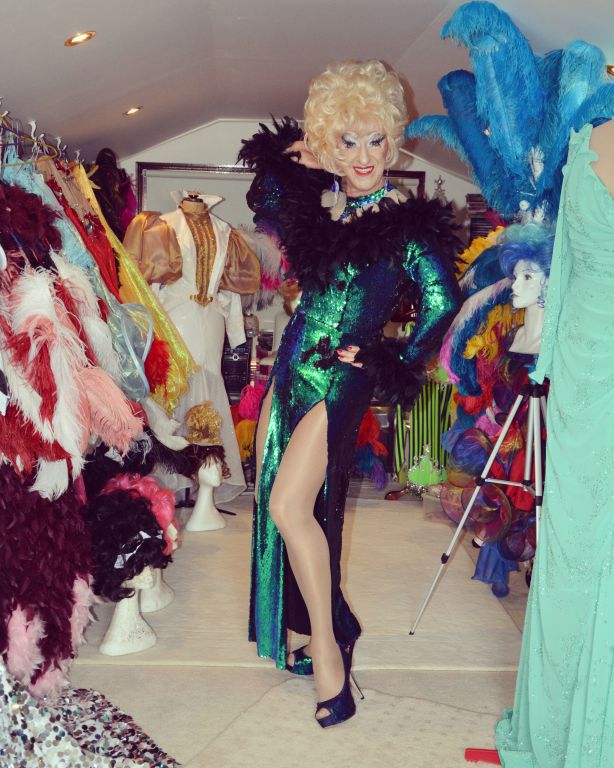 Years later he began running a ballroom dancing school in Tamworth while also pursuing his career in hairdressing. Rogers helped the parents make ballgowns for the little dancers he taught.
"I didn't want my students arriving at Sydney dance competitions looking like 'country girls' so I would sit up late designing and sewing costumes for them. It honed my skills and creative flair for making elaborate gowns," he says.
After a number of years in Tamworth, Rogers decided that he needed to relocate if he was ever going to grow his performing career. He settled in Newcastle, working first as a singer in a theatre restaurant, then climbing the ladder to become its artistic director and chief choreographer.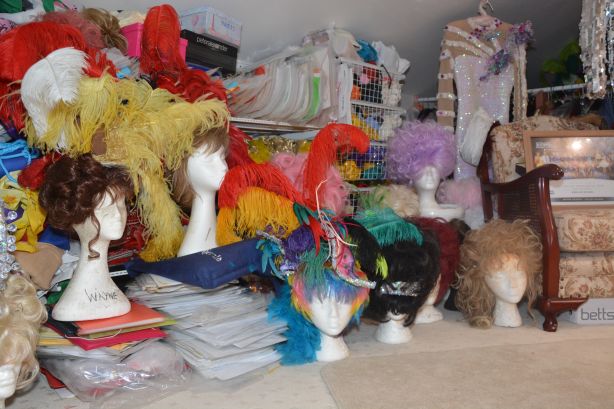 "I wasn't wearing sequins and feathers and I hadn't even considered being a female impersonator – back then I performed in suits and bow ties!"
Rogers' life changed completely after he won a part in the Gosford Musical Society production of La Cages Aux Folles, which required him to wear decorative dresses as the character of Albin, a drag queen and performer.
"The show was a huge success and with my experience in costume-making I helped out behind the scenes to make some of the most unique outfits. My career has not been the same since!"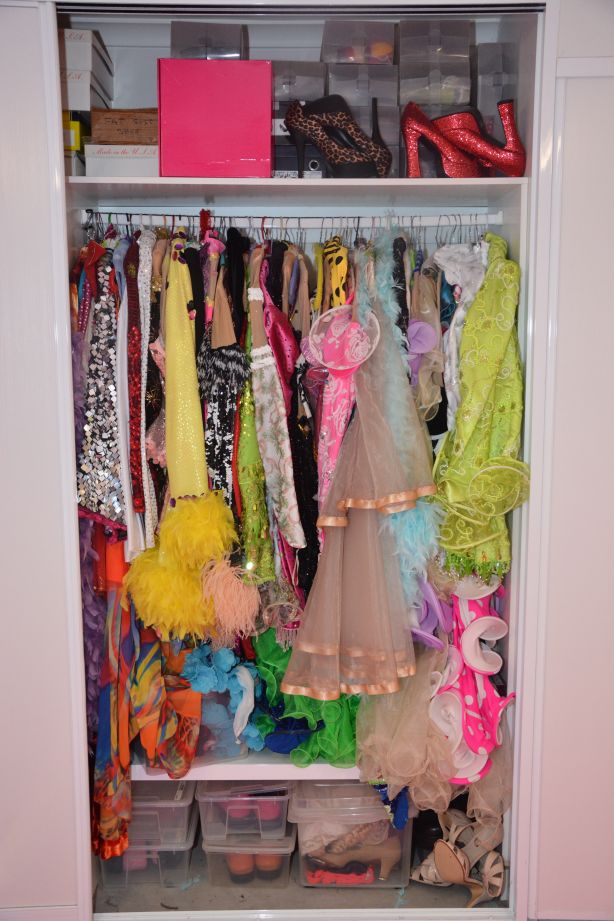 After the musical ended its run, Rogers received inquiries and bookings for him to perform as his character in La Cages Aux Folles. To make it financially viable, he made most of the costumes himself.
"If someone had told me 20 years ago this is what I would be doing, I would have said, 'That's not me at all!' But it turns out, I absolutely love it," he says.
A stage costume can take Rogers up to two months to create as he hand-stitches each sequin and button to ensure the very best quality and appearance when on stage. He sources some material locally but also makes regular trips to Cabramatta to purchase a variety of fabric he can't get in Newcastle.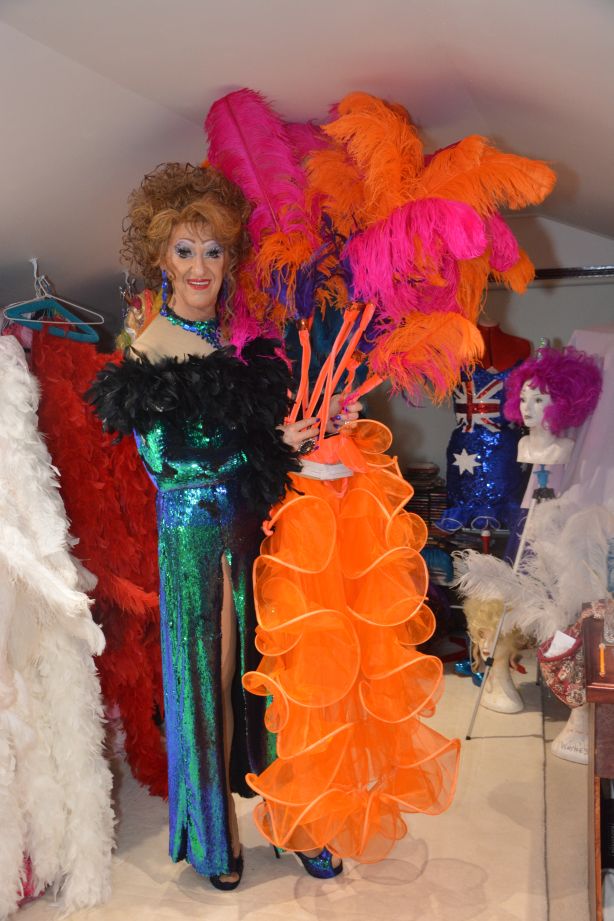 "While most of my costumes are made from scratch, I do occasionally see an outfit in an op-shop that I can adapt. The material or base outfit is not expensive, but the time I put into it makes it essentially priceless," he says.
"I recently performed at an event in Sydney wearing one of my gowns and I got so many comments about how much it must have cost. I enjoyed telling people that it only cost me $12!"
Rogers hopes to keep performing and making beautiful costumes for the foreseeable future.
"I know I am lucky to have the skills to craft my own outfits as well as enjoying what I do. It might not have been the path I thought I would follow, but all these years later, I am very glad that I chose it."