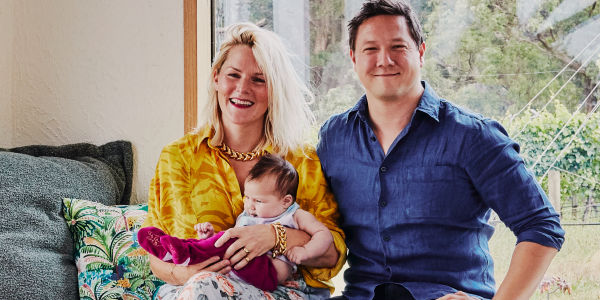 The Design Files: Inside the colourful home of Kip&Co's Alex McCabe
Who: Creative director Alex McCabe, husband Bobby Babb and family
What: A family home full of colour and warmth
Where: Mornington Peninsula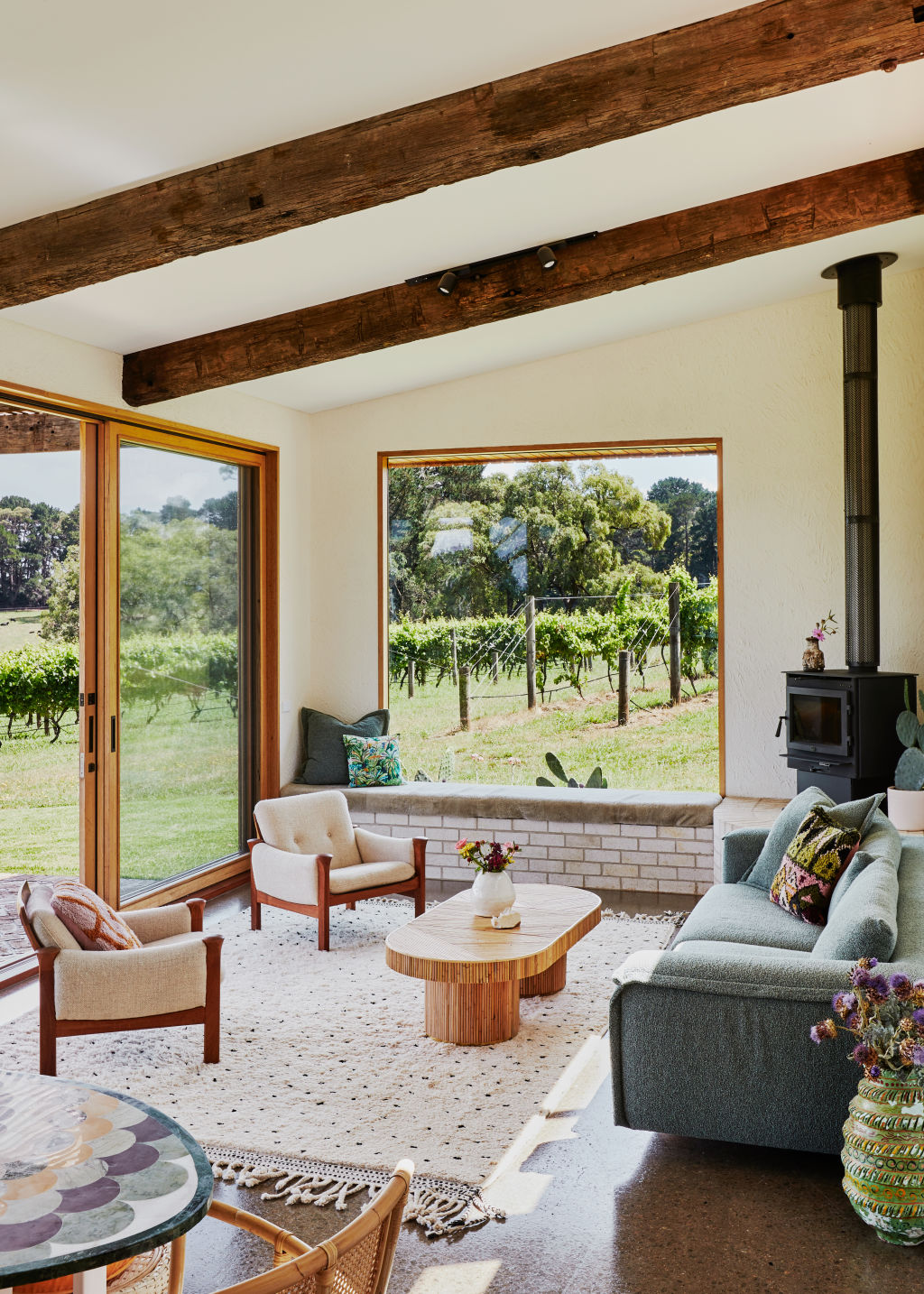 Alex McCabe grew up just five minutes from the site of her newly built home in Merricks North.
The vineyard the house is situated on was owned by her parents for more than 30 years until they recently decided to sell and, much to McCabe's surprise, she decided to buy it from them.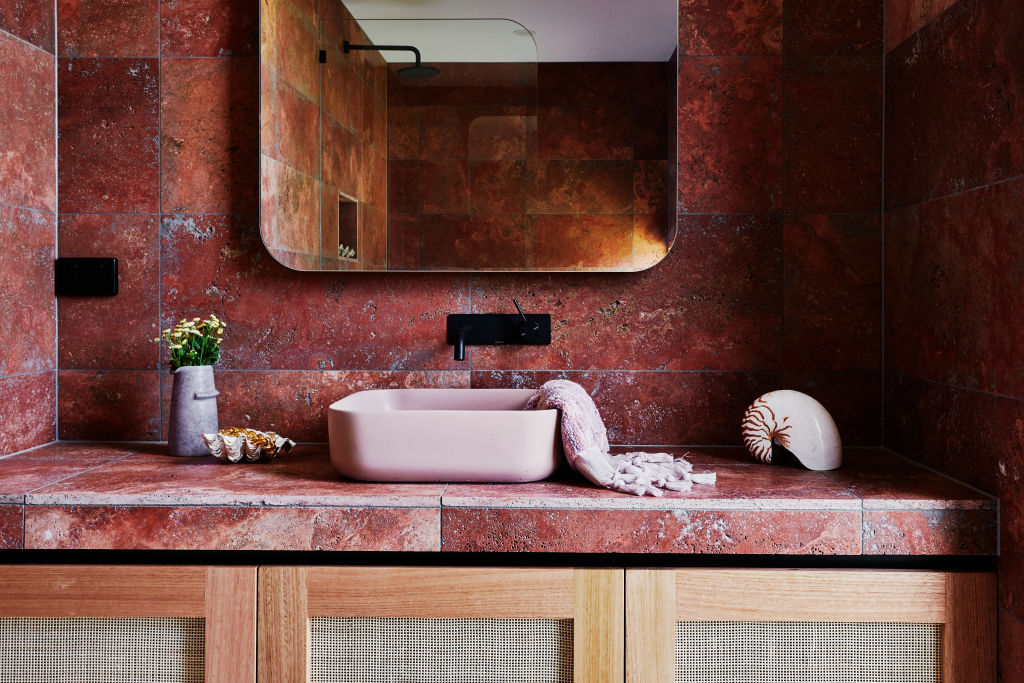 "When I was younger, I couldn't wait to move away from the sleepy Mornington Peninsula – a lot sleepier back then – and now I can't wait to move back," she says. "Times have changed."
When McCabe and her husband, Bobby Babb, purchased the land from her parents, the vines were well established, but there was only half a shed on the site. The pair worked with architecture firm McManus Lew on the design for the house, which was originally intended to be a family weekender.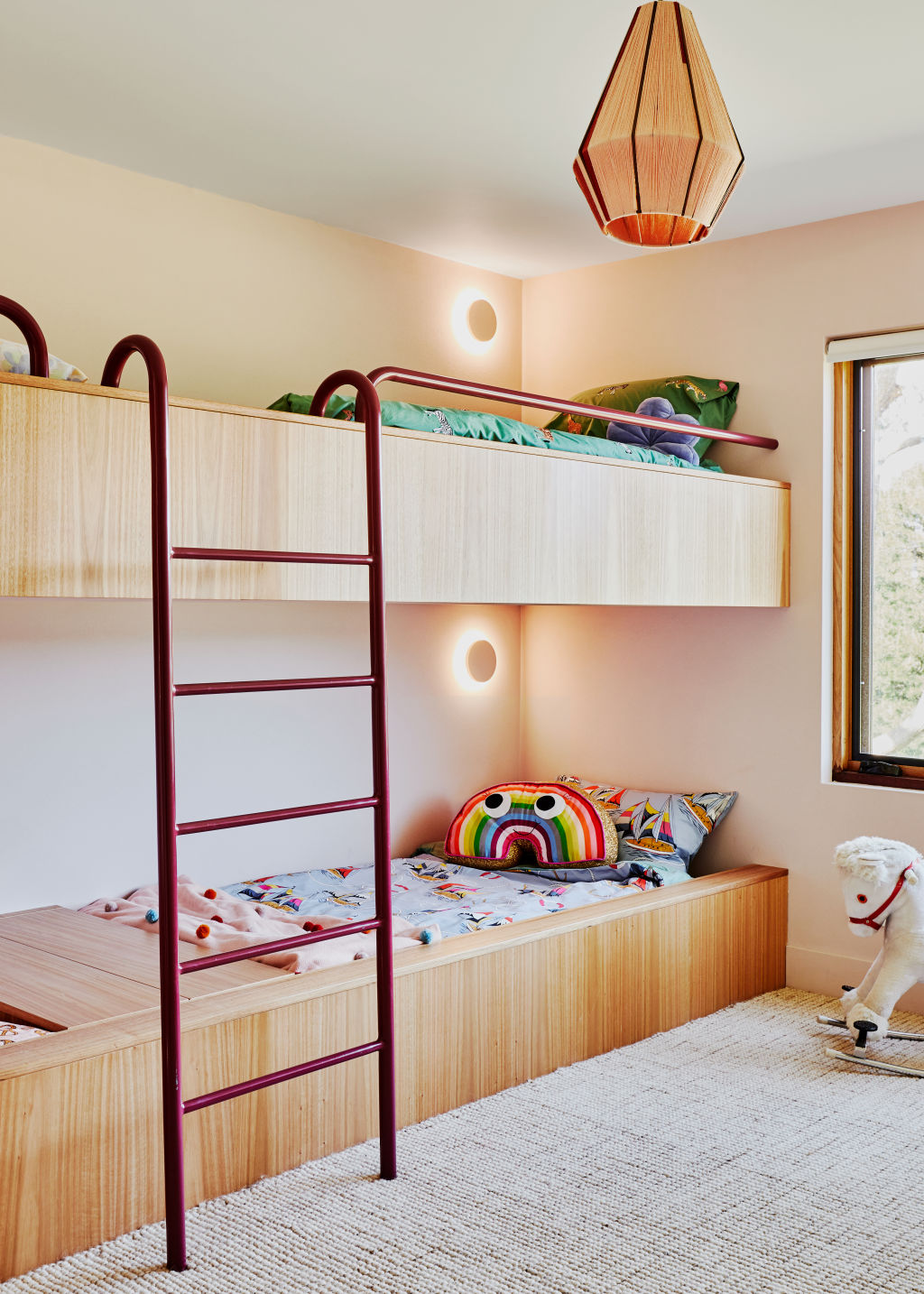 As the co-founder and creative director of Kip&Co, McCabe is known for her love of colour, but this house is all about texture.
"That is the overall, unifying theme and the driving force behind the design," she says.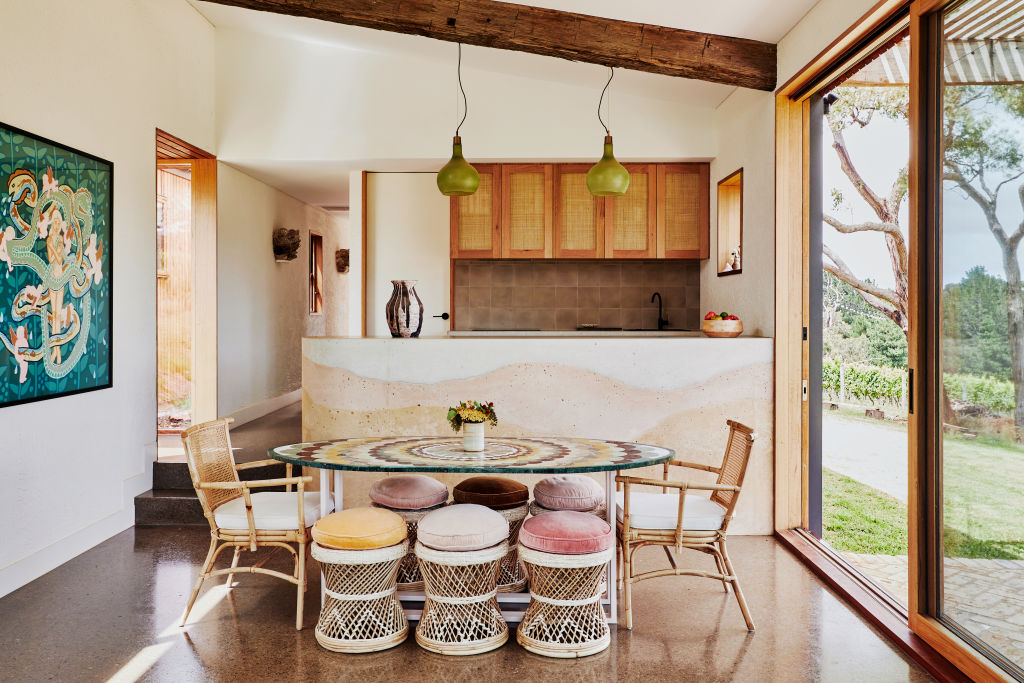 Setting the tone for this look is the Corten steel front door framed with century-old, recycled timber beams from Gippsland. The interior walls throughout feature various textures including stucco, render and seagrass wallpaper.
"I think all that texture makes it feel really warm and welcoming and calm," she says.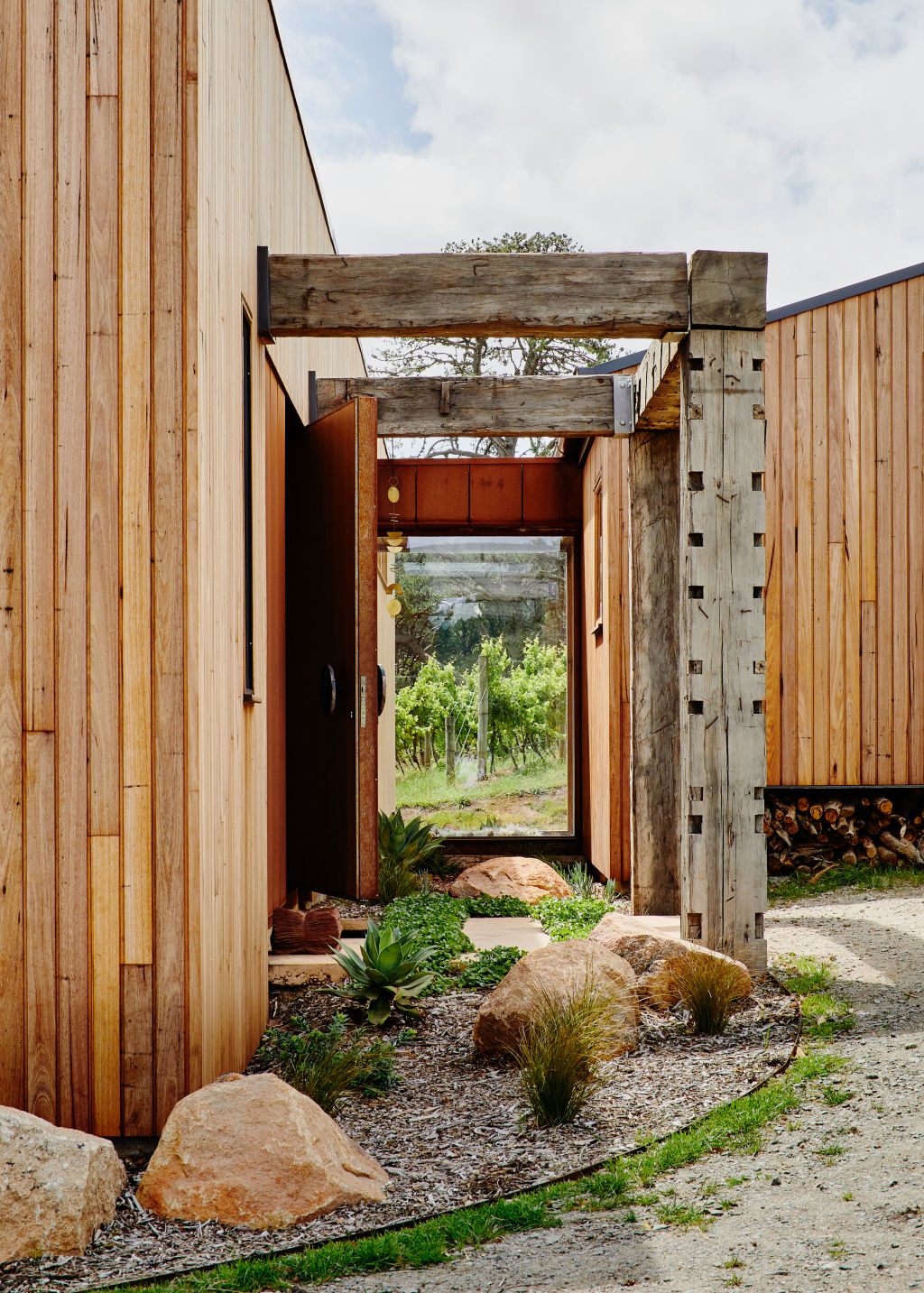 Windows have been installed at strategic points in order to frame aspects of the land. McCabe loves watching the sunrise from her bed, and the sunset from the living room picture window.
"Oh, and there's a window for you to watch the sunset from the bath too," she says. "Did I mention I am into windows?"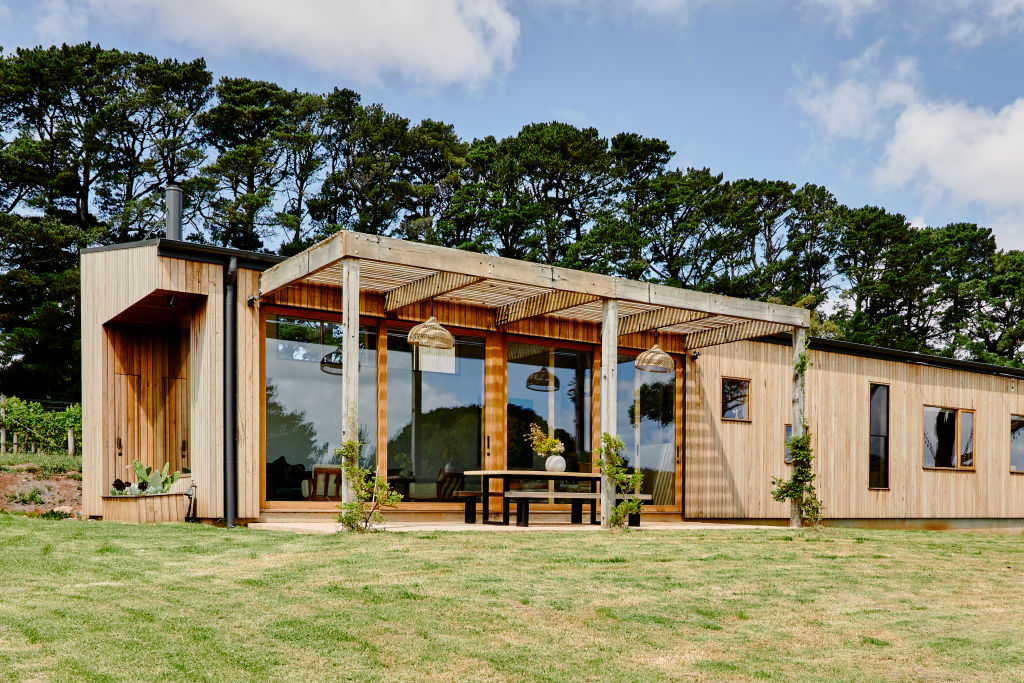 It wouldn't feel like home for McCabe without some colour, but the shades used here have been strategically selected to reflect the surrounding landscape.
"The red bathroom is inspired by the red soil, and the amazing tricoloured island bench fits with the colours of the nearby beaches," she says.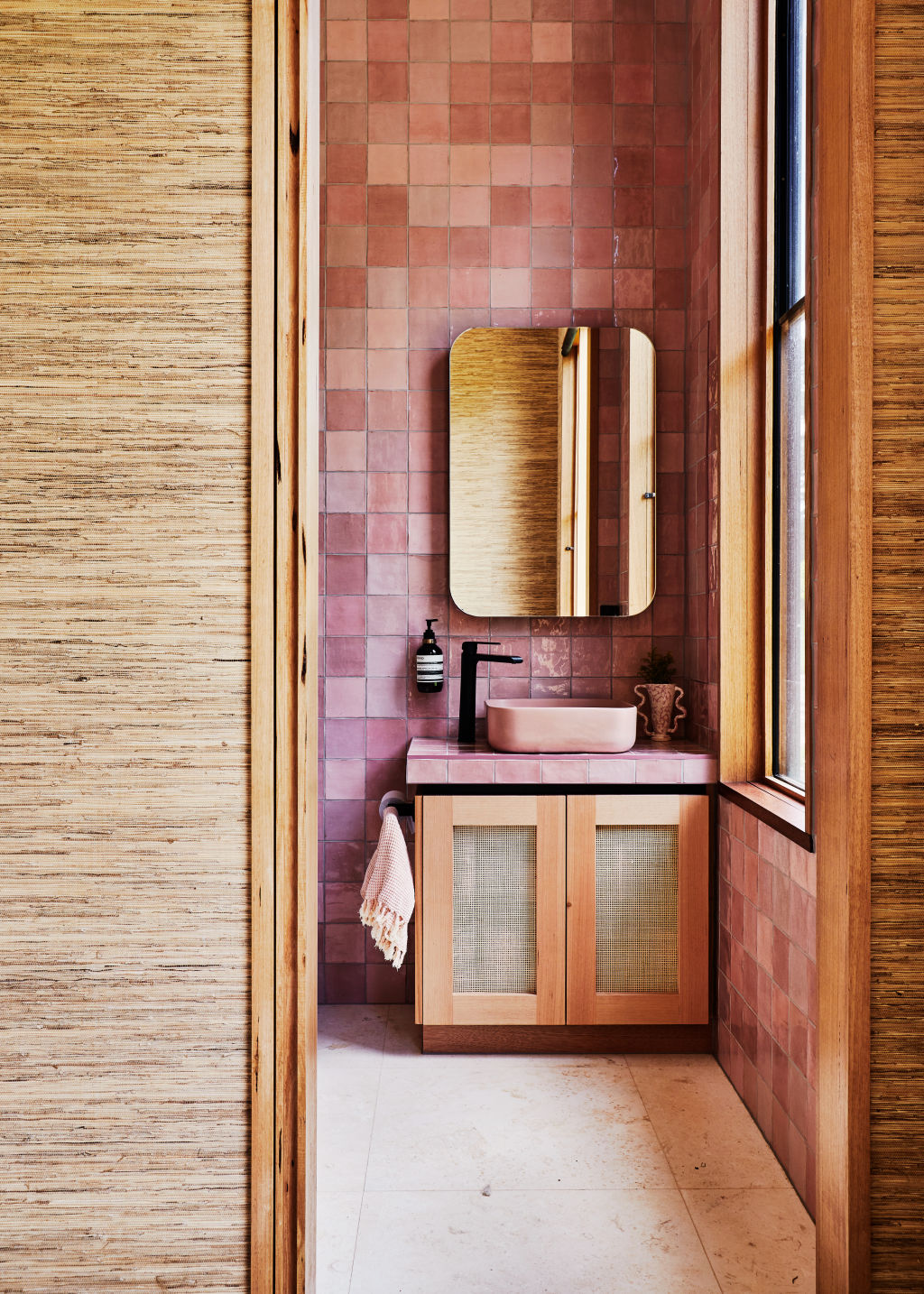 Despite not originally intending to return to the peninsula, after pouring so much love into this weekender, the family now plans to live here full-time.
"I love that we get to live among the beautiful vines, the red clay and undulating land of this unique part of the world, where wineries and beaches are equally accessible," McCabe says.
How to build with texture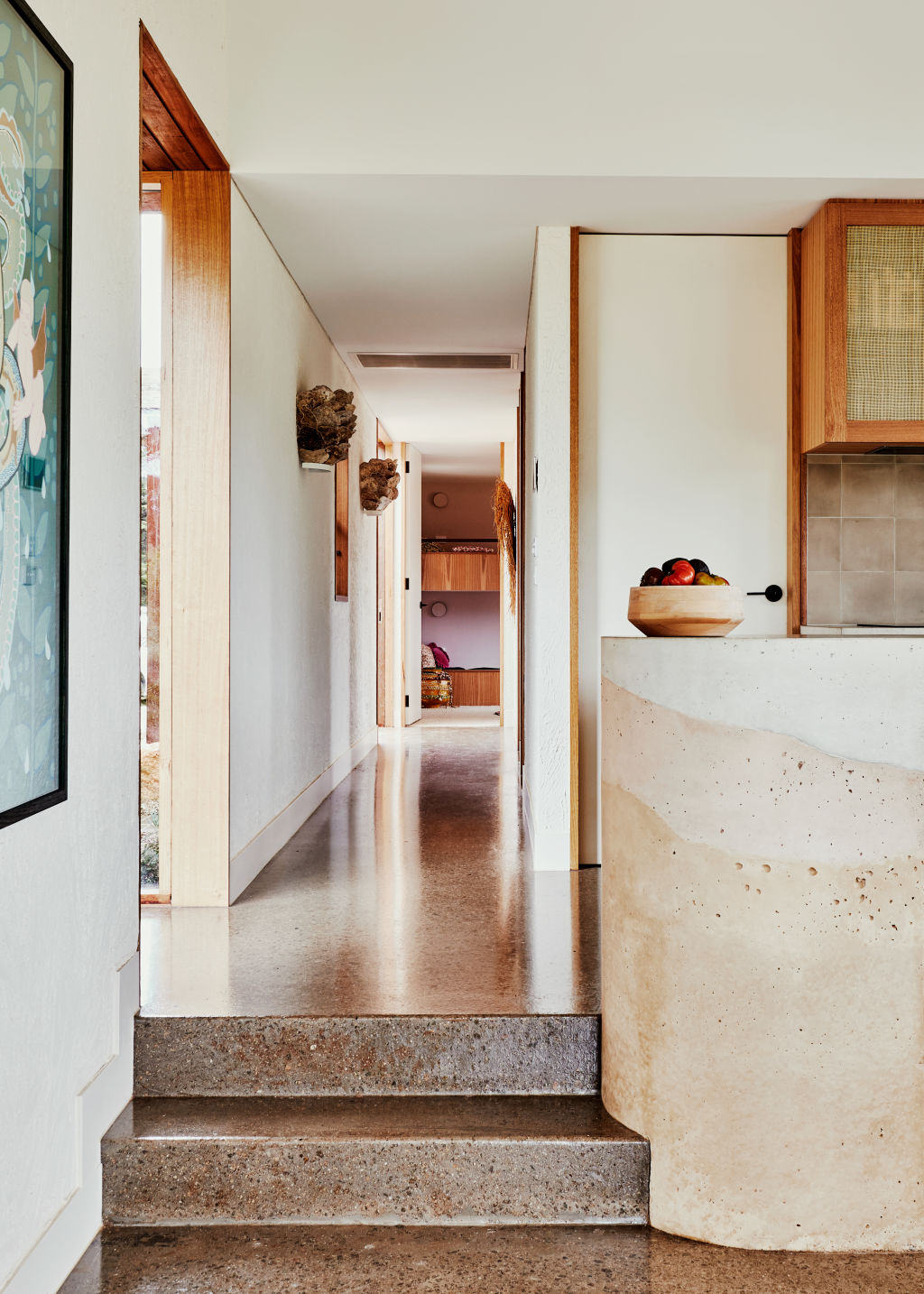 If you've been keeping abreast of interior design trends in Australia and around the world over the past few years, you might have noticed a look that seems to be popping up everywhere – textured walls.
But these aren't the textured feature walls of decades past. This time around, it's more tactile and refined – think Mediterranean villa-inspired, rather than sponge painting in the '90s.
Coloured concrete finishes: In the home of Alex McCabe, a central island bench has been poured in coloured concrete, for a unique textural effect that turns the island bench into a work of art in itself. This is a specialty finish, and requires a skilled concreter to pour on site.
Limewash is a painted surface that incorporates tiny particles of crushed limestone, creating surfaces that are mottled and matt with a chalky texture. You can buy limewash in various colours from most paint suppliers.
Venetian plaster is a very traditional, European wall treatment that is having a real resurgence in Australian interiors right now. It consists of lime plaster applied in thin translucent layers to create a textural, polished finish. Venetian plaster can be custom tinted almost any colour but it requires an experienced artisan to apply.
Tadelakt is a waterproof lime plaster surface used in Moroccan architecture. As it's applied to the surface with a trowel, it gives a beautiful seamless appearance and is suitable for wet areas like bathrooms and splashbacks.