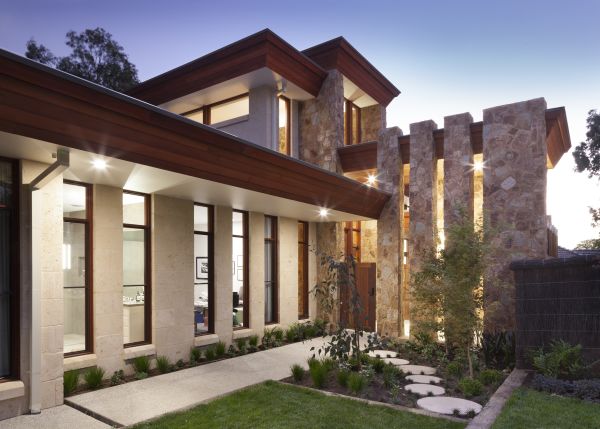 'This is the house that's been closest to my heart': A spectacular design swansong
On the eve of his retirement from a 54-year long career as a building designer, Les Serin says the commission for this substantial and earthy Mount Waverley home in Melbourne's south-east has gifted him an exalting swan song.
"This is the house that's been closest to my heart," says the 71-year old. "In my career I've never had a client so open-minded to let the building designer do what they want."
Serin is duly rapt with what emerged from a dream brief for a four-bedroom statement house on a double block backing onto a park.
The project actually grew its budget during the build to a very accommodating $2 million to become what the generally reticent Serin sees is "an iconic home on a prominent site" in a suburb where expansive houses are no rarity.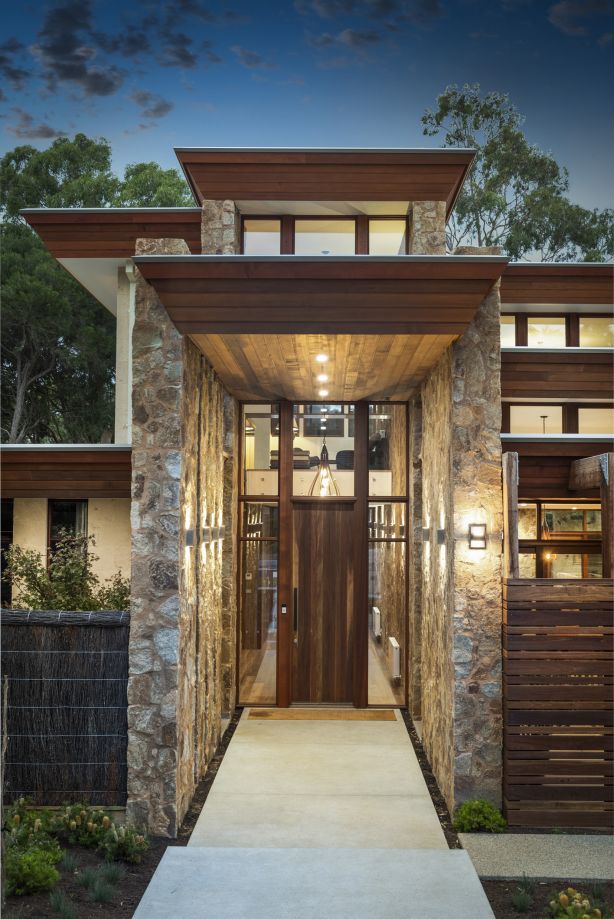 What is uncommon about a residence so extravagantly appointed in rock, timbers and limestone is where it derives its inspiration. After generating the floor plan in concert with his now-retired old boss Rob McLauchlan, Serin entered another collaboration with one of the 20th-century's greatest architectural originals.
And as soon as you read the name, you should be able to read the references of the powerful verticals and equally strong horizontal lines in the highly crafted, exceptionally handsome home.
Along with the client couple, Serin has always been a great admirer of the American giant and progenitor of the Prairie School, Frank Lloyd Wright.
He didn't wish to be completely derivative. "After researching a number of Frank Lloyd Wright homes to get the feel for his work, I did the elevations [the three-dimensional modelling]. It was very exciting. A real pleasure to do," he says.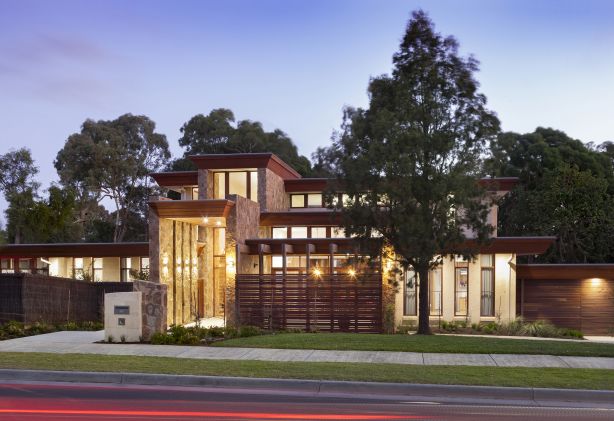 The clients were a retired businessman and his still-working photographer wife, who required a large studio in the house. They did much of the sourcing of the natural materials, says Serin.
Although the rockwork is a 40-millimetre-thick facing and not solid stone, it kept a stonemason occupied for a long time. "He had a ball doing it," Serin says.
As if the use of the rock inside and out was not statement enough as being "very unusual in Australian housing", the designer added an impressive 6.5-metre high entrance colonnade to the north side that leads into an equally lofty stairwell entry atrium. It continues the themes of stone, western red cedar and spotted gum and, along with the quality of the architecture, should guarantee that this is not a house with a short shelf-life but a keeper: a house for the ages.
A big house for two people "who have a lot of staying guests", it is virtually self-sustaining in terms of power because the whole roof is covered in German solar panels that sit flat. Because Serin doesn't like to look at them, along with visible roof guttering, he was able to banish them behind those beefed up and bevelled cedar fascias that are such a critical part of the exterior composition.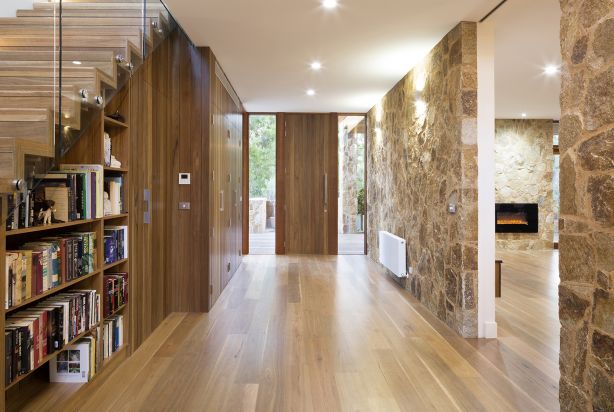 So is the rhythm of the tall front windows and internally the high clerestories that are all framed in cedar and which keep what Serin says accedes with Lloyd Wright's notions of "very clear, very clean lines".
Another remarkable aspect of this new house is that the relatively private southern facade which faces the parkland from an elevated position is as just as impressive as the frontage.
"Very grand," says Serin, matter-of-factly. "It has a lovely view from the al fresco terrace."