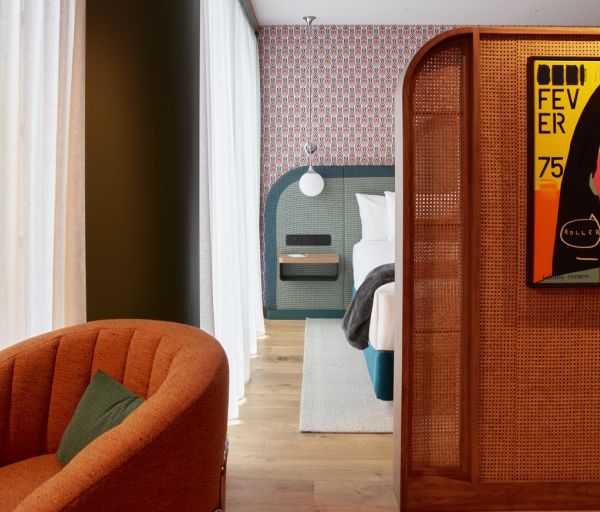 Travel back to the seventies at The Ovolo in South Yarra
Seventies nostalgia and interior design are fabulous bedfellows. They fit like Farrah Fawcett and a pair of flares.
Pop culture and retro expression come to life with a contemporary spin at the Ovolo South Yarra on Toorak Road. The look and feel of the Luchetti Krelle hotel strikes a deft balance between luxurious and fun.
In an inner-city suburb where fine residential design is de rigueur, it's a joy to experience staycation interiors that are also exuberant. Elegant Victorian homes, updated and enhanced, and new builds bearing the opulent marks of architect Rob Mills are signatures of South Yarra.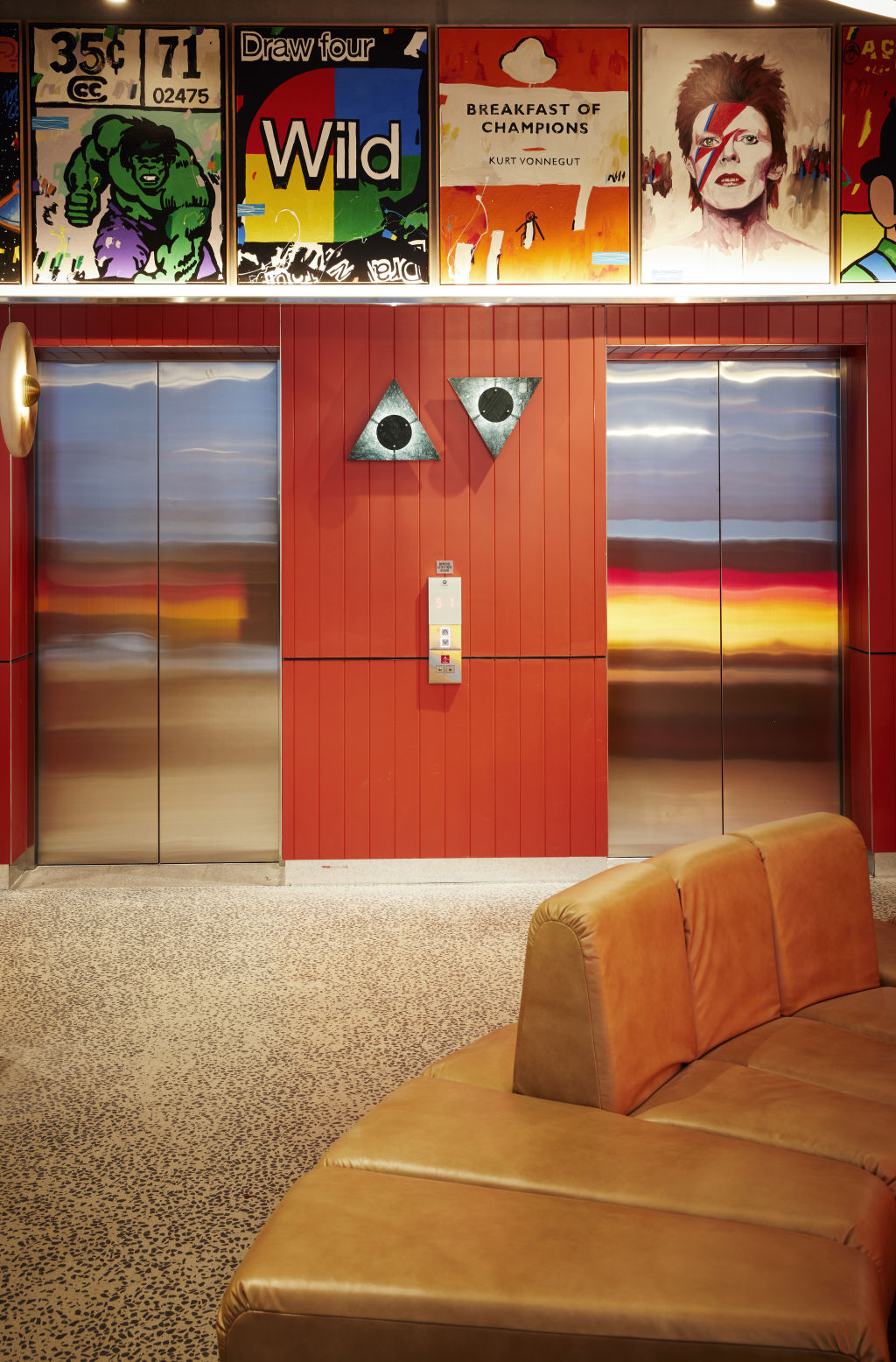 The Ovolo, with its ebullient style, stands out. However, it never ventures into caricature territory, designer Rachel Luchetti says.
"I like to use the term retro-futurism because it certainly is a nod to the '70s and that pop art era," she says. "But the thing about Ovolo hotels more broadly, they are so tech-savvy, the rooms are so intuitive, and we start that journey with a play on the Jetsons-style reception.
"It is a view of the future from the '70s, coming to fruition. I always like to use nostalgia where possible because it sparks joy, and it certainly causes a reaction.
"The thing about staying in a hotel, especially for the domestic traveller, is about departure. It's not like your house, and it is not meant to be safe, so it's alright to be in a room with psychedelic wallpaper for a couple of nights. It's okay to have some fun."
The florid, bespoke wallpaper is enough to trigger a desire to do a Roger Moore and grab a martini in Lona Misa, the hotel's ground-floor restaurant, by esteemed chefs Shannon Martinez and Ian Curley.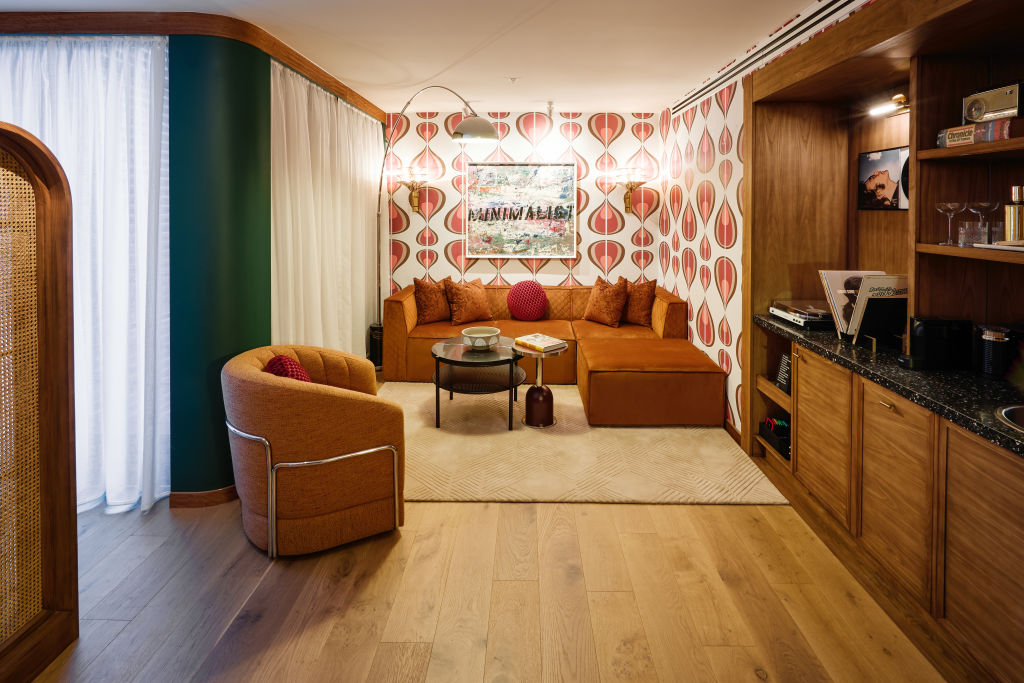 The budget allocated for the art alone has resulted in an extraordinary collection that lends personality to the communal spaces – this commitment, Luchetti says, is a rare investment by a hotel group.
Base and primal colours feature throughout, but it was not a case of replicating bygone palettes, Luchetti says. "Starting with the shell being a concrete shell, with black steel, we celebrated the exposing of services – so you can see the air-conditioner ducts. That's futuristic, so we thought, 'Let's leave that'."
They researched the wallpapers from that era and modernised them.
"You see colour blocking … but we are not recreating a movie set of the past," Luchetti says. "It's an exercise in appropriation. That is the key to making it 'now', not just a theme. The curation of art helps with that."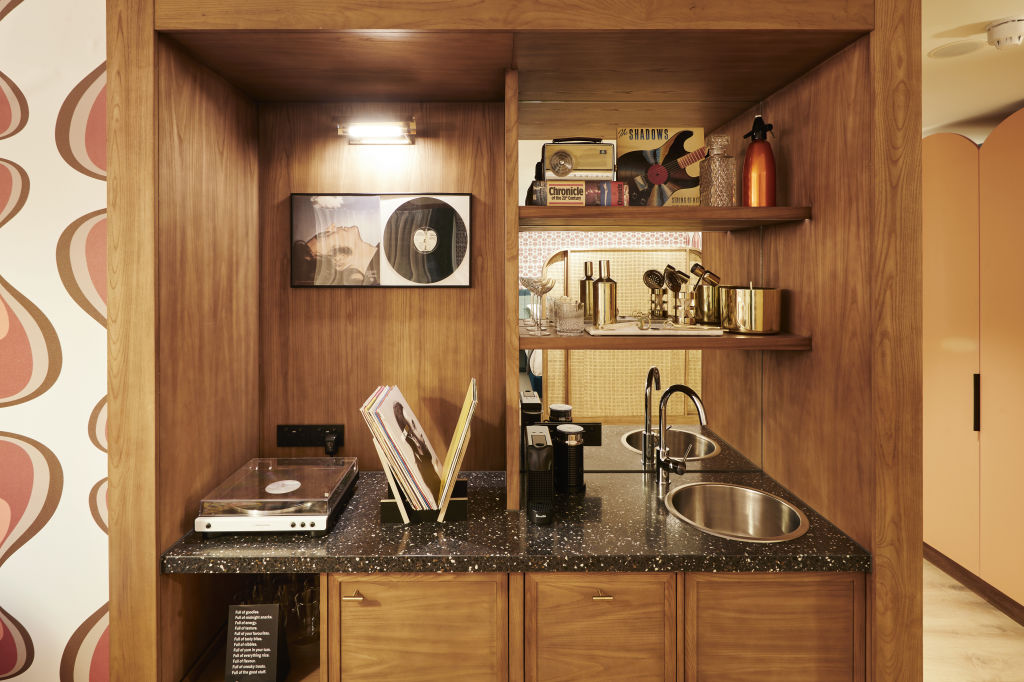 The designers collaborated with artists, and a lot of the collection was customised for the hotel. The owner loves art and had their eye on a few pieces, which shaped the concept, including hints of rock'n'roll and a pop culture narrative.
Artists include Mr Brainwash (Thierry Guetta, a Los Angeles-based street artist), Punk Me Tender (also from LA) and Ben Tankard (a contemporary Australian artist).
The neon fireplace with a "groovy flue" in reception is also a piece of art – a creative installation rather than a functional, warming open fire due to safety regulations. It's a gathering place, as a traditional fire is, but shows creativity can solve all manner of design roadblocks.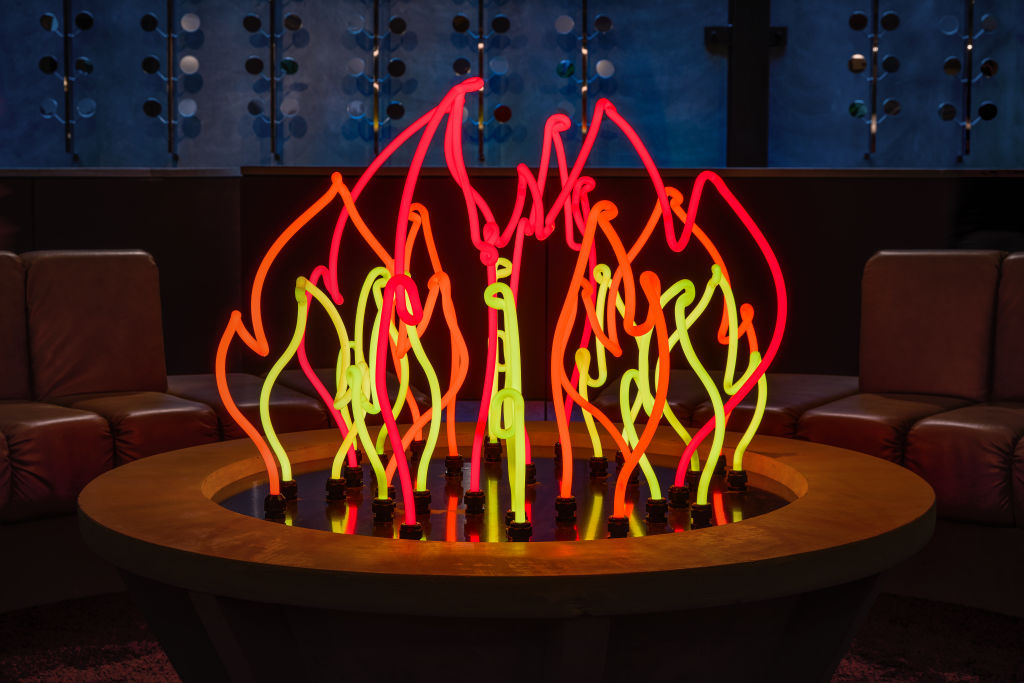 How Luchetti and her team delivered sophisticated industrial bathrooms, with black steel, exposed brackets and banks of glass, within the retro style suites (and accoutrements such as record turntables and rattan) is an example of the balance between old and new that residential renovators strive for.
Luchetti says it helps to ensure the rooms can be altered over time.
"We are also practical and sensible as designers, so at the end of the day, it is important that whatever we do … can be removed and rejigged to suit a refresh," she says.
"So, in the same way, we have the concrete basis in the lobby, we could bring that industrial element into the room as well, and have crazy fun with the bedhead, the wallpapers – those things are very easy to swap out and change. It's a good way to inject a bit of longevity."