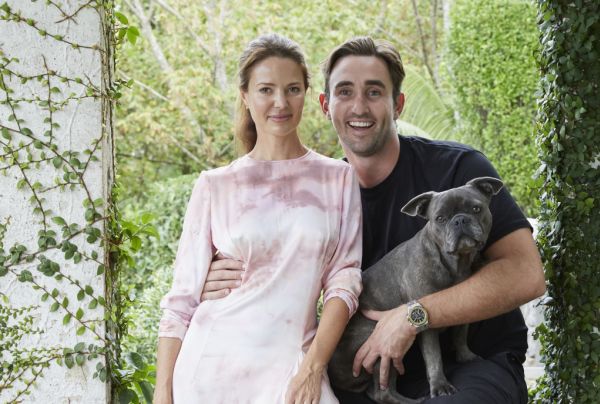 'Not your typical renters': The couple who turned a rental into their dream home
Dina Broadhurst and her partner Max Shepherd aren't your typical renters.
When they moved into their new home two years ago as tenants, the artist and her partner, who's in the building industry, chose to invest their time and money into the property. Creating their dream space was the brief for this stunning passion project – rental or otherwise.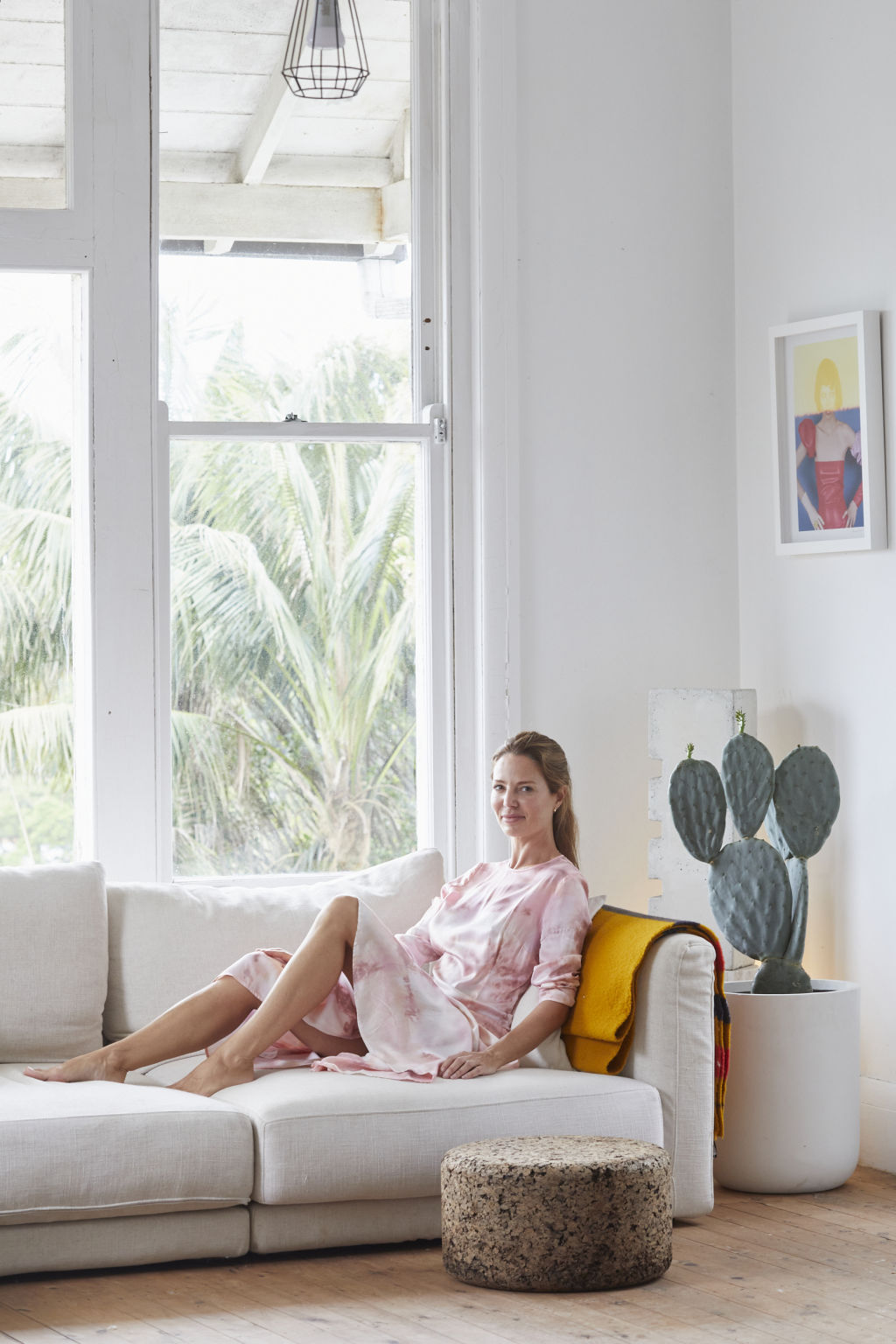 "We did everything ourselves. It took just under two weeks of around-the-clock hard work, but I was so proud of the result," Broadhurst says. 
Set on Sydney harbour with sweeping views and tiered gardens, the rustic five-bedroom, three-bathroom, two-storey Vaucluse property was turned into a spectacular home and workspace for Dina, her partner Max, son Leo and French bulldog Rio.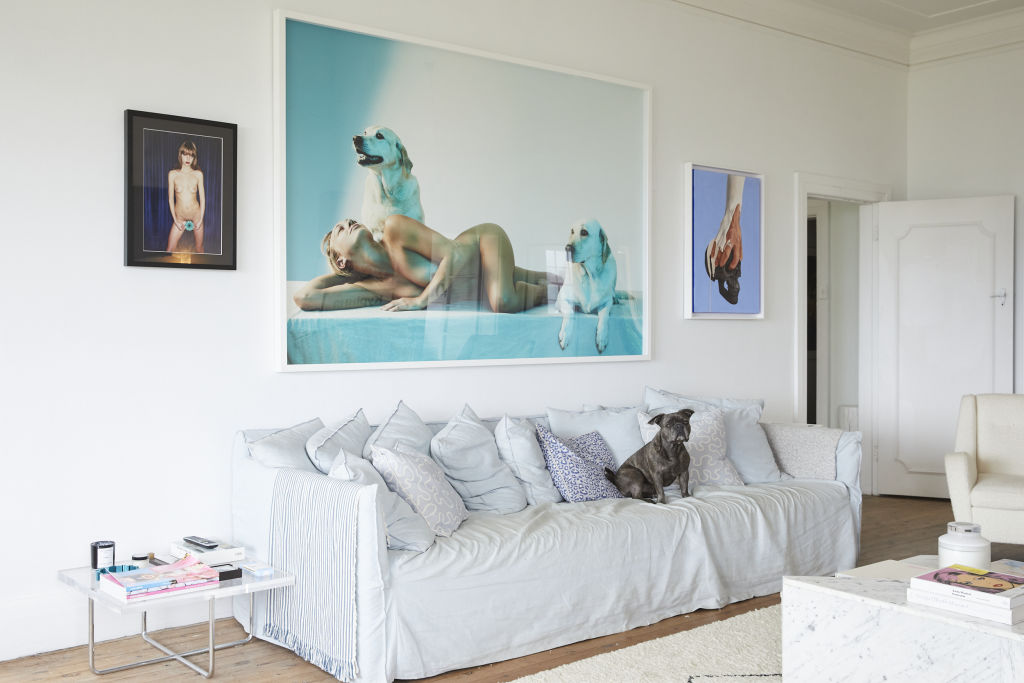 That fortnight renovating was spent ripping out old Laminex and lino floors in the kitchen and removing original carpets, to uncover beautiful floorboards throughout. 
They sprayed the kitchen cupboards inside and out to refresh them using a matt black tone. While everything else – the ceiling, doors, windows and walls – was spray-painted in pure white. 
"The inside, although freshened up, still has that rustic vibe with peeling off edges of wallpaper and original chandeliers," says Broadhurst, adding that they left the weathered feel on the property exterior since "we absolutely adored it".
While the gardens require "huge constant maintenance", Broadhurst says "they are so magical, it's totally worth it". But the most tedious job was hammering every protruding nail into the floorboards, she says. "It took at least three days of bending over on hands and knees and was so intense."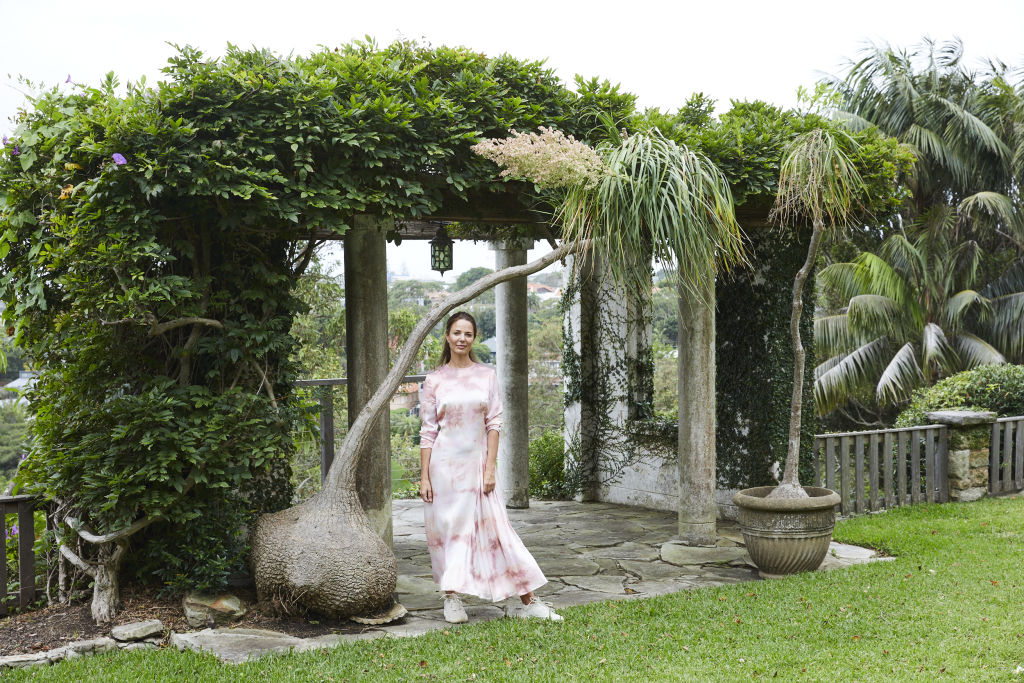 Broadhurst was looking for a home but also a space to be creative and work at a large scale across various projects at once, which helps explain the property's name, CASA Studio by Dina Broadhurst.
"We also wanted to find a place that we could add our own style to and that we didn't have to be precious about," she says. 
The CASA is modern yet historical. Broadhurst believes the pure white walls and abundance of natural light thanks to the large windows and high ceilings act as an anchor. From this foundation, it's a visual orgy of art.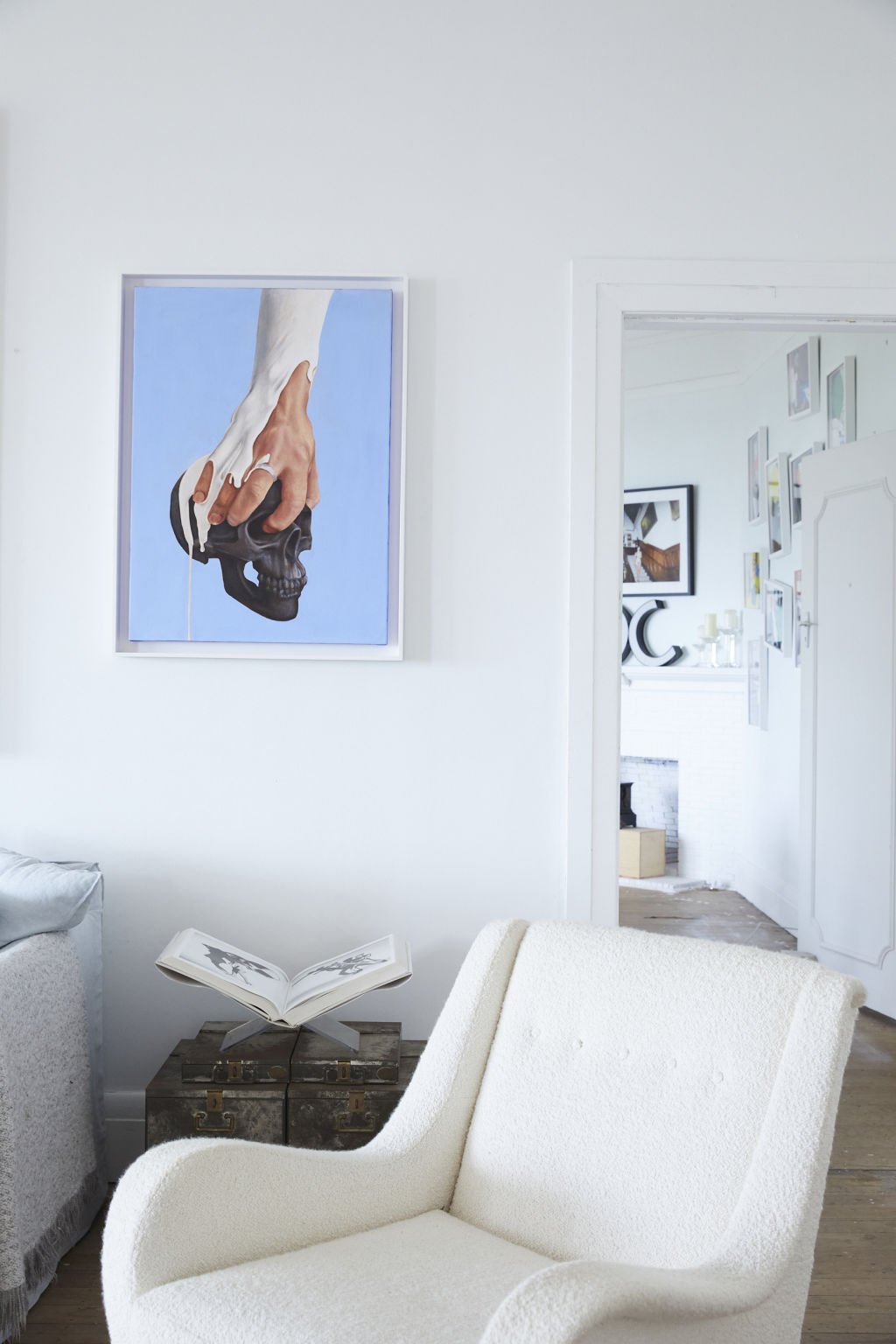 "It's sensory overload," says Broadhurst, who unexpectedly mixes very contemporary pieces and eccentric pops of colours, with vintage finds and combinations of different materials, like marbles and timbers. 
With a background in interior design and renowned for her mixed-media art, it's no surprise Broadhurst loves an eclectic, fluid style. 
"We move things around often, we use hooks that sometimes were already in the walls and don't have the art lining up perfectly sometimes, and all that idea of not being perfect and not structured, is what I love about our art and the way we display it," she says.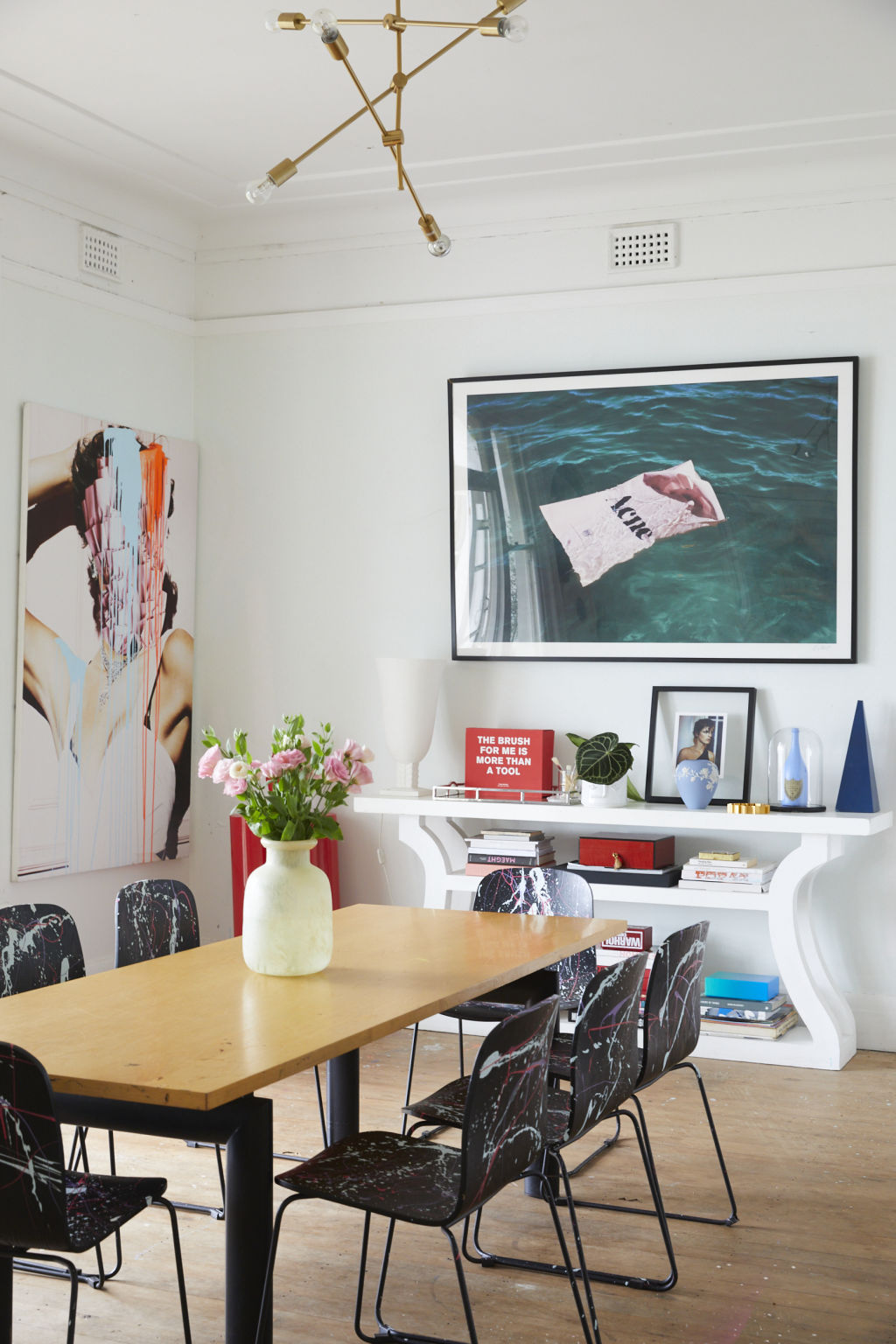 When it comes to displaying your own art at home, Broadhurst recommends buying what you fall in love with, "something that evokes an emotion inside and makes you feel."  
That's precisely what she did with her favourite piece, a photograph by Doble & Strong that sits above their lounge. 
"I love the blue icy tones of the photo and how dramatic it is. I was so unsure when it was first delivered as I thought I had totally got the size wrong and went too large, but I quickly fell in love and now I couldn't imagine my home without it and the scale is so perfect," Broadhurst says.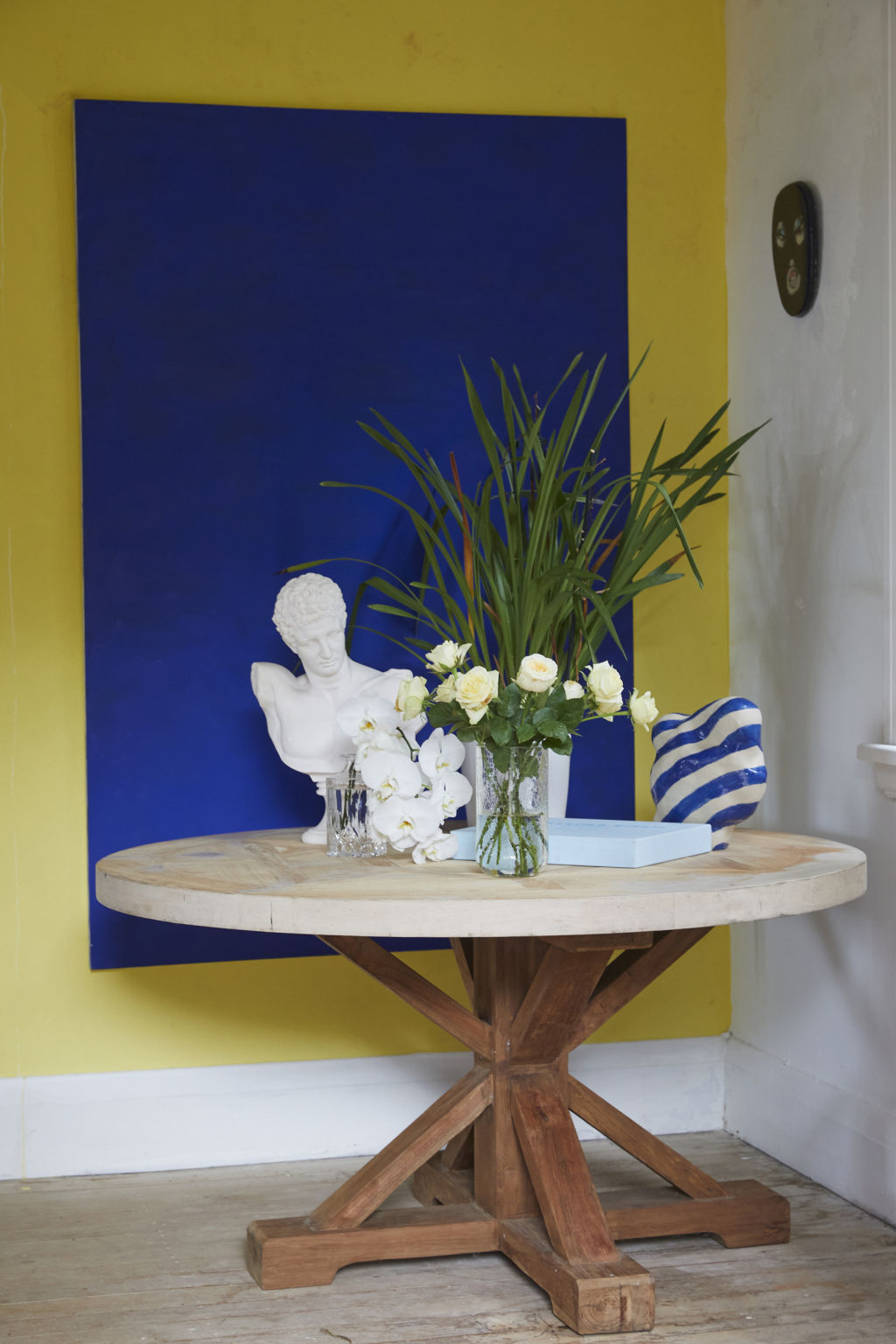 They've arrived at their vision for CASA Studio but it keeps expanding.  
"We are constantly rotating and changing walls, adding colour, replacing artworks, creating new spaces and showcasing new furniture pieces we have found from emerging creatives both local and international, so the space is one big hub of creativity and impermanence, always evolving and constantly stimulating."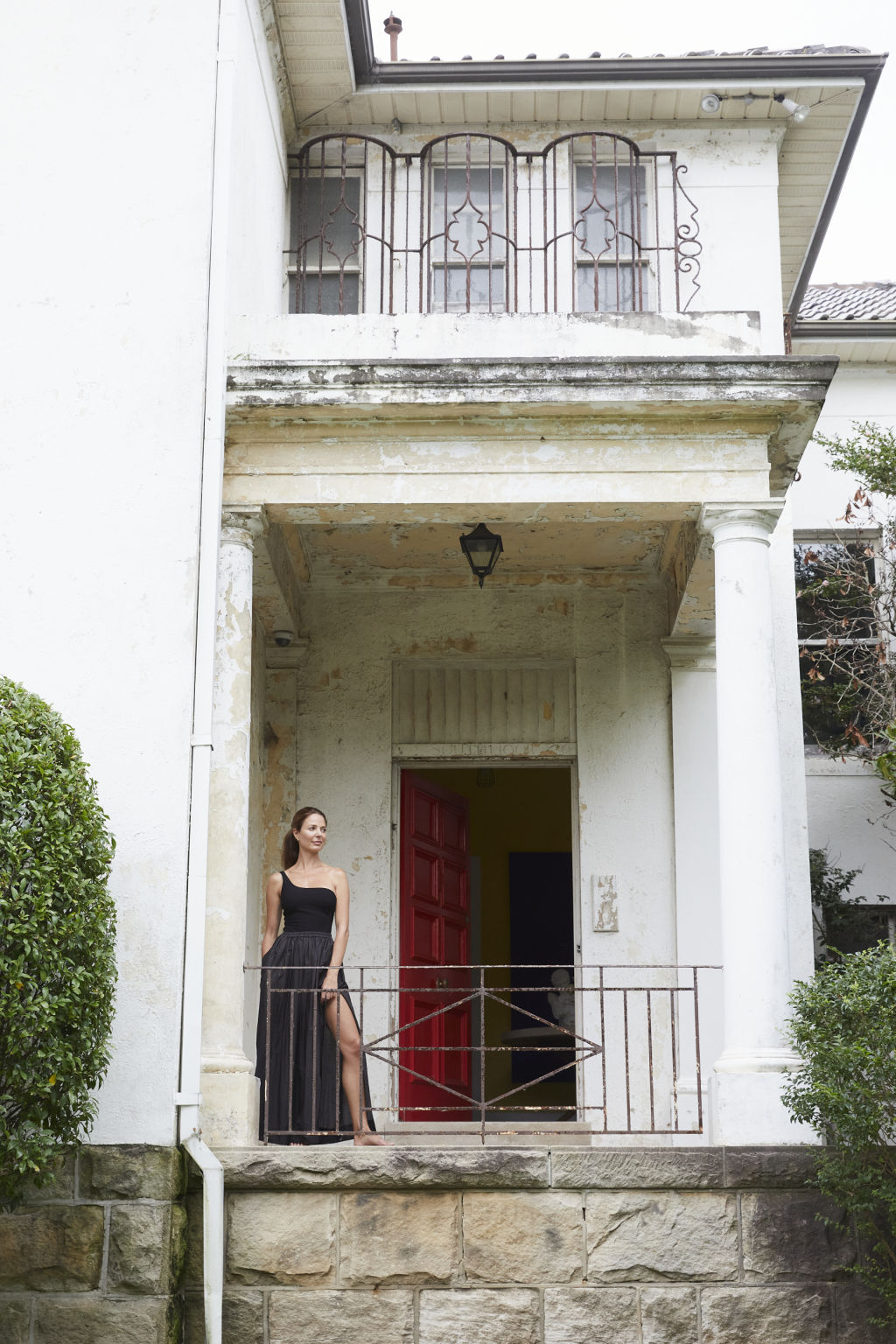 As for her advice for anyone with grand dreams about their rental, Broadhurst says look at it as an investment, especially if it's multipurpose. 
"I had to look at it as a business investment that was going to become a showpiece for my artwork much like, say, holding a "fashion show" for a clothing brand. It was a business expense that was given priority because this project was very close to my heart."