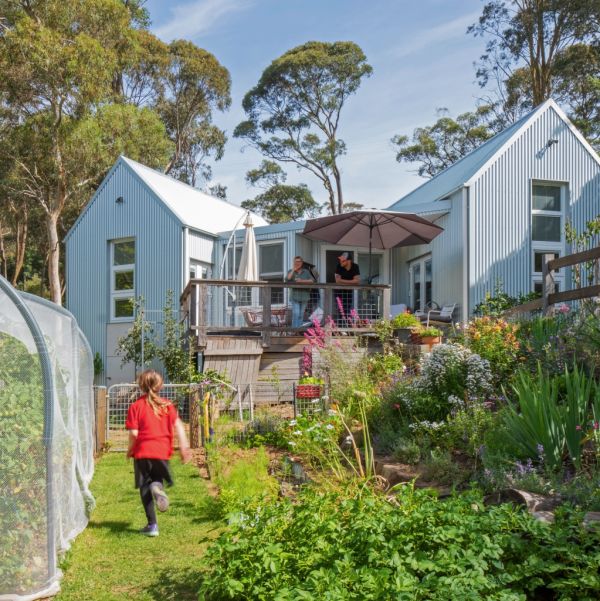 What a good son: The architect who designed a house in the Blue Mountains for his mum
Check out the just-right single-occupant dwelling in the NSW Blue Mountains that won Josh Andren and the Integrated Design Group the "affordable residential architecture" prize in the recent 2020 NSW Country Division Architecture Awards.
Isn't it so apt in a rural village setting? And for a retired lady client fond of gardening, entertaining on a sunny deck? This one hints at the Federation typology.
This sweet house won the Australian Institute of Architects award for residential projects costing less than $400,000, which makes it more amazing considering what folks spend these days to get the housing styles they want.
But now prepare for a big intake of breath.
It cost half that … less than half!
The final spend – that didn't include the architect's fees but did need to factor in some unexpected extras such as constructing an access road and upping the quality of the footings when a sudden storm revealed the gully setting's occasional quagmire tendencies – was … drumroll … $190,000.
Jennifer Price can hardly credit how good she now feels in her two-bedroom refuge "that's just so gorgeous to live in".
"Most of the mornings I wake up here it takes my breath away too," she adds.
A genuine labour of love for the architect, Mum's House came about when Andren's hitherto "nomad" mother moved back to the mountains from Newcastle "and found a block near the centre of Mt Victoria that had never been built on".
"She came to me and said, 'I've got $140,000 left.' She wanted me to make her a house that she could afford." A realist, Mum hinted that a caravan might have to suffice.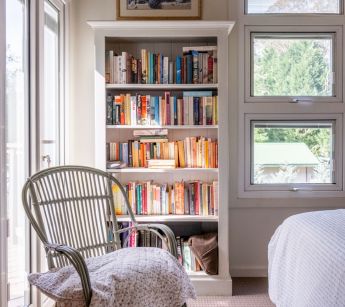 But despite the strangulating budget, by sweating the small stuff through lots of long nights, through sourcing the most cost-effective materials he could, and through designing the scaling so that off-the-shelf materials didn't need to be cut to save time and avoid wastage, Andren pulled off a little corrugated-iron-clad miracle.
Form-wise, and because he knows his mother's tastes so well, Andren says the house of 80 square metres over two wings with a linking dining area under a lowered ceiling – like a filled-in veranda – "looks a lot like the first sketch I did on the first site visit."
With 4.8-metre-high gables and internal room volumes that use them fully for a sense of spaciousness, the simple shape of the little house is, he says, very romantic. "People look at it and instantly say 'that's a house'."
Andren worked his tail off and applied all the tricks he'd picked up from dealing with project builders to keeps costs as low as possible.
Sited in the highest village of the mountains, and for a woman who doesn't appreciate feeling cold, he says some of the major spends were on the unseen. The insulation is layered on. "But it's the best bang for your bucks."
The double-glazed windows, some made tall so Mum can see out but not be seen too easily, could have broken the bank, with the first estimate being $45,000. "So I had them made in China and shipped out in a container that Mum now has in the garden. They cost $12,000."
The choice of Zincalume cladding was about price, too: "Eleven dollars per metre. That's hard to beat."
The very smart kitchen that incorporates some of Mum's favourite wooden furniture pieces, and an island bench "for which I found a bit of marble", was another canny project. "The whole thing, cabinetry, oven, sink and fittings, came from IKEA for $5000."
The subway tiles could have cost $100 per metre if sourced locally, he says. "But everything in the house had to be found in the cheapest version. I found them for $7 a metre. I had to do a lot of driving around. I spent many, many hours on eBay".
The exercise, says Andren, was understanding the pieces he was working with, and understanding the parameters of the material "so the less the builder had to fuss, the faster – and cheaper – it could all happen".
What a wonderful son. Jen agrees: "I had very little money and he was so generous with his time and effort and consideration. He's the best son any mum could ever have!"