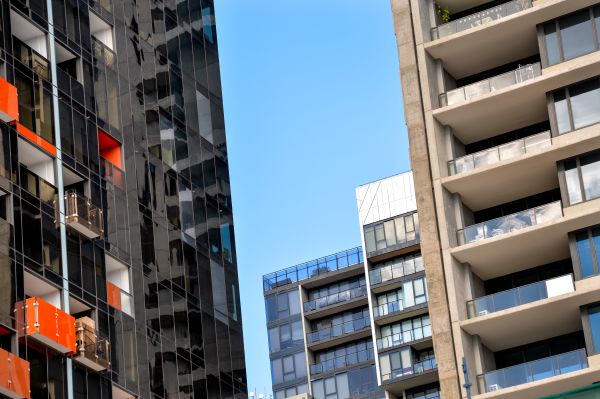 Borrowers still seeking interest-only loans despite falling house prices and RBA warnings
A high proportion of borrowers are still actively seeking interest-only loans, despite home values going backwards and the Reserve Bank trying to wean Australians off riskier debt.
Almost a quarter of investors and one in five owner-occupiers are looking for interest-only loans, according data from comparison site Finder.
Interest-only loans have been used by many to get a foothold in the housing market, or by investors to capitalise on rising prices while minimising payments.
Borrowers are only required to pay the interest of a loan until the end of interest-only period – normally three to five years – at which point they will begin to pay back the principal and interest.
The Australian Prudential Regulation Authority tightened the screws in March 2017, limiting interest-only lending to no more than 30 per cent of new loans.  
In 2015, interest-only loans accounted for 42 per cent of the new loans market, a figure that has since fallen to 15 per cent. 
Finder insights manager Graham Cooke told Domain the number of people still looking for interest-only loans was alarming given repeated warnings from APRA and the RBA.
"It's evident that property prices are decreasing so those on interest-only home loans risk losing equity in their property," he said.
Cooke said the data excluded refinancers, reflecting the appetite among buyers for interest-only loans as a way to get in to the market.
Highly leveraged investors cause for concern
The RBA predicts 2019 and 2020 will see a high number of borrowers' repayments increase as interest-only periods expire.
Earlier this year, RBA assistant governor Christopher Kent said tighter lending standards would "affect the ability of some borrowers to extend their interest-only periods or to refinance to a principal-and-interest loan".
"Some fraction of interest-only borrowers may have used the reduced demands on their cash flows during the interest-only period to spend more than otherwise," he said.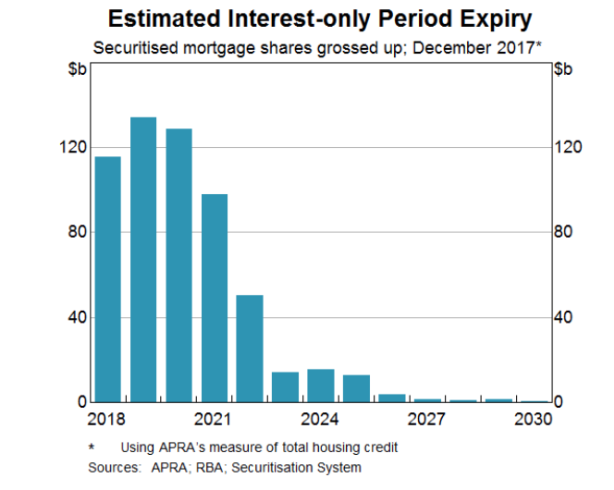 Domain economist Trent Wiltshire highlighted the number of loans switching from interest-only to principal-and-interest as a downside risk to property prices in Domain's Property Price Forecast.
"There is still a risk that more investors than expected will not be able to afford higher principal and interest repayments and will instead be forced to sell," he said.  
Mr Cooke said the next year could bring a rude shock for interest-only borrowers, who could face as much as an extra $440 a month in repayments as their loans convert to principal-and-interest.
This is based on a $316,000 loan, the average loan size in the 2014-15 financial year when the largest number of interest-only loans were being written.
"The perfect storm of a rising cash rate, decreasing home prices and home owners finding themselves with reduced equity may very much exacerbate the problem," Mr Cooke said.
Grattan Institute fellow Brendan Coates  told Domain that many interest-only borrowers had strong equity in their properties as prices in Australia's biggest cities have risen significantly over the past four years.
"The reality is that unless you bought that property in the last two years that you're still in front," he said.
"You've probably got enough equity in the property to sell it and not be behind relative with what your mortgage was."
Market Economics managing director Stephen Koukoulas said the implications of interest-only restrictions hasn't been felt to the full effect yet.
"If house prices drop another 7 to 10 per cent next year, which is a live possibility, concerns could grow, especially for investors," he said.
"If this sparks a rush to sell into a weaker market, those highly geared borrowers will increasingly face negative equity which will impact more broadly on the economy."
He noted that the move away from interest-only lending was prudent as the surge in interest-only lending had left borrowers vulnerable to higher interest rates, a fall in asset prices or a loss of income.  
Some borrowers are heeding warnings and switching to principal-and-interest early, with higher interest rates on interest-only loans being a key factor.
Reports from National Australia Bank show increasing numbers switching to principal-and-interest since March 2017, with NAB recording $25.5 billion worth of conversions.
About one third of these are considered "early switchers" as opposed to those who were forced to switch.