Credit tightening only one piece of the puzzle for a slowing property market: economists
The financial services royal commission has become a bogeyman of sorts for the property industry, blamed for all housing-related woes from poor open-for-inspection numbers to the free-falling clearance rates.
And the spectre of even stricter rules about bank lending looms, as the big bank bosses prepare to take the witness stand in the final round of commission hearings next week.
Analysts' views on the health of the market are gradually becoming more negative, as evident in a UBS report this week warning, "the rapidly deteriorating housing market is a signal of even tougher times ahead".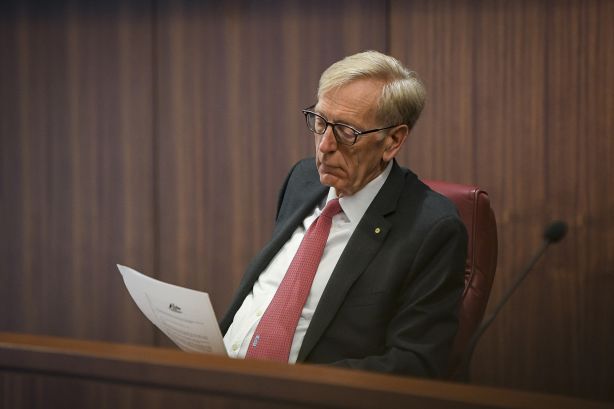 A range of issues have been weighing on the market, from bank regulator APRA's crackdown on lending, to buyer exhaustion at still sky-high prices and the dropout of foreign buyers.
But the royal commission has been seen as a tipping point. Clearance rates fell from March, about the same time as the first round of hearings, noted ANZ head of Australian economics David Plank.
Toward the end of 2017, the housing market was losing heat amid the clamps on lending and Mr Plank said it appeared things were stabilising. But in March, things took a turn.
"What happened in March?" he asked. "The only thing that happened in March was the royal commission."
Since then the monthly clearance rate in Melbourne has been in steady decline, reaching its lowest point for 14 years in October at 45.2 per cent according to Domain Group data. Sydney was much the same, finishing last month with a rate of 43.5 per cent – the worst since 2008.
Domain economist Trent Wiltshire said buyer power could be cut more, if banks are forced to implement even tighter standards.
"The final findings [of the commission] could definitely recommend tighter lending standards, which could slow price growth further," he said.
Mr Wiltshire said the consensus appeared to be that lending conditions had a bigger impact earlier this year, but now the worsening sentiment has fed on itself to drive recent price weakness.
NAB's chief economist Alan Oster emphasised that the royal commission was not the only factor in banks becoming stricter about their lending.
"That's a bit of a myth. Banks are just responding to what the Australian Prudential Regulatory Authority told us," said Mr Oster.
As the royal commission played out in the public eye, APRA was moving to make banks assess each borrower's finance on a personal level. Mr Oster denied this was solely related to the royal commission.
Mortgage Choice chief executive Susan Mitchell said the now-personalised nature of finance approvals meant it was difficult to judge how much the average consumer's buying had been reduced by the changes, but noted some borrowers lost up to a third of borrowing capacity.
Commonwealth Bank global markets economist Gareth Aird said the weak market conditions were indicative of softer demand for loans.
"[The royal commission] happened to occur at the same time lending credit was tightening, it happened at the same time that NSW and Victoria increased stamp duty on foreign buyers. It's hard to find what's counterfactual," Mr Aird said.
Mr Aird predicted the market would continue to decline in the short term, for at least another six months.
Domain's Mr Wiltshire agreed the root cause of market weakness was difficult to determine, even as some conditions began to level out. "This is a question that will be answered in two years' time when an academic does a study on it," he said.