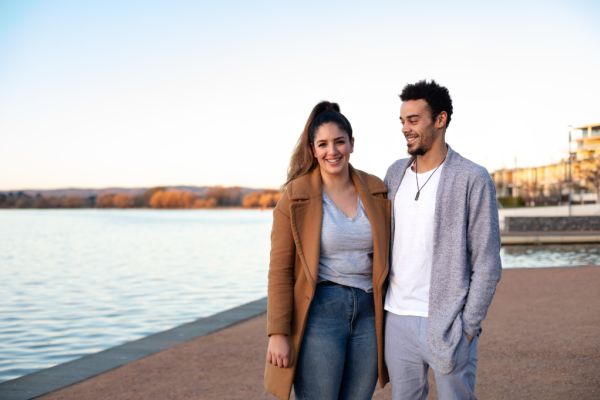 ACT first-home buyers have already taken advantage of new stamp duty changes
Lucy Bladen
twitter
Editorial producer
Canberra's new first-home buyer concession scheme may have only been in place for less than three days but already people have taken advantage of the stamp duty abolition.
Rosalie Iannelli and Bensah Afiabo are set to exchange contracts on their first home in the coming days.
The couple were just dipping their toes in the market last month when they came across a three-bedroom established house in Weston Creek.
"We actually hadn't planned on buying a home for another few months and were just looking for the sake of it – to see what was happening in the market," she said, "then this particular house came up for sale and it was too good an opportunity to pass up." 
Ms Iannelli said they were able to delay the exchange of contracts after speaking with the vendors.
"We were able to have a chat with the seller and they agreed they would hold off for us, which we are so grateful for. Because it was so close to July 1, it was something we openly discussed from the beginning," she said.
Ms Iannelli and Mr Afiabo's situation is not isolated with many agents reporting instances of delayed exchanges.
Independent Tuggeranong agent Jacob Stanton said, in recent weeks, he has had experience with several first-home buyers who have made a purchase with a delayed exchange to take advantage of the abolition.
"First-home buyers are getting incentivised with not having to pay stamp duty and we are seeing more first-home buyers enter the market," he said.
Impact Properties principal Shaun Iqbal says this week he will process three delayed exchanges for first-home buyers. He said in recent weeks, first-home buyers have been in the majority at many of his open homes.
"I personally believe we are expecting a bumper weekend because there will be a lot more people entering the market, they have been waiting [for the changes] for a while now and they are finally here," he said.
Prior to July 1, first-home buyers could either negotiate a delayed exchange with agents and vendors, or they were able to place a put-and-call option through solicitors.
The ACT's new scheme extends stamp duty concessions across new and established properties. First-home buyers in Canberra no longer have to pay any stamp duty if their annual household income is less than $160,000.
About 2000 people buy their first home in the territory each year, according to the ACT government. Prior to the changes coming into effect, 1200 of those took advantage of concessions which were only available for new builds.
Independent Inner North and City agent Graham Bush said before the stamp changes, agents were "steering" first-home buyers towards new builds but now the playing field has evened out.
"Established townhouses and houses will be more attractive to first-home buyers now. Parents used to tell children you have to buy new but that's no longer applicable," he said.
In what could be another boost for first-home buyers, the Reserve Bank of Australia cut interest rates by another 25 basis points on Tuesday afternoon. The one per cent cash rate is a historic low for the market.
According to the Real Estate Institute of Australia, the cut will help affordability for buyers.
"Subject to the banks passing on the cuts in full, this means that for each $100,000 borrowed annual payments decrease by $500," REIA president Adrian Kelly said. "For a first-home buyer, who in the March quarter of 2019 had an average loan size of $330,000, this means a saving of $140 per month."