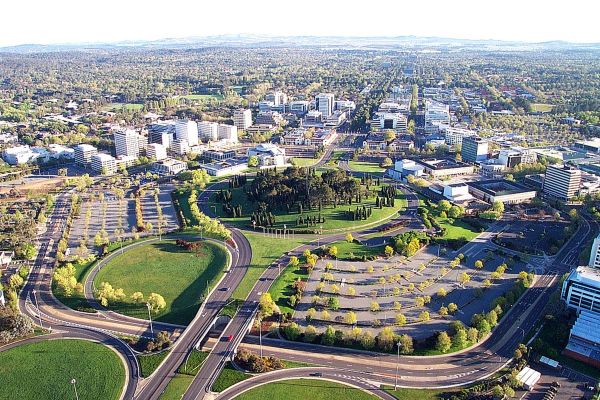 ACT government sets target for more three-bedroom units in central Canberra
New targets have been set for Canberra's City Renewal Precinct with the release of a sustainability strategy last week.
The precinct which spans Dickson, Northbourne Avenue, Haig Park, Civic and West Basin has set new objectives for energy and water efficiency, waste reduction, tree canopy cover, active travel and social mix.
Among the targets was the improvement of housing choices for families by increasing the number of three-bedroom apartments in the area.
"Canberrans have a high expectation that their city is environmentally, socially and economically sustainable," said City Renewal Authority chief executive Malcolm Snow.
"We want a city that will still support future generations so we need to create a city now where sustainable living is a part of everyday life."
Mr Snow said estimates suggest that in the next 30 to 40 years, the population within the 450-hectare precinct could grow by up to 20,000 and, based upon other cities' experiences, many families will eventually want to move to the centre.
"There's evidence of that trend in other capital cities, and certainly the time will come to Canberra, but we don't have the same kind of congestion issues yet," he said.
"We live in a planned city and enjoy benefits of easy access to the CBD, but in other cities, the ability to live closer to where you work is becoming more attractive, and we have an advantage as a planned city to get ahead of that trend."
While three-bedroom apartments are typically targeted towards downsizers, LJ Hooker Projects ACT director Andrew Ligdopoulos said there was a growing demand from families.
"We're finding that more and more families are choosing to live close to work and social activities to reduce their reliance on cars," he said.
"Canberra's CBD has great schools surrounding it and beautiful green spaces and the lake within in to entice families to swap the large residential block for city lifestyle and convenience."
Mr Ligdopoulos said more three-bedroom apartments for the city was a good idea, so long as they were designed correctly.
"The designs [must be] planned with families and community in mind. Families need more than just three bedrooms," he said.
"Correct orientation, large, safe outdoor spaces, big open kitchens, plenty of storage and preferably single-level designs are just a few of the things that need to be considered."
He said there used to be a lack of three-bedroom apartments in the city but in recent years developers had started to include bigger floor plans in their stock.
"In the last three to five years developers have really recognised the growing demand for three-bedroom apartments in the city. We are seeing more of these come onto the market for a need that has primarily grown from empty-nesters and downsizers."
Australian Institute of Architects ACT chapter chair of sustainability committee Paul Barnett welcomed the targets because they allowed for cross-generational living but stressed it was important that they were driven by good design.
"It's a fantastic proposed target because cross-generational environments allow for micro-villages," he said.
"We can create sustainable, natural micro-villages where everyone from young to old can be accommodated.
"People are wanting to build micro-villages where everyone from young to old can be accommodated.
"It has to be designed very well, it's not just about getting more three-bedroom units, it's about designing a social community."
Among the other targets is the increased greening of urban and open spaces between buildings, with the aim of achieving 30 per cent tree canopy cover.
"Extensively landscaped multi-unit developments are in higher demand throughout Canberra than their sparse counterparts but this is particularly relevant in the city," said Mr Ligdopoulos.
Mr Snow said the authority would continue to discuss the big changes coming to the precinct with developers.
"We think the development industry in Canberra is more open to flexible apartment configurations particularly as people make decisions to stay in one place," he added.