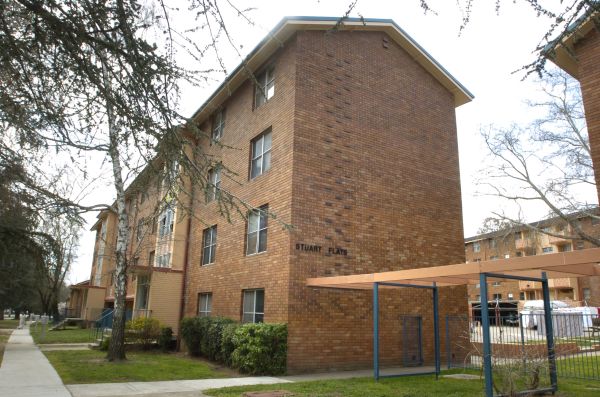 ACT government to auction former public housing blocks
The ACT government is set to auction six blocks with a combined number of dwellings of more than 1150.
The blocks in Griffith, Narrabundah and Lyons that will be going under the hammer are former public housing sites. 
Four blocks are for sale on the site of Griffith's Stuart Flats. The largest block totals 12,080 square metres and has 282 dwellings.
One block is on offer on the site of Narrabundah's Gowrie Court of 13,775 square metres and has 177 dwellings.
The former Strathgordon Court in Lyons has a total size of 23,289 square metres with 492 dwellings.
Across the 1153 dwellings on offer, there is a requirement for only 70 affordable dwellings and these are all located in the Lyons block.
ACT Suburban Land Agency director Julia Forner said the decision was made to break up the Griffith site to cater to a wider market.
"We did look at selling [Stuart Flats] as a whole but we wanted to cater to both the local and national or international market," she said.
"By offering those different block sizes, we offer the opportunity for some of the smaller or mid-size developers to come and pick up some of the smaller blocks.
"But if somebody wants to pick up all four and build a precinct, they certainly have that opportunity as well."
The winning developers will be required to consult with community stakeholders in designing the properties.
"One of the requirements of sale is the successful developer has meaningful engagement with the community about the development and it complies with design guidelines we have put together," said Ms Forner.
"So that makes sure what is in the precinct code, which talks about height and open space, is reflected in the final design."
The six blocks are set to be auctioned on Wednesday, March 20 in the Bradman Room at Manuka Oval.
JLL and Colliers International are both acting as the selling agents.
Ms Forner expects there will be wide interest in the blocks.
"This is a very unique opportunity if you are a local developer or even a national developer who has dipped your toe into the Canberra market in the past," she said.
All the sites on offer have RZ5 zoning, meaning they are zoned for high-density residential housing. The only commercial activity allowed is childcare or health facilities.  
The sales were slated in the 2018-19 ACT government budget and form part of Canberra's wider urban renewal agenda.
Development applications to demolish Gowrie Court flats and Stuart Flats were launched by the ACT government in April last year. But those plans were cancelled and the developer will be required to demolish the buildings.