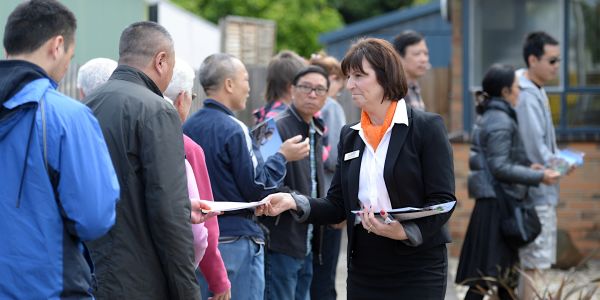 ACT Property Council encourages high school girls to join the property industry
The Property Council of Australia launched its Girls in Property program in Canberra on Tuesday.
The program aims to encourage and inform high school girls about careers in the property industry – traditionally a male-dominated field.
Property Council of Australia ACT executive director Adina Cirson said about 38 year 9 students from high schools across Belconnen took in the program, held at The Link in Ginninderry.
"With the property industry being Australia's biggest employer, taking action to engage with tomorrow's professionals today is an important initiative for the Property Council of Australia and the Girls in Property program supporters," said Ms Cirson.
"The program will give students an opportunity to hear firsthand from – and connect with – inspirational and talented professionals in the property industry, including some of the best and brightest women working in the ACT property sector."
The students heard from a range of speakers on the day including Ms Cirson, Bond Projects general manager Mary O'Neill, Raine & Horne Commercial sales and leasing executive Frank Giorgi, and CBRE Canberra ACT director and head of office leasing Zoe Ferrari.
"It's important that girls get the same opportunities to fulfil their education and employment goals, particularly with regards to those sectors that remain predominantly male-dominated such as the property sector," said ACT minister for education and early childhood development and minister for women, Yvette Berry.
"The Girls in Property program provides a really great opportunity for our high school girls to learn more about the ACT property sector and about the types of jobs they could do when they leave school while being inspired by a group of strong female leaders from across the ACT."
According to REIACT, the Canberra real estate industry comprises of almost 60 per cent women. But women are under-represented in leadership roles and auctioneering.
Property Council of Australia chief executive officer Ken Morrison said support for females was the key to gender diversity in the property industry.
"There are a thousand different jobs you can do in the property industry, often people say it's a career they've fallen into – we want to make property a career of choice," he said.
"What our Girls in Property program aims to do is raise awareness among high school students of the raft of career paths the property industry offers."