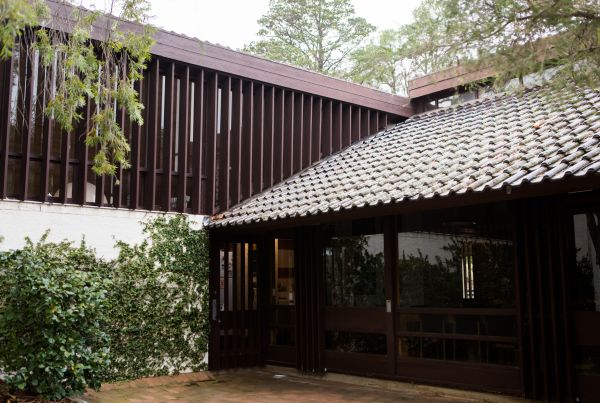 An exclusive look inside the Australian Institute of Architects, ACT Chapter
Who: Australian Institute of Architects
Where: 2a Mugga Way, Red Hill
What: Historically significant building that formed the headquarters for the Royal Australian Institute of Architects.
You may have driven past the house on Mugga Way that seems to be buried in the ground, with a tiled roof that could have almost grown from the earth. A house on a traffic island all of its own, neighbours only to Melbourne Avenue that leads magnificently down to Parliament House.
This introverted, secretive structure is, in fact, one of Canberra's most significant buildings.
Built in 1968, 2a Mugga Way was designed as the headquarters for what was at that time the Royal Australian Institute of Architects. It was to house the national and ACT chapter administrative offices, a council chamber, as well as serve as the residence for the institute's director.
While it no longer half-functions as a residence, it does remain a powerhouse of great architectural thinking as the office of the Canberra national office and ACT chapter of the Australian Institute of Architects.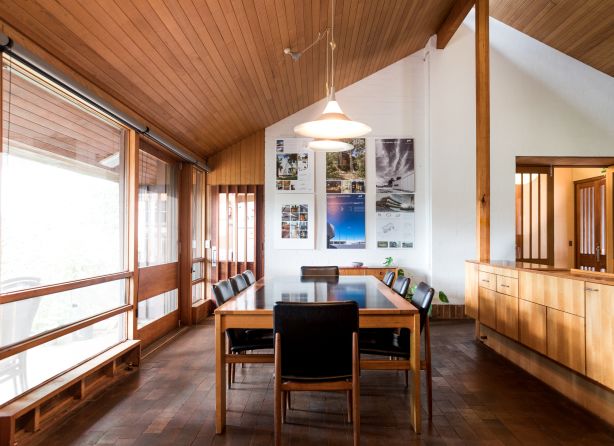 The building reflects an energetic part of Canberra's development history.
"The National Capital Development Commission set out with considerable power to ensure the city would be expanded to be worthy of its visionary creators," says Ken Charlton, architectural historian and chapter member.
"Fine architecture was essential in such a city and notable architects eagerly sought commissions from the NCDC and other clients."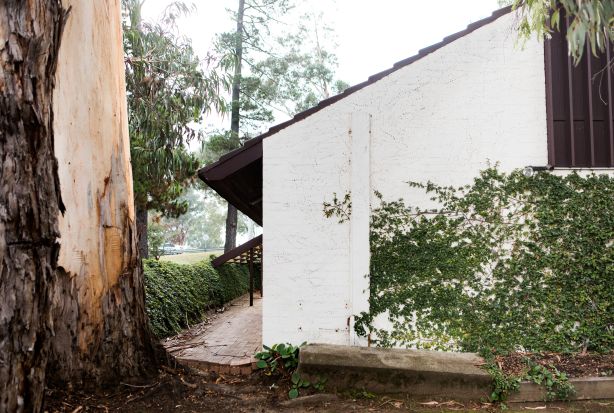 To architects, Canberra was seen as a blank slate, meaning endless opportunities to make a mark on its architectural landscape.
"Many interstate architects did their best to contribute to the national capital," Charlton says.
Bryce Mortlock, an award-winning architect of Sydney architectural firm Ancher Mortlock Murray & Woolley put forward the design, which reflected a progressive style of architecture at the time known as the "late 20th-century Sydney regional style".
The style is a melting pot of inspiration, combining tenets of Frank Lloyd Wright's work and a Japanese aesthetic, with a large focus on integration with the natural landscape.
Mortlock's design is a single-storey structure with long, steep slanting roofs that follow the slope of the land, called "berms", that surround it.
"Earth berms are cleverly sloped as extensions of the roof lines. They provide privacy while allowing views out, particularly from the council chamber," Charlton says.
The stark white exterior walls are bagged brick, which gives them a subtly textured appearance.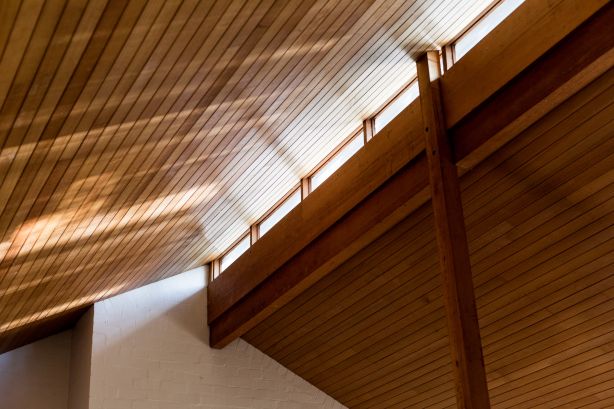 "They are painted white to stand out visually in the landscaped grounds of native plants and mature pines," Charlton says.
The roof is more natural and rugged in appearance as it looms from the ground, covered in overlapping, mossy tiles that are stained a dark hue to contrast against the white walls.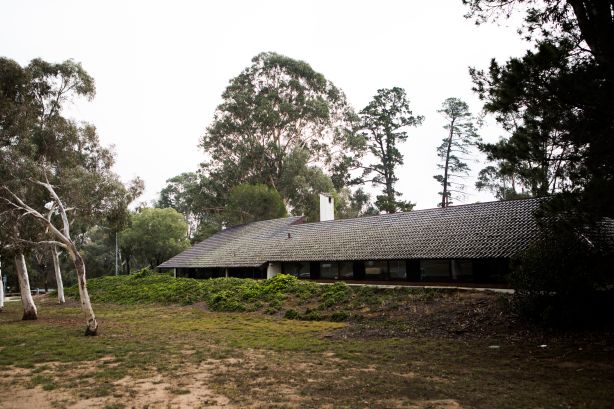 With such an enigmatic exterior, it is natural to spark curiosity to know what the inside might reveal.
The entrance is understated with the door almost hidden in the corner of an open, brick-paved courtyard.
Inside is like stepping back into the late 1960s as much of the interior has remained as it was intended, with plenty of timber-lined ceiling and walls, and in-built cabinetry that is reminiscent of a lingering mid-century modern trend. An echo of heels tapping on the brick-paved floor follows you through the rooms.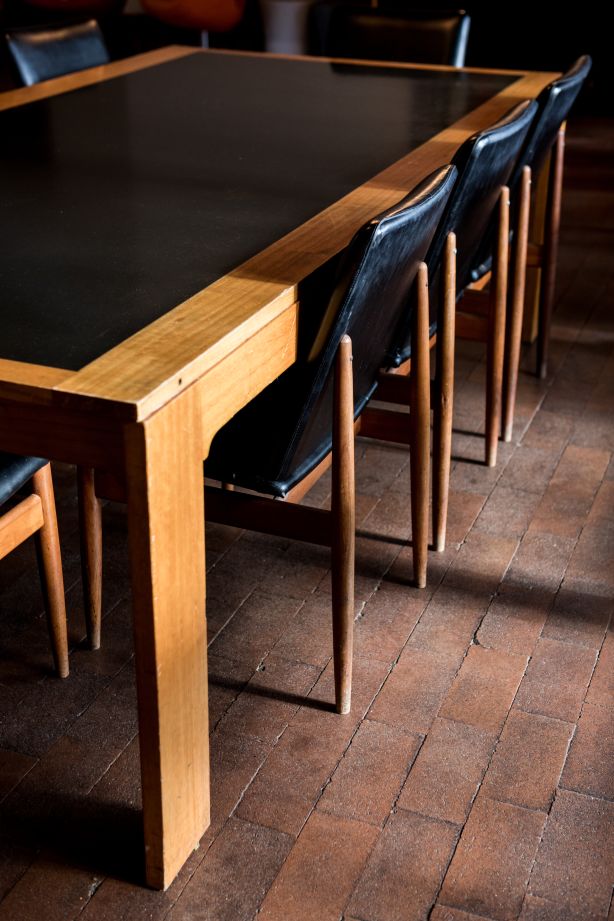 "The oiled Mountain Ash joinery and brick-paved floors all provide a textural and tactile quality, and a feeling of warmth," Charlton says.
The entertaining room, in particular, retains a sense of grandeur, with raked ceilings and clerestory windows to maximise light.
"This space is highly valued by members of the Australian Institute of Architects," says ACT chapter president Philip Leeson, of Philip Leeson Architects.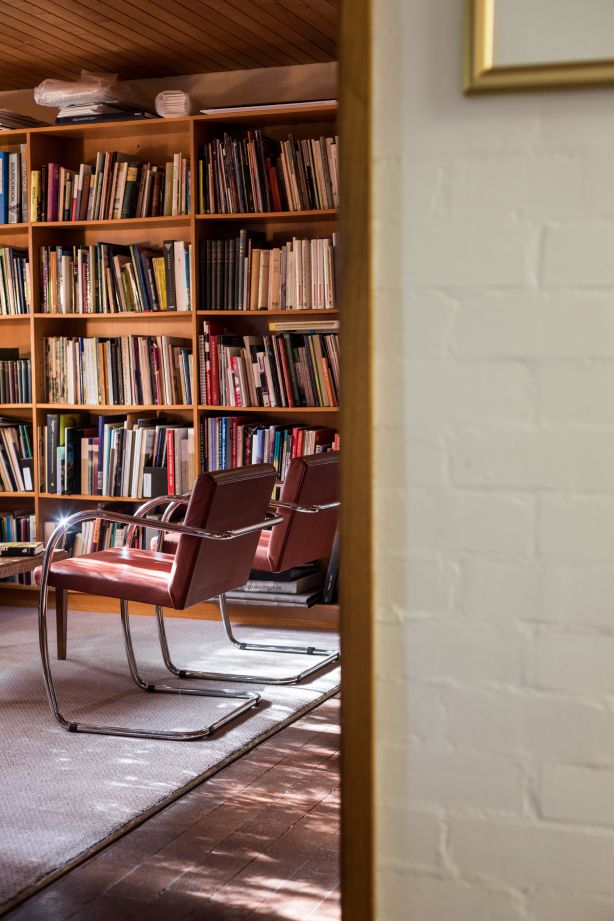 The chamber is bordered by courtyards on both sides, and a character-filled study brimming with books.
"It is where the director of the RAIA used to entertain and we still use it as a meeting room and entertainment space to this day," Leeson adds.