Auction watch: High-end units are hot property at weekend auctions
Canberra's unit's are proving to be hot property in the auction market, with some agents claiming apartments are receiving stronger results than established homes.
On Saturday, a three-bedroom apartment in Kingston at 24/18 Currie Crescent sold at auction surpassing the suburb's median unit price by more than $270,000.
The two-level, top-floor apartment has an impressive 112 square metres of living space and overlooks Telopea Park.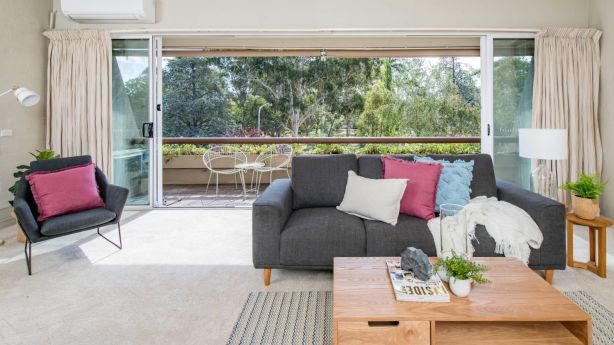 A crowd of about 30 gathered in the apartment's living area, with three registered bidders vying for the home.
Bidding for the home started at $680,000, but this was quickly countered by a bid of $700,000.
The two bidders then moved the price up to $780,000 through increments of $20,000.
At this point, the person who made the initial bid dropped out. Peter Blackshaw Manuka listing agent Maddy Watts then sought instructions from the vendor. After a few minutes of liaising between the vendor and highest bidder, Watts successfully encouraged the highest bidder to increase her bid by $10,000.
It then sold under the hammer for $790,000.
The successful buyer was overcome with emotion at the fall of the hammer.
"She's been looking for quite some time all over Canberra and she'll be very excited she's finally secured something," said Ms Watts.
Ms Watts said unit auctions have been doing very well recently, particularly in Kingston.
"My last three unit auctions have sold under the hammer and all have gone over the reserve price," she said.
"We've had some really great results – I would say units are doing better than established houses at the moment.
"A lot of people are interested in how the Kingston market is going and we're seeing good turnouts at auctions, so I think it's reflective [of the fact that] the market isn't slowing down here."
Elsewhere in Canberra's unit market, a one-bedroom ground floor dwelling in Turner sold for $621,000 on Thursday evening.
The auction for the 87 square metre apartment in the Space 2 complex was hotly contested, with six registered bidders.
Belle Property Kingston listing agent Leanne Palmer said: "The first bid was made at around $400,000 and then it galloped along quite quickly with almost all parties registered placing bids.
"All dropped off at various levels with three parties taking it to the end."
The ground-floor apartment in Turner has more than 100 square metres of courtyard space. Photo: Belle Property Kingston
The selling price was well above reserve and $126,050 above Turner's median unit price of $494,950.
The buyers of the unit are downsizers who already live in the same complex.
Ms Palmer said there was a multitude of reasons the apartment was a hit with buyers.
"This apartment has 100 square metres of courtyard areas and is north-facing," she added.
"It's very central – there will also be a light-rail stop in front of the building."
Check out the rest of Saturday's auction results here.*
*Data available from Saturday, April 14, 7pm