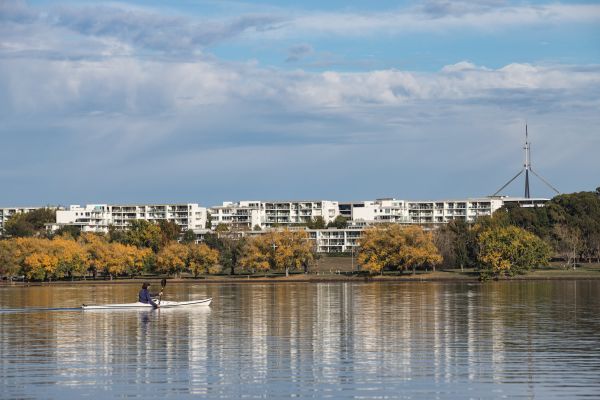 Canberra Auction Report Card: April 2019
April was a month of seasonal distraction as a later Easter, shouldered by Anzac Day and school holidays, undoubtedly had an impact on activity levels.
Buyer and sellers were distracted, but those who remained active had fewer homes to bid on. The reduced competition was a little more fruitful for vendors, compared to recent performance.
April's clearance rate nudged up to 49.5 per cent – the best outcome this year and the highest performance in six months – but this was following the dismal March result, which was the lowest auction result since 2013.
The clearance rate was supported by a better outcome for units. For houses, it was only the highest clearance rate since February while for units, it was the strongest clearance rate in nine months.
It should be noted that Canberra's unit auction market has a tendency to fluctuate, given the small pool of apartments going under the hammer.
| | |
| --- | --- |
| Property type | Clearance rate |
| Combined | 49.5% |
| Houses | 48.6% |
| Units | 57.1% |
Clearance rates have been consistently trending lower since the beginning of 2018, in line with a broader slowdown in Canberra's property market.  
The number of homes going under the hammer was a staggering 36.9 per cent lower than March and 28.9 per cent lower than April last year, making for the lowest volume since July 2018. This will be helping to lift clearance rates.
The pace of falls in clearance rates has eased but remains 10.5 percentage points lower than last year, which is still a vast improvement from the 23.9 percentage point drop recorded last month.
The market will be challenged over winter and it is too early to determine whether clearance rates have hit a low, given the poor auction volumes over April.
Buyer sentiment has wavered, with a drop in the number of views per listing in line with weakening clearance rates.
Whether or not this is a true reflection of underlying demand is subjective, given Canberra's economic strength and swelling population. It could also be an outcome of tighter lending conditions, a looming election delaying property decisions, and weak local confidence that has been affected by falling markets across many Australian capital cities. 
The silver lining is an interest rate cut, which seems to be a likely outcome at some point this year. This is likely to support activity, cheapen debt and could lift clearance rates.
Shifting vendor trends
Withdrawing homes prior to the auction day has not been a tendency of Canberra home owners, but is starting to become one. Just over one in 10 homes due to go under the hammer were withdrawn prior to auction day.
Based on the decade average, 3.3 per cent of homes are withdrawn prior to auction day. This trend is on the rise – it now stands at 12.9 per cent. This is the highest withdrawal rate in two decades, and on par with the proportion of homes withdrawn in July last year.
A rise in withdrawals indicates the market is under stress, with vendors concerned their homes will not have enough bidders to create a competitive auction, rather than not meeting reserve.
It is important to note that withdrawn auctions are included within the clearance rate calculation, forming part of the unsuccessful auction pool.
District performance
With half of the homes scheduled for auction selling under the hammer over April, certain areas have outperformed Canberra's overall result. Belconnen and Woden Valley provided vendors with the strongest clearance rate, while Queanbeyan produced the weakest, although this is not included in the Canberra-wide clearance rate calculation.
District

April 2019

April 2018

Belconnen

55%

72%

Gungahlin

38%

44%

Inner North

50%

60%

Inner South

48%

58%

Queanbeyan

46%

56%

Tuggeranong

48%

67%

Weston Creek

(excludes Molonglo Valley)

50%

62%

Woden Valley

55%

54%
Post-auction success
Pricing expectations from some sellers need to become adjusted to the slower market conditions in order to secure a sale under auction conditions. For others, post-auction negotiations continue to be the way to get the sale over the line.
In Canberra the crucial timeframe is between two to four weeks following the unsuccessful auction. This bucks the prime post-auction negotiation period in Sydney and Melbourne, when striking a deal is more likely two weeks immediately after the failed auction.
The March clearance rate of 43.2 per cent rose to 45.7 per cent when the sales secured within a two week timeframe of the failed auction were included. This increased to 53.6 per cent within four weeks, and by the end of eight weeks had risen to 61 per cent. Agent skills will continue to be tested to find the price balance between a buyer and seller.