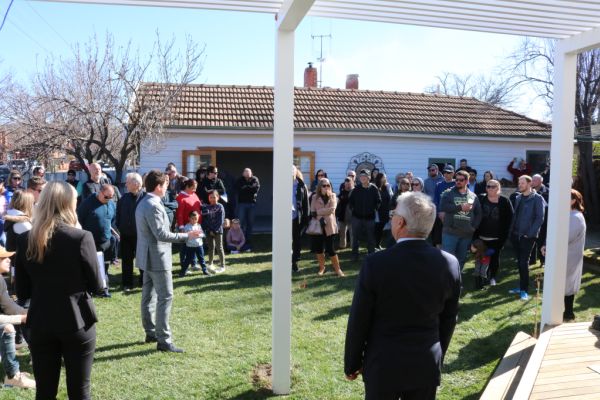 Canberra auction report card: August 2019
Trent Wiltshire
twitter
Domain Economist
Canberra's auction clearance rate for August 2019 was 64 per cent, which was the strongest result since May 2018.
Canberra's property market was soft in the first half of 2019. Consecutive interest rate cuts and changes to bank lending rules have given the market a boost, resulting in a clearance rate rise over recent months.
The number of auctions in August was 9 per cent lower than a year ago (there was one fewer Saturday in August 2018).
The reporting rate for August is currently 97 per cent following the same reporting rate for July.
Canberra: August clearance rates
| | |
| --- | --- |
| Property type | Clearance rate |
| Combined | 63.8% |
| Houses | 66.8% |
| Units | 41.7% |
The number of properties withdrawn before auction has fallen a little recently
The proportion of auctions being withdrawn was 10 per cent in August following a 13 per cent withdrawal rate in July (it is important to note that withdrawn auctions are included within the unsold properties when calculating the clearance rate.)
The share of properties being sold prior to auction was 15 per cent in August, which is a bit higher than the average rate over the past 12 months. More sales prior to auction is generally a sign of a stronger market.
Securing a sale post-auction
July's 54 per cent clearance rate rose to 66 per cent when including the sales secured within a two-week timeframe of the failed auction, increasing to 71 per cent within six to eight weeks (which is likely to increase as more results come in).
ACT district performance
| | | |
| --- | --- | --- |
| District clearance rates | August 2019 | August 2018 |
| Belconnen | 68% | 69% |
| Gungahlin | 52% | 49% |
| North Canberra | 64% | 67% |
| South Canberra | 73% | 63% |
| Tuggeranong | 71% | 54% |
| Weston Creek | 69% | 62% |
| Woden | 54% | 50% |