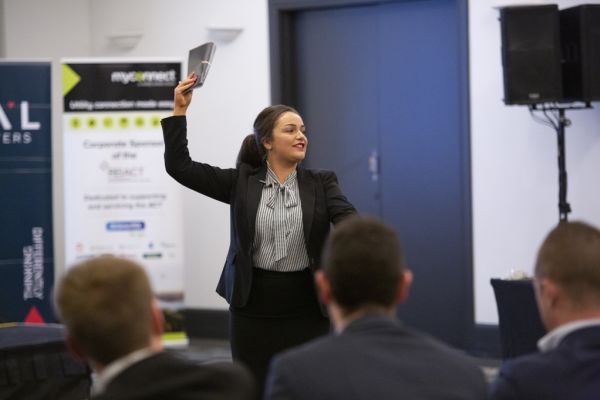 Canberra auctioneers battle it out at REIACT Auctioneering Championship
Lucy Bladen
twitter
Editorial producer
A selection of Canberra's top and up-and-coming auctioneers participated in the annual REIACT Auctioneering Championship on Thursday.
There were six competitors in the senior section and eight competitors in the novice section. Finalists were announced for the senior section, but a winner for the senior and novice sections will be announced next month.
Alec Brown of Ray White Canberra and Jenna Dunley of LJ Hooker Kippax were named finalists and will be representing the ACT at the Australiasian Real Estate Institutes' Auctioneering Championships in Melbourne in October.
Each of the contestants in the senior section was tasked with selling a Yarralumla home with a reserve price of $1.73 million, and four people were planted in the crowd to act as the registered bidders.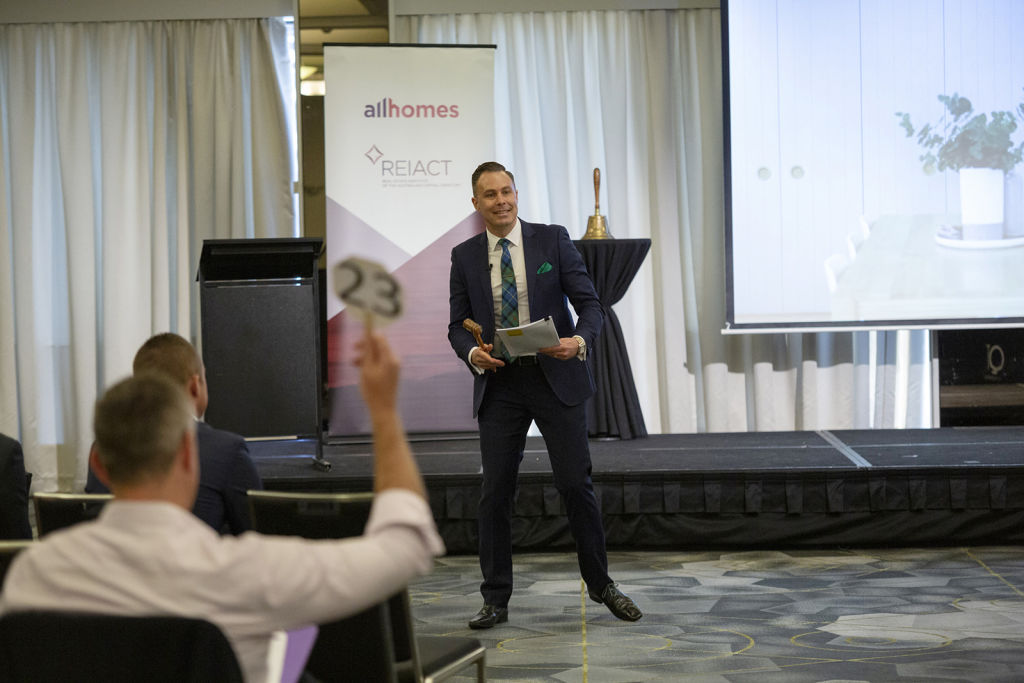 The sequence of bidding was the same for each contestant with bidding increments starting relatively easy but, as the auction progressed, it became harder.
One of the main challenges of the auction was that one of the bidders made a bid for $2 million on the condition that the auction would cease and the home was sold to him. Auctioneers were not to accept the bid as it was a conditional offer.
The faux auction saw the house selling for $2.022 million.
This is the third year in a row that Mr Brown has been named a finalist. Last year he was the runner-up in the national competition, and said participating in nationals was one of the highlights of his career.
"Absolutely thrilled to be going forward again, cannot wait for the opportunity," he said.
"[The REIACT competition] was brilliant, the really impressive thing was the calibre of all participants across both fields. I don't envy the judges because it was a tough one."
It was Ms Dunley's first time competing in the senior section after she won the novice section last year.
"I'm extremely excited to be a part of it. It is something I have been working towards for a while now, I didn't think it would happen as soon as it did," she said.
"I wasn't expecting to make it to the next level so soon, but it was a lot of hard work and support from auctioneers who are a part of the chapter so I have been extremely lucky to be given the chance to represent."
Other senior competitors included Mark Larmer, Sandra Masters, Nic Salter-Harding and Frank Walmsley.
Novice competitors were Chris Antos, Peter Baum, Marcus Cataldo, Thom Eriksson-Lake, Jack Flynn, Mathew Kocic, Naomi Sachs and Matthew Sebbens.
The winners will be announced at the REIACT awards night on Saturday, September 14.
Allhomes was a major sponsor of the event.