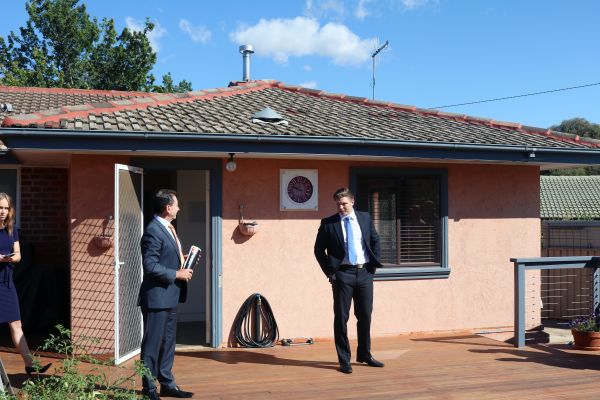 Canberra auctions: Buyers hold back at sales but interest remains high
With clearance rates still hovering below 50 per cent, those taking their properties to auction in the nation's capital are not having much luck.
But agents have said buyers are still very active in the Canberra property market.
"[There are] plenty of buyers currently in the market," said Ray White Canberra agent Jenna Dunley. "We are finding if a property doesn't sell under the hammer there is a significant chance it will sell within the following two weeks."
A three-bedroom home in Higgins that went under the hammer on Saturday morning was among 39 scheduled auctions in Canberra on the day. 
The home at 20 Draper Crescent was marketed as a "first-home buyer's delight".
There were two bidders at the auction and bidding kicked off at $500,000. After the first bid, there was silence from the crowd with the auctioneer and agents trying to motivate buyers to make a punt for the home.
LJ Hooker Belconnen auctioneer Frank Pompeani told the crowd another party who were unable to secure unconditional financing were eager to negotiate after the auction, before he placed a vendor bid of $550,000.
After placing the vendor bid, Mr Pompeani again encouraged the crowd to bid. "Forget what's happening in Sydney and Melbourne," he said, "the Canberra market is strong." But no further bids were made and the home passed in.
Despite not selling, LJ Hooker Belconnen listing agent Samuel Thompson said there were a number of parties keen to negotiate for the home.
"We had 42 groups over the campaign, which is double the average of what we normally see. We're about to enter discussions with five separate parties who might be in a position to place an offer," he said.
The house is now listed with an asking price of $585,000.
Many first-home buyers in the nation's capital are holding back until stamp duty is abolished on all properties for those buying their first home. But Mr Thompson said first-home buyers shouldn't necessarily be waiting for the stamp duty abolition.
"For first-home buyers, it's a good time to secure a great purchase because there's not much competition at auctions," he said.
"My advice would be to buy now. You may have to pay stamp duty but you could get a better buy because you might have a motivated seller who wants to move and you'll have less competition."
This weekend's auctions come after the recommendations from the Financial Services Royal Commission were handed down on Monday. While changes to the way mortgage brokers operate were suggested there were no recommendations for further tightening of lending.
"The findings should give borrowers comfort that it will be business as usual rather than any further tightening," said Peter Blackshaw Real Estate Manuka director Andrew Chamberlain.
"We're sensing there was no negativity from the handing down of the commission."
Mr Chamberlain said the year started on more a positive note than it finished 2018, and this was most evident in the higher end of the market.
"We are seeing an increase in demand for properties at the upper end. The properties in that price bracket had an immediate improvement in the number of inquiries when the new year began," he said.
In the September 2018 quarter, house prices dropped in the Inner South by 3.3 per cent year-on-year, but data for the December 2018 quarter showed the market recovered with a 4.2 per cent year-on-year increase.