Canberra auctions: Curtin house fetches a sale with only one registered bidder
Lucy Bladen
twitter
Editorial producer
It was a mixed bag for auction results in Canberra's south on Saturday, with one bidder competing against themselves for a family home but another property passing in.
The varied results come even as prices in Canberra's south have been holding up, Domain data showed this week, although the city's median house price dropped 2 per cent over the past year.
In the Woden Valley suburb of Curtin, a four-bedroom house sold for $820,000, despite only one bidder in the race for the keys.
The sole registree kicked off proceedings with a bid of $760,000, Luton Properties Weston Creek listing agent Tom Beinke said, adding it was followed by a vendor bid for $800,000.
The bidder then increased the price to $805,000, and then $810,000. Bidding halted after this and the property was handed in. However, a sale was negotiated immediately after under auction conditions.
Mr Beinke said throughout the campaign only 12 groups inspected the property at 43 Theodore Street. The buyers had been looking for a house in Curtin over the past nine months.
"The difference [in the current market] is instead of getting 40 to 60 people through we are seeing less people but what we are seeing is really genuine buyers… instead of being flooded with people there are genuine buyers ready to go," he said.
Mr Beinke said while the market in wider Canberra has faltered, properties in Weston Creek and Woden Valley were still performing relatively well with sale prices meeting initial expectations.
The two south-side regions are the best performing in Canberra, Domain data shows. Woden Valley's median is up 6.7 per cent year-on-year to $870,000 and Weston Creek is up 6.2 per cent to $704,000.
Further south, a four-bedroom home in Gordon was passed in on Saturday morning.
There were two registered bidders for the home at 24 Chevalley Loop.
When proceedings were declared open a buyer was quick to lift their paddle, making a bid for $500,000, but the second bidder was not forthcoming.
After some encouragement, the opening bidder increased their own bid to $530,000. The agent liaised between the vendor and the highest bidder, but an agreement could not be made and the property was passed in.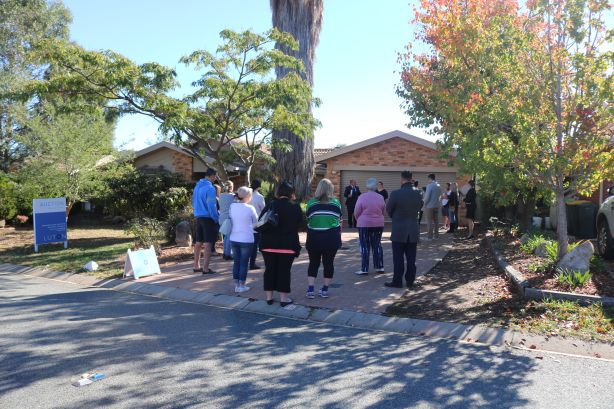 Luton Properties Dickson listing agent Melissa Martin-Smith said buyers' access to financing was the main barrier to the sale.
"We were definitely expecting more buyers this morning but the problem at the moment is a lot of our buyers are trying to secure finance and they are not being able to sort it out in [the campaign] time frame," she said.
Despite not selling at auction, Ms Martin-Smith believes a sale is imminent.
"I think we'll see a sale happen within the next seven to 10 days," she said.
"We definitely have interest in the property… it's a huge four-bedroom home with three living spaces, ideal for a young family. It does need a bit of TLC, so it's ideal for somebody to come in and add their own touch to, which I think a lot of people like to do."
In the 12 months to March 2019, Gordon was the eighth best performing suburb in Canberra. Its median of $567,500 is up 7.9 per cent year-on-year.