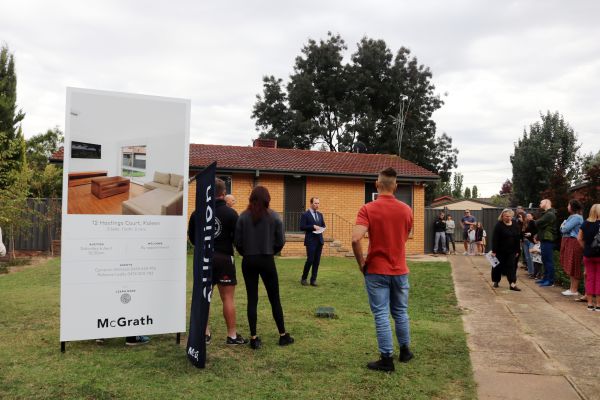 Canberra auctions: Quarter-acre Kaleen block sells for $682,000 and Garran fetches new suburb record
Lucy Bladen
twitter
Editorial producer
While Canberra's auction performance is at a more than five-year low, distinctive properties in Kaleen and Garran delivered trend-defying results on Saturday morning.
A house sitting on a quarter-acre block in Kaleen sold under the hammer for $682,000.
It was a competitive auction for the 1039-square-metre parcel at 12 Hastings Court with six registered parties at the auction and three bidders actively participating on the day.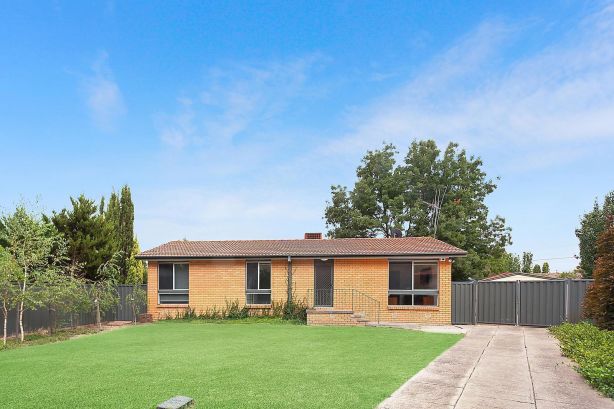 Bidding for the property kicked off at $570,000, and was countered very quickly by a bid for $580,000. From there, bidding moved in increments between three parties until the price reached $620,000.
At this point, the stride shortened to $5000 and moved in increments of that amount – between two bidders – until $660,000 when an increment of $2500 was accepted. 
At $670,000 it was declared for outright sale. Two bids of $5000 and two bids of $1000 brought it to its final selling price of $682,000.
McGrath Estate Agents Woden's Cameron Whitnall was the listing agent on the property and attributed the success to the location.
"Kaleen is a very sought-after suburb, and I think there are a few standout properties in the market getting more attention than others," he said.
"[This property] has a nice, large, level block and is across the road from parkland. It's also a nice, quiet location.
"The owners are happy; it reached their expectations and possibly exceeded them by a little bit."
Based on sales in 2018, Kaleen's median house price is $735,000.
Clearance rates in Canberra and Queanbeyan have dropped to the lowest level since 2013, data from Domain released this week showed.
Mr Whitnall said overall the market had quietened with buyers no longer in a rush to secure a home.
"I do think a sense of urgency has gone out of the market. [Buyers'] expectations of the market have probably stabilised now and there is not a rush to secure properties where they are going to pay more money for them," he said.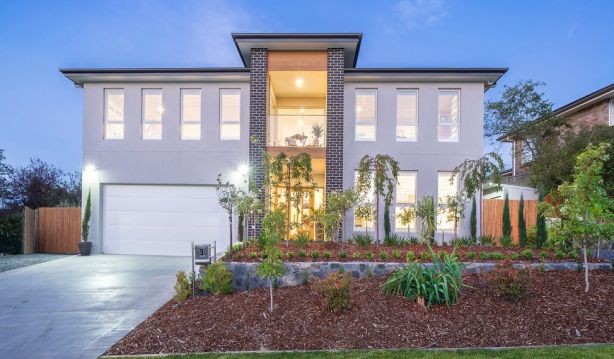 On the other side of the lake, a five-bedroom Garran house set a new record for the suburb.
Peter Blackshaw Manuka agent Mario Sanfrancesco said the house at 3 Neilson Street sold under the hammer on Saturday morning for $1.86 million.
"It was a reasonably new home," he said. "It has a functional design with a well-thought-out floorplan. It was an all-round winner of a property."
There were four registered bidders at the auction with bidding kicking off at around $1.5 million. Mr Sanfrancesco said the bidding moved swiftly to $1.77 million, and from there it required a bit of extra work.
According to records, it beat Garran's previous highest sale by $35,000.
Mr Sanfrancesco said upper-end properties are finding success at auction as people are appreciating the value of not having to renovate.
"[Costs] that haven't fallen is the cost of land in the right location, and building costs or the costs of renovation. Buyers in the higher brackets are realising there's good value to be had with something already existing," he said.
Garran surpassed the million-dollar median price mark last year. Its median house price is $1.025 million.