Canberra bucks the national trend, recording six consecutive years of house price growth
As Australian capitals face a housing downturn, Canberra has bucked the trend with a 4 per cent rise in house prices in the past 12 months. But unit prices fell 4 per cent in the same period.
According to the Domain September Quarter 2018 House Price Report, the median house price in Canberra is $740,215.
While the median house price has increased year-on-year, there has been no change over the quarter, suggesting the slowing market has reached Canberra.
"Canberra home owners have reaped the benefits of six consecutive years of house growth, with September proving no different," Domain senior research analyst Nicola Powell said.
"House prices in the nation's capital bucked the falling trend of national prices, and continued to grow over the year, though the pace of growth has eased to less than half of what was recorded last year," Dr Powell said.
The inner north led the charge in Canberra recording a house price growth of 9.6 per cent over the past year, however, the price dropped in the neighbouring inner south by 3.3 per cent.
Ray White Canberra director Scott Jackson said buyers were no longer in a hurry to secure a home.
"We're still trading as many as we were last year, but the growth has certainly slowed and some of the urgency has left the market," he said.
"Last year, it wasn't uncommon to have eight bidders at an auction, but this year it's more likely to be two or three bidders."
Nationally, house prices have declined 2.9 per cent over the year. Sydney and Melbourne are the two most expensive markets to buy a house, but both had annual falls, 6.5 per cent and 3.2 per, respectively.
The gap between the median house price for Canberra and Melbourne has also shortened significantly in the past 12 months.  In the September 2017 quarter, Melbourne's median house price was almost $170,000 more than Canberra – it's now only $112,765 more.
In the unit market, every capital besides Melbourne had an annual fall. Canberra's median unit price is $412,888.
Mr Jackson said the supply of units outweighed demand, but well-priced and unique units were still finding success. "Where you are finding problems with units is people who have bought them over the last two years are now trying to sell them for the price they paid two years ago and it's just not there," he said.
Clarity Home Loans managing director Mark Edlund said: "It would be interesting to see the difference between new-to-market versus established unit stock. Anecdotally, what we see is the resales of established units are probably what is dragging down the price."
"The demand for new units is driven by first-home buyers as all the incentives are designed to encourage development so that is where the demand is."
Mr Edlund said the greatest level of demand in Canberra was from second or third home buyers looking to buy at prices between $600,000 and $800,000, and current lending conditions were proving to be toughest for this demographic and investors.
"It's absolutely harder for people to get loans today. When I say harder, it doesn't mean they are not able to get them, it just means the hoops they have to jump through have increased tenfold to what they were 10 months ago," he said.
"It's certainly dampened the investor market. Investors used to make up 30 per cent of our clientele, but they are probably down to 10 to 15 per cent at the moment."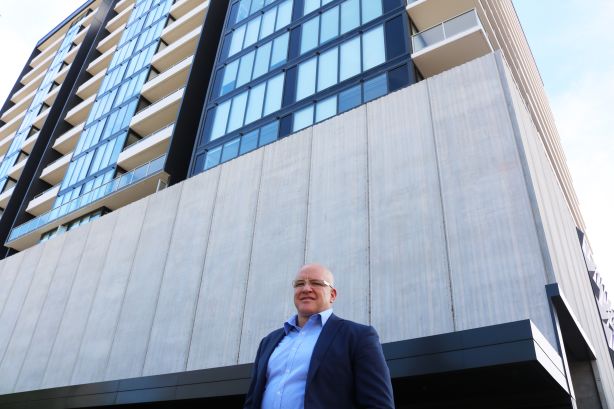 Mr Edlund said Canberra won't feel the impact of lessening investor activity as much as other Australian markets such as Sydney and Melbourne.
"Over the last 10 years, Canberra hasn't had the extreme growth rate of the other capital cities," he said. "House prices in Canberra are comparatively stable – it's a balanced [market]. People can buy and people can sell."
Dr Powell said the restrictive lending environment, following the Financial Services Royal Commission, would lead to subdued growth in Canberra, but demand would continue to be supported by population growth.
"New residents continued to be lured to the capital, which offers greater affordability, growing job prospects, a higher average wage than neighbouring state capitals and the quarter acre block an attainable reality – not just a dream," she said.