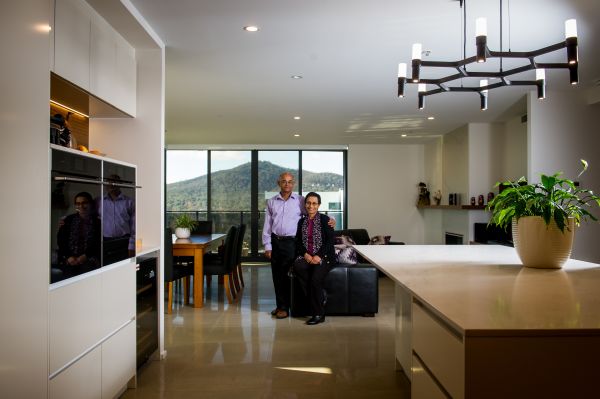 Canberra couple merge two top-floor units to design their own city penthouse
Lucy Bladen
twitter
Editorial producer
Housing density has always been low in the bush capital, but per the ACT government's planning strategy, over the coming decades Canberra will shift towards higher density.
Over the next 25 years, 70 per cent of Canberra's housing stock is set to come from urban infill, and already there are a number of new developments popping up in and around the city's centre.
As a result, apartment living in Canberra is becoming more prominent, not just among the young but also with downsizers seeking a lower maintenance lifestyle.
But unlike houses, the freedom to do what you want in an apartment is limited. Renovations are difficult, and extensions are basically out of the question – unless you buy adjoining apartments, that is. 
This is a trend that's common in cities across the world, but in Canberra it's not often heard of.
However, as the nation's capital is on the back of a development boom, there are more instances of people buying two adjoining apartments off the plan and then working with developers to transform them into one.
Prabir De and Swati Dey did just that, and they have recently moved into their city penthouse. The couple had lived in Gordon for 25 years and, after their children left the nest, they spent several years taking into consideration their next move.
The couple decided they wanted to live in the city, in a large apartment, but it proved difficult to find something that suited their needs.
"Finding someone who would give us what we wanted was another different kettle of fish altogether … not many developers were willing to merge apartments, not like they do in Sydney and Melbourne, in Canberra it's not a done thing," Swati said.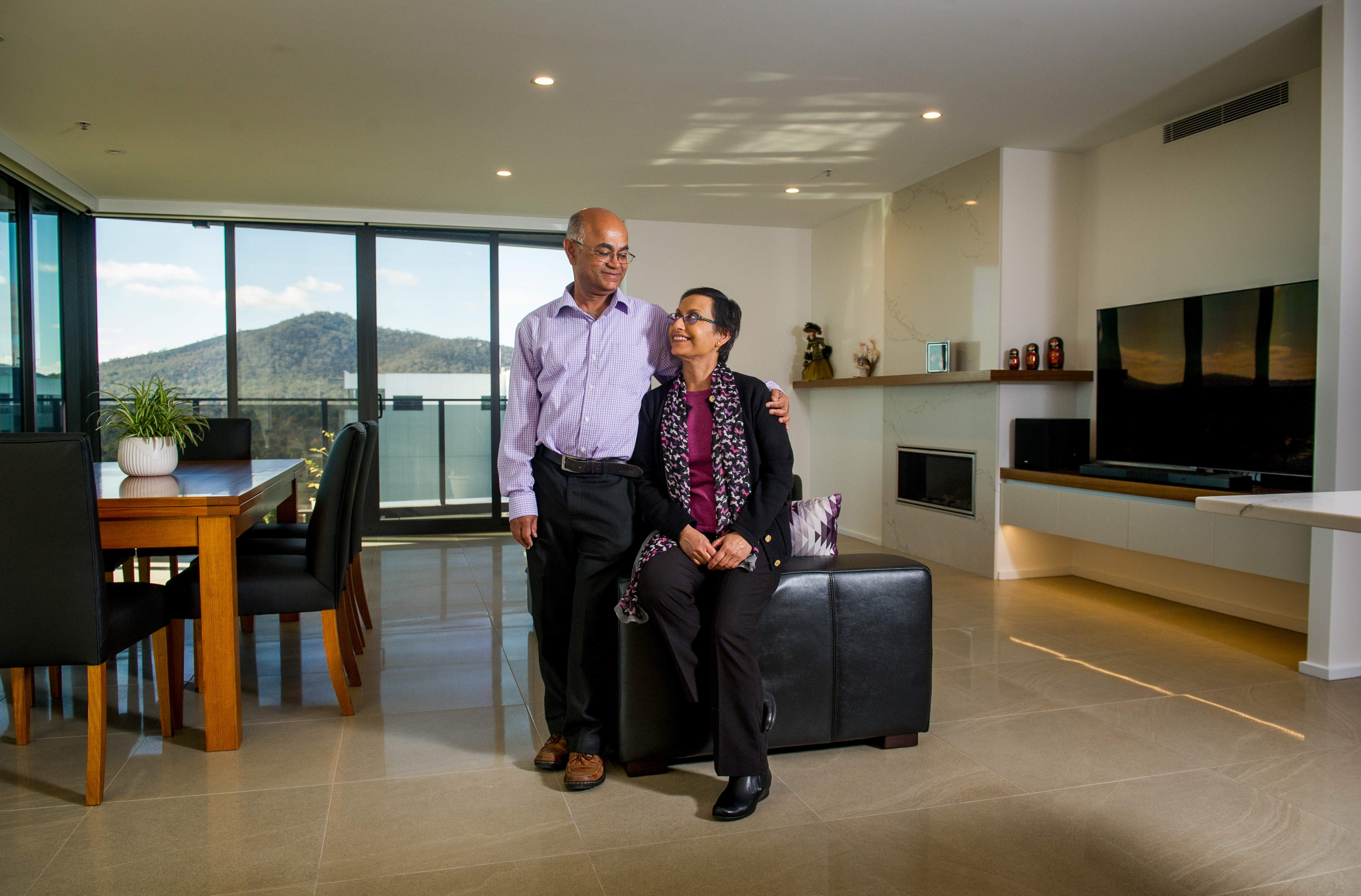 After not finding anything, they ended up buying a house in Campbell and decided they would proceed with a knockdown rebuild, but this changed when they came across inner-city development Highgate.
The couple went to the display suite of the Morris Property Group development one Saturday in 2016 and started speaking with director Barry Morris, who invited them into his office where they began the process to purchase two top-floor units and convert them into one. 
Upon deciding on the merge, over the next two and a half years there was lots of back and forth between the couple and the developer.
The couple inspected the apartment at least six times during construction and everything in the home is custom-fitted – from the spa bath, a full-sized laundry, a separate study and a massive walk-in wardrobe. 
The two merged apartments have a living area of 211 square metres – 10 square metres less than their home in Gordon. The two top-floor apartments on their own were not considered penthouses as Highgate had the same floor plans on every level.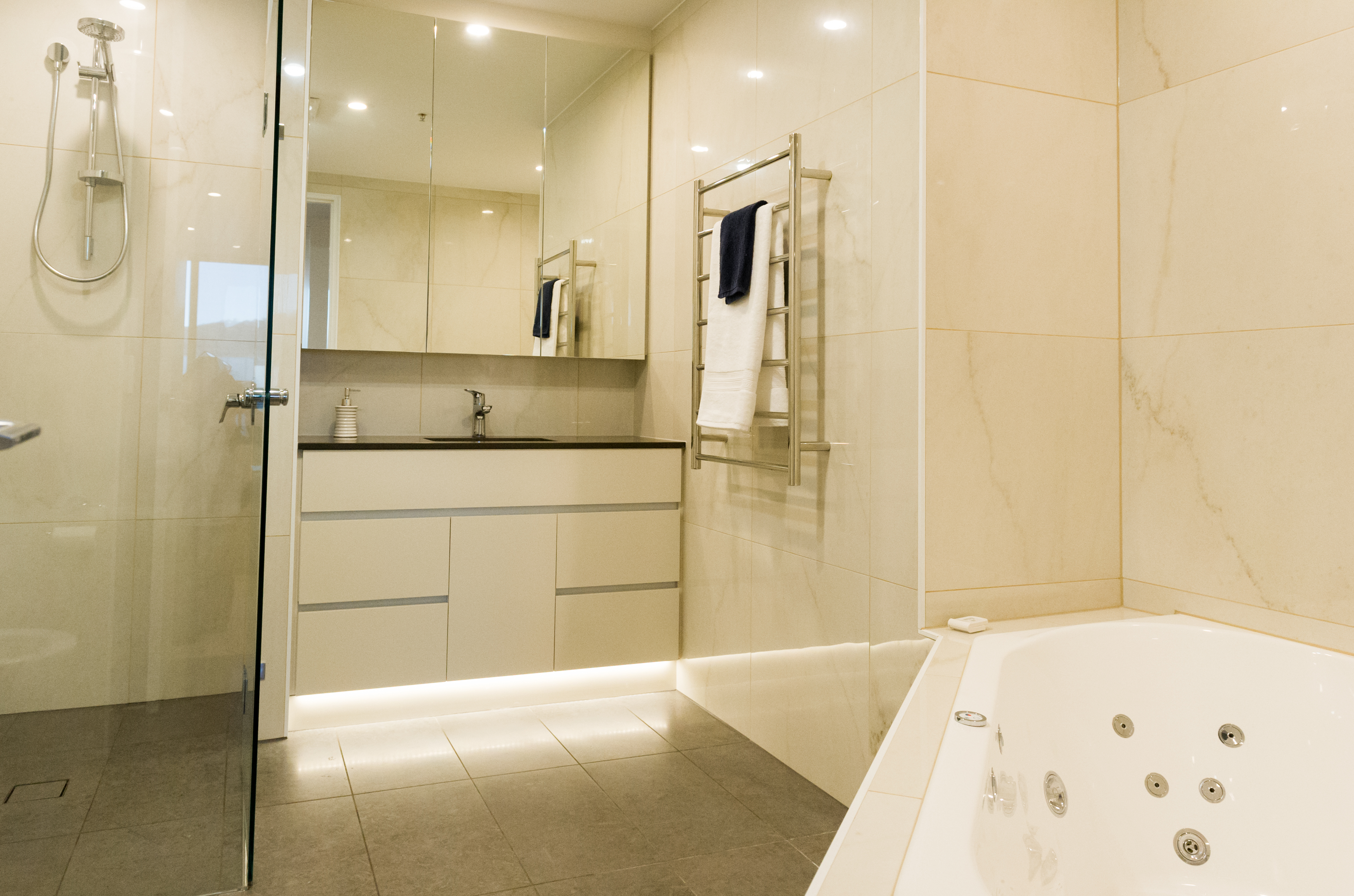 For Prabir, the penthouse has been a dream more than 30 years in the making.
In 1988, he attended World Expo 88 in Brisbane and, while he was there, travelled to the Gold Coast where he was shown an apartment complex with penthouse-sized apartments on every floor. At that point, he decided one day he would live in one.
However, he put his dreams on hold to heed an agent's advice to create a large family house.
"One of the real estate agents, when we were building the Gordon house, gave me this advice – [they said] when you have babies and kids try to build as big a house you can within your affordability because it will allow the kids to grow," he said.
"[Also] it will allow your kids' friends to come to your house – not the other way around."
Funnily enough, it seems to have come full circle for the couple as their children Peter, 35, and Anita, 33, live nearby in the city and the move has allowed them to spend more quality family time.
"When the kids left with the two of us it was a bit lonely … the kids would come for dinner on Sunday night but sometimes because of the distance they didn't want to come, they would find excuses," Prabir said. 
"But as a result of [moving to the city] we don't need to ask the kids if they are coming to dinner on Sunday night, they just turn up now.
"The whole family is around now and that's the best thing."
In Highgate alone, there are two instances of merged apartments including two apartments across the hall from Prabir and Swati's. 
"In this complex, it's probably unique that we had two groups amalgamate units and go through that boutique unit building, it's not something we do a lot of," said Morris Property Group construction director James Morris.
But he said the market was starting to preference bigger units.
"I think where the market is moving and where our projects are shifting to is providing larger three-bedroom apartments to move into," he said.
Of apartments built in 2017-18, Canberra units are the second smallest in the country with an average floor size of 118 square metres, according to CommSec. While they are the smallest, year-on-year the average size was up 23 per cent.