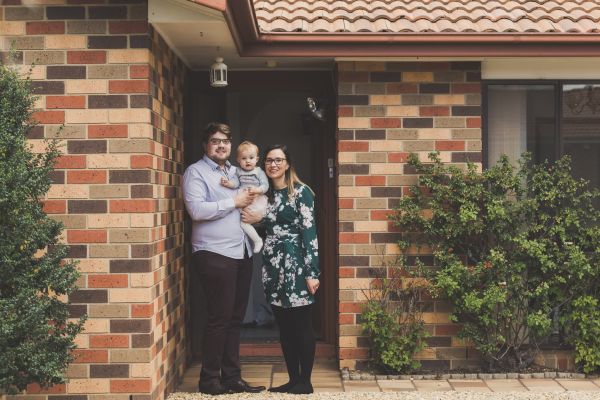 Canberra first-home buyers save for almost five years for a 20 per cent deposit
Lucy Bladen
twitter
Editorial producer
It takes almost five years for a first-home buyer couple to save a 20 per cent deposit for a house in Canberra; double that for someone saving alone, according to new data released on Friday.
Domain's First-Home Buyers Report found it takes four years and 11 months to save $111,800, which represents 20 per cent of Canberra's entry-level house price of $559,000.
Canberra first-home buyers have the third-longest journey in the nation to house ownership, with Sydney and Melbourne taking longer at six years and three months, and five years and nine months, respectively.
The nation's capital also has the third-highest entry-level house price.
"It is a hard market for first-home buyers [in which] to purchase that Australian dream of a detached home – owning your own piece of dirt is challenging within Canberra," Domain senior research analyst Dr Nicola Powell said.
But if you are saving for a unit in the nation's capital, it takes almost two years less to save a 20 per cent deposit of $70,000 for the entry-level price of $350,000.
"Canberra has the largest difference in savings duration between the two property types out of all of our capital cities. When you look at the difference alone between the entry-price of a house and unit it's more than $200,000," Dr Powell said.
"There are two different stories for Canberra. There's a lack of diverse and affordable housing for first-home buyers versus a lot of unit choice and price points.
"There have been a lot of developments targeted at first-home buyers, so access to the market by purchasing a unit is more accessible."
The data assumes the buyers are earning the average income for 25 to 34-year-olds in Canberra, have no children and are both saving 20 per cent of their post-tax income. The cheapest 25 per cent of properties in each area is considered entry-level.
Regionally, Tuggeranong has the lowest entry-level house price at $500,000 with the journey to first-home ownership taking four years and five months.
Independent Property Group Tuggeranong principal Will Honey said there's a lot of interest from first-home buyers in Canberra's southernmost region.
"There's a good percentage [of first-home buyers] in the current market, and that's reflected in the numbers through open homes as there are large numbers coming through first-home buyer properties," he said.
For units, both Belconnen and Woden have the lowest entry-level price at $315,000, taking two years and nine months to save 20 per cent.
The Inner South had the highest entry-level price for both houses and units at $1.015 million and $435,000, respectively.
Alex and Sara Sked have just made their first step onto the property ladder. The couple purchased a four-bedroom home in Bonython in November last year.
"We were renting while we were saving so obviously some of that money goes towards paying the rent. It took a couple of years to save up what we needed, and that was after we got married and went on our honeymoon," Mr Sked said.
The couple saved enough so the lender's mortgage insurance fee was minimal. Despite the budgeting, they said they were still able to enjoy life.
"We saved from a monthly approach and put any bonus money into our savings as well. We didn't have to stop doing normal things, it wasn't that we stopped living for a couple of years, it was just making sure we were budgeting with our money," Mr Sked said.
A 20 per cent deposit means first-home buyers can avoid paying lender's mortgage insurance, but Clarity Home Loans managing director Mark Edlund said the great majority of first-home buyers don't save that percentage.
"A lot of what we do is break down the myths of needing a 20 per cent deposit, and you can actually do it with much less. If people are doing it on their own, many are going in with a 5 to 10 per cent deposit" he said.
"At a minimum, five per cent is what [first-home buyers] need plus their costs. First-home buyers can defer the payment of stamp duty, so they only need a little bit on top of [the five per cent], so seven per cent will get a lot of people into their first home."
From July 1, stamp duty on all properties in the ACT will be abolished for first-home buyers below an income threshold of $160,000. Currently, stamp duty tax exemptions are only applicable to some new-builds.
"Even though we are going to see new first-home buyer initiatives come into play, which will open up a number of established suburbs, I think even with the initiatives in place it's still a challenging market for first-home buyers to purchase a house," Dr Powell added.