Canberra house prices on the rise despite national decline: Domain report
Canberra's median house price has risen 6.2 per cent over the past 12 months, according to the latest Domain Report.
The Domain June Quarter 2018 House Price Report, released on Thursday, shows Canberra's median house price is $749,865. In the same period last year, Canberra's median house price was $705,898.
Among capital cities, Canberra recorded the second-highest, year-on-year growth, behind Hobart at 15.9 per cent.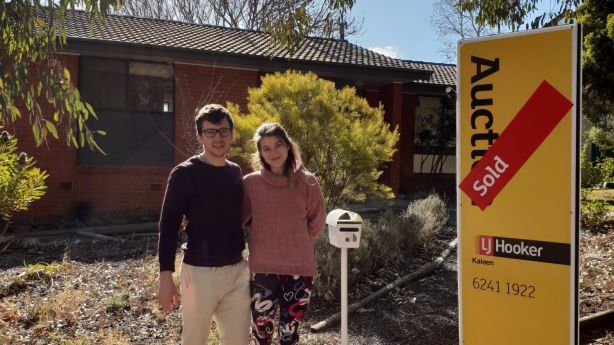 While Canberra's house price has increased, nationally prices have decreased annually by 1 per cent with Darwin and Sydney recording the biggest falls at 11.8 per cent and 4.5 per cent respectively.
Over the quarter, Canberra's median house price has grown by 3.2 per cent. Only Hobart and Darwin experienced a higher rate of growth.
"[Canberra defied] the national softening trend," explains Domain chief data scientist Dr Nicola Powell. "However, tightening bank lending conditions and serviceability requirements have seen the pace of growth slow down."
Peter Blackshaw Real Estate Manuka principal Mario Sanfrancesco said Canberra was "bucking the national trend" due to a short supply of houses.
"The current market is interesting as the number of houses for sale is down at the moment, which gives buyers less of an option," he said.
Over the three months to June, Canberra's total number of advertised house listings was 2021.
Although this is a year-on-year increase of 0.4 per cent, the latest ABS figures* show Canberra's population is growing at a faster rate, at 2.2 per cent, which equates to 24 people per day.
"There is a strong overseas and interstate migration into the ACT and they are the two biggest factors to put pressure on the housing market, because a number of new dwellings are needed," said Dr Powell.
"In the last three years I am finding that more families are moving to Canberra purely out of lifestyle," added Mr Sanfrancesco.
While house prices continue to rise, Canberra's median unit price has declined by 2.1 per cent over the past 12 months, to a median of $415,195. This is a quarterly decline of 1.2 per cent.
"We did see a bit of growth in the unit market at the end of last year but we are still seeing the median go backwards over the year, however, I think the unit market will eventually find a balance," said Dr Powell.
In the June quarter, the total number of advertised unit listings was 1716, a year-on-year increase of 13.5 per cent.
"There's no doubt there's more of a supply of units in Canberra, however, a 2.1 per cent decline is a minor adjustment and because the rental market is quite strong in Canberra, quality apartments can be good investments," said Mr Sanfrancesco.
According to PRDnationwide's Australian Economic and Property Report 2018, released on Tuesday, Canberra's vacancy rate remains low at 0.5 per cent.
Canberra's gross rental yield for units is 5.78 per cent – the second highest in the nation.
Katarina Pavkovic, 24, and Kyle Knowles, 26, have just bought their first home, which they intend to use as an investment. The couple were looking to buy a house over a unit and said they are not surprised Canberra's median house price has increased.
"We're investors and we went for capital growth over yield. You can get yield anywhere but in my opinion, capital growth is far better long-term," said Mr Knowles.
"As a result, through our research, we kept coming back to established suburbs with houses on big blocks of land, it's sought-after and that's why there's growth.
They purchased a three-bedroom home in Kaleen with a pre-auction offer in mid-July.
"We started looking really heavily about three months ago as we were in a stable position to be able to take out a loan, and we went to as many open homes as we possibly could that fit our brief," said Ms Pavkovic.
While they prioritised capital growth, both Ms Pavkovic and Mr Knowles represent Australia in taekwondo, and due to an intense travelling schedule they don't intend to live in the home for another three years, but intend to renovate and add some equity.
*Based on the 12 months to December 2017.