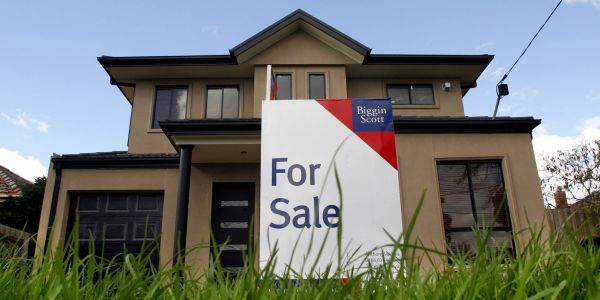 Canberra property forecast shows modest growth over 2019-20
Canberra unit prices are expected to finish 2018 with an annual decline of 5 per cent, but will only recover marginally over 2019 and 2020, according to Domain modelling.
Domain's Property Price Forecast report, released on Wednesday, predicts modest growth for the Canberra property market over the next two years, for both houses and units.
Unit prices in Canberra are forecast to grow year-on-year by 2 per cent to the December 2019 and December 2020 quarters.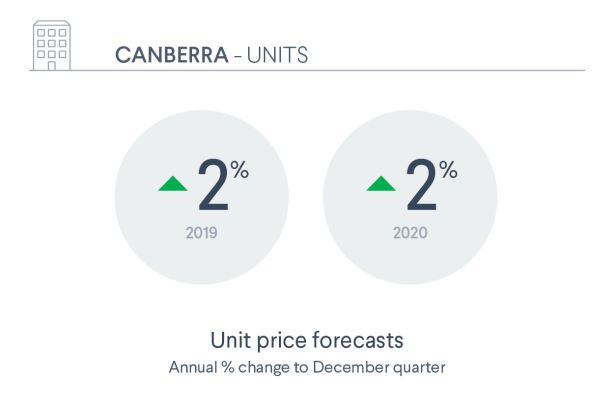 Modelling predicts house prices will finish 2018 with a year-on-year growth of 2 per cent, but that will double the following year with an annual growth of 4 per cent forecast to the December 2019 quarter. The same level of growth will be replicated to the December 2020 quarter.
"It is a continuation of what has been going on for the last couple of years in Canberra. The one thing that stands out is the negative decline for units at the end of December 2018," said Domain economist Trent Wiltshire.
"Unit growth in Canberra has been weaker than houses over the last two years but the [December 2018] decline is bigger than what has been going on.
"Looking forward, units are going to be a bit softer than houses, mainly due to new apartment construction over the past few years."
Despite the levels of construction, Australian Property Institute ACT committee chair Greg Cummins said prices in new units were doing better than established units.
"It's a two-tiered market in units at the moment, with new units holding up very well," he said.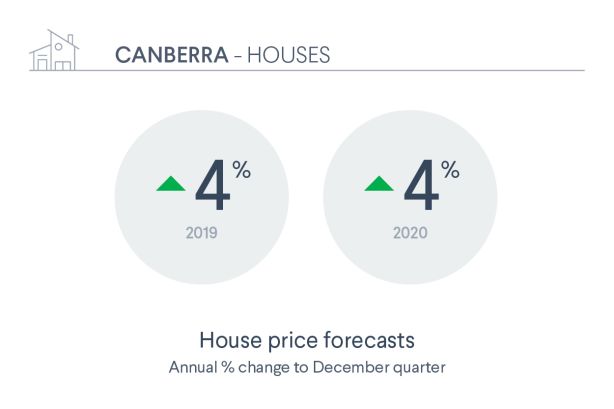 While a house price decline is not predicted in the report, there may be a slight seasonal fall in Canberra during the first half of 2019.
"In terms of the year-ends, it doesn't look like there will be any falls. Potentially quarter-on-quarter there will be some falls," said Mr Wiltshire.
"Houses have been strong and looking forward what's underpinning the modest growth is low unemployment and strong population growth."
National house prices are set to finish 2018 down 6 per cent year-on-year, with Sydney and Melbourne leading the charge, down 8 per cent and 9 per cent respectively. Growth is not predicted in the two major capital cities until 2020.
"There are positives in Canberra in comparison to other capital cities, namely Sydney and Melbourne which are clearly in the midst of a downturn, but Canberra has held up really well," said St George senior economist Janu Chan.
"Firstly, it doesn't have the same sort of investor concentration which has been hit the hardest by investor measures, and secondly the ACT economy has been performing relatively well with population growth supportive of that."
Ms Chan will be speaking on her own Canberra market forecast at a REIACT event tomorrow night.
"Canberra doesn't have big downturns but we don't have spikes like they do in Sydney and Melbourne – there's been a lot more growth in those cities whereas our growth has been a lot less but it's continual," said Mr Cummins.  
House price forecasts*
2018 (estimate)
2019 (forecast)
2020 (forecast)
Australia (combined capitals)
-6%
1%
4%
Sydney
-8%
0%
4%
Melbourne
-9%
-1%
4%
Brisbane
0%
4%
5%
Perth
-5%
5%
3%
Adelaide
2%
2%
2%
Hobart
12%
2%
2%
Canberra
2%
4%
4%

* Annual change to December quarter

Notes: Darwin excluded from forecast due to small volumes and market volatility. Stratified median house price forecasts.
Unit price forecasts*
2018 (estimate)
2019 (forecast)
2020 (forecast)
Australia (combined capitals)
-3%
2%
3%
Sydney
-3%
3%
5%
Melbourne
-1%
1%
1%
Brisbane
-6%
3%
3%
Perth
-6%
2%
2%
Adelaide
-1%
2%
2%
Hobart
0%
0%
3%
Canberra
-5%
2%
2%

* Annual change to December quarter

Notes: Darwin excluded from forecast due to small volumes and market volatility. Stratified median unit price forecasts.
Forecasts were constructed based on the most likely future scenario, with the model basing the change in property price for a region on the population and mortgage rate.  
According to the report, events that could push property prices lower than expected include a mortgage rate rise earlier than expected, home lending tightening further, and a lowering of population growth.
Ms Chan said lending conditions could pose a risk.
"There are still some downside risks to the outlook with some tightening of the credit conditions and that's evident in the lending data where there's some flatlining, and it's not just affecting investors but owner-occupiers as well," she said.
The report states Labor's proposed negative gearing reforms if they win the 2019 federal election pose an uncertain outcome.
"It's a tricky one on what the property market will do if negative gearing is implemented," said Mr Wiltshire.
"Investors may have already priced in that property prices will be lower in the future because of negative gearing being abolished, meaning the price impact has actually flowed through now so when it actually gets brought in there may not be much of an impact on prices."  
With polls favouring a Labor victory, economists said the outcome could boost the property market.
"Provided there will not be a cutback in public servants it should be fine – if there's a Labor government it will probably help Canberra," said AMP Capital chief economist Shane Oliver.
"Often the cycle in Canberra is based on the employment of public servants, which should stay relatively solid."
Mr Wiltshire echoed this view.
"The conventional wisdom is when the Labor government is in power that's good news for the Canberra property market," he said.
"Labor is generally known for employing more public servants which encourages greater population growth and pushes up the income – that feeds through to the property market."