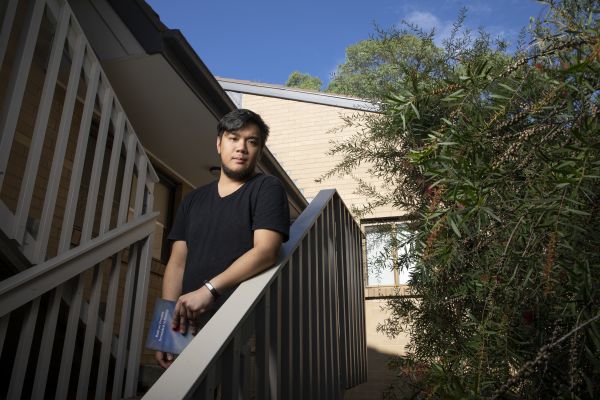 Canberra university students compete in sparse rental market
Thousands of new students are starting their 2019 studies at Canberra universities over the coming weeks, as the nation's capital contends with its busiest rental period of the year.
Based on the number of offers across the two major tertiary institutions in Canberra, more than half of students will be coming from interstate.

During the Australian National University's first round of enrolment offers in December, it offered places to almost 3000 students. From those figures, approximately 32 per cent are from the ACT.
But this number does not take into account international students and those from the Northern Territory and Tasmania.
The University of Canberra has sent offers to more than 6600 new students. Of those, 54 per cent are from the ACT and 46 per cent are interstate.
The number of total students at both universities for the year is not yet known, but an ANU spokesperson said the number remains steady year-to-year. In the ANU Annual Report 2017, there were about 25,000 students enrolled at the university.
At the University of Canberra, in 2018 there were 11,359 domestic students. According to figures, about 57 per cent of those enrolled last year were from the ACT.
At both institutions, university accommodation is guaranteed for first-year undergraduate students and all international students are guaranteed a bed at the University of Canberra.
At ANU, there are about 6000 beds available for students in university accommodation and the University of Canberra can collectively house about 2700 students.
"The University of Canberra is committed to providing safe and affordable living on campus, with many new students choosing to live in one of our four campus accommodation facilities," said University of Canberra vice-president of university relations and strategy Belinda Robinson.
"On-campus living is very popular, especially among our first-year interstate students who make up nearly half of those in campus accommodation."
A spokesperson from the ANU said during the next week 1300 new beds will open across three new residential halls. New postgraduate accommodation is also set to open on Northbourne Avenue on the site of the former Fenner Hall.
The old Fenner building will be reopened as "Gowrie Hall".  
With on-campus accommodation guaranteed for first-year undergraduate students, some returning students and those beginning postgraduate degrees are left to compete in Canberra's sparse rental market.
According to the latest SQM research, Canberra's vacancy rate is the second lowest in the country at 1.3 per cent. These figures are based on December 2018 – historically the last month of the year has the highest vacancy rate in the nation's capital, coinciding with students finishing their degrees.
Over the past three years, for the most part, the vacancy rate has remained below one per cent in Canberra.
An analysis of Allhomes listings from January 2019 show there were 1491 residential rental listings during the month.
ANU PhD student Chris Cabuay is all too familiar with Canberra's tight rental market.
The economics student moved from the Philippines in 2017.
He applied for a bed on-campus and temporary accommodation for one month was organised. But when the month finished on-campus accommodation was not yet available.
Mr Cabuay was left in a state of limbo and was forced to stay with his friend for three weeks before he secured university accommodation.
After staying in ANU accommodation for more than half a year, Mr Cabuay moved off-campus as his wife and daughter were joining him from the Philippines. He said the experience of looking in the rental market was "distressing".
"I think I must have inspected 20 properties in a month. Every weekend I would go to three or four open homes and then come home and fill out applications," he said.
"When I was going to inspections I was taking my bike … and I noticed during the inspections I felt I was competing with public servants and people working full time.
"I was worried because I am a student, I live off a stipend which isn't even minimum wage."
Mr Cabuay secured a two-bedroom rental in Belconnen and said comparatively he was "quite lucky" as his landlord agreed to extend the lease for an additional two years with "reasonable" increases.
ANU Postgraduate and Research Student's Association president Zyl Hovenga-Wauchope said more support was needed for post-graduate international or interstate students who were not guaranteed accommodation.
"Not many people come from cities, countries or economies where the rental market is as restrictive as it is in Canberra, so they don't necessarily know how hard it will be and they operate on the assumption they are coming to a city with a more healthy rental market," he said.
"The other issue is they are not necessarily made aware the responsibility will be solely on them and there is actually very little support in finding accommodation that is not on-campus.
"ANU is working hard in this area and it's something we are working quite closely on with them."
This comes as the latest Productivity Commission's report on housing found the ACT to have the highest proportion of young residents claiming rent assistance in the nation.
Weekly asking rents in Canberra are the highest in Australia for houses at $560, and units are not far behind at $465, according to the latest Domain Rental Report over the December quarter.
However, median rents are even higher in the Inner North – where many ANU students reside –  at $620 per week for houses and $480 for units.
In Belconnen –  where the University of Canberra is located – the cost is lower at $510 for houses and $410 for units.
Not only is the nation's capital experiencing an influx of new students but public service graduates have also descended on Canberra.
According to the Australian Public Service Commission, there were 810 graduates from across the nation starting new employment in the ACT last year. The APS is expecting similar numbers in 2019.
Are you a student who has had trouble finding a rental?
 Get in touch: lucy.bladen@domain.com.au