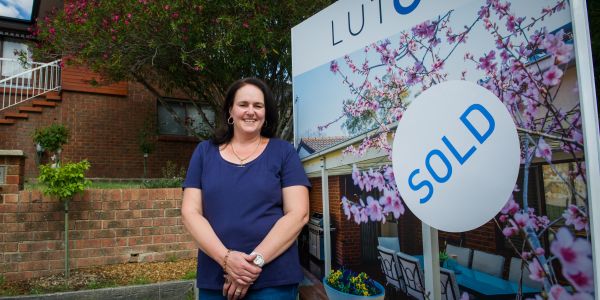 Canberra vendors relying on post-auction negotiations in wake of lower clearance rates
A total of 66 properties are scheduled for auction today in Canberra, and if recent clearance rates are anything to go by, less than half will sell. But Domain analysis shows passed-in houses are still selling faster than those via private treaty.
According to the latest data, average days on market for houses passed in at auction is 47 – including the average 23-day auction campaign – compared to 59 days for private treaty.
"For any vendor looking to sell via auction, what you tend to find is the auction method provides a quicker sale, whether that's under the hammer or afterwards," said Domain senior research analyst Dr Nicola Powell.
In September the Canberra clearance rate was 60 per cent from 349 reported auctions, however, almost 75 per cent of the properties that went under the hammer during the month have now sold, with most of those sales occurring within four weeks after auction.
While Canberra's clearance rate for September was relatively stable, it has since dropped to a five-year low in November with only 45 per cent of properties selling.
Dr Powell expects post-auction sales within two weeks after an auction campaign will increase in the wake of lower clearance rates.
"What I am anticipating as the weeks tick on past November is that many agents would have been able to secure a sale for those vendors," she said.
Monique Bush's home was auctioned in October but failed to sell under the hammer, however she received an offer from the eventual buyers within days.
"I was quite confident [it would sell at auction], so it was a little disappointing, but then we were happy when the price was listed and within days the buyers made an offer. It was reassuring the market hadn't fallen over," she said.
There were two registered bidders at the auction but neither ended up buying the Gowrie home. Instead, it went to interstate buyers.
"I'm not sure the auction process is for everyone when they have a set budget nowadays," said Ms Bush.
Luton Properties Weston Creek and Molonglo Valley agent Justine Burke sold Ms Bush's home and said the buyers were not on the radar during the auction campaign. She said even if a property passes in, some are "still selling above reserve".
"Many people are not ready to bid under auction conditions on the day," she said.
"We're finding our properties are selling very quickly after auction because we put good prices on them, which are reflective of buyer feedback."
LJ Hooker Dickson agent Andrew Browne indicated that buyer urgency in Canberra had decreased.
"Post-auction sales are more common, as buyers are willing to take a punt when a property passes in because the price guide is available after auction," he said.
Mr Browne said going through the auction process allowed vendors to take on board buyer feedback if their home was to pass in.
"There's a degree of vendor education in an auction campaign and one of the reasons for that is if the property passes in buyers can make an educated decision on the price," he added.
"If vendors have put up a reasonable price a property will be snapped up fairly quickly."