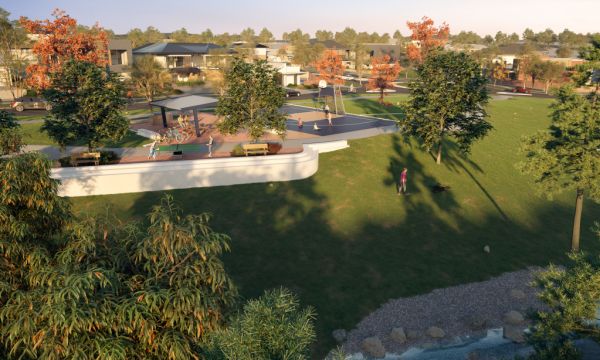 Canberra's newest suburb, Whitlam set to release first blocks to market early next year
Lucy Bladen
twitter
Editorial producer
It's the newest suburb in Canberra, and early next year buyers will have the opportunity to purchase their own lot in Whitlam.
ACT's Suburban Land Agency launched the marketing campaign for the suburb this week and is calling for interest in the suburb.
Named after former prime minister Gough Whitlam, the suburb will be the northernmost in Molonglo Valley and is wedged between the major thoroughfares of John Gorton Drive and William Hovell Drive.
Whitlam sits on a sloping topography that leads to the Molonglo River and is bordered on three sides by a nature reserve.
About 5000 people will call Whitlam home upon its completion, and there will be approximately 2100 dwellings in the suburb.
Unlike other already developed Molonglo Valley suburbs, Coombs and Wright, there will be a higher proportion of single residential blocks in Whitlam – with approximately 1600 of the 2100 homes in the suburb on a single block. 
"That's picking up on what the market has been telling us for quite some time because there is pent up demand for houses on single blocks," a Suburban Land Agency spokesperson said.
There is a commitment for 15 per cent of the dwellings in the suburb to be either affordable, public or community housing.
The ACT government's indicative land release stipulates that 600 blocks will be released in both this financial year and next.
The spokesperson said they are on track to deliver that. The first release, coming next year, will be a mixture of house and land packages and single blocks.  Prices for the blocks are yet to be determined.
Whitlam will be released in four stages; stage one comes next year, stage two in late 2020 to early 2021, stage three in 2022 and stage four in 2023.
The sod was turned on Whitlam in June, with works currently underway on stage 1A and 1B. The spokesperson said the bitumen, gutters, driveway links and block pegs in those stages would be in by April next year.
The first residents are expected to move into the suburb in 2021.
There will be a government primary school and local centre in Whitlam.
The spokesperson said they are going to be more measured in their approach to the commercial centre to ensure shops are up and running much more quickly than they were in Coombs.
In an ode to Gough Whitlam, who was a keen contributor to the arts, many of the street names and parks will be named after artists.
Likewise, within the marketing of the suburb, there will be a lot of bright colours, which Suburban Land Agency spokeswoman said was another nod to Gough Whitlam's contribution.
The Suburban Land Agency will be celebrating the launch of Whitlam at an outdoor movie night on the East Lawns off King Edward Terrace on Saturday, November 16.