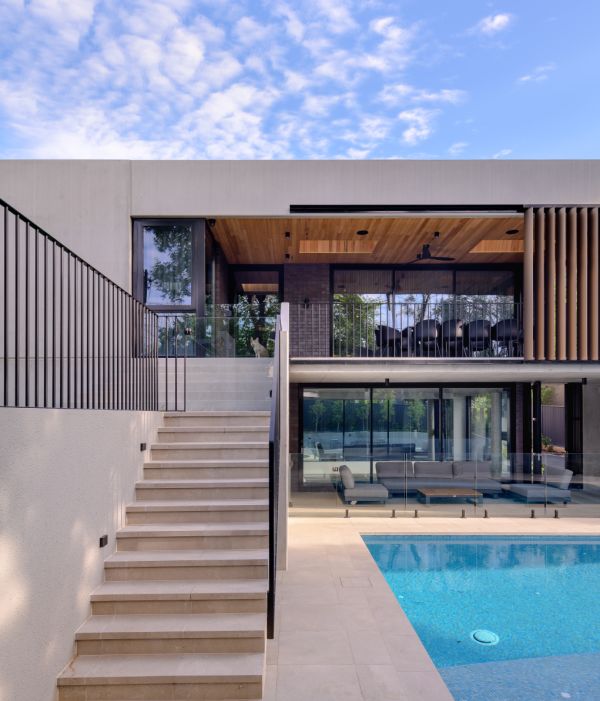 A peek inside the architect-designed Collector House in Narrabundah
Who: Ben Walker Architects.
What: Collector House, commended at the 2021 Australian Institute of Architects ACT Architecture Awards.
Where: Narrabundah, in a mature landscape setting in the leafy Inner South.
Nestled among the heavy tree canopies of Narrabundah, the concrete facade of this new home makes a striking impression.
By the time the owner – who works in the building industry – approached Ben Walker from Ben Walker Architects, he had a firm brief with some quite technical aspirations.
The wish list included capitalising on the surrounding views from the elevated block and maximising natural light across all seasons, plus incorporating significant pre-cast concrete elements for that prominent exterior.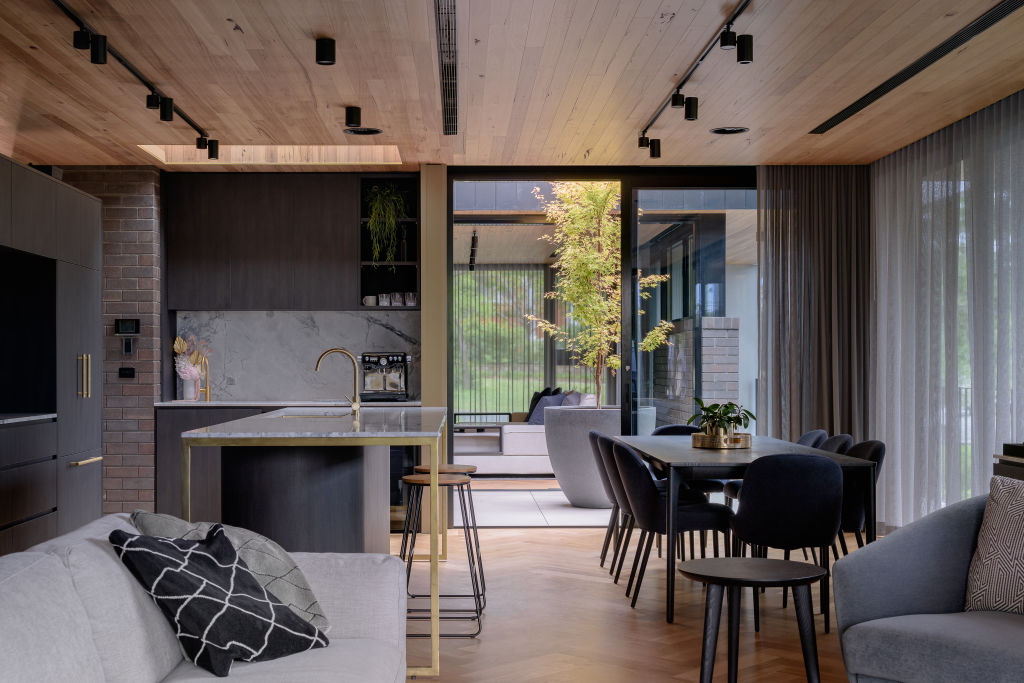 "We don't always get to use concrete. It's not the most cost-effective thing to use as an exterior finish. But it is striking and also very robust. In terms of long-term durability, it's maintenance-free, and it'll be there for evermore," says Walker.
"As a product, it has some sustainable credentials because it is durable and it doesn't require refinishing at different times."
Completed in December 2020, the home's design includes four bedrooms and two bathrooms, split across two levels to flow with the topography.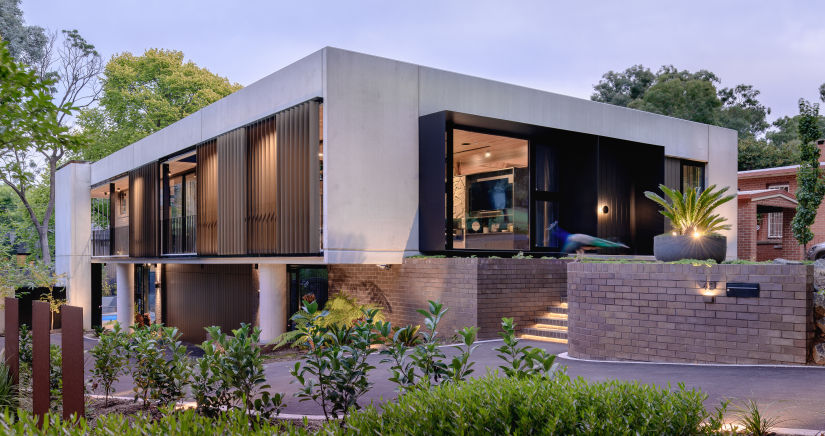 The front door opens to a hallway gallery space, which acts as the spine through the middle of the home. To the left on the eastern side are multiple living areas and the kitchen. On the right is the private wing with the bedrooms, bathroom and en suite.
The staircase leads you down to additional bedrooms, a study, a gym and a basement garage, and outside to the sparkling in-ground pool. The owner co-ordinated the building side of the project to bring Walker's design to life.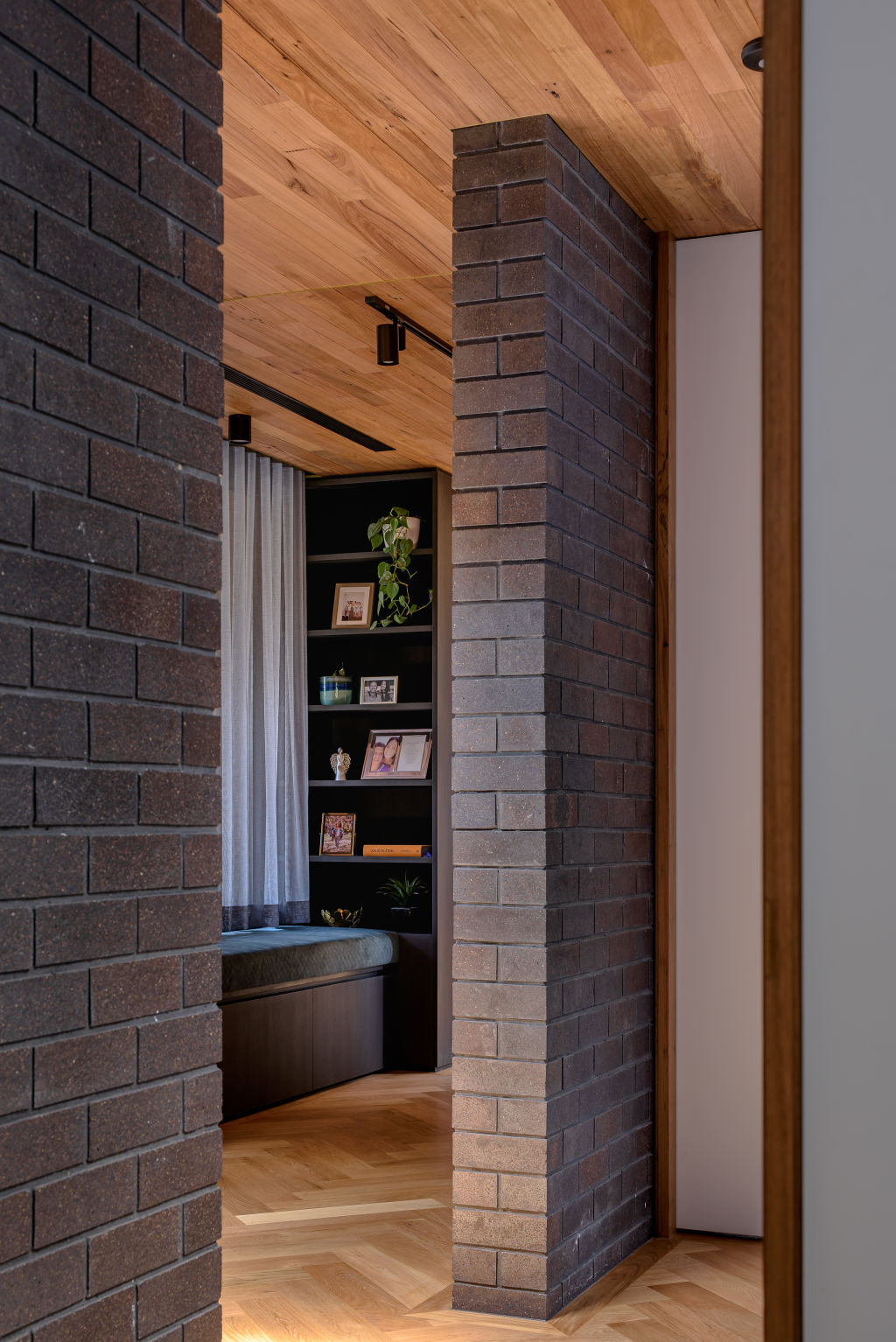 "From the street, you see the pre-cast concrete and the steel window hoods and some of the other fairly robust elements externally," Walker says. "But once you start to get closer to the house and move inside, your eye gets drawn to the smaller-scale elements."
Inside is a sophisticated palette blending brick, timber and brass.
Timber from the dilapidated red brick cottage which previously sat on the block was salvaged and milled down to create stunning timber panelling for the ceiling. Brass is used as a trim around some of the timber ceilings, framing in the kitchen and bathrooms, as well as tapware and other wet-area fittings.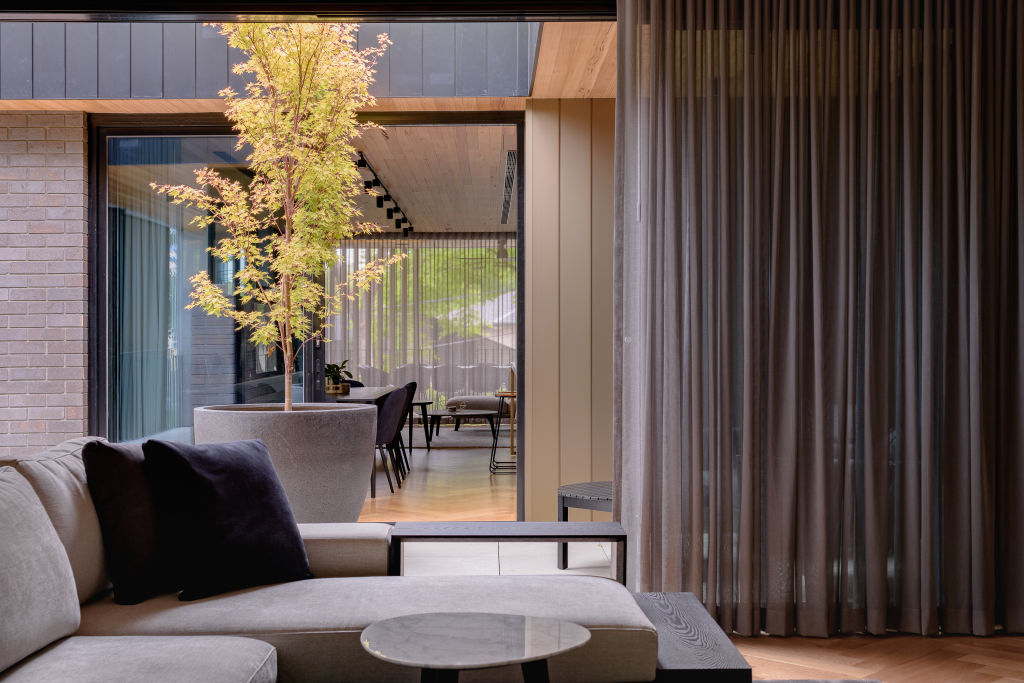 To draw in the sunlight throughout, strategic courtyards have been incorporated into the floor plan.
A two-storey courtyard allows northern light to flood down the staircase into the basement level, while a second courtyard doubles as a balcony between the living areas. Sliding doors open right up, blending indoor-outdoor living. A series of skylights through the gallery space also throws in more light.
"There's a richness in the interior that's just absolutely stunning," Walker says.
"So, while you have that fairly robust and striking or sharp exterior with the pre-cast concrete, there's certainly a sense of warmth and sophistication in the materials within the interiors."